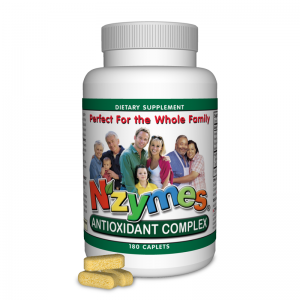 Antioxidant Complex for People
They're Back!  Buy 2, Save $6 -- Buy 3, Save $18! The NZYMES Antioxidant Complex "live nutrition" formula benefits the body's antioxidant capabilities both directly, and indirectly, helping the body to perform better at cellular levels and thereby affecting the body positively in a myriad of ways - whether aches and pains related to aging, or avoiding issues that may normally degrade body health. One bottle of 180 caps may last an adult as much as 3 months, depending on weight and daily usage requirements.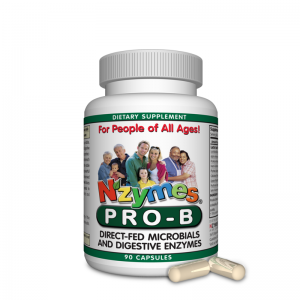 Pro-B Digestive Microbials
They're Back! Buy 2, Save $5 -- Buy 3, Save $16.50 When you are choosing a Digestive supplement to protect or enhance your personal health, or that of a loved-one, we feel you cannot do better than the special Micro-encapsulated formula offered by NZYMES. This type of supplement is one of the most important items you can add to your daily dietary intake - providing exceptional benefits for health in key ways: protecting and boosting overall immune capability, and aiding digestion for better nutrient absorption and taking some load off the pancreas.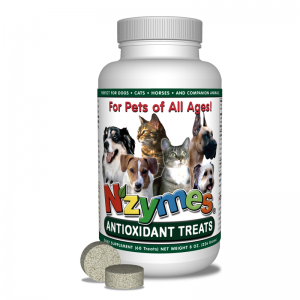 Antioxidant Treats for Pets
Buy 2, Save $3 -- Buy 3, Save $9 60-Tablets per bottle. Designed to be given as a 'TREAT', this "live nutrition" supplement provides your pet with resources the body needs for optimum health, working at the cellular level.  A wide variety of health benefits result, including enhanced production of the body's own antioxidant enzymes like Superoxide Dismutase.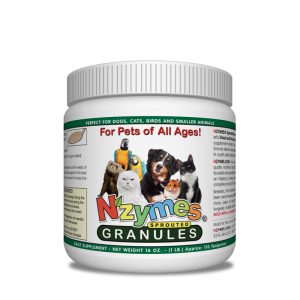 Sprouted Granules for Pets 1 lb
NEW SIZE! 1-Lb Sprouted Granules for Pets. Our famous Sprouted Granules are now available in a 1-Lb size! This size is perfect for smaller dogs, cats, birds, rodents or exotics. A small daily amount strengthens your pet's immune system, assisting the body in utilizing nutrients more effectively. Key antioxidants help to cleanse toxins, ease the overall inflammation and provide the digestive balance to support the skin, coat, joints and more. 110 level teaspoons per container.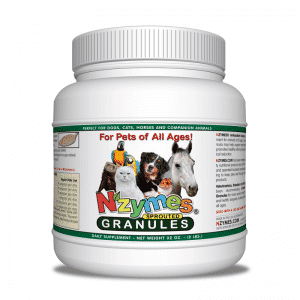 Sprouted Granules for Pets & Horses
Buy 2, Save $6 -- Buy 3, Save $21 Two pounds, or 220 Level tsp. of Product. The most important nutritional supplement you can provide your pet! As a raw, uncooked and enzyme-rich daily nutrition boost, there is nothing better you can do to Maximize the health of your pet. Provides the resources to help the body improve metabolic activity that provides a variety of antioxidant benefits.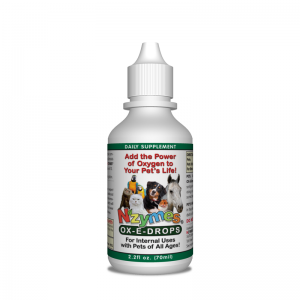 Ox-E-Drops 2.2oz. for Pets
Buy 2, Save $3 -- Buy 3, Save $9 A natural immune aid that is mixed with water and added daily the pet's food and water dish. This safe and stable mixture of 5% Sodium Chlorite & RO water is especially helpful in supporting healthy immune functions and with the daily challenges of potentially invading pathogens.  Additionally, the product offers many powerful topical uses that you will be amazed.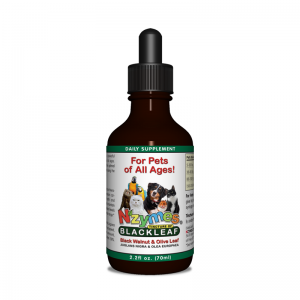 BlackLeaf Tincture for Pets
Buy 2, Save $2 -- Buy 3, Save $7.50 Tincture of Black-Leaf is an "herbal remedy" compound maximizing the benefits of combining Black Walnut, Cayenne, and Olive Leaf. This herbal supplement can support immune functions and has been recognized for it's natural anti-microbial qualities for thousands of years - it can help support the battle against digestive parasites.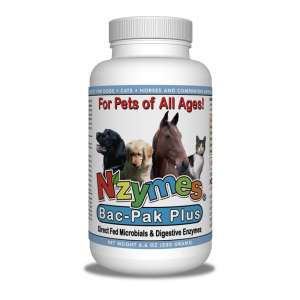 Bac-Pak Plus 200 grams
Buy 2, Save $4 -- Buy 3, Save $12 A special blend of 'live', naturally occurring "friendly bacteria" cultures and pancreatic (digestive) enzymes. Micro-encapsulation helps to ensure maximum delivery of viable bacteria to the GI tract, where needed. Promotes proper digestion and improved assimilation of nutrients.  Protects & maintains intestinal flora balance.
Bac-Pak Plus 400 Grams
Buy 2, Save $5 -- Buy 3, Save $15 Value priced, this double-size bottle of the product saves additional money for the consumer compared to the 200-gram size bottle. Recommended for multi-pet households, or very large dogs.  This jar would last a 200 lb. dog somewhere around 400 days when used as recommended. See full description for more details.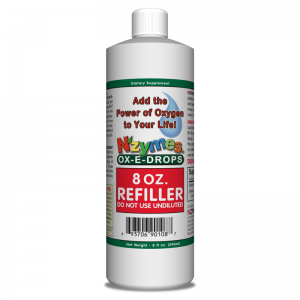 8oz. Refiller Ox-E-Drops
NZYMES® Ox-E-Drops 8 oz. Refiller: This oversize bottle is equivalent to 3.6 of the small 2.2oz bottles, making it a real value. Every home needs Ox-E-Drops! It has so many powerful uses, both health related and various other facets of everyday life. Check it out, and be amazed. Discover the Ox-E-Drops advantage.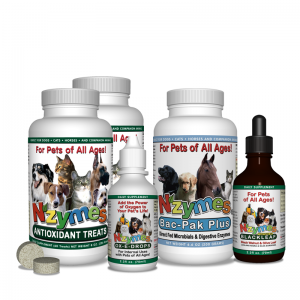 Healthy Skin Kit Small
The Healthy-Skin Kit, Small, is the 'convenience' minded kit, which is recommended for pets UNDER 60-lbs. Check out our Healthy Skin Program guideline here. The TREATS are expected to last an 11-60 lb dog 2 months. The LIQUID items are expected to last 2-3 months. The 200 gram BacPak Plus should last about 2 years, and is a MAIN maintenance item.
Healthy Skin Kit Large
The Healthy-Skin Kit Large is the more 'economical' kit - recommended for helping dogs larger than 60-lbs. Using a 2-lb jar of Granules, this kit is easier on the budget while following the lengthy program required to reverse and correct the digestive imbalance caused by Candida yeast having overtaken the gut, which is the root-cause of all the itchy skin problems. Check out our Healthy Skin Program guidelines here.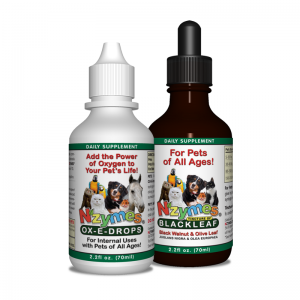 Twin Pak for Pets
NZYMES® Twin-Pak Kit provides 1-Each of the Ox-E-Drops for Pets and Tincture of Black-Leaf for Pets. This is a "convenience kit" offered to 1) make it easier for patrons to reorder when using Healthy-Skin kits, OR 2) Provide 1-Click ordering of products needed for help in resolving Oral Papilloma Warts/Growths in Dogs (or cats).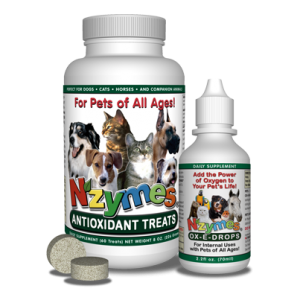 Healthy Respiratory Kit
NZYMES® Respiratory Support Kit provides 1-Each of the Ox-E-Drops for Pets and Antioxidant Treats. This convenient pairing provides the key products capable of providing the body with the support and assistance needed for success in overcoming most respiratory illness. Click here to check out NZYMES® Healthy Respiratory Program.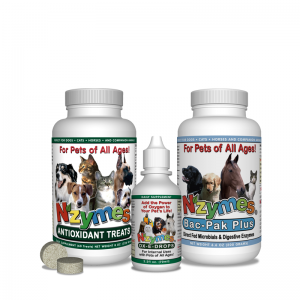 3-Pak Small for Pets
The NZYMES 3-Pak is a collection of 3 products necessary and highly recommended to help deal with certain difficult issues - such as digestive problems, or the more mild Candida Yeast overgrowth problems. Each product provides a different type of help for the body that can be of aid in correcting relative issues.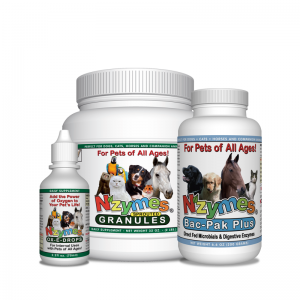 3-Pak Large for Pets
This 3-Pak Kit Large, for Pets, is provided as a more economical choice - at least in the realm of the Nutritional support item. The 2-lb jar of Granules will outlast the TREATS by many months. Otherwise, the purpose for the Kit and how it is used is pretty much the same as the Small Kit, except the Granules are added to food.
Super Healthy Skin Kit Small
The NZYMES 'Super' Healthy-Skin Kit Small is one of our Value-Priced Kits offered to help families dealing with multiple Dogs affected with Yeast Candida problems. Small refers to usage of Antioxidant Treats; in this case, taking advantage of the 6-bottle discount pricing. We often work with customers that have 3, 4, or even 5 dogs dealing with tough Yeast problems, and they need a more economical offering for their situation.
Super Healthy Skin Kit Large
The NZYMES 'Super' Healthy-Skin Kit Large is one of our Value-Priced Kits offered to help families dealing with Yeast/skin problems in multiple Dogs (or cats). Large refers to usage of Granules instead of Treats - for better cost effectiveness. Many customers come to us with 3, 4, or even 5 dogs dealing with challenging skin & itching issues caused by Candida overgrowth, where a more economical offering might be appreciated.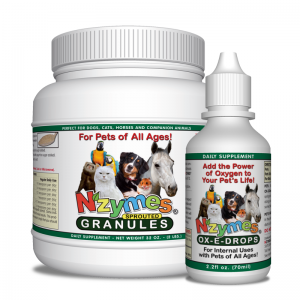 Bundle Items: Granules & Ox-E-Drops
Nzymes Granules and Ox-E-Drops work together to support immune function and build overall health and well being for pets of all ages.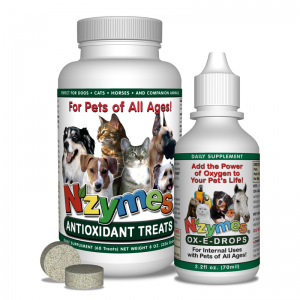 Bundle Items: Antioxidant Treats & Ox-E-Drops
The Nzymes Antioxidant Treats and Ox-E-Drops help in numerous ways to build the immune functions and support the overall health and well-being of pets of all ages.