YOU'VE GOT AN ITCHY DOG, WE HAVE ANSWERS!
Surely you don't want your dog to end up like any of these disaster examples - due to incorrect 'treatments'! But, the incessant itching or even dry flaky skin can be early signs of worse things to come. The before and after examples on this page are provided to illustrate how successful our holistic answers are with even the most awful itching and skin problem cases in dogs. Whether mild or extreme, be assured that we have all-natural answers to help restore proper skin health for dogs.

There are many factors that can lead to dogs having itchy-skin problems. Such factors will be discussed here within two main categories - Simple and Complex. This page offers a single-product answer only for Simple - itching, scratching, and dandruff/flaky skin problems, which may also include some occasional licking at feet or legs (early signs of more complex issue).

But FIRST, it's best we determine that your situation is truly SIMPLE and not COMPLEX, please review the symptom list below. If your dog shows several of the symptoms from that list, the overall condition has likely already migrated into the more COMPLEX arena, which involves digestive imbalance and Yeast overgrowth. To further prove whether complex or not, it's in your best interest to visit our handy Symptom Checker, where a score of more than 5 assures that "Complex" better defines your situation, and you will need more help than the single product alone can provide. You can review our help material for these complex problems HERE.

For the Simple Problems, the Simple Answer:

IF CONFIDENT THE ISSUES ARE MORE SIMPLE...
Then ONE of our "live nutrition" Antioxidant products may be all you need to get your dog's body moving in the right direction. Here we offer you 3 CHOICES in an attempt to better fit your desires or your pocket book. The popular Antioxidant Treats are loved by most dogs, and fit the Pet-parent desires to provide TREATS to their dog on a daily basis. But, since the TREATS may not fit the budget for pet-parents of big dogs (over 60-Lbs) the base-product is made available in two sizes. The Sprouted Granules are the source for making the TREATS, and come in both 1-Lb and 2-Lb size jars. The Granules are simply sprinkled in with the daily food servings. Explanation of how these supplements provide the outstanding benefits is in the final paragraph.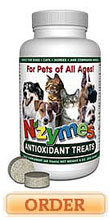 OPTION 1 - TREATS RECOMMENDATION:
Order the Antioxidant Treats if it appeals to you to provide this special nutrition in "Treat form", as a soft chewable tablet. The Treats are economical for dogs under 60-Lbs, where 1-Treat per day is needed after the initial 2-week Doubling period (2 per day needed). If used for your bigger dog, 4 Treats per day will be used during the 2-week doubling then 2-Treats per day after that. As you can see, 60+ Lb. dogs will normally use about 1 bottle per month. So, we have quantity-discount pricing that helps folks that prefer to use the Treats.
CLICK THE BOTTLE to order a bottle now at $21, OR buy 2 and save $3; finally, buy 3 to save $9.
OPTION 2 - FOR BIG DOG, 2 SIZES OF SPROUTED GRANULES:
For dogs in the over 60-lb category, most people find that the Sprouted Granules fit their budget quite well. A 2-Lb jar of Granules will last your bigger dog about around 200 days; whereas, the handy 1-Lb jar should last the same dog around 100 days. Just take a teaspoon of product and sprinkle in with food. CLICK EITHER BOTTLE to order - $29 for the 1-Lb jar and $43 for the more economical 2-Lb jar. .
<<Choose a 1-Lb Jar for $29

Or, Choose a 2-Lb Jar>> for $43
GETTING THE RESULTS;
Since this is all about nutritional support - for getting the body to function at its absolute best (the way it was designed to), We strongly recommend choosing a FOOD that will aid in this process and not hinder it. Typical mainline foods are short on nutritional benefit, chock full of negative additives, and loaded with high sugar carbohydrates. When current food runs out, it's in the best interest of the dog to find something from our special NZYMES Recommended Foods List.
THE KEY: These 'super food' Antioxidant supplements, any of the three, introduce critical "Live Food Enzymes" into your dog's diet - that would be completely MISSING otherwise. This is what unleashes the apparent 'magical' aspects of the body solving it's own problems. Many OTHER health benefits are a likely result of a body functioning better upon receiving this special supplement daily: healthier joints with better mobility, resistance to seizure activity, healthier coat and skin for less shedding/hair-loss, etc.


With Simple itching problems, resolution may begin within 1-6 weeks of starting product use, depending on severity of detoxification processes that are bound to begin. IF you do not see improvement with your dog within those weeks, please give us a call, as this would indicate that your dog's problems were most likely early signs of the more COMPLEX issues (Yeast overgrowth), and the one Antioxidant product your ordered is not all the support the immune system is in need of. Very likely, some additional support is needed for fungal elimination, and friendly bacteria replacement (probiotics). You have the full support - telephone assistance - of the entire NZYMES staff during whatever timing is required to restore improved wellness for your canine friend. WHENEVER YOU HAVE TIME - please take a look at what real people are saying about NZYMES and using these products! Just CLICK the 5-Star LOGO; you will be pleasantly surprised.