YOU'VE GOT AN ITCHY DOG, WE HAVE ANSWERS!
Surely you don't want your dog to end up like any of these disaster examples - due to incorrect 'treatments'! But, the incessant itching or dry flaky skin can be early signs of worse things to come. The before and after examples on this page are provided to illustrate how successful our holistic answers are with even the most awful itching and skin problem cases in dogs. And, all of these dogs "started out" with just too much itching and scratching. But, it was the typical 'treatments' that took them down a path of continued worsening. Steroids + antibiotics are NOT the answer.
Whether mild or extreme, be assured that we have all-natural answers to help restore proper skin health for dogs. Thinking that you can fix your dog's problems from the 'outside in' will get you on a path of endless frustration. The CORE issue is surely poor internal health, which we know from nearly two decades of heavy experience in this arena. The only question that remains is whether the issue is simple, meaning generally poor skin and coat health due to nutritional deficiency, OR whether the core issue is really more Complex, being about YEAST (candida) at the early stages of taking over the GUT. Yeast was the real problem with all these example dogs, even though 'Allergies' is the usual assumed diagnosis. Many women are familiar with yeast problems, though not with how serious the matter can be when it's the GUT involved. Learn more HERE.
We know you would like to get your dog back to a normal state of health as quickly as possible, so we're going to give you our SIMPLE, safe and effective answer to get that job done (below). However, we need to make sure you've not overlooked anything, and your dog is not needing more help than just our 'simple answer'. Since the chances are actually a bit greater that yeast IS at the core of your dog's itching issues, we strongly suggest you first examine the list below for OTHER possible symptoms you may have seen. If you witness 3 or more of these other symptoms on a regular basis with your dog, we would typically assess that you need MORE help, in which case you should consider our FULL Yeast program - by clicking HERE. Otherwise, continue with recommenations below - where the two products recommended should get the job done; as was the case with the initial huge results for this white Shepherd (pictures to left and right of these words). Reviewing Blizzard's STORY is to your benefit.


For More Simple Problems, the Simple Answer:

IF NOT SEEING SEVERAL SYMPTOMS IN THE ABOVE LIST...
Then we are entirely confident that this pair of products will provide what is needed to help the body return to excellent health overall, including proper skin and coat health without all that incessant itching and scratching. Just look at the two pictures of Blizzard above, with a huge transformation in just 3.5 months on essentially the same support.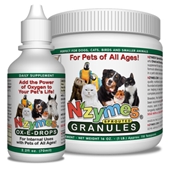 2 PRODUCTS, ONE GREAT RESULT:
Restored health for your dog over coming weeks or months, depending on severity of issues. The Sprouted Granules provide the nutritional support and dietary correction needed, but missing for most dogs. This 1-lb jar will last 3-months or more for heavier dogs (over 60lb) OR 6-7 months for dogs under 60lbs (even longer for tiny dogs). The Ox-E-Drops provide key dietary assistance shown to be highly effective with these issues, especially where yeast is often involved and so tough to erradicate. Get started today; why wait any longer. Results are Guaranteed! Again, these are also the right products even if yeast is involved, but still in early stages. ORDER NOW
SIMPLE USAGE:
The Sprouted Granules are simply added to the food, per instructions on the jar. The "Oxy" Drops are fed by dispensing a few drops into a tsp of water, and adding that to food for immediate consumption. Drop-count is by weight, indicated on the label. Since Yeast is a strong possibility in these issues, we generally recommend changing to a correct food - that will NOT support the spreading of the yeast. You can find out more by checking out the special NZYMES Recommended Foods List.
FREE SUPPORT:

We've no intentinon of leaving anyone on their own. Our friendly staff is happy to take your calls, offer support and answer whatever questions you may have while getting through the process toward an end result of restored health for your precious canine friend. Please CALL as needed. Our hours of operation are from 9am Eastern to 6pm Pacific time, M-F. 877-816-6500.