ARE YOU CAUGHT IN A CONUNDRUM? Arriving here would likely indicate you are dealing with a confusing situation involving your dogs health. Let's examine the typical scenario. You're expected to believe that the skin, ear and itching problems devastating the health of your dog are a result of an "allergies" response to - almost anything; foods, fleas, grass, or who knows what. You keep trying to remove or avoid things that may be causing such a response, but no change. You keep trying different foods, to no avail. And, you continue with "recommended treatments" designed to do one thing, suppress the immune response. Yet there seems to be no light at the end of the tunnel. No headway can be made.
What you care to believe, about what is going on with your dog, is one thing; but what about continuing with those treatments that, though the symptoms are suppressed for a short time, never seem to produce a positive end result. Are you familiar with the old saying, "Doing the same thing over and over, but expecting a different result - is the definition of insanity." Why do we bring up that old expression? Because the typical dog owner coming to us with these problems has been at it for 3-5 YEARS, trying to solve such problems with failing 'treatments'. Pet owners have spent between 5 & 20 Thousand dollars, seeing only degradation instead of improvement! Would you say that sounds a little nuts? Time to help your dog and save your precious earnings. .
Yes, time for a different approach, right? Wouldn't it make sense to give your dog a real chance, save your hard-earned $$$ AND have a Satisfaction Guarantee? The NZYMES Healthy-Skin Program gets the results you are looking for - a healthy & happy pet again. Some of our worst case histories are offered on this page. Yes, most are likely worse that what you see with your dog, but pictures of minor cases would be of little value to represent the kind of "turn around" that is possible when using our special Program. On top of the Guarantee, and the long-lasting Kits that are used for the Program, we provide all the Phone Support you need to reach the success you desire. We feel we have the best customer service and phone support you can find anywhere in America, even though we are a tiny organization. So, if questions are still lurking in your mind, try starting your support experience right away. Give NZYMES a call: 877-816-6500; M-F, 9am Eastern to 6pm Pacific time.

IMPORTANT NOTE: Many people are always on the lookout for the "silver bullet", or that one single inexpensive product that is going to quickly solve these problems and make life better for them and their precious dog. We hate to tell you there is no such thing, but that's the truth. Solving these very
challenging skin and itching problems is a tough and time-consuming process, even though our Program will get you the results you desire. Be sure to investigate our Reviews on the Shopper-Approved system, by clicking this Logo.
Finally, we suggest you take some moments to make use of our handy Symptom Checker to review possible symptoms seen with your dog. You may be surprised by how many symptoms exist that you've not paid much attention to. If you come out of that with a score of 4 or LESS, you might get by with fewer products than shown with the KITS below, so please call for a free consultation at your convenience. 877-816-6500
TURNING THE TIDE ON 'DOG ALLERGIES' PROBLEMS
ORDER A KIT TODAY. GIVE YOUR DOG A FIGHTING CHANCE!
Your precious canine friend deserves a chance at relief and a better quality of life. Two kits are offered below, based on considerations like preference, convenience, or economical situation. Again, you're invited to CALL US - at your conveniecne - to begin understanding the kind of customer service that comes along with your purchase. 877-816-6500 - hours: 9am Eastern time to 6pm Pacific time, M-F.
For smaller dogs, under 60lbs, the $114.50 Small Healthy-Skin Kit is the more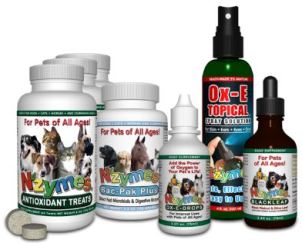 convenient choice - as it allows you to provide the chewable TREATS to the dog daily, which is better if you desire to "provide treats". This KIT can also be used for dogs over 60-lbs where cost or budget is not a factor, and you enjoy providing the Treats (4-treats per day are required during 'doubling' periods). So, if either situation fits and you are ready, CLICK PICTURE TO ORDER!
For LARGER dogs, over 60lbs, the Large Healthy-Skin Kit, $126.50 provides the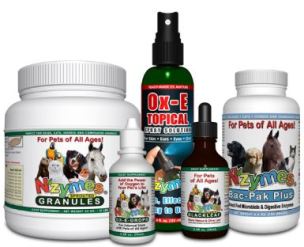 more economical choice (likewise for smaller dogs). The difference being that you add the Sprouted Granules in with the normal food, as the daily nutrition supplement. The Granules will outlast the Treats by about 3 to 1, so it's all about economics. The Granules are also the base product from which the Treats are made. If ready to win, just CLICK PICTURE TO ORDER!