Dachshund Paralysis Recovery: 4 Short Stories + 2 Videos
Since the Dachshund is especially prone to IVDD, back injury, and Paralysis issues, we put together this page in 2016 (using 4 very Short customer Stories) for the benefit of Dachshund Pet Parents. However, in more recent years we have been blessed with many Paralysis recovery Videos, two of them especially helpful HERE – being Dachshunds.  This helps like-breed Pet Parents get a really comprehensive 'quick-glimpse' about results they might expect with the benefit of Nzymes® in the daily diet. Though we can't say that every dog can make such a comeback, the 90% success rate we've come to expect is pretty exciting stuff. The REVEWS lower on the page help substantiate those remarks; wherein, the 4.7 Average Score is equivalent to about 94%.
So, the setup below is…First, the two recovery Video's, with links below the Video…if you care to see the entire STORY. In fact, within the Harry story page, there is a 2nd Video – many months after that 13-day initial recovery period. The two Videos offered here provide an important contrast.  Harry was one of many that was capable of a very-Quick initial recovery – that too many folks tend to expect. Whereas, the long-hair Dachshund, Rusty, was a much slower recovery, taking about 2 months to really show usefulness of legs.  We never know which dogs will respond quickly OR more slowly; but most do respond well, if allowed the time and enough resources. So, please enjoy the two Videos.  And then, below, there are the 4-WRITTEN Stories your can also learn from.  But don't overlook the blue bar at Page bottom, with the Dachshund Paralysis Reviews.
---
See Harry's full story HERE, which includes a 2nd Video, months later, and a Link to the NEW Harry Story – which discusses the return of a toenail that was surgically removed 12 years earlier. The Pet Parents were shocked, but delighted to see this turn of events and couldn't have imagined this happening without the Nzymes® dietary support.
As should be expected, Rusty's story is greatly different, especially since the Paralysis seemed to be Vaccination induced. And this from an every-day type of vaccine (for pets), but it seems to be an interesting side-story, considering where things are at now – in April of 2021.  Rabies is, though, already the most troublesome vaccine for the dog to deal with.
And Now, the Four Short Text-Only Recovery Stories
OSCAR:

Dachshund and Paralysis Recovery

My dachshund Oscar had paralysis in his rear end just like Bailey. This was many years ago and I was desperate in trying to find a way to help him. During an Internet search, I was so fortunate to come across this product. After starting Nzymes® Granules, within 1 month he was showing signs of good progress. We kept him confined and comfortable as possible to this point to aid in the healing.

Showing some movement in the rear, we started putting him in a full tub of water and allowing him to start moving his back end, getting a bit of exercise. It was subtle, yet obvious. Finally, by 3 to 4 months, our Oscar was back in full stride! I know this product is the reason why.

Thank you so much! – Juli Partain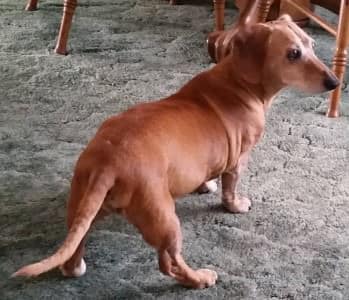 ---
MAGGIE-MAE:

  Dachshund, IVDD/Hind-leg Paralysis

At age 5, Maggie Mae was diagnosed with possible degenerative disk disease or a herniated disk on June 19, 2013.  This was after sudden and complete hind-leg paralysis.  After looking on the internet regarding how to care for a paralyzed dog I came upon the Nzymes.COM web site.  I figured we had nothing to lose so I ordered two bottles of the Antioxidant Treats.

Maggie was in diapers and had no control over her bladder or bowels. We started her on the Nzymes® Antioxidant Treats on August 5 and in just 6 days she was up and trying to walk again.  Yes, stumbling, but walking. Not as well as before but she is certainly on her way to recovery.

Our vet is amazed.  She says whatever I'm doing, keep doing it.  It has been a lot of prayers, Nzymes® and a lot of love that has gotten her through this.

Today is September 4, 3 months later, and we just got back from our Labor Day camping.  Maggie is out of her diaper and for the most part, can let us know when she needs to go out.  She still has accidents, but that's OK.  She will recover from that too.  She is still on Nzymes® once a day and a green bean diet to take off the weight the steroids put on her in the beginning.  I have confidence that she will soon be back to her old self.

Javene Mounce, AK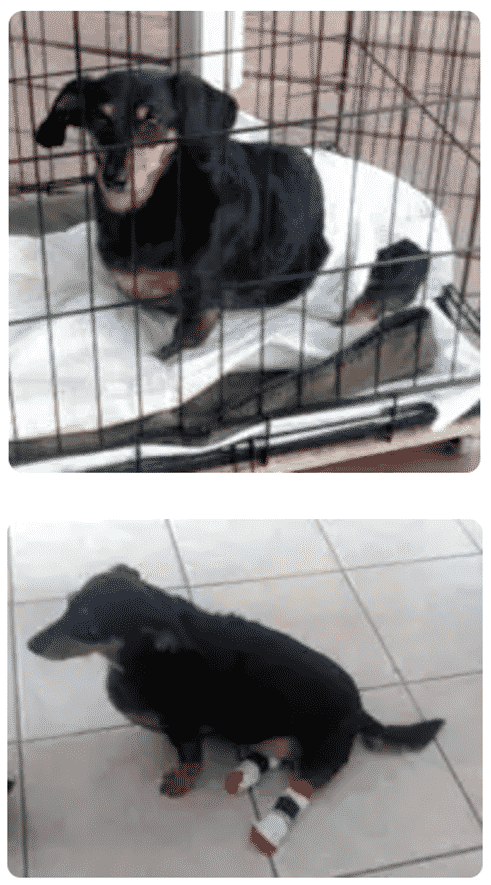 ---
BO:

  Dachshund with Back Injury & Loss of Use of Back Legs

My dachshund, "Bo", is one that my son rescued from the pound. You could tell he'd been neglected as his ears were torn on the ends and he is petrified of storms. Needless to say, clipping his toenails was quite an event. About a two years ago, I was holding him while my husband tried to clip his nails. He struggled against it, so after only a few minutes, we gave up.

The very next day, we noticed he had almost no use of his back legs. In fact, by evening he was literally dragging both legs. I was sick! I took him to the vet, he said he could do a course of prednisone and gave him a shot of steroids. He was better by the end of treatment, but that visit to the vet cost $175.00. She said if it didn't help, we could do surgery in Columbus, or, euthanize him.   Well, "Bo" had a relapse just as severe after jumping from a chair about six months later. He was wobbling when he walked and would periodically fall down.

I came across Nzymes.COM on the internet and thought I'd give it a try. After a week of taking the Nzymes® Antioxidant Treats he was walking like nothing ever happened. Before the Nzymes® we couldn't even pet him without him yelping in pain. I continue to give him 1/2 tablet (Antioxidant Treat) daily and he hasn't had a problem since. I'm a firm believer in Nzymes® and will continue to order it for years to come.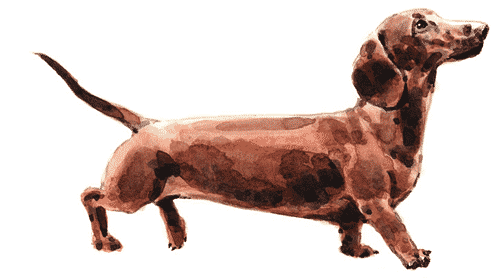 Thank you for saving Bo's life!
Shannon McKee
Warsaw, OH.
---
LADY BIRD:

  Dachshund, Paralysis Recovery, Likely Herniated Disc

I send you this message to let you know how truly grateful I am for your product. My dachshund "Lady Bird" suffered a herniated disc that caused her to lose function in her back legs. I was heartbroken because when she first showed signs I was unaware as to why. I took her to the vet and he gave me the heartbreaking news. She was on steroids for 7 days which helped the swelling and pain but the damage was done. I did not want to put her through back surgery so I began looking on the internet for other solutions such as a doggie wheel chair and came across your website. THANK GOD !!

We did make her the doggie wheel chair which she used for only about 2 weeks and I ordered N'zymes (Nzymes®) for her. She started her first dose on 08/20/2012.  Today – 09/08/2012 – she is walking and even running!!! She still has some issues with balance but the difference N'zymes has made is truly a miracle! I can't express my happiness and my eyes are filled with tears at this moment because of the change it has made for my precious Lady Bird. I wished I had video-recorded her progress like Lilly's story because it is truly a miracle what N'zymes has done for her. Again, THANK YOU for such a wonderful product.

Jennifer N. of San Antonio, Texas.
---
Products Recommended for Dog Paralysis Recovery Challenges
Antioxidant Treats for FUN and Convenience, Granules for an Economy Preference
FREE SHIPPING – on Orders of $65 or More