Many Ways to Save at Nzymes.com
Many Ways to Save at Nzymes.com
At Nzymes.com, our goal is to provide the very best in Nutritional supplements for pets and their people! That will always be job one. We also pride ourselves in providing the best customer care that we can offer. It gives us great joy to hear of some poor struggling pet who is rebounding after using the Nzymes products.
MULTIPLE-BOTTLE PRICING
In today's world, cost is also a real factor. The purpose of this short article is to point out some built-in, cost saving features to help folks stretch their dollars as far as possible. Did you know there are multi-bottle discounts built into every Nzymes product? Some provide deep discounts when you purchase 3 or 6. Our most popular item is the Antioxidant Treats for Pets. Many regular customers are buying 3 at a time, saving $3 each for a total savings of $9. Others will purchase 6 at a time, saving $4.50 each, for a savings of $27! Our 2nd most popular item is the Sprouted Granules. Buying 2 will save you $3 each to save you $6; buying 3 at a time will save you $7 each, for a savings of $21! Buying in larger quantities also means less frequent shipping, saving you on postage. (See Chart Below)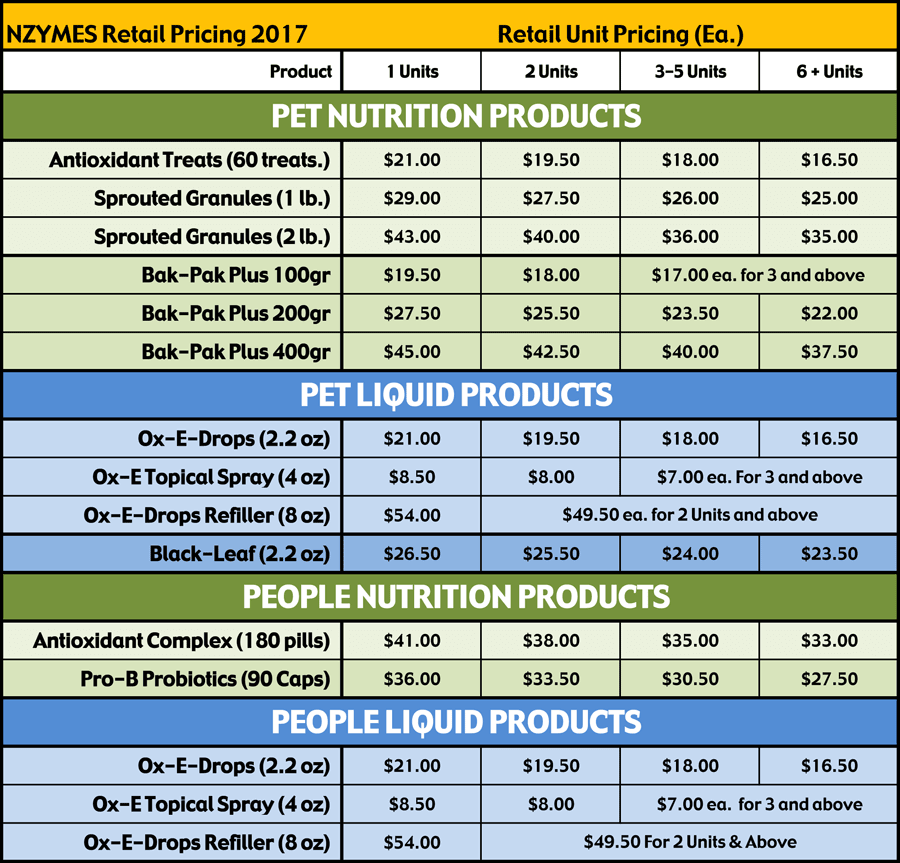 LARGER SIZES
Another consideration is purchasing in larger sizes. A few of our products are available in graduating sizes. Our Sprouted Granules come in 1 lb and 2 lb sizes. Our Bac-Pak Plus is available in 3 sizes – 100 gr, 200 gr  & 400 gr. Lastly, our Ox-E-Drops are available in the standard 2.2 oz size or in the more economical 8 oz Refiller size. The larger sizes will reflect a greater savings.
BUNDLE KITS
Also, there are certain product Bundles that are offered as special packages. On such example is our Antioxidant Sampler Kit. This item was designed especially to allow newer customers to try both our Antioxidant Treats and our Granules to see which might be the best fit for their pet. But everybody likes a deal! This kit is specially priced with an $11 savings applied! This small Bundle kit has enough product to last a small dog 6 months, and a large dog 3 months. The $39 price-point makes it a very attractive offering. (Limit 1 per order)
BONUS ITEMS
 A few of our Bundled kits feature a Complimentary bottle of our Antioxidant Treats for Pets. The kits include the Small 3-Pak Kit, the Healthy Skin Kit Small, the Papilloma Support Kit and the Super Healthy Skin Kit Small. The complimentary bottle can offer additional immune support for pets who are struggling with various health challenges.

COUPONS
We are often asked about coupon codes. We DO offer them from time to time via our newsletter. They are not generally available 24/7. To receive the newsletter, you must subscribe on purpose. We do not spam or barrage you with unwanted communications. Simply write to info@nzymes.com and ask to be added to our mailing list. We also use this list to notify you of important information or any changes or updates.
IN CLOSING
We want to sincerely thank you for your patronage. Your trust and confidence in our products and information is not something we take lightly. We are always delighted to share in the happy outcomes many or our patrons experience, and do our best to encourage those who are just beginning their journey into better health.