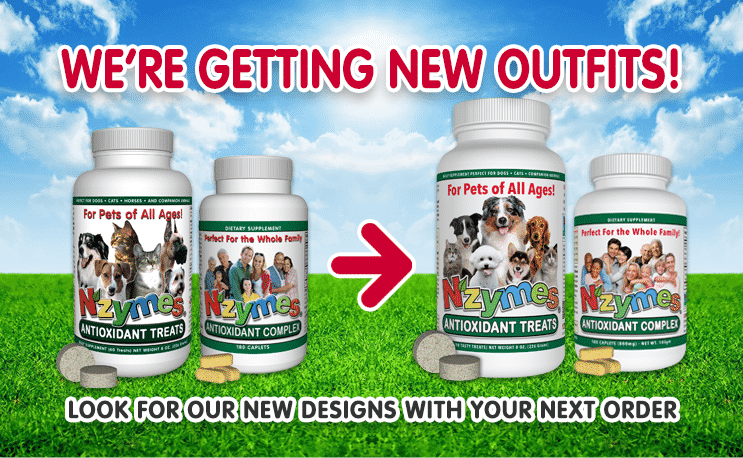 Nzymes Antioxidants Get a New Look!
Dateline July 30, 2019: This year marks our 20th anniversary of business operations. That is no small feat in today's constantly changing world. Our mission has always stayed the same; Bring quality, Natural products that make a REAL difference in the lives of pets and their people! Thus our motto: "Natural Products, Real Results".
But like any other business or product, sometimes change can be a good thing. Not to the product itself, but to the way it is presented. We have begun this process with our Antioxidant Products. This simple post is to point out 3 key areas of change to look for.
A Better Look
Simply put, it was time for an upgrade. The artwork on our former labels had served us well for many years. But today's technology allows for much cleaner images. We know this may not matter at all to our regular customers who are happy with the products, but there are always new folks, not knowing about the products, who may "judge a book by its cover", and miss out on tremendous help for themselves or their pets.
A Better Size
This is the one that most folks will notice immediately. The Antioxidant Complex for People has not changed in size, but the Antioxidant Treats for Pets has. The new bottles for the Treats are slightly taller, slightly bigger around, and have a much bigger mouth! This new size will make it easier for folks to get the Treats out of the jar. Our former jars would often clog up at the bottle neck and may require poking and prodding to get the treats out. That should not be so much of an issue with the new bottles.
Better Information
Lastly, we have upgraded the product-info side panels to convey more useful information. We are living in the information age, and having more info readily available is a good thing. The larger bottle size on the treats allowed more room for Ingredients, Recommended uses and even for a QR code.
Since there is no way to convey ALL the info about the product on the label, the QR code can be scanned with a smart phone to bring full product info to anyone who wants to know. Scanning the code will take the user to the product page on the website, where all the important information is available as well as Product Reviews.
More to Follow…
In the coming weeks and months ahead, we have other new changes coming that we think you will like. To stay on top of these things, be sure to subscribe to our weekly newsletter. As always, our goal is to help you have a better experience with Nzymes Products and service. Stay tuned…
UPDATED PET PRODUCTS
UPDATED PEOPLE PRODUCTS