Earn 315 points upon purchasing this product.

Good Health Begins in the Gut!
A special blend of 'live', naturally occurring "friendly bacteria" cultures and pancreatic (digestive) enzymes. Micro-encapsulation helps to ensure maximum delivery of viable bacteria to the GI tract, where needed. Promotes proper digestion and assimilation of nutrients. Protects & maintains intestinal flora balance. See description for full details.
Buy 2, Save $4.98 — Buy 3, Save $14.97
FREE SHIPPING on orders of $65 or more
100 Gram Size – $23.49      200 Gram Size – $35.99
Nzymes Bac-Pak Plus 400 grams is a powerful Probiotic/Digestive Enzyme blend.  This powerful blend of microencapsulated live, viable and naturally occurring microorganisms (probiotics) and digestive enzymes. The "Micro-Encapsulation Process" provides key protection against the damage from heat and stomach acid and ensures that the majority of the viable bacteria reach the GI tract.  This blend helps promote proper digestion and the natural assimilation of foods. Bac-Pak Plus was created for nutritional supplemental use with animals of all ages and designed to help optimize a pet's digestive tract and immune system. For pennies a day, your pet can benefit from the added support of this highly concentrated blend of digestive enzymes and direct-fed microbial's (probiotics).
Best for Larger Pets and Multiple Pet Families
This larger container is twice the size of our Bac-Pak Plus 200 gram size and is ideal for larger or multiple pets. Many raw feeders love our 400-gram Bac-Pak Plus to blend into their mixes. One such raw feeder has a very popular YouTube page called Menu from Mars. You can see his segment on Bac-Pak Plus at the 27-minute mark. Each jar contains a 1 gram scoop for ease of measurement.
Whether you have dogs, cats or horses; digestive enzymes and probiotics are essential to good health. Nzymes Bac-Pak Plus is an excellent choice to provide these key nutrients for your precious friend.
A Little Bit Goes a Long Way
With Nzymes Bac-Pak Plus, a little bit goes a long way; The 400gm bottle would normally last a 150 lb. dog for more than a year or a full-size horse for approximately 200 days. The product is very fine in consistency (powdery appearance) and is added to the daily diet using the provided 1-Gram scoop.
DIRECTIONS: Mix Nzymes Bac-Pak Plus powder with your pet's daily meal. Adjust levels to the individual animal's needs based on the weight table below. This product is intended for intermittent or supplemental use only.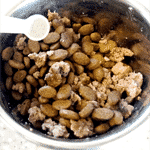 PET WEIGHT    DAILY MAINTENANCE
10 lbs. or less                               1/8 scoop daily
11-40 lbs.                                      1/4 scoop daily
41-200 lbs.                                   1/2 scoop daily
201-400 lbs.                                    1 scoop daily
800-1000 lbs. Horse        1 1/2 to 2 scoops daily
NOTE: 1 Scoop included in the bottle.
---
Ingredients
Microorganisms / aka Probiotics:  Dried Whey, Active Dried Yeast, Ground Flaxseed, Yucca schidigera extract, Dried Aspergillus oryzae Fermentation Extract, Dried Aspergillus niger Fermentation Extract, Dried Lactobacillus acidophilus Fermentation Product, Dried Bifidobacterium longum Fermentation Product, Dried Bifidobacterium thermophilium Fermentation Product­­, Dried Enterococcus faecium Fermentation Product, Dried Bacillus subtilis Fermentation Product, and Silicon Dioxide.
GUARANTEED ANALYSIS
Probiotic Blend: Total Lactic Acid Producing Bacteria: 1 Billion Colony Forming Units per gm.(Lactobacillus acidophilus, Bifidobacterium thermophilum, Bifidobacterium longum, Enterococcus faecium).*
Digestive Enzymes Blend:
alpha-Amylase* (Aspergillus oryzae)                 3560 µg starch hydrolyzed/minute/g.
Protease* (Aspergillus oryzae)                     475 µg amino acids hydrolyzed/minute/g.
Hemi-Cellulase* (Aspergillus niger)      410 µg hemicellulose broken-down/minute/g.
Phytase* (Aspergillus niger)                            240 µg of phytate hydrolyzed/minute/g.
Cellulase* (Aspergillus niger)                         190 µg cellulose broken-down/minute/g.
Lipase* (Aspergillus oryzae)                            140 µg fatty acids hydrolyzed/minute/g.
Pectinase* (Aspergillus niger)                              95 µg pectin broken-down/minute/g.
beta-Glucanase* (Aspergillus niger).   70 µg Oligosaccharides hydrolyzed/minute/g.
*Not recognized as an essential nutrient by the AAFCO Dog and Cat Food Nutrient Profiles.
ALL INGREDIENTS ARE MADE IN THE U.S.A
---
These statements have not been evaluated by the FDA. This product is not intended to diagnose, treat, cure or prevent any disease.
Additional information
| | |
| --- | --- |
| Weight | 1.1 lbs |
| Dimensions | 4.75 × 4.75 × 5 in |
| Sizes | 200 gm, 400 gm |