Nzymes Rewards For Loyal Shoppers!
Nzymes Rewards are here! We are very excited to announce our new Loyalty Points Rewards Program.
Now you can earn Reward Points every time you shop at Nzymes.com!
New to Nzymes? SAVE $5 on your First Order! Full details below.     Exciting News

Start Earning Nzymes Rewards
Getting started is easy as 1-2-3.
1. You must have an active account at Nzymes.com, AND you MUST be logged-in to claim points!  This is key to being able to offer this program to our shoppers. If you have only ever checked out as a guest, or are a FIRST TIME CUSTOMER, simply click HERE to set-up your account today!
2. Earn 500 points just for signing up!  That's right, we're giving you a signing bonus – LOL. If you are already an existing Nzymes customer with an account on our site, 500 points have already been deposited in your account.
So, here's what to do… Be sure you are logged in to your account before you begin shopping. Then when you get to the checkout page, you will be asked if you would like to redeem your 500 points today. Doing so will take $5.00 off of your order. You can also choose to let your points accumulate.  Repeat customers can Login at the top of the Checkout page – and everything will work as expected.
3. For every dollar you spend at Nzymes.com, 5 points will be added to your account. Points earned today can be used to save on future orders.
---
This is an ONLINE Program ONLY!
It is important to understand that this program is for Online Orders Only. The Nzymes Loyalty Rewards Program is tied directly to our shopping cart, and all points are tabulated through the checkout system. Of course, you are always free to place your order by phone or mail but at this time, those methods cannot be integrated into the Loyalty Points Program.
For full details, Please see the Nzymes Loyalty Points Rewards Policy page for Terms & Conditions.
Exciting News: Update August 2021, Rewards Program Now Expanded!
Invite Your Friends to try Nzymes – Earn extra Points
Many customers have been referring family and friends to the Nzymes product line, but we had no program in place to reward them for their efforts…Until NOW! We have recently rolled our Rewards Program into a larger, more versatile program. There are Birthday Rewards, Social Media Rewards, and rewards for Referring a Friend!

Everything Starts with a Click of Little Blue Box (Lower Left Corner)
Just Open the Box & Follow the Tabs
Get points for sharing your Birthday. You'll be sent a special offer by text or e-mail when your Birthday draws near!
Share on Social Media, earn instant points that can be used right away!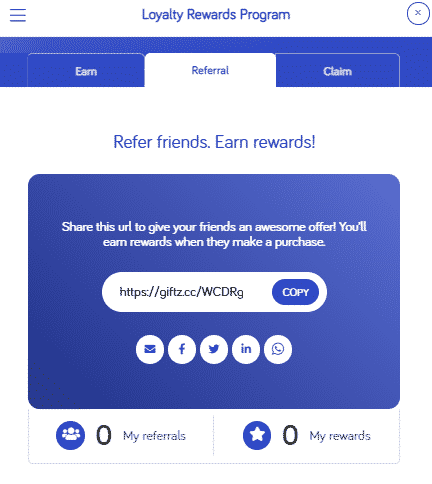 Click on the Referral Tab to Invite a Friend
This is the most exciting part of the updated version of the rewards program.
Use this feature to send your friend a personal invite to Nzymes.com.
They will receive a custom link from you.
When they go to the nzymes site from that link, they will receive a 1-time, unique 10% Coupon for their new order.
That coupon will follow them all the way to checkout, and they can't lose it.
When your friend checks out and completes their order, you will also receive a deposit of 500 Points to your account. It is all done automatically by the system.
You Must Have an Account to Participate
The only way the program can work is to be tied to an account.
Creating an account at Nzymes is easy! All it takes is an e-mail and a Password to get started.
There are more reasons now than ever before. Click HERE to go there now