Nzymes Human Energy Kit E=MC2
Earn 390 points upon purchasing this product.
We've all heard the famous formula, "E=mc²". Here at Nzymes, we know a bit about that ourselves. We have put together this special bundle to represent the equation this way: ENERGY (E) = Minerals (M) x Complex (C) squared (2)! This special bundle includes a bottle of our Tracite Minerals, and TWO Antioxidant Complex, all for a special bundle price ($14 below Retail)! This kit combines the power of the Live-food nutrition found in our Antioxidant Complex and the Electrical signature from the spectrum of bioavailable minerals in our Tracite Minerals.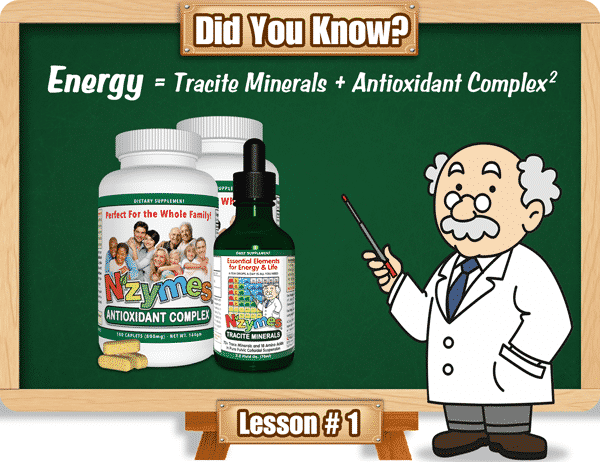 Nzymes® Human Energy Kit offers tremendous value. It combines a 2.2 oz bottle of our Tracite Minerals and two bottles of our Antioxidant Complex for People, all for a special, bundle price ($14 below standard retail)! Each of these items works at the cellular level to cleanse toxic waste, and increase nutrient delivery to the cells. The cells of the body are the birthplace of energy. When they are healthy and thriving, energy abounds. Take it from the professor, E=mc²!
Mineral Support -  Nzymes® Tracite Minerals are naturally occurring trace minerals and elements that have been balanced by nature and are extremely bio-available. These minerals in their colloidal suspension enhance the uptake of nutrients, vitamins, and other supplements. The fulvic acid-base of Tracite acts as a natural antioxidant that helps to cleanse toxins, support digestion, and win the fight with free radicals.
Antioxidant Support -  The "Live Food" nutrition found in the
Nzymes® Antioxidant Complex enhances your body's ability to produce Antioxidant Enzymes in greater abundance. The enzymes Superoxide Dismutase, Catalase, and Glutathione Peroxidase are at the leading edge of cellular health. When the cells are better able to perform their functions, better health naturally follows.
Neurologic Support
In addition to providing elements to enhance natural energy production, the Nzymes® Human Energy Kit can be very supportive of neurological function. The Antioxidants coupled with the Trace Minerals naturally detoxify the cells and enhance inter-cellular communication at the bio-electrical level. These two functions can have an impact on anyone struggling with brain-neuropathway issues.
Incredible Value - We've put this special bundle together to offer our loyal customers a genuine value, both to their health and also to their wallets! This small bundle provides a 3-month's supply for the average adult.
Additional information
| | |
| --- | --- |
| Weight | 1.0 lbs |
| Dimensions | 5 × 3.75 × 4.5 in |