Respiratory Support Program for Dogs and Cats

Natural Respiratory Support Program for Dogs and Cats
The Nzymes® Respiratory Support Program for Dogs and Cats is simple to use and works well. It is designed for pets to offer key nutritional support with many different respiratory issues. Respiratory problems may include symptoms like those with Kennel cough, Flu, Bronchitis, Pneumonia, URI's, Sneezing, Runny Nose and General Congestion. NOTE: Do not ignore these symptoms if you notice your dog or cat is battling with them, see your vet.
When a dog or cat is dealing with a respiratory problem, you want something that works! It needs to be safe, effective and easy to use while delivering the desired results. That is exactly what the Nzymes Respiratory Support Program for Dogs and Cats is all about.
Click any Photo Above to View the Story
3 Simple Steps for Healthier Breathing
First, we begin by adding Nzymes® Ox-E-Drops to the pet's food and water dish daily. Next, we add the drops to a Vaporizer, or Cool Mist Humidifier to be inhaled by the affected pet to breathe until recovery is achieved. And lastly, we add the power of the Super-food Antioxidant Treats to the pet's daily regimen to promote better energy and faster recovery.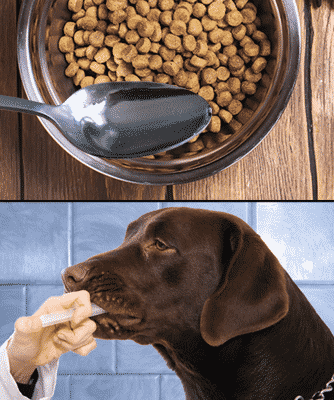 Step 1 – Give Ox-E-Drops Internally Mixed in Pet's Food and Water
Above all, get the Ox-E-Drops into the pet every day. To start, use 1 drop of the Ox-E-Drops Concentrate for each 20 lbs. of the pet's body weight. Use a minimum of 2 drops twice daily for pets 40 lbs. and under.
Pet's food; Dilute the Ox-E-Drops with a teaspoon or tablespoon of water and spill over the morning or evening meals.
Water Dish: Add the same amount of drops in the pet's water dish each time it is filled.
Use the Oral Syringe for pets who are struggling to eat or drink. Just add the correct amount of Ox-E-Drops to 4-5 cc's of water and squirt slowly along the teeth line to avoid choking. (See Video Below for Example).
Used internally, the Ox-E-Drops react with the body's own natural chemistry, releasing ions throughout the system via the bloodstream. This is a positive support for the immune system. When Extra Immune Support is Needed: Increase usage to 3 times per day for a pet who has any type of low immune system issues or challenges.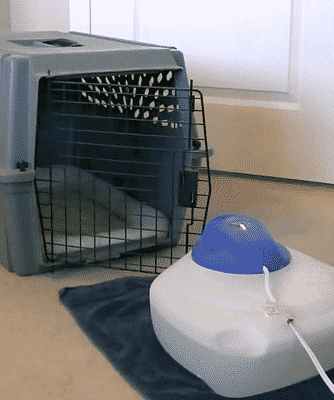 Step 2 – Add Ox-E-Drops to a Vaporizer/Humidifier to be breathed by the Pet
Breathing the Ox-E-Drops with a Vaporizer or Cool-mist Humidifier is simple. Just add 1 teaspoon (80 drops) of Ox-E-Drops to a 1-gallon water reservoir of a Vick's vaporizer and let the pet breath the vapors. For best results, put the pet in a kennel or carrier and cover with a sheet (see video below). Allow the vapors to concentrate inside and after 15 minutes, pull the sheet back and let the vaporizer continue to run.
NOTE: Repeat this every hour or so. In addition, If a kennel or carrier is not available, make the pet comfortable in a small enclosed space, like a small bathroom.  Allow the vaporizer to run as these sessions should last 1-2 hours using this method.
Overnight: Wherever your pet is comfortable sleeping, you can allow the vaporizer to run nearby. The vapors are safe to breathe for everyone in the family. The vaporizer can run in your bedroom if that is where your pet sleeps at night.
Step 3 – Antioxidant Support with the Respiratory Kit
We suggest, It's best to choose our Respiratory Support Kit. This kit includes 1 bottle of the Ox-E-Drops and a Oral Syringe and 1 bottle of Antioxidant Treats for Pets. The powerful Super-Food in the Treats provide solid immune support for a body challenged by respiratory stress. Furthermore, they are tasty! The Treats can be given by hand or crushed up and added to the pet's food.
The Antioxidant Treats have made a positive difference in 1000's of pets over the years. We know from experience what an important role they play in helping pets overcome difficult respiratory issues.
This Program is Simple but Effective
The Respiratory Support Program for Dogs and Cats has been used successfully with thousands of or pets over the years. We expect sucess with respiratory problems such as kennel cough, pneumonia, canine influenza (dog flu), or more minor issues such as basic coughing and sneezing problems. Click on the images below to read a few of our Respiratory Success Stories.
Nzymes Respiratory Support Program Video Tutorial
The instructional Video provided here will guide you through the simple process for a more 'natural' restoration of respiratory health for most any size of dog.  If you have an extra-large dog, OR want to use the program with your horse, please call for guidance in relation to product usage or vapor usage, especially where a horse may be the patient (due to the huge range of weight categories). In such a case, a Nebulizer may be more useful for vapor delivery. You will find Nzymes staff eager to help you with concerns about restoring health for your animal.
---
VIDEO – Respiratory Support Program Instructions
---
Nzymes Healthy Respiratory Kit