Natural Support for Respiratory Issues in Horses
Respiratory issues in horses, just as with dogs or cats, can cause a HORSE to succumb to respiratory distress and ailments, with the most serious being Pneumonia. Any of these issues and associated symptoms could attack your horse at any time, and the more quickly you take action, with the proper assistance, the better. Usually, such respiratory issues will be caused by airborne viral transmission; but, the animal may also acquire the illness through bacterial means.
In most respiratory issues in horses, there is obvious heavy congestion or chronic cough, or even a noticeable impact on breathing performance (especially with pneumonia).
Following our respiratory program for horses will require some sort of tenting mechanism to facilitate the use of a vaporizer. This is easy with Dogs. You can place them in a very small room or a covered kennel to constrict the breathing area to that area fed by a vaporizer device. For the horse, you may have to get creative to duplicate this action, either tenting or using the smallest enclosure possible. Whatever the answer may be, please understand that this respiratory support is a very important part of the potential recovery.
Nzymes® Support Program for Respiratory Issues in Horses
The Nzymes Respiratory Support Program for Horses provides effective anti-microbial, nutritional and dietary support for most respiratory issues in horses.
First, we give our Nzymes Ox-E-Drops mixed with water in an oral syringe to the horse every day. Ox-E-Drops delivers powerful alkalinity and anti-microbial support internally to promote healthier pH balance in the battle with the medical issue.
Second, we want to deliver the power of Ox-E-Drops in water via a vaporizer, cool-mist humidifier, or nebulizer for the horse to breathe to support healthier respiratory functions and promote faster recovery.
Next, we use the powerful Nzymes Sprouted Granules to deliver strong super-food nutrition that supports a horse's healthier metabolism and recovery.
Finally, for respiratory issues in horses where the horse has been treated with antibiotics, we always add Nzymes Bac-Pak Plus!  This Micro-encapsulated blend of Probiotics and Digestive Enzymes promotes increase nutrition update and digestive balance essential with respiratory distress challenges with horses.
When Following this MULTI-PART approach, we generally expect to see a quicker return to healthier respiratory functions, especially if an appropriate vaporizer or nebulizer is used with the program. Always consult with your veterinarian before beginning any nutritional program.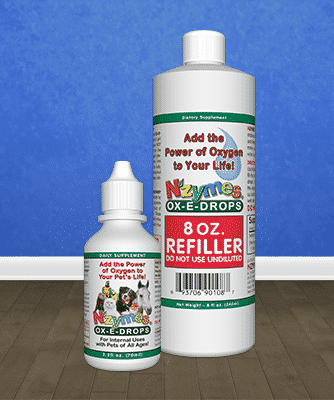 Using Ox-E-Drops Concentrate
In cases like this, the first step is to use our Nzymes® Ox-E-Drops INTERNALLY at least one daily as instruction below.
Each day, give the horse a minimum of 20 drops of Ox-E-Drops orally with syringe.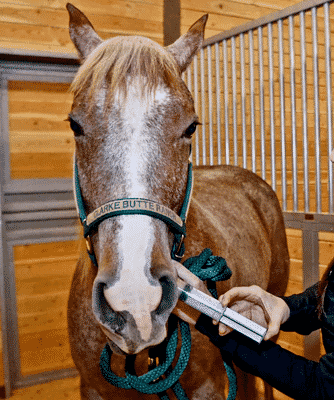 Directions
Add 20 drops of Ox-E-Drops Concentrate with 10-15 cc's of filtered water in a large oral syringe.
Squirt the mixture slowly along the horse's teeth-line so they may swallow slowly to avoid choking.
You may give this twice daily in horses with severe pneumonia.
Do this twice daily for healthier INTERNAL anti-microbial support.
NOTE: Best to order the 8 oz. Ox-E Refiller for these issues with horses.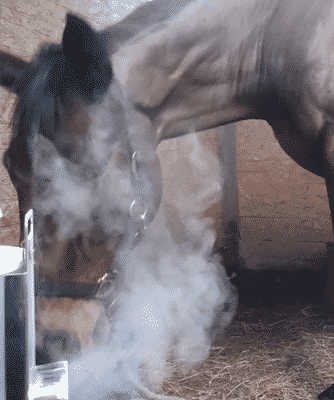 Directions for Breathing the Ox-E Vapors
In a Cool Mist Humidifier, or Steam Vaporizer
(Depending on the severity of the respiratory condition)
Add 40 to 80 Drops to a Cool-mist Humidifier or Vaporizer.
Allow the Horse to breathe these vapors in a closed environment
for 15-20 minutes for 4 to 5 times daily.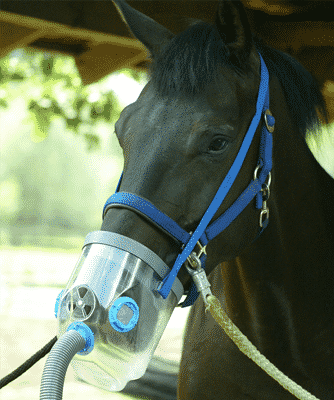 Using A Nebulizer or Atomizer
In some a cases, a Nebulizer or Atomizer may be more useful and effective for vapor delivery. However, less drops are used due to the higher concentration of vapors delivered in less amounts of water.
Call for specific instructions in these cases. (866) 877-816-6500.
You will find Nzymes staff eager to help you with concerns about restoring health for your animal.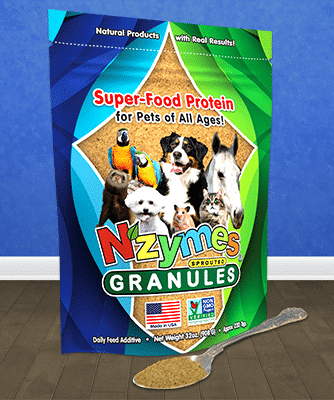 Nzymes® Super-Food Granules
We suggest to DOUBLE amounts of Granules during the first 2 weeks. Doubling the Granules is important with any kind of injury or recovery issue.
Add to Horse's Feed Twice Daily
600 to 750 lbs. Horse = Add 3 level tsp.
750 to 1000 lbs. Horse = Add 4 level tsp.
1001 to 1250 lbs. Horse = Add 5 level tsp.
1251 to 1500 lbs. Horse = Add 6 level tsp.
IMPORTANT NOTE: Respiratory issues in horses often begin with an Antibiotic regimen with the veterinarian. In these cases we feel that in is very important to add the Bac-Pak Plus Probiotic/Digestive Enzymes blend to your horse daily regimen. Bac-Pak Plus supports healthier digestion and a more complete uptake of dietary nutrients.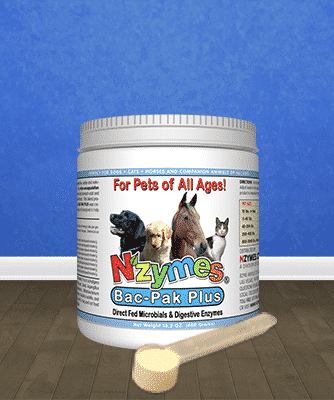 BacPak Plus 400 Gm
A Powerful  and Cost Effective Probiotic and Digestive Enzyme Blend

Add to Horse's Feed Once Daily
600 to 1000 lbs. = Add 2 to 3 – 1 Gram Scoops
1001 to 1250 lbs. = Add 3 to 4 – 1 Gram Scoops
1251 to 1500 lbs. = Add 4 to 5 – 1 Gram Scoops
We believe you will have success and we give a "120-Day" Money Back Guarantee with every product sold.
---
Products Recommended for Pneumonia Conditions in Horses