Super Healthy Skin Kit Large
$382.94
Earn 1915 points upon purchasing this product.
The Nzymes® Super Healthy Skin Kit Large is one of our Value-Priced Kits offered to help families dealing with Yeast/skin problems in multiple Dogs. Large refers to the usage of Granules instead of Treats – for better cost effectiveness. Ideal size for customers with larger or multiple dogs dealing with challenging skin & itching issues caused by Candida overgrowth. This kit takes advantage of built-in savings from larger sizes or multiple packages, put together in a convenient bundle. Kit designed for use with the Healthy Skin Program.
FREE SHIPPING on this item
Description
Click Pic to See Case Examples
N

ZYMES Super Healthy Skin Kit Large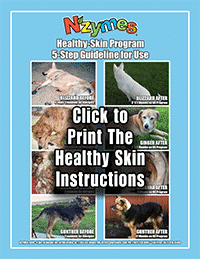 The Nzymes Super Healthy Skin Kit Large was put together on purpose as a convenience for those with larger or multiple pets.  Best for families with Multiple LARGE Dogs (over 60-lbs) suffering with skin and itch problems (caused by Candida overgrowth imbalance of the digestive tract) and needing the assistance of the Nzymes Healthy-Skin Program.
Defining a "LARGE" KIT: One that comes with the Sprouted Granules versus the more 'convenient' Antioxidant Treats.  The Super Healthy Skin Kit Large goes beyond that – to provide a "Super economical choice" for families that have multiple dogs suffering from the Yeast candida problems – that ravages the outside of the body while growing on the inside. The Super-Kits are our "value priced" offerings to help families in this situation have enough product while making use of the Nzymes Healthy Skin Program for many dogs (or other pets?).
Built-in Savings
The Super Healthy Skin Kit Large takes advantage of Nzymes "Quantity discount" pricing structure in order to provide a helpful price advantage for a Kit to the customer, while also providing enough of each product to last for a substantial amount of time when dealing with multiple affected pets. The Super Healthy Skin Kit Large contains the following products:
Qty. 3 of the 2-lb. Sprouted Granules 
Qty. 1 of the Ox-E-Drops 8oz Refiller Bottle 
Qty. 1 of the Bac~Pak Plus 400-gram 
Qty. 3 of the Black-Leaf Tincture 2.2 oz. 
Qty. 1 of the Ox-E-Topical Spray Solution
MORE DETAILS: The above overview explains the purpose of this 'Cost Effective' Super Kit. However, for a deeper understanding of the actual Yeast Kit purpose and function, please read the overview for the standard size kit – Healthy-Skin Kit (Large)

For instructions on how to use the Kit, please visit our Usage Calculator HERE
Product Reviews
Additional information
8oz. Refiller Ox-E-Drops
BlackLeaf Tincture for Pets
Bac-Pak Plus 400 grams
| | |
| --- | --- |
| Weight | 1.1 lbs |
| Sizes | 200 gm, 400 gm |
Ox-E Topical Spray Solution 4 oz.
Sprouted Granules 3-Pak