Health Issues: Yeasty Ears/Skin & Blackened Skin

Nzymes NOTES:  Cassi's symptoms were classic 'yeast overgrowth'; wherein, symptoms generally start at ears or feet, or both.  And, Skin Blackening comes along in following months – which can very often evolve into the more worrisome form as the skin starts to form and 'look' like Elephant skin. Of course, all of these symptoms will certainly subside as the cleansing of yeast continues over the months. Blackened areas of skin can be expected to flake off during bathing.  EXAMPLE (different dog). But, the 'wrinkly' looking Elephant skin takes more time to revert back to a normal healthy state.
FEBRUARY, 2008:
Cassi, our Miniature Dachshund, had no problems during the first two years of her life. (When problems started) She initially had some serious hair loss on her legs and had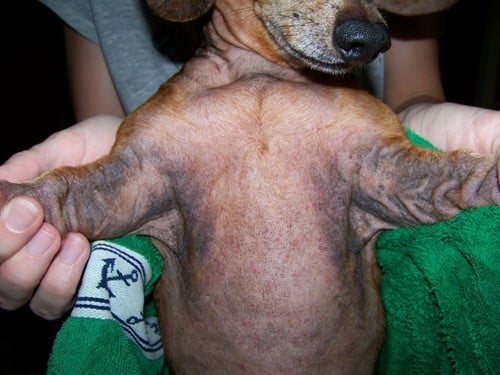 infected yeasty ears. They began to look purplish-red in color, and they were so tender that Cassi would cry-out when you touched them.
When I took her to the vet, I was told she had a yeast in her ears and on her legs. I was prescribed some ear-drops; Malaseb wipes; oral medication; and medicated shampoo. None of these things worked much for her.
As time progressed, the problem became much worse. Her skin started to look rough like elephant skin, her fur was oily and had a really bad smell, and she began to get blackened skin on her stomach, in her armpits, and even on her cheeks. Her feet became swollen and she started to get little problem areas. At this point, I had tried so many things to help her, and nothing could make her feel better or make the problem clear up. I had spent a lot of money on medications and shampoos and felt like I was wasting my money.
I was constantly searching the internet for information on dogs with yeast and finally stumbled across the Nzymes.COM website. Being a skeptic, I wasn't sure about spending the money for a yeast program. After reading the stories, I thought it couldn't hurt to go ahead and try it. I knew if it made any difference at all in her condition, it would be well worth it.
Cassi started on the Nzymes® (Healthy-Skin Kit) in June. After about two and a half weeks I noticed that her skin didn't seem to be as oily. Her ears were not as red. She had stopped the constant chewing on her legs and the constant scratching.
Her condition continued to improve, and today she is a different dog. She remains on the Nzymes® Healthy-Skin Kit, and is fed Eagle Pack dog food (*no longer recommended by Nzymes). Her personality has completely changed too. She now loves to play with our two other Dachshunds and you can just tell how happy she is. I would recommend this product to anyone who doesn't want to see their pet suffer anymore. It's well worth it!
S. Hunt – Morehead City, NC
---
Products Used for Cassi's Cleansing of Yeasty Ears & Skin