Nzymes Granules Now in Attractive, Resealable Pouches!
Same Great Product, Great New Look!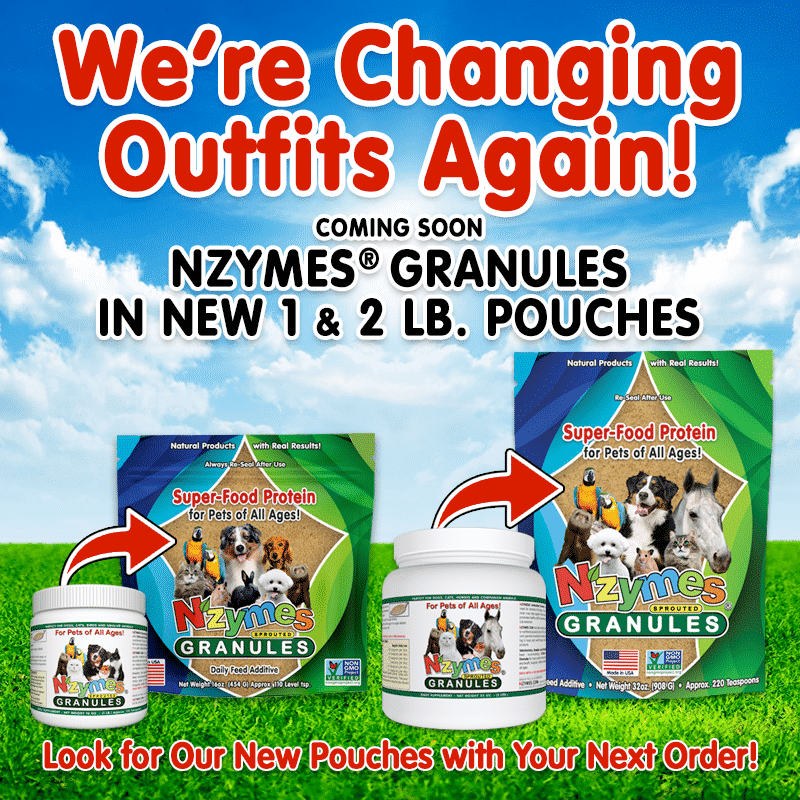 ---
A Look Back…A Look Ahead
Those Early Days
From our humble beginnings in 1999, Nzymes.com was launched with a single product, The Antioxidant Treats for Pets. The product was an instant hit for the natural help it was able to provide for pets, making a genuine difference that you could see with your own eyes.
Keeping it Simple
However, before too long, our customer base had expanded to include many people with multiple pets, larger pets, professional breeders, dog-show people, etc. They LOVED our Nzymes, but needed a more cost-effective solution for their situations. That is when the Granules were born. We simply put the primary, sprouted ingredients into a plain, plastic jar; stuck a label on them, and made them available in this raw, bulk form. From those days until now, that is how the Granules have been presented.
But the times are changing…
Looking Towards the Future
We have just passed our 20th Anniversary, and are now in our 21st year! We are very excited to announce this packaging change as we look towards the future.
Better Look, Better Features
First-off, the new pouches are beautiful! Kudos to Stan (Nzymes VP) for the amazing design and art-work. Beyond their beautiful appearance, they are able to convey much more information at a glance. The larger panels make for easier reading.
Secondly, we knew ease of use would be important. The new bags stand up nicely, and have a large mouth to make it easier to draw from. The built-in ziplock top is rugged and durable, and seals tightly.
Thirdly, the new design should hold up much better during shipping. Our older jars would sometimes suffer from torn labels, broken seals, or even broken lids, causing spillage. That should never be a problem again. The new bags are air-tight sealed, and are quite flexible. They should hold up well, even under the worst shipping conditions.
GMO vs. Non-GMO
Back in 1999, no one was making much noise about GMO…anything. It simply wasn't an issue. We had a formula that WORKED and delivered RESULTS consistently, time and time again.
As we began to grow, we established a supply chain that could deliver goods in a timely manner. This allowed us to meet the demands of our customers and always stay a few steps ahead. Logistically, for a small family business, this is no small matter. Taking care of customers is Job #1.
As time went on, it was apparent that the non-GMO issue was a hot-button, and the best interest for all involved was for us to find a new source of our raw material that could meet the more stringent standards. That is exactly what we have done. Since February of this year (2019), the Sprouted Granules have been made with our new, Non-GMO soy sprouts. We did not change the packaging instantly, as we needed time to develop the new design for the pouches, and also find a new, certified Non-GMO packaging partner. On September 12, 2019, our first order of Sprouted Granules in the new pouches was complete!
Look for the Non-GMO, Made in the USA Emblems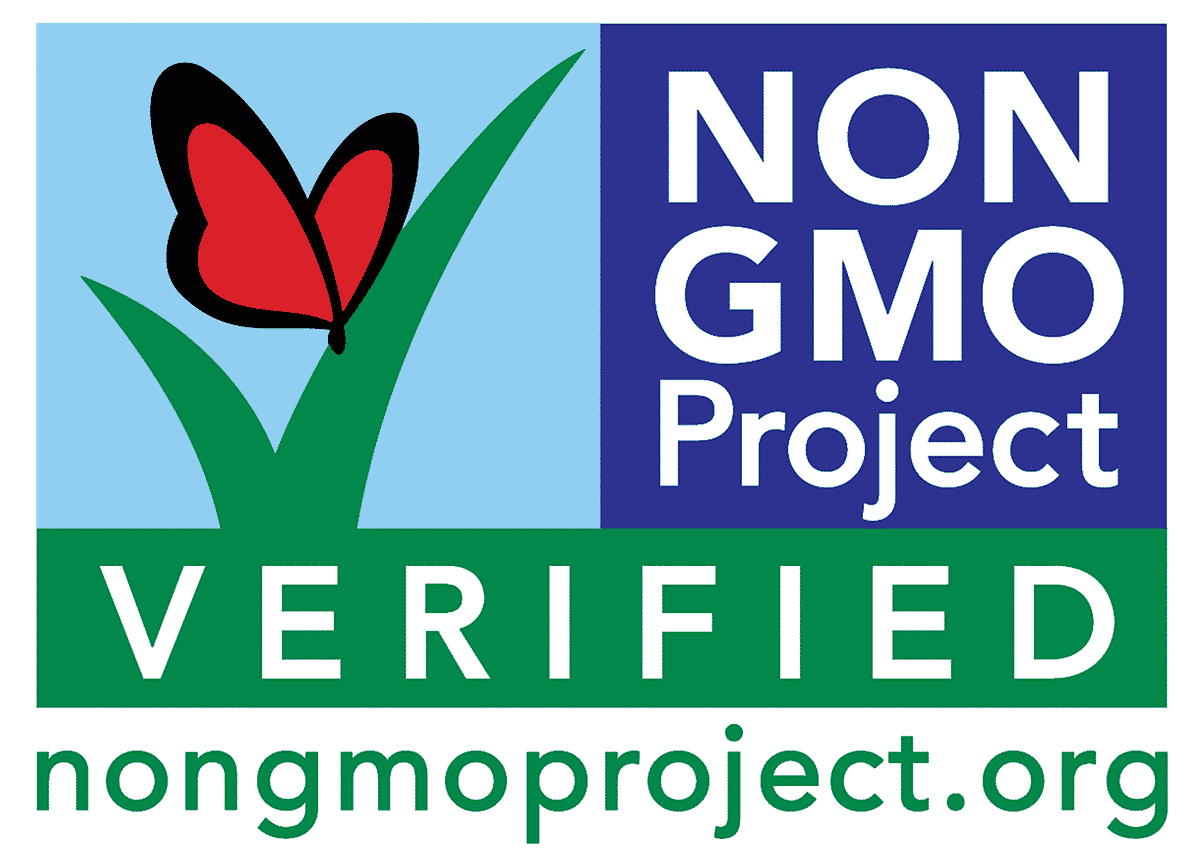 You may have noticed this new emblem denoting Nzymes products as Verified Non-GMO. It appears on the labels of the Antioxidant Treats for Pets, the Antioxidant Complex for People, and now the Sprouted Granules for Pets and Horses.
As always, Nzymes products are made in the USA.