Support for Stiff and Painful Joints and Slowed Mobility
---
Does your cat appear to be limping? Is he or she slowing down and not jumping up on the counters like they used to? Is it taking them longer to get up from their naps?
Is Arthritis the Contributing Factor? Not Necessarily
Arthritis becomes main assumptions for cats that are beginning to slow down to due to aging. Achy or stiff joints are a much more common issue with cats that also eat lesser quality pet foods and treats that are made with too many sugar source. Ingredients like wheat flour, corn meal, white rice, potatoes, tapioca and many more that may be in your cat's food contribute to inflammation issues throughout the cat's body.Still this malady does creep into the lives of cats from time to time, causing distress and worry for loving cat owners. Fortunately, there is a great information on this site about cats finding relief and renewed youth and greatly improved mobility.
Cats are tricky animals. It is often hard for cat owners to tell if or when their babies are in pain. All we can do is watch their routines and judge to see if we think they may need a trip to the vet or some nutritional support. If it appears your cat is struggling with degraded joint health, and the associated pain and discomfort, then Nzymes® Super-Food Granules are a natural way give your cat a chance to turn things around naturally before considering to move to  the complexity and steroids and pain medications.
Start your cat on the Nzymes® Sprouted Granules today! You will be happy you did! How can you be sure? We give you a 120-Day Money Back Guarantee to protect your purchase decision. These Arthritis issues are FAR more frequent with dogs. And we have a great variety of VIDEO evidence with dogs making fabulous rebounds from the very worst of mobility struggles. CLICK HERE to get a list of some amazing recoveries on video.
You owe it to yourself to spend some time understanding just how dramatic the results can be. When given the chance for your cat to turn things around, they will surely surprise you. The inflammation, pain, and discomfort in these cases can be much easier to deal with. And, in many of these cases, you will see such quick results that you'll be blown away!
---
Products Suggested to Support Joint Health with
Aging Cats
Why Do Nzymes Work So Well?
Over the last 2 decades we've found that MOST of the joint-pain and discomfort problems that cats experience are related to loss or breakdown of the critical synovial fluid needed to cushion and lubricate joints. The purpose of this fluid is to protect the cartilage while maintaining comfort. LACK of critical enzymes like Super-oxide Dismutase, Catalase and others, contributes strongly to synovial fluid degrading and losing it's lubricating qualities. The result is wear or damage to cartilage, along with inflammation, soft tissue damage, and pain. Our Nzymes® Sprouted Granules give the Body resources that can be used to better ease inflammation, as well as the viscosity of the critical synovial fluid for healthier joints. All this from just adding one-half teaspoon to their meal per day.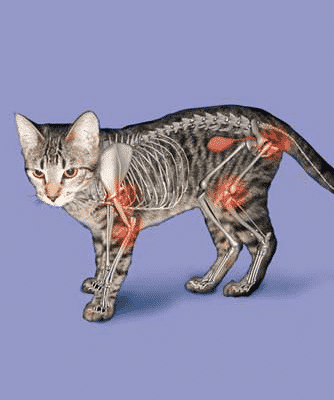 ---
Recommended for Cats
Experiencing Stiff and Painful Degraded Joint Health
We always suggest to DOUBLE the usage amount for the first 2 weeks.
In cat case like these you may need to use a DOUBLED amount permanently.
This 1 lb. pouch of Nzymes® SUPER-FOOD Granules should last a cat weighing 10 to 40 lbs. over 100 days