Customer Provided Verbal Reviews on Dog Mobility Troubles
This page hosts a number of audio recordings of customer-provided verbal reviews on dog mobility troubles preventing their dogs from enjoying the life they deserve. Their words detail issues troubling their canine friends, and then what they witnessed upon using Nzymes® antioxidant support supplements. The health issues involved with these dog mobility troubles range from complete paralysis to arthritis discomfort, or to simple issues like limping with an unknown cause. While we also have a good variety of "before and after" Videos provided by satisfied or happy patrons, it can very worthwhile and enlightening to actually HEAR these customers report on what they have witnessed as actual users of the Nzymes® products for natural support with a huge variety of health challenges.  This page, of course, is focused on the mobility challenges that keep dogs down and make getting around just so uncomfortable that they just don't feel like moving, or they don't even want to be touched sometimes, like Charlie below.  Some items are lengthy, and some are short, depending on complexities involved, or the person is related information on more than one dog.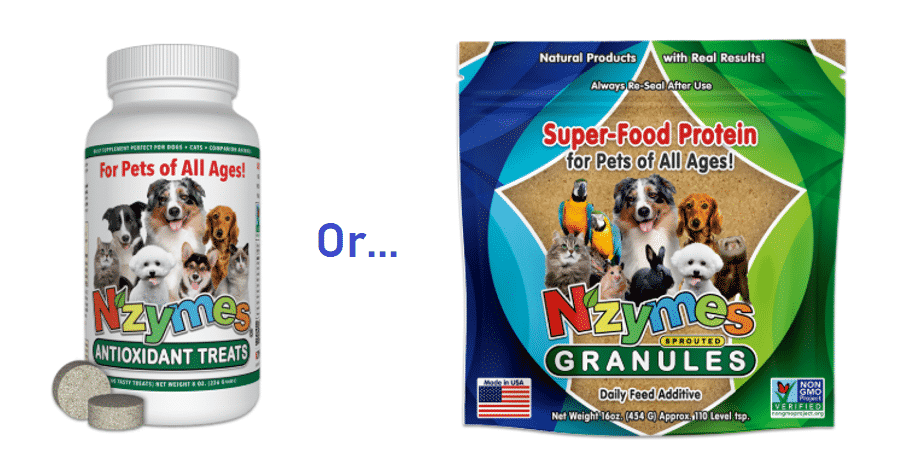 9 Customers Verbalize Experience Using Nzymes® for Dog Mobility Issues:
CLICK to Access Verbal REVIEWS
Verbal Review 1:  Charlie – a Chihuahua playing and jumping again
Review Recorded and provided by pet parent Francis Benson
---
Verbal Review 2:  Debra Denton,Newfie-Mix diagnosed with Hip Dysplasia
NOTE:  Ms. Denton, like many of our customers, has trouble saying our 'trade-name'. The Red N in Nzymes is supposed to help clarify pronunciation as "N Zymes" (or 'enzymes') but often fails. Our main products provide the Body with resources very effective at stimulating production of Antioxidant Enzymes key to youth (SOD, etc).

---
Verbal Review 3:  December, a Russian Sheepdog with Hip Dysplasia
Recording of owner Janet Finley, with her review of Nzymes performance with her Sheepdog with diagnosed Hip Dysplasia

---
Verbal Review 4:  Abby, a Siberian Husky with Shaky Legs and Jerky Motions
Review recording on the 'shaky legs' problem provided by pet parent Nancy Falonen
---
Verbal Review 5:  Lilly, Lab Mix with Disc Disease (IVDD) and Paralysis Issues
Audio Review by pet parent Shannon Hersey, Full VIDEO STORY HERE

---
Verbal Review 6:  English Bulldog and Trouble with Steps/Stairs
Audio recording offered/provided by pet parent Kim McKela reporting how much easier the steps are now for her canine friend.

---
Verbal Review 7:  Pee Wee, a Chihuahua with Pinched Nerve issues
Voice recording provided thanks, pet parent Kay Serrano

---
Verbal Review 8:  Dina, Lab-mix Diagnosed Hip Dysplasia & Surgery recommendation
Voice review & discussion of Dina's history and issues, as provided by Mary Ann Freeman

---
Verbal Review 9:  Jill Dufore, her Dog had Spondolyosis Problems
Ms. Dufore's recorded review enlightens about results with her dog's mobility problem, as well as powerful help with her horse and with herself.
---
Not to be overlooked, here are our latest Written REVIEWS on Mobility
Written REVIEWS - TrustPilot.com
Products Recommended for Dog Joint & Mobility Difficulties