What's New at Nzymes.com…
You know, they say, "Everything old is new again". I suppose that is true. We would like to welcome you to the new and novel concept of keeping you updated on what is going on at Nzymes.com. Not really a new idea, but new for us, seeing how most of us here grew up with Fred Flintstone and got our news delivered on a slab of granite – LOL.
In all seriousness, we are undergoing many changes, updates, new product offerings, etc, and wanted to have a place on our site people can check in for a quick update. Our goal is to have a Website that is user-friendly, family-friendly, informative and fun to visit. Please don't expect DAILY updates…Periodic updates would be more realistic. We are a family company, and like you, we put our socks on one foot at a time. But we do intend to publish the news of interest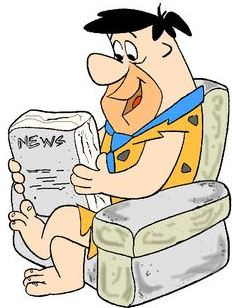 Dateline September 18, 2019…
Nzymes Granules Get Fresh New Look!
Click Image for Full Details
Dateline September 5, 2019…
Buddy Doubles-up on His Treats, Gets new Lease on Life!
The Nyzmes Antioxidant Treats seemed to have completely turned our dog around. He is 14 and was moping around and limping like an old dog in pain even though we've been giving him one Antioxidant Treat for about a year. (and the probiotic).
I called the Nzymes 800 # to see what else we could do, and the person I spoke with suggested we double the usage of the Antioxidant Treat. Within in days we could tell he was feeling so much better. It seemed to make a huge difference. Almost no limping and he sprints up the stairs and hill almost like a puppy
D.W.
Los Angeles, CA
Nzymes Footnote: Normally, we would not post a Success Story on our News of Interest page, but Buddy's story serves to illustrate a larger point. Sometimes we receive communications by phone or e-mail regarding a particular pet who may not be doing as well as hoped. Usually, these pets are being given the standard, recommended dose for their size. However, as pets age, or are faced with more serious challenges, their body's needs are simply greater. Many times, simply doubling the product usage can make a huge difference in the outcome. The Nzymes Antioxidant Treats or Sprouted Granules are pure food products. They do not conflict with medications, and can be safely doubled any time. We are glad to hear that Buddy has rebounded so nicely.
Dateline September 1, 2019…
Nzymes New Shampoo a REAL Hit with K9 Rescue!
For several years now, Nzymes products have been a staple at the Linda Blair Worldheart Foundation rescue in So California. We are very humbled to have played a role in helping to rehab so many needy animals, and to help them become adoptable.
Recently, we sent some samples of our new shampoo for her people to try out with the dogs in their care. After all, and clean dog would stand a better chance of being adopted. Beyond that, we knew our shampoo would control fleas, mites, and ticks as well as odor. This is an important factor too as these dogs would not need the poisonous topicals, that can hamper their long-term health.
Here is Sunny-Girl getting a bath, then her official adoption photo!
Dateline August 28, 2019…
Patient Pups Get Their Bath On! – VIDEO
Nzymes Healthy Skin Shampoo…
>  Cleans & Conditions
>  Controls Fleas, Lice & Ticks
>  Kills Odor and Itching
>  Leaves Fur Soft and Silky
Dateline July 30, 2019…
Nzymes Antioxidant Treats and Human Complex Get a Fresh Look!
Click Image for Full Details
Dateline February 11, 2019…
Nzymes Launches New Shampoo!
Nzymes® Healthy Skin Shampoo is effective for the worst skin problems, yet gentle enough to be used daily. Can be used topically on the itchy areas with the family pets. The powerful natural ingredients are specially formulated with vitamins and moisturizers to promote recovery for a pet's skin and coat. This unique shampoo was designed especially to offer soothing relief for pets that are suffering from dry, itchy and flaky skin.
Nzymes® is a family-based, nutrition business with over 20 years of success in helping pets of all ages faced with these skin & coat symptoms…
• Rashes & Itching • Chewing Feet & Legs
• Face & Ear Rubbing • Hives & Acne
• Blackened Skin • Elephant Skin
• Eczema & Oozing Sores • Oily, Greasy Skin
• Bad Odor & Smell • Shedding & Hair Loss
Ingredients: Eloptic energized oxygenated water, ash of dodecyl solution, dellydrabiethylanim-calcium, potassium, black cumin, spearmint, peppermint, firn, cold-pressed apricot, almond, olive, coconut oil & Vitamin E, magnesium foaming agent.
Dateline October 2, 2018…
Introducing New Energy Kit for People!
Introducing Nzymes Human Energy Kit!
Kit Includes FREE Bottle of Human Complex!
We've all heard the famous formula, "E=mc²". Here at Nzymes, we know a bit about that ourselves. We have put together this special bundle to represent the equation this way: ENERGY (E) = Minerals (M) x Complex (C) squared (2)!
This special bundle includes a bottle of our New Tracite Minerals, and TWO Antioxidant Complex for the price of ONE (That's where the squared part comes in)! This kit combines the power of the Live-food nutrition found in our Antioxidant Complex and the Electrical signature from the spectrum of bio-available minerals in our Tracite Minerals.
Dateline September 25, 2018…
Introducing Nzymes Tracite Minerals!
Plant-Derived, Fulvic Trace Minerals
Nzymes® Tracite Minerals are derived from ancient seabed plant deposits, preserved in humic shale and suspended ionically in fulvic acid. Our naturally occurring trace minerals and elements have been balanced by nature and are extremely bio-available. These minerals in their colloidal suspension enhance the uptake of nutrients, vitamins, and other supplements. The fulvic acid base of Tracite acts as a natural antioxidant that helps to cleanse toxins, support digestion, and win the fight with free radicals. Tracite contains over 70 trace minerals and elements that help to support a steady charge of much needed bio-electric energy.
Nzymes® Tracite Minerals are the foundation of a healthy delivery system for important nutrients such as vitamins and enzymes that help to support the growth of healthy flora in the digestive tract.
Dateline Oct 27, 2017
Introducing Nzymes Loyalty Points Rewards Program!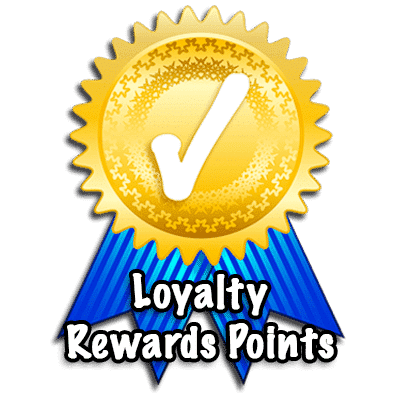 This is big news! We are very happy to announce this program. This gives us a way to reward our shoppers for their faithful use of the Nzymes product line. The program is very simple. If you are a pre-existing customer with an Nzymes.com account, we have deposited 500 reward points for you to start out with. If you are a new customer, 500 points will be awarded to you when you create an account. Here is what to do to get started….
Log in to your account FIRST, then go shopping. If you are new, click "ACCOUNT" above, and create a new account, then go shopping.
Shop for whatever items you like, and fill your cart.
On the Checkout page, you will be asked if you would like to redeem your points for $$ off on this order.
Each order place via an account will accrue 5 points for each Dollar spent. 100 points equals $1 worth of future discounts.
Going forward, we hope to use this program as a centerpiece of our promotions and specials. Terms & Conditions
---
Dateline Sept 20, 2017
Introducing The Candida Support Kit and the Candida Support Program for People!
For many years, Nzymes.com has been the leader in helping to address yeast issues in pets. Our success in this area has been undeniable as our program is based addressing the problem at the root level – the Gut!
This same issue affects many people as well. Our modern diets, medications, and immune suppression therapies lend themselves to ever increasing yeast overgrowth and symptoms ranging from chronic fatigue to headaches, eczema, brain fog, and even auto-immune challenges. Just like the pets, this problem must be addressed from the root level. We have introduced this special kit as part of a program to do just that. to visit our Program page, click HERE.
This special Kit bundle should last the average person about 3 months and comes with a complimentary bottle of Antioxidant Complex for People, and our Ox-E Topical Spray Solution. That is nearly a $50 savings!
But beyond a way to address a yeast problem, this kit also offers Ultimate Immune Support! And just in time for the busy Holiday and winter season! If you have ever considered bolstering your own immune system, this is the perfect opportunity. Get yours by going HERE
---
Dateline Aug 1, 2017

Introducing the new Nzymes.com!
You may have noticed a completely different look to our website. Yes, it is different, but all of our information is still the same. We have updated the Theme on which it rests. The aim is to make the site easier to navigate with a faster response time.
Changing from one theme to another is a monumental task. In construction terms, it's not like changing a roof, it's like changing the foundation! Sure, it's a lot of work, but necessary to keep pace with pressing demands in this information age.
We hope you'll take a few minutes to surf around, and check the new layout. We hope to have an instructional video up soon on navigating the new site. As you come to some pages, it is possible that an image may be missing, or that the layout may seem funny. No worries. Our team will be pouring over the site in the coming weeks to iron out these issues.
---
Dateline July 29, 2017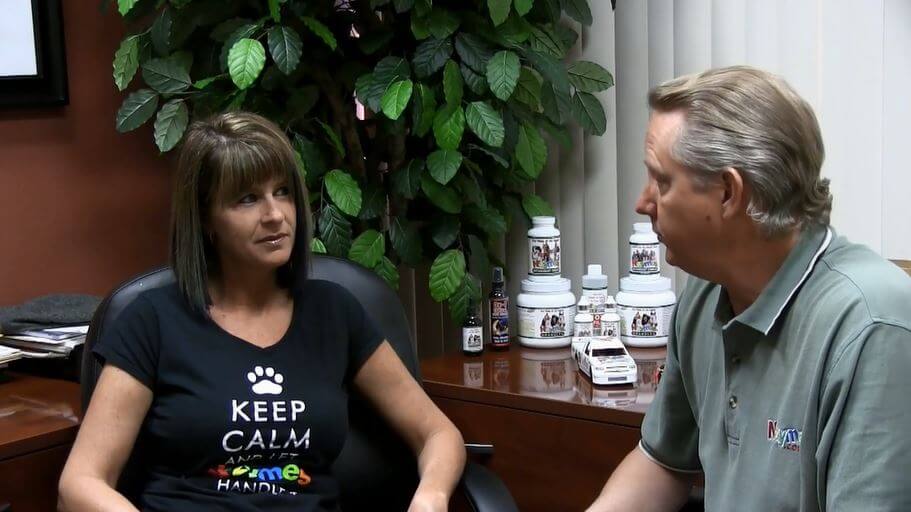 Natural Health Interview Series – Video
Mike Conducts Series of Video Interviews with Brenda Johnson
During a State-side visit with Nzymes in the Spring of 2017,  Brenda Johnson of Winnipeg, MB sat down with Mike Stansbury to discuss her many amazing experiences with Nzymes and other natural therapies. This series is broken into 7 segments and touches on a wide variety of pet and human health issues. Very plain spoken and down to Earth. To view, click HERE
---
Dateline Apr 1, 2017
Introducing Brenda's Corner!
Over the past 4+ years, we have gotten to know a remarkable lady. Her story with Nzymes started in utter desperation when her little Pomeranian mix, Bella, had become paralyzed by an injury. Utterly heartbroken, she went outside on a winter's night, looked up at the stars, and whispered "Show me the way". She went back inside, and immediately found nzymes.com online. The rest is history.
Her journey has been a remarkable one, and along the way, she has helped 100's and 100's of people and pets to find natural answers. For the last year, she has also consulted with many Nzymes customers, especially those facing paralysis issues with their pets. As a company, we wanted to give her a place to share her many experiences, as they all have incredible back-stories. This was the inspiration for a simple blog-style site called brendascorner.nzymes.com . We are confident that many people will find both answers and inspiration from this site. We hope you will pay a visit and enjoy the variety of information found there.
From Brenda…
I am so very happy to begin this new avenue of Brenda's Corner.  This will be a place for everyone to read, learn and discover about the 'Nzymes Regimens' that have been put in place for many animals, and assisted in their transformations from various health ailments.
In 2012, my own dog Bella became paralyzed.  At that time, I had no idea of the Journey that would lead me to.   A paralysis that seemed hopeless,  thinking we'd never see our dog walk again, was turned into a remarkable recovery.    Not only for her, but myself also.
After her second paralysis in 2014, my 'world' was opened up once again. I gained more insight into giving the body added 'tools' to help her make it through this paralysis as well.
I've dedicated the last 4+ years to helping animals and people, by learning and living every single day, with the wonders of nutrition and Mother Nature.  Yes, it IS that simple.
I invite everyone to come and be a part of 'the corner'.  Together, we can find Hope in the understanding of what causes many illnesses, conditions and diseases. To achieve many more years of health and happiness – naturally.  Most of all, To never give up.
Don't Stop Believing!
PS – Check her Interview Series with Mike
---
Dateline Mar 19, 2017
Nzymes Goes to the Waggy Awards!
We were very honored to be asked to attend a very prestigious fund raising event in Hollywood, CA. The "Waggy Awards" is an annual event in support of the Tailwagger's Foundation. This organization is involved in animal rescue of all kinds. Funds raised help to pay for life-saving surgeries, support programs for rehabilitation, and to help needy pets find their "fur-ever" homes.
This year's event raised over $75,000. Nzymes.com was proud to be a sponsor of this event as 1000's of "rescue" pets have been helped by our products over the years. Many shelters and Rescue groups around the country are using Nzymes products daily to help return needy pets to better health. (See our Page)
---
Dateline Jan 27, 2017
Nzymes 3-Pak Kit for People now includes Bonus Bottle of Complex!
We are very pleased to announce this adjustment to our 3-Pak Kits for People! The 3-Pak system provides amazing immune support for the whole family.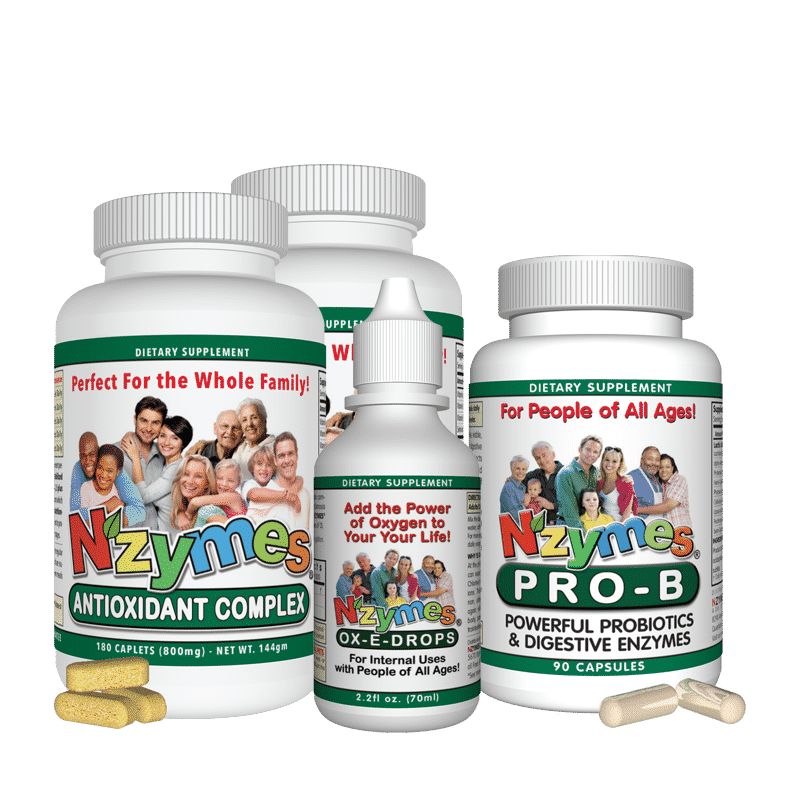 The Antioxidant Complex provides the live-food nutrition which is critically lacking in today's diets.
The Ox-E-Drops help to create a better pH balance and less hospitable place for nasty organisms to thrive.
The Pro-B provides billions of friendly bacterial cultures and digestive enzymes to keep your GI tract strong!
While this kit has always provided these wonderful benefits, there was one nagging issue. Using the products as recommended, the Pro-B and Ox-E-Drops would last about 3 months, but the Antioxidant Complex only 2…. We wanted to address this issue to be certain that purchasers of this kit would receive a more even supply. So we have now added a complimentary bottle of the Complex with the purchase of this special bundle. That equals a better value for your family and better health in general.
---
Dateline Jan 19, 2017
Nzymes.com moves to new Hosting Environment
This is huge news, and here is the back-story. A few months ago, we were privileged to bring a bright young man into the Nzymes family. He has a long background in computer technology, etc, and was certainly needed to help shore-up our IT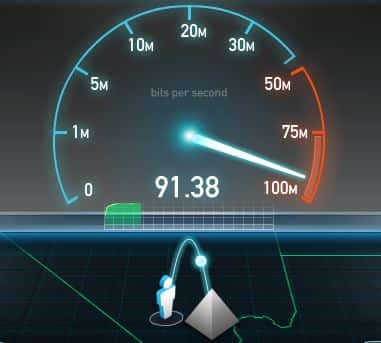 department. And that he did. He got to work immediately familiarizing himself with our systems and began working on scripting and other back-end stuff. Boring right? Wrong! These simple tweaks have improved mobile browsing of our website. But more was needed. Our previous web-host was NOT providing us with near enough performance for people to comfortably navigate our site. It was sluggish and slow. The more content we added, the slower it got, which left us in a bind. We are so happy to announce that that is not the case anymore. We are now being hosted on a smoking fast server platform, which has greatly sped up web browsing and will allow us to add much-needed content in the days ahead.
---
Dateline Nov 16, 2016
Nzymes becomes Acquainted with Linda Blair
By Mike Stansbury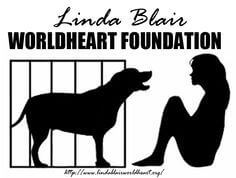 So this story begins in the morning, and as is my routine, it began on my laptop. As director of operations, I feel compelled to keep a constant check on things to make sure all is going well, and that there are no problems. I also check on orders to see what kind of activity the day is bringing. So, as I am browsing thru the day's order roster, the name Linda Blair caught my eye. The phrase "yeah right" plodded thru my yet un awake brain. But as I glanced back for a 2nd look, I saw that the order was associated with the Linda Blair Worldheart Foundation. The next muttering from my brain was "No way!" But it was indeed true, and it was indeed THE Linda Blair that we are all familiar with. I began to learn a little bit more about this familiar name.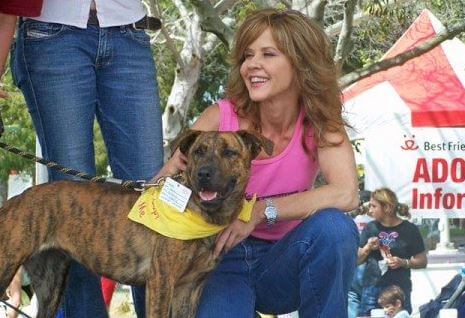 Linda is a tireless animal advocate and runs a rescue in Southern California. She does numerous appearances, speaking engagements and is a frequent guest on local TV and Radio. (Please click on the Foundation link above to learn more about her work and backstory).
Now I was fully intrigued. I could see that she had a long order history, and yet was ordering online anonymously. Given her celebrity, I could certainly appreciate that. We certainly treat customer information with the utmost care. However, I did want to convey to her that we have special arrangements for bonafide 501C3 organizations like her's. A few days went by as I deliberated on whether or not to make the call. But finally, reason won out. I mean ALL rescues need help these days. So I made the call,  left a voice mail and went about my day. I had pretty much forgotten about it, but later that day I received a call back from Linda. It felt like we hit it off right away as if we had known each other for years. We talked for over an hour, and have spoken many times since. She is doing a good work, and I am delighted to know that Nzymes is having a part in it. Definitely looking forward to more in the days ahead and to meeting her in person.
---
Dateline Oct 25, 2016
Introducing Ox-E Topical Spray Solution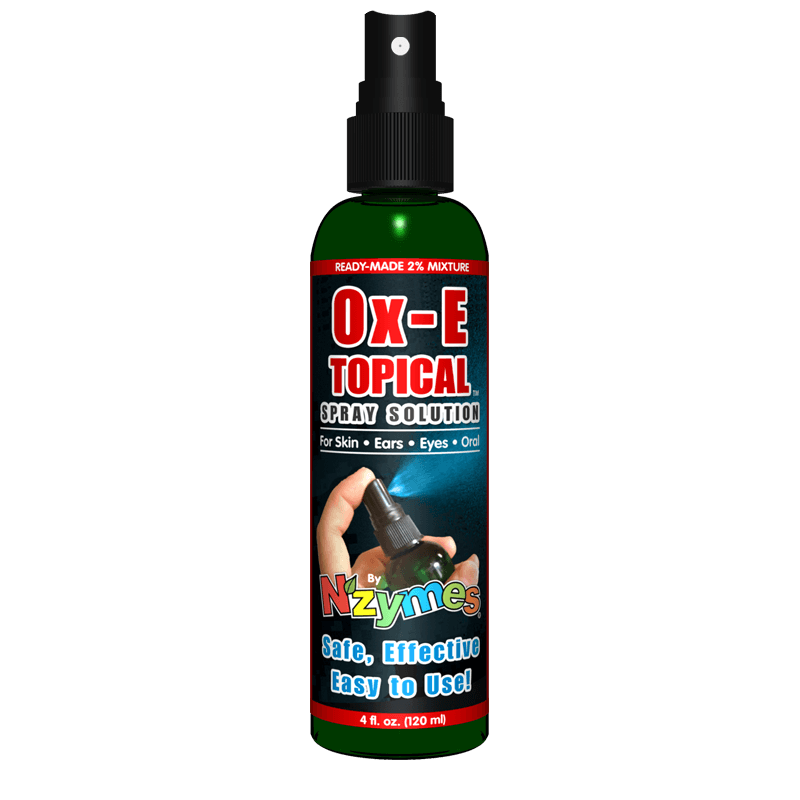 For more than a year, we have been sending out samples of this pre-made 2% solution of Ox-E-Drops and Special Ionized water. The results have been tremendous, so we have made it available both as a stand alone product and as a part of all of our Healthy Skin Kits.
Ox-E Topical is awesome for a number of reasons:
1. It is ready-made and ready-to-go. No mixing required. No muss, no fuss.
2. The Ionized water makes it the most effective topical preparation possible
3. The Bottle is slender and fits nicely in your hand
4. The 4 oz size makes it easy to take with you anywhere: in a bag, glove box, purse
5. It can be used on ANY surface area: Skin, Eyes, Ears, Feet or Mouth
6. Ox-E Topical can be used by PEOPLE or PETS!
As mentioned above, the new Spray solution is now a featured part of our Healthy Skin Kits. Using the topical solution is a very important part of the healing process, and in the past had been often overlooked. By having it in our kits, it is hard to miss its purpose. Ox-E Topical is also a part of our Papilloma Support Kits
---
Dateline Sept 26, 2016
Introducing Nzymes Antioxidant Sampler Kit
We are often asked, "What is the difference between the Treats and the Granules?" The answer is really simple. The Granules are the Raw, Base ingredient that carries the 'live food' enzymes to both products. The Granules are sold in the raw, bulk form; and the Treats are made FROM the Granules with a few added vitamins, minerals, Rice bran, and Beef Liver to make them tasty. Sometimes, people aren't sure which they should choose for their pets. So voila! we made this special bundle just for them. The Antioxidant Sampler Kit is an inexpensive way to try both products to see which is the best fit for your pet. To make it more attractive, we have marked it down to an unbeatable price (limit 1 per order) of $44 – A $7 savings!