DINO, Cat Recovery Story: Accident Damage + Nasty Skin/Itch Issues
This is Dino's story, my little buddy, and how a lot of love, caring people, skilled doctors, quality food and Nzymes® nutritional products took this cat from near death to a beautiful healthy feline. Dino is a black nine-year old (12 pound) Domestic short hair who befriended me at our home in Squaw Valley, California. One morning, when he was not much larger than a kitten, he quickly became our outdoor cat since we had another indoor cat named Tigger that would not allow any strange furry feline critters in her home.
Our beloved Tigger had been having major health issues and on March 5, 2002, she went to live at God's home, thus allowing a deeper relationship to develop with Dino.
At some point in Dino's young life, he injured his pallet. A bone or something poked a small hole in the roof of his mouth. This caused him to frequently sneeze and blow; you know what, all over the place. Dino had a habit of blowing his nose at the most inopportune times. Our Veterinarian told us that this surgery, which is not always successful, would cost right at $500.00, (money was also an issue) so he stayed an outdoor cat even though he had major interests in the interior of Tigger's abode.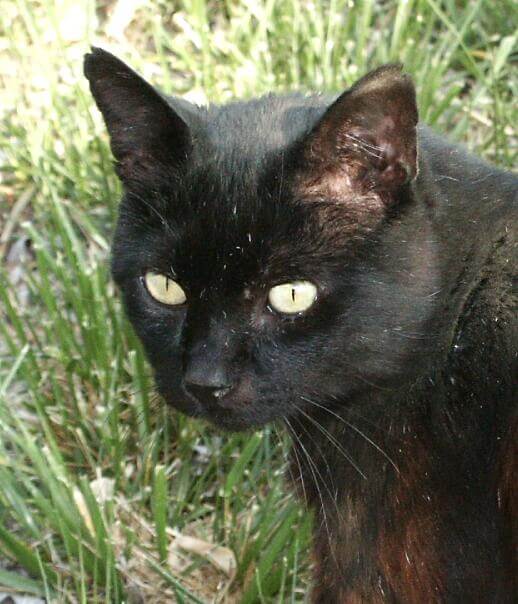 We didn't realize that bacteria had been building up in Dino's nostril, which would cause a severe respiratory infection and a very high white blood cell count. Meanwhile, as Dino's health was in a consistent decline, I accidentally backed over him with my pickup on August 30, 2003. After two lengthy trips to the emergency hospital in Visalia for treatment during the weekend and a lot of prayer for him, he held on until I could take him to Lone Oak Veterinary Clinic in Visalia. There he had emergency surgery to repair a torn stomach lining and to secure his entire stomach (which was hanging off to the left side) to his rib cage with dissolvable sutures. His tail was also broken right in the pelvic area but no other bones were broken or displaced.
Dino was then started on lengthy courses of antibiotics. I knew they were helping to kill the infection but at the expense of his immune system, overall health and his ability to digest food properly. I also knew that there must be something somewhere to help him recover completely but I had not yet found it.
He eventually did recover enough for us to consider the surgery in his mouth, but just before we could have the surgery scheduled, the respiratory infection reared its ugly head and his white cell count shot up to 38,000 from the normal count of about 7,000 in cats. A high fever accompanied this turn of events and left him so stiff he could hardly walk. Dino was really sick. He went back on antibiotics for a couple more weeks.
For several years and right up to this point, Dino's skin was flaky and he itched and scratched all the time. His hair was dull, black and lifeless and he had very little energy. In fact, we had never seen Dino go out of his way to find things on his own to play with.
We were told he had an allergy to fish and/or fish meal in any amount because he would pull out clumps of his hair within hours of introducing fish in his diet. I was buying and applying anti itch products to his skin just to try to give him some relief all to no avail. I felt so sorry for him.
When we met with the Doctors at Lone Oak Veterinary Clinic in February 2004, to schedule his pallet surgery, a heart murmur was detected and he was diagnosed with a thickening of the chamber walls of his heart. The Doctor was concerned that Dino might die on the operating table. We gave him permission to proceed with the surgery because he would probably pass-on due to the respiratory infection sooner or later anyway. The surgery went very well and was a complete success! But Dino was still quite a mess with his skin and coat problems!
I did a lot of searching for answers on the Internet and this is where I discovered the fine folks at BioPet and their family of Nzymes® products. I knew we had to do something to help our friend. After reading much of the considerable amount of information and testimonials on their Web Site, we ordered some of their products for his heart and recovery from surgery and started Dino on Nzymes® Healthy-Skin Kit, including the Tincture of Black Leaf. Within six weeks the flakes and itching were completely gone plus his coat was now soft, shiny black and his energy level was through the roof! We also followed the recommendation of BioPet to change Dino's diet from "grain based" low-quality foods to which many animals are allergic, to meat-based quality canned and dry foods available in our area at Whitie's Pets in Fresno CA.
Dino is now a very happy, energetic and healthy cat plus his heart is now operating without a murmur and sounds strong. Thanks to BioPet/Nzymes, and to the skillful surgery of Dr. Matt Humason Jr. and his staff at Lone Oak Veterinary Clinic. Without the help of these fine folks, Dino's outcome would have been decidedly different.
Clyde and Linda Ramstead
Squaw Valley, CA
---
Nzymes® Products Recommended for Cat Skin/Itch/Yeast Problems
Healthy-Skin Kit, MINI