Ricky and Holistic Support for Mange Recovery

Ricky was sitting at the county shelter with a serious case of mange. Collin County Humane Society scooped him up quickly from the dangerous shelter and he is in foster care. He has been given his daily supplements from Nzymes® and Pets Best Rx (shampoos, cremes, and sprays). He has been neutered, Heartworm tested (negative), vaccinated, and is all ready for his forever home.
NOTE: Ricky is but one of several Mange rescue stories we have from the Humane Society, but unfortunately we do not have after pictures for this pup.
Home Search Info on Ricky:
Ricky has an excellent temperament and gets along with all animals. He currently lives with large dogs, small dogs, cats and small children and loves them all. However, Ricky is still very much a puppy and loves playing w/ anyone and anything that will give him the time of day. He will need someone w/ the pat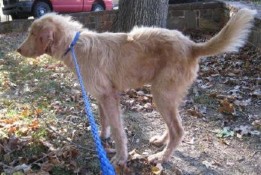 ience to teach him how to be the best doggie he can be. He is crate trained and housebroken. Ricky has quite the personality and talks to you.. not a bark, but he will let you know what he is feeling with many different whoo-whoos." He rarely barks unless there is someone he wants to play with who is ignoring him. He bounces when he runs and looks like a bunny. Ricky would probably do better in a home with a dog his size or larger to play with, or a family that has the time for play and exercise. You could not ask for a sweeter dog, and he loves to give hugs and kisses.        ————-> Ricky photo, still with mange >> (click to enlarge)
Ricky was adopted in December of 2008! He is doing great in his forever home!!
Molly Peterson
President/Director CCHS
www.CollinCountyHumaneSociety.org
---
To learn how to help a dog with Mange, and which Nzymes® products can be instrumental in supporting the recovery process, as well as preventing future recurrence, please visit our informative…
---
Nzymes Products Recommended for Mange