How You Might Contribute – or Not
Everyone wants a healthy dog – but how would you know? Is your dog happy? We have any number of tests and measures to help you determine the health of a dog; but – just like people – happiness also plays a key role in overall quality of life and, very possibly, health as well. Determining happiness is more difficult than just running a few tests; but, we'd like to offer four simple things you can do each day to help ensure a happy and healthy canine companion.
Intentional attention
Companionship may actually be more important to dogs than it is to people. These sweet creatures are designed with an intrinsic pack mentality and need to feel involved in your life. Make an effort to spend quality time engaged with your dog each day. Go beyond the mealtime interaction or small talk as you rush out the door for work. Make time for couch cuddles while watching TV or belly rubs while browsing the internet. Dogs want more than food and water – they need love and affection, acknowledgment and interaction.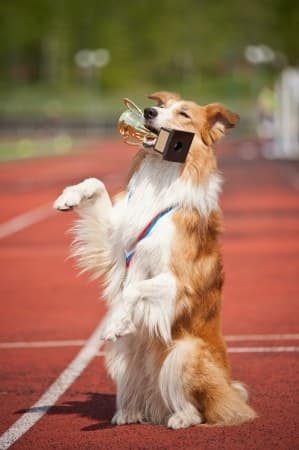 If it is unavoidable that you must work long hours, leaving Mr. Puppers alone for prolonged periods of time, consider hiring a dog walker. This can help break up his day and he'll enjoy a little extra companionship.
Exercise the Energy
Depending on the breed of your dog, energy levels may vary – but all dogs need physical activity. This is good for his health as well as his happiness. You may have already noticed that unspent energy will always find a way out – usually translated as chewed shoes or carpet, excess barking or uncontrollable jumping. Even if you have a huge yard, with plenty of space to run, dogs need that extra focus and engagement to run off the extra steam. Go for a walk every day or hit the dog park for fun frolics and fetch.
Mind Games
Mental stimulation is not usually the first thing people think about when planning their dog's day – but dogs love it. Not only is this a great way to engage with your dog, mind games also use up extra energy and allow dogs the opportunity to show how smart they really are (usually).  There is a world of games made specifically to keep your dog mentally stimulated – there are food games, scent games, agility activities – you can make a homemade obstacle course and even play a game of doggie basketball. Dogs always seem to learn best by being rewarded with treats – so stock up on something healthy and let the fun begin.
Beneficial Biscuits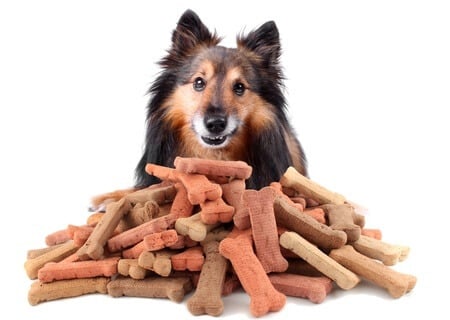 It may not be as easy as you think to find healthy treats – but health is fundamentally important to happiness – so take a little extra time to read ingredients and research the manufacturer. Most commercial dog foods and treats are full of carbohydrates and starches – it's akin to feeding your child sugar all day. Kids are always excited about sugar – until too much makes them sick. The same mistake can be made with dogs – and a lifetime of these types of treats can cause a free radical buildup that will most likely lead to arthritis. Take the time to find a good food and healthy snacks. This will build a strong and lifelong foundation for the health and happiness of your dog. These four simple daily do's can really put that extra wag in your dog's tail.
---
Healthy Treats for Your Happy Dog