Sweet Chihuahua Struggles with Pneumonia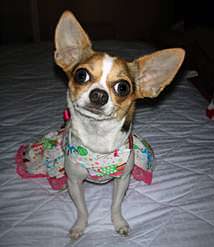 Abby, A Sweet Chihuahua with Pneumonia Challenges
I purchased Abby while she was sick with a respiratory illness (dog pneumonia). She had been on antibiotics since late December. I took her to my vet, and she was given up to date shots and another antibiotic. She was also given a cough suppressant. I took her home, and a couple of days later she had blood in her stool. I took her back to my vet and they took her off the antibiotics and treated her for the blood in stool for 4 days.
Condition Worsening
Things kept getting worse as days went by. So, I took her back to the vet again. The blood in her stool had stopped, so she was put back on antibiotics. Her x-rays showed that her lungs had developed severe pneumonia and she had fluid in her lungs.
Struggling to Breathe
Two weeks later she had severe problems trying to breathe. I rushed her to the emergency room. Her gums were pale and purple-grayish in color, so they gave her oxygen. The doctors said, "she was in poor condition". I left her at the vet's overnight until morning. They had given her a shot to try to take some fluid off the lungs. She was in bad shape.
I took her back to vet to recheck her and the Vet said her condition "was very bad and that her body is not responding to treatment". She continued, "it's hard for little dogs to recover from pneumonia". I was heartbroken. I cried non-stop. The vet said, "let me keep an eye on her for the day to see how she does". I left her there to go home and cry thinking we would have to put her to sleep.
We Went to a Specialist
My husband then calls the vet and says, "Do you think a specialist may help?" So we took Abby to a specialist that afternoon and paid for her 4-night stay. We were to pick her up on Monday evening. They told us the same thing.  They started her on fluids and new medications as well. She was in a fish tank with oxygen flowing through for her to breathe. Over the weekend the vet specialist called to let me know that Abby's condition showed little or NO improvement at all". She said, "by now she should have seen some improvement". The specialist said, "this is very discouraging". So I picked up Abby to take her home and basically "die". The vet specialist says, "there is nothing else they can do for her".
Finding Help Online
That weekend I had searched on the Internet about these types of problems in dogs and came across the Nzymes.COM website. I called right away and was convinced the products could possibly help Abby. And, at this point, I needed real help!!! The Nzymes® shipment arrived promptly on Monday afternoon as expected.
I still had hope for her because of the NZYMES® Ox-E-Drops I'd purchased. I just knew that these would work by reading other testimonials. We immediately started giving Abby the Ox-E-Drops internally 3 times a day. I prepared a vaporizer for her to breathe the vapors overnight. I noticed a big difference in her the next day right away!! She was not having to breathe heavy. And, she was eating and drinking well!!
With a lot of prayers and the Nzymes® Ox-E-Drops, Abby is all well!! It has been 6 days now since she has been home and been taking the Ox-E-Drops. She is running, wagging her tail and wants to play and chew up everything!! I'm so happy with Abby's progress and want to Thank-You for saving her life!!!!!
D. Wallace – League City TX
---
UPDATE:
Abby is almost 2 now and is still here and doing great. There have been no new occurrences or new bouts of any type of respiratory issues. We cannot Thank you enough for all your help.
---
Check out our Healthy-Respiratory Program; Or Review this Video to See How Easy it Is
---
NOTE:  In the early Nzymes years, the customer also received a bottle of the Antioxidant Treats (as a new-customer Bonus); so, this immune-enhancing nutrition was also a part of the Program at that time. So, those TREATS have since been made a part of the Respiratory KIT as seen below.
---
Products Used by Abby, the Chihuahua with Pneumonia Challenges