Slugger Recovers from Stiff Joints
Recently, I had a case of stiff joints in horses. My 5-year-old APHA Gelding horse, "Louisville Slugger", was stiff in his joints after his regular workouts.
He also seemed to have very little endurance during hot weather. This was occurring especially when doing simple tasks like trotting circles.
Also, it would take a long time for him to recover after simple workouts.
At the beginning of June, I began feeding him Nzymes® Granules mixed in with his grain morning and night.
Although it was recommended on the label, I did NOT double the initial amount as suggested for the first two weeks for stiff joints in horses.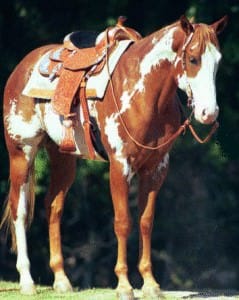 Better Movement and Endurance
In just 30 days, Slugger had a more fluid movement during and after work outs plus his endurance improved 150%. For instance, his recovery time went from an average of 20 minutes down to about 5 minutes. Additionally, he had improved respiration and improved gum color.
Scratches and Cuts in His Coat
There were also small scratches and cuts in his hair coat from bites from our other horses. Normally they take about a week to a week and a half to recover. Now, they clear up in just days with new hair growth almost immediately!
Since then, I have eliminated all other supplements from his diet as Nzymes® Granules™ have given me the best results month to month. This product is amazing for horses with stiff joints and has produced significant results.
Ryan Dohrn, – Appling, GA
---
Nzymes TIP: Double-up the Granules for the First Two Weeks
In general recovery cases we always suggest to DOUBLE the daily usage amounts of Nzymes® Super-Food Granules for the first two weeks. You can trust what we say as we have been working with this formula for more than 20 years. They will make a significant change in the speed of recovery for your horse.
---
Product Recommended Stiff Joints in Horses