Christmas Stories and Pics 2018
We would like to thank everyone who participated in our in our simple, Christmas Photo Raffle. We received so many really great photos, and stories too, that we put this page up just to showcase them all. Our Special congratulations to Sheldon, the Tortoise. His number came up and he won the Sleigh full of goodies!
We hope you'll enjoy the wide variety of submissions featured here, and this awesome Video too!
---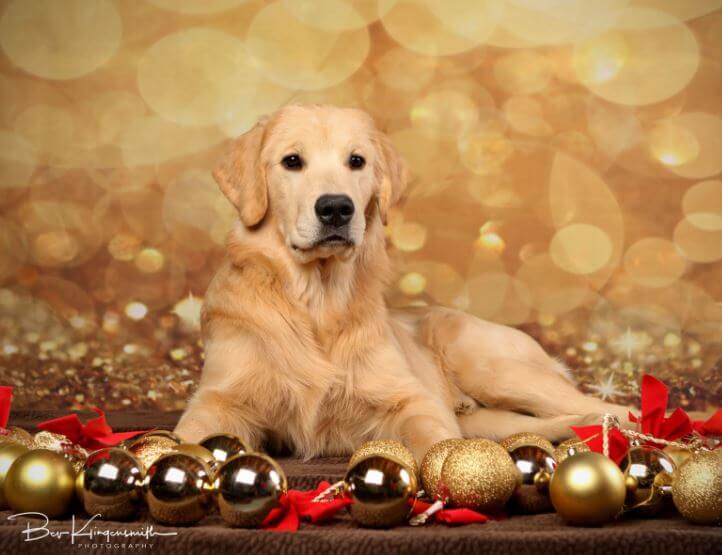 NASH – Nash is our first Golden and he's fantastic! Such a fast learner and so sweet. He's also very patient while mess with taking pictures!
Bev K.
Newton, IA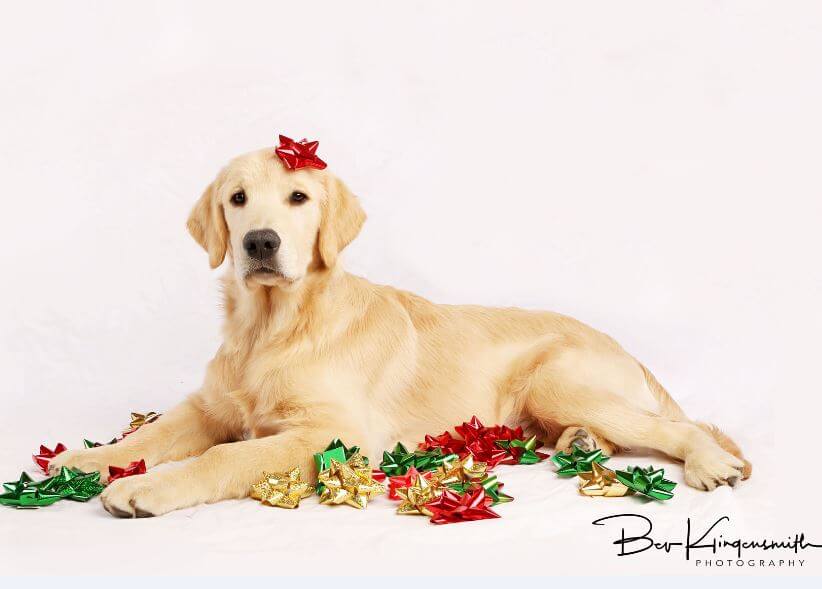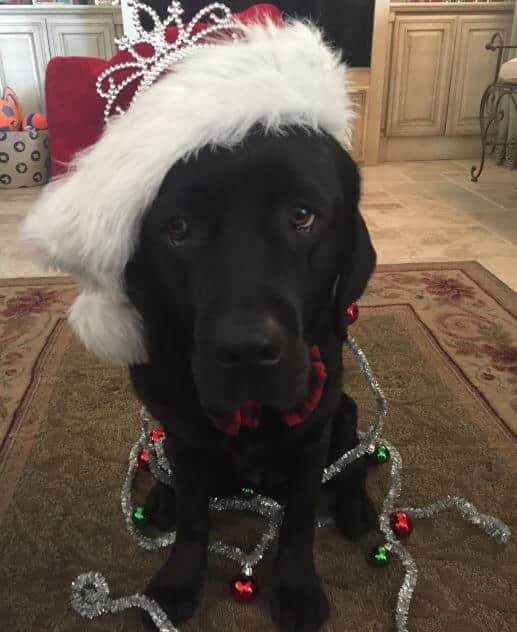 EDYSON – Edyson was bred to be a service animal & I was her volunteer puppy raiser. Sadly, she had ear infection after ear infection & then she began chewing her feet & scratching incessantly. After rounds & rounds of steroids & antifungal meds that never completely solved her problems she was released from the program & became my pet. I was determined to find a way to help her without drugging her for the rest of her life. It was a long process but Nzymes literally saved her life. She occasionally still has flare ups but I'm able to get it back in check pretty quickly by doubling up on her sprouted granules. I'm not sure that she will ever be able to go without the "Nzymes Healthy Skin Kit" but I am very happy that I'm not having to drug her with horrible side effects. Her confident & fun personality is back & that is priceless!!! Thank you!
Kathy T.
Simi Valley, CA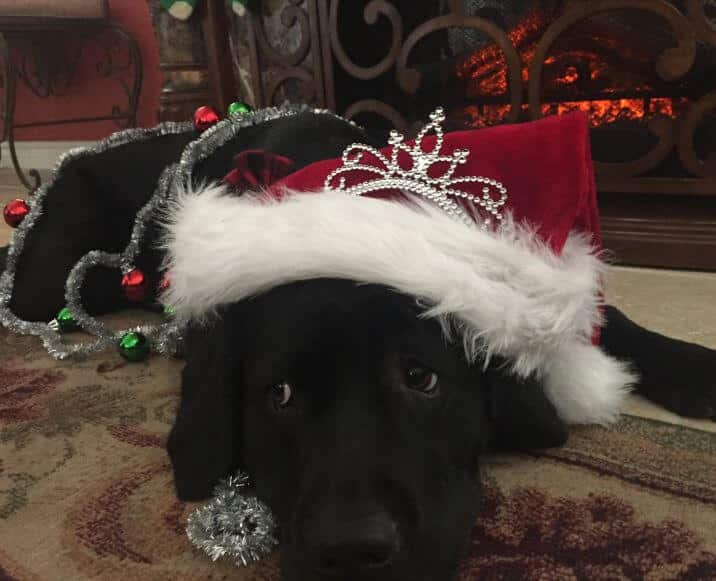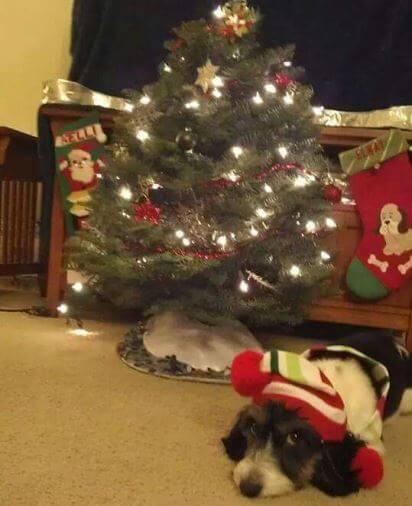 ELWAY – Elway is a spoiled rotten momma's boy and the subject of our annual Christmas cards. He is 10 years old and we've been together from the beginning. He started having back problems (as dachshunds do) at the early age of two. I've been determined to do everything I can to ease his pain and prevent any surgery so I found Nzymes. He's been taking the antioxidant treats for years. We love Nzymes! Thanks for helping me keep the light of my life around as long as possible.
Kelly M.
Cedar Rapids, IA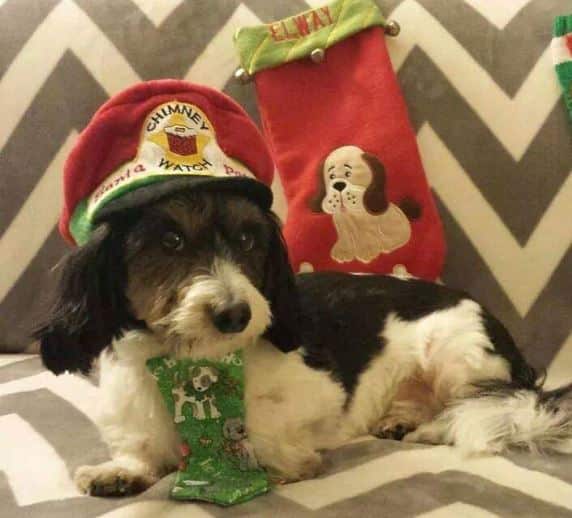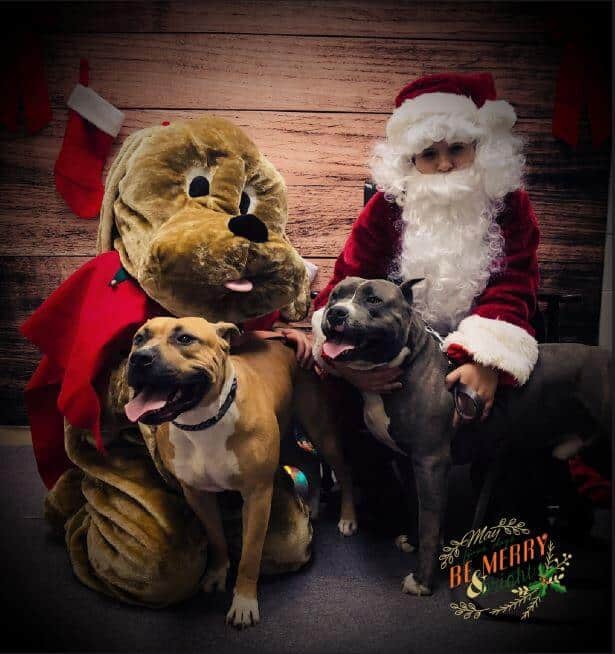 IVY & BUDDY – Ivy and her brother Buddy have been good all year, and they just couldn't wait to tell Santa all about their good behavior. I honestly don't know who loved who more, Santa and helpers loving the dogs or the dogs loving Santa and helpers!
This breed gets such a bad wrap, and these pictures are proof that they are a loving breed!! Merry Christmas!!!
Mary F
Corbin, KY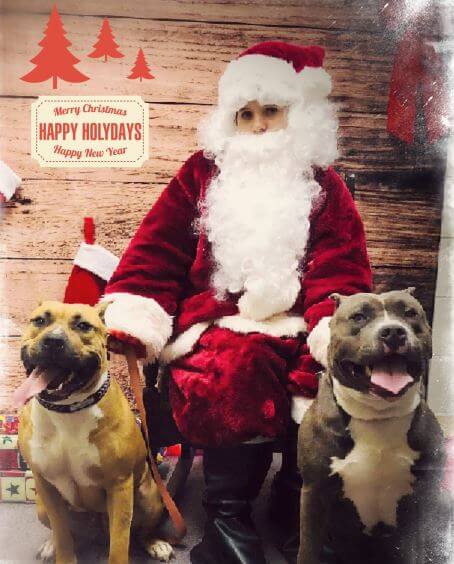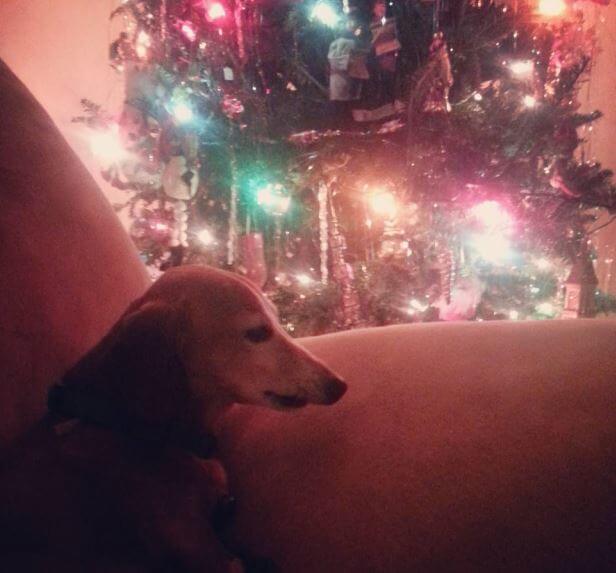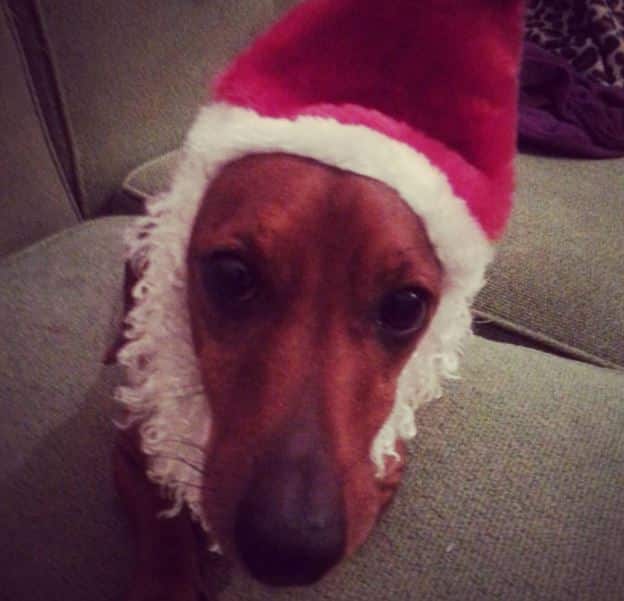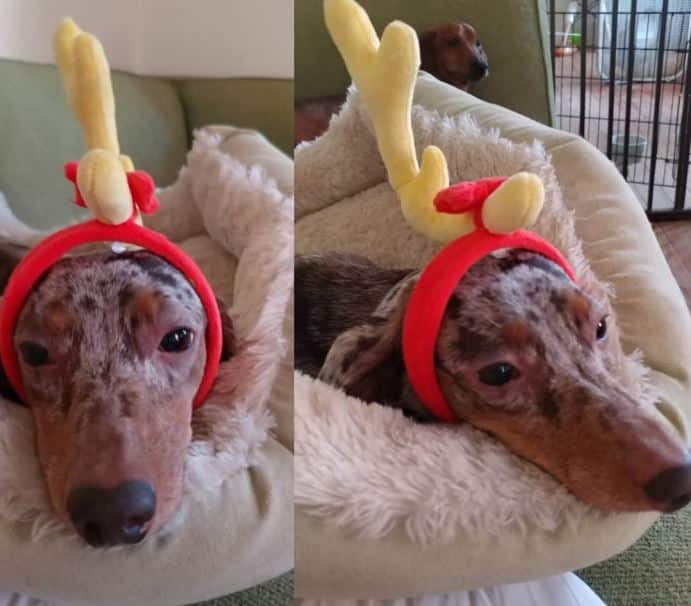 RUFUS, LOUIS & IZZY – I have 3 mini dachshunds, Rufus, Louie and Isabella(Izzy). I never liked dachshunds until I got Louie as a baby, he is one of the sweetest dogs I have ever had, he has never met a stranger, human or animal. Then I got Isabella, I got her from a friend's friend, she was about to be brought to the shelter and I just couldn't have that plus I had been looking to adopt another dachshund for 2 months. I adopted her sight unseen, the woman came to my office and basically threw her at me in the parking lot. She was so scared, now she never leaves my side. And then there is Rufus, I saw him on Facebook on one of our local shelter's page. His previous owner dropped him off with a euthanasia request because "her vet said his dental work would be extensive and it would just be better to put him to sleep", the shelter went ahead and pulled all of his teeth except for his 4 canines and I adopted him. He is quite the gentleman, hard-headed and very sweet. The first picture is Rufus' first Christmas with me. The second picture is Louie pretending to be Santa Paws. And the third picture is Isabella waiting to pull the sleigh for the Grinch.
Cherie U.
New Orleans, LA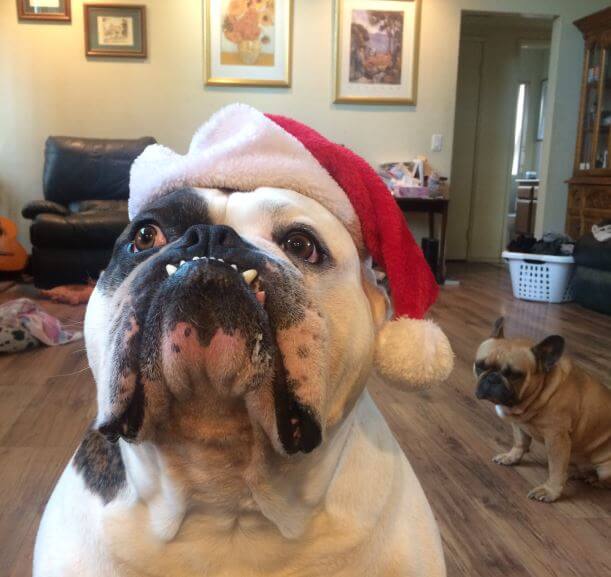 BUTTERS
– Butters used to have convulsions or spells every day! Then we began using the
Nzymes® Antioxidant Treats
daily and the convulsive fits went to once week at first, and then, the longer we gave the product the better he got. More recently, Butters may have a convulsion incident once a month. But now they are a lot milder and less concerning than they used to be!
Nataliya D.
Agoura Hills, CA                              

<<<<<<<<<<<<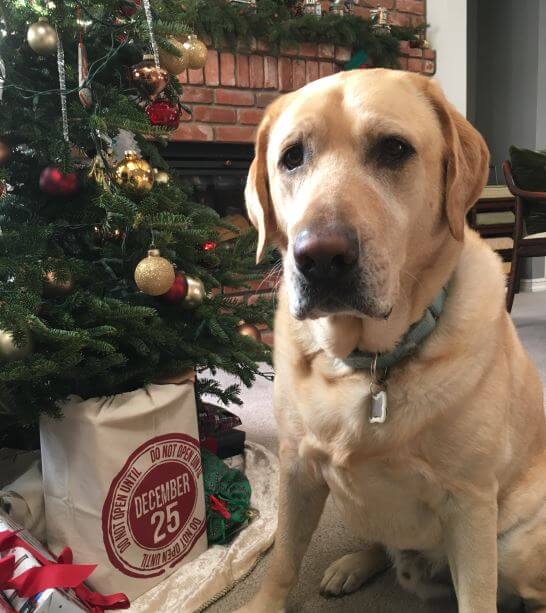 JACKSON
– Afraid of his "Naughty" report, he held Elf on the Shelf hostage. After a 3-minute long foot pursuit and threats to tell Santa, Jackson released the Elf for a cookie.
<<<<<<<<<<<<<<<
KISA – Kisa loves Christmas!
>>>>>>>>>>>>>>>
Jennifer A
N Hollywood, CA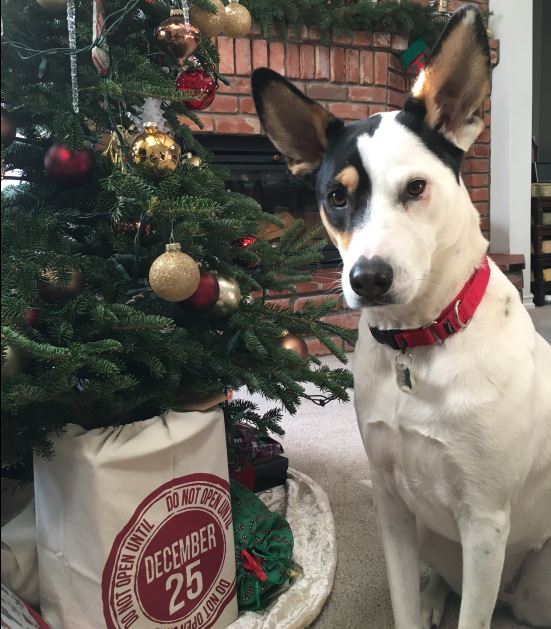 ASTA & RUSSELL
– Our GS Asta is a rescue that came into our home with Russell the Dachshund and senior dog who thinks he's the bigger guy!
They both take your products daily for different issues! We are so pleased with the improvement of their health because of it!!
Lisamarie M.
Easton, PA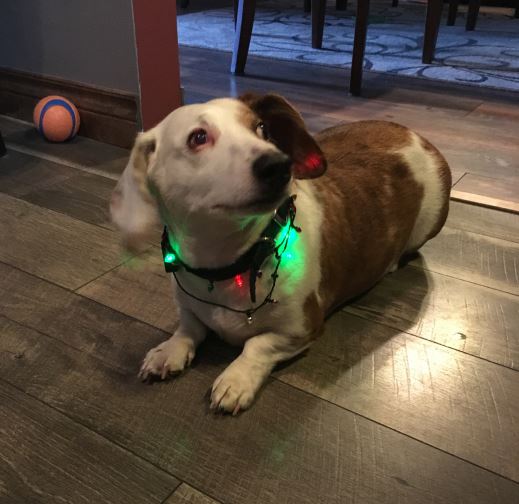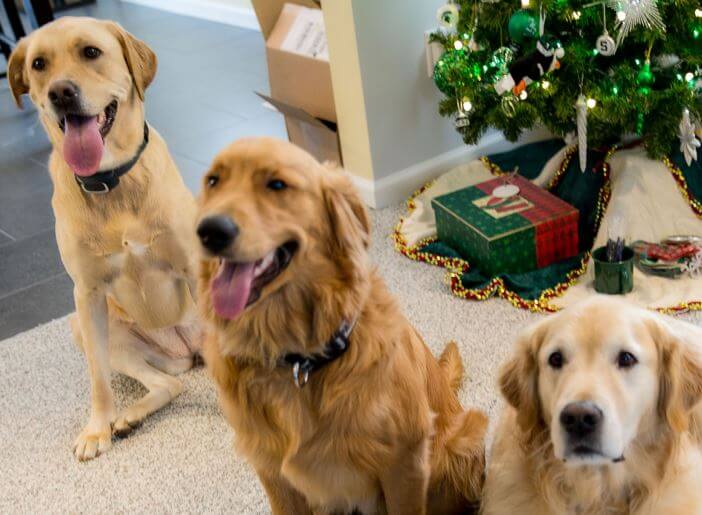 MILO, ELVIS & STELLA
– It was Milo's birthday so he had his two best buddies Elvis and Stella over to celebrate!
Elvis is excited for a treat given at Uncle Milo's party!
Betsy T.
North Shores, MI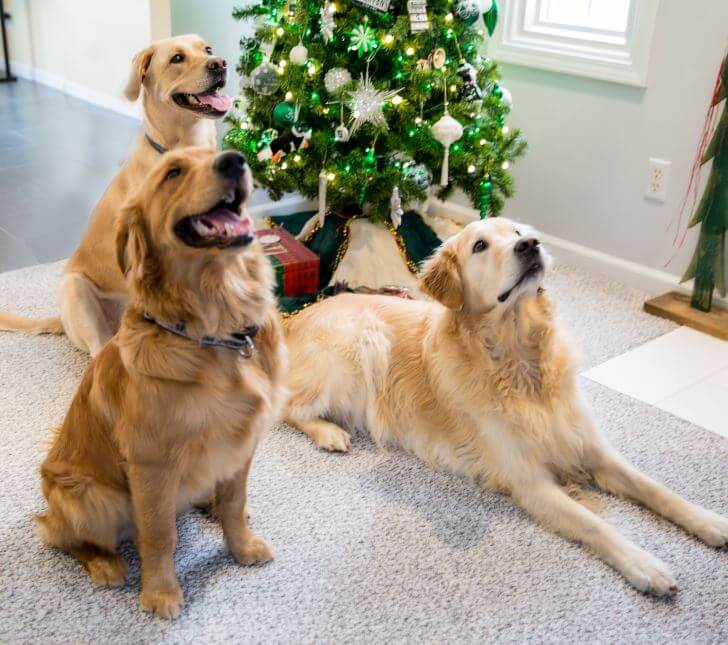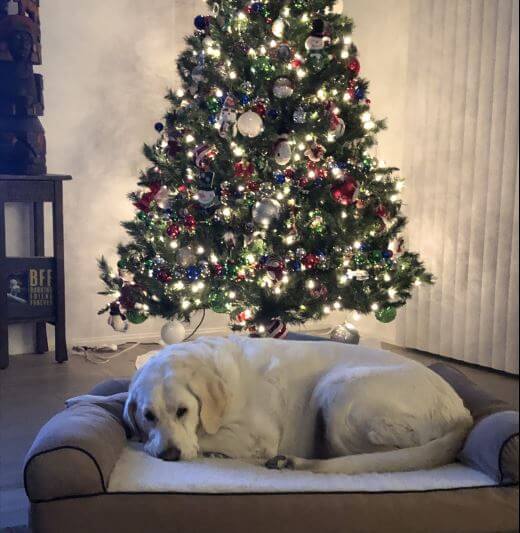 DIXIE
– Dixie was born with bilateral hip dysplasia, after numerous surgeries to help her ( total hip replacement ) and having to undo the total hip replacement, she'd been on pain medication, that's until we found
Nzymes
! Dixie has been taking
Nzymes Antioxidant Treats
and
Granules
for over 2 1/2 years and has
not
been on any pain medications! We love
Nzymes
and are here to say that it works and she's happier than ever and runs and plays like a puppy. (
See Dixie's Story
)
Keven S.
Las Vegas, NV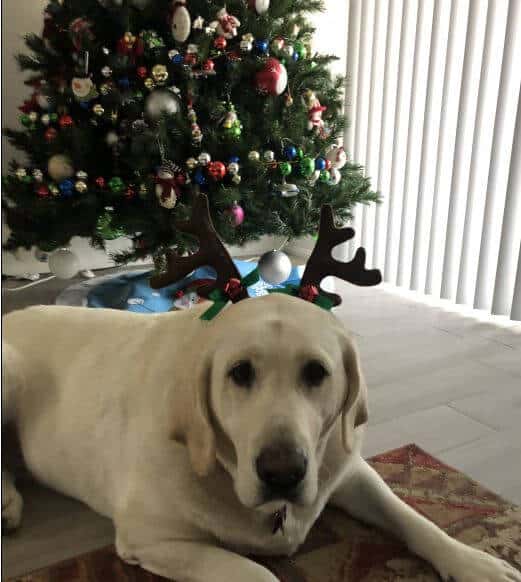 CHARLIE
– Charlie is wearing his Christmas bow-tie. He is a very loving boy. We adopted him from a rescue shelter and are so happy we did. He was extremely thin and needed a lot of attention to get him back on track. He came to them infested with fleas and malnourished. But with a vet appointment, grooming, good food, and much love, he's the healthy happy little boy now.
I always buy Nzymes from you and hope it helps him live a very healthy long life.
Thank you!
Charlie S.
Midlothian, VA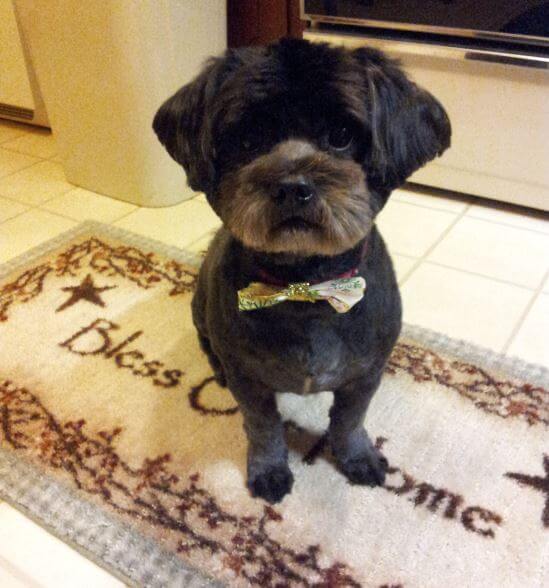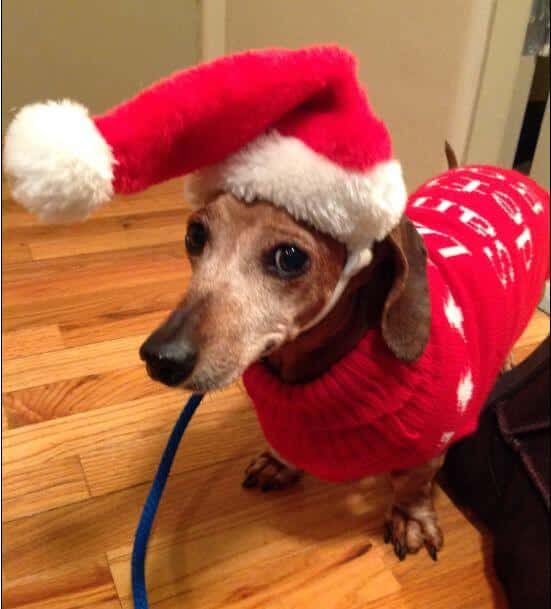 SIENNA
– Sienna is a rescue dog. I adopted her at age 6 and we have been together
Over 8 years now. She has about 5 teeth, is mostly deaf but is still going strong thanks to the
Nzymes
system.
Her favorite things to do are eat, watch her mom eat and sleep. She adds so much joy to my life every day and I could not have gotten through the tough times without her.
Debbie C
Seattle, WA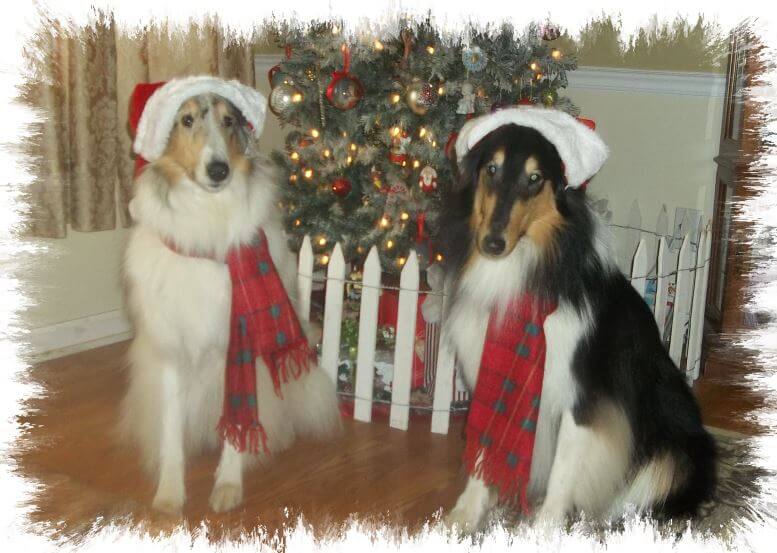 HOLLEY & JENNY – After losing 2 collies in about 6 months, I saw Holley on the internet. Big problem she was in Longview Texas. After e-mailing about her I found out the breeders were truck drivers, so I met them in Wytheville Va and they brought her to me at the truck stop. Jenny was a lot closer in Rock Hill SC. These are collies number 5 and 6. I have had one of every color. If you want a great family dog this breed is a great one. Just be prepared for a lot of brushing, but it is all worth it.
Thomas T
Charlotte, NC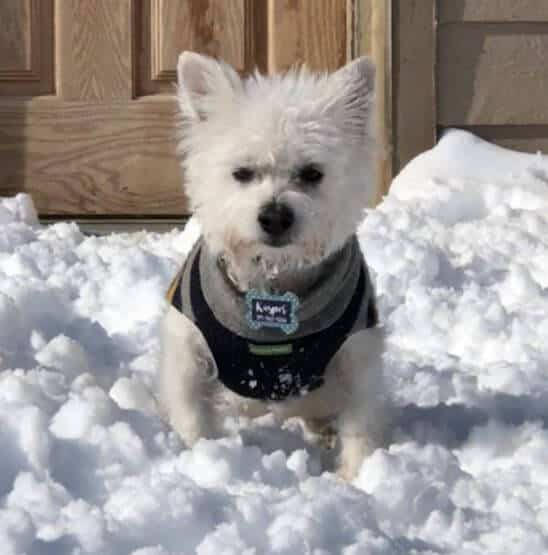 KASPER
– My boy wasn't able to walk at all due to a pinched disc in his back. After we had tried numerous other treatments to no avail I did some research online and found
Nzymes
. After using
Nzymes
for about 8 weeks, he is now walking again all without needing to see a vet. I'm very happy that his quality of life is so much better. He's able to walk, run and most importantly is not in any pain any longer. Thank you
Nzymes
for saving my Kasper's life!!!
Anne A
Calhan, CO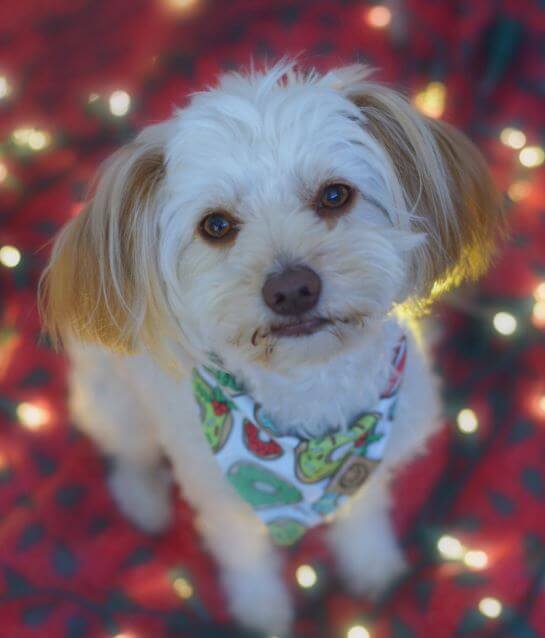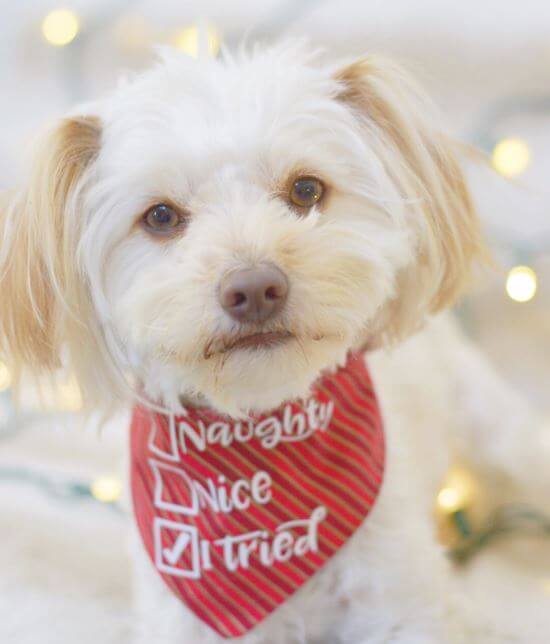 SNICKERS
– Snickers was found as a stray in our neighborhood when he was about 1 year old. We rescued him on October 17, 2016, and he's been living the good life ever since!
Snickers has two cat siblings, Luna and Brownie. The cats were quite skeptical of him at first but they are all best friends now!
His other best friend is our neighbor's dog, Teddy. Snickers is reactive towards most other dogs and therefore he doesn't have many dog friends, but he and Teddy met over two years ago and they've been best friends ever since.
Snickers is a natural model and loves to be dressed up and pose for the camera for the Instagram account he shares with the cats, @threefluffytails_
His favorite food is cheese…he will do anything to get a bit of cheese!
We take Snickers everywhere we can with us and he often comes on shopping trips to pet-friendly stores and he's even traveled to Los Angeles on an airplane with us! He also loves to hike, so we take him up to the mountains as much as possible to explore the trails.
Thank you for reading!
Vivian L
Albuquerque, NM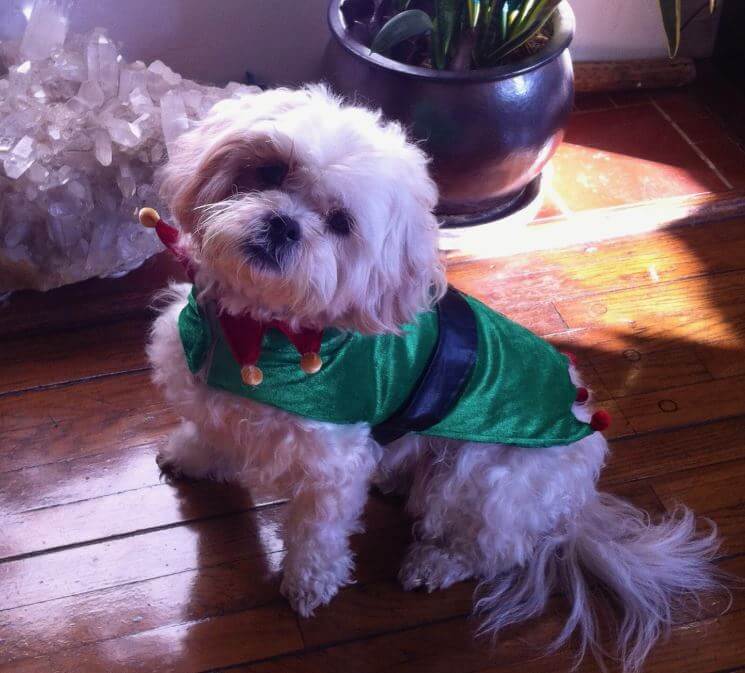 COCO
– This is my little girl..she is just a gem! Although she looks cute, she absolutely hates getting dressed up – for anything or holiday..but she is a good sport and let me do this for her
Nzymes
Christmas Portrait!…
Happy Holidays from Coco to you all!!
Palma P.
Los Angeles, CA
BRUCE
– This is Bruce. Today is his first day on the
Nzymes
program. I'm hoping that this program will bring him some relief so he can be a happy dog. I started him on the
Healthy Skin Mini Kit
. He suffers from terrible allergies, brown spots on skin, loss of hair on his feet, itchy all the time. He also has the "yeasty" smell.
Thank you to all the knowledgeable people who work at Nzymes for their guidance in choosing the right products for him and for educating me on the program and which "snacks" to avoid for him.
Josephine R.
Franklin, VA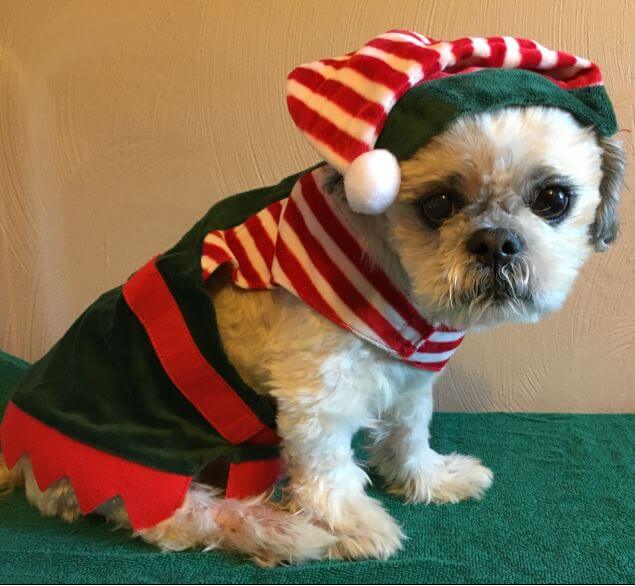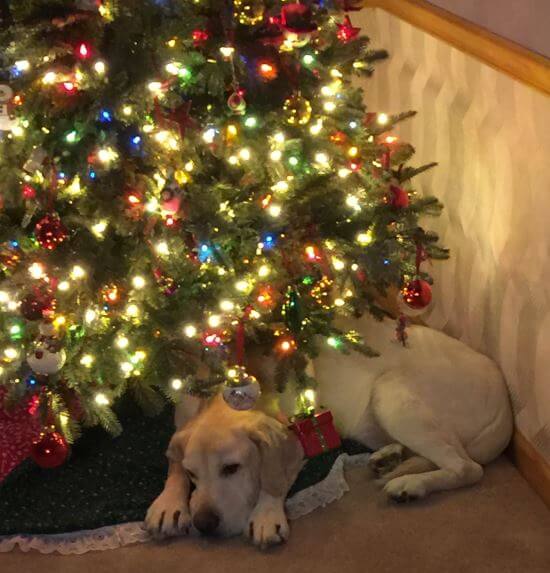 OZZIE
– Ozzie loved Christmas. He always crawled under the tree at bedtime. We always said he was waiting for Santa to come. On Christmas morning he would find his gifts and open them himself.
Sadly, Ozzie passed away a year ago and is dearly missed. Especially at his favorite time of year.
Steve G
Crystal Lake, IL
DANTE
– Dante is a rescue baby that was very abused. When we first rescued him, I wasn't sure how he would react to our two small Schnauzers. He was so sweet to them. He is a protector for his family and I am so proud to have him as a part of our family. Love him dearly!
Thanks for helping us keep him healthy and strong!
Bobbie A.
Sierra Vista, AZ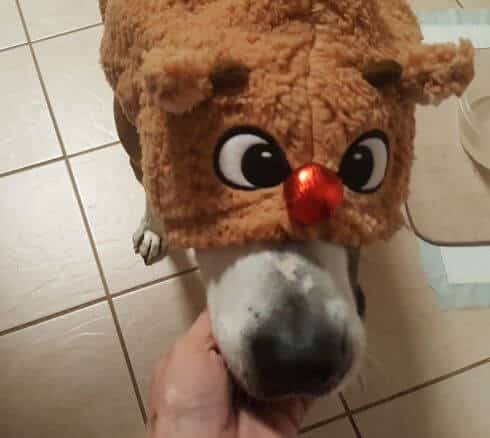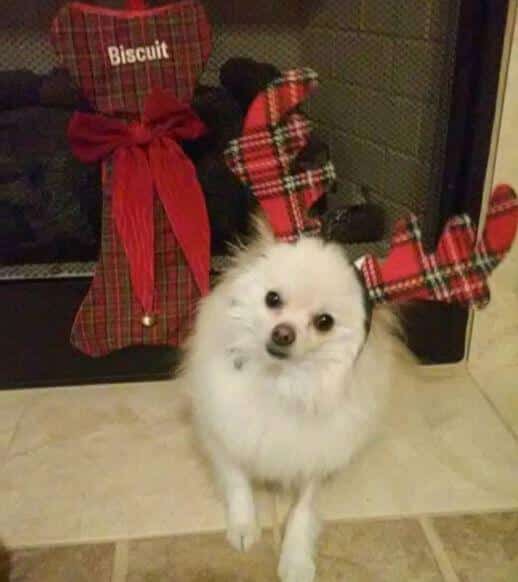 BISCUIT – Biscuit is an Nzymes customer. He loves his Antioxidant Treats the best!
Biscuit suffered from allergies starting at 2 1/2 yrs. I did not want to keep taking him to vets to get allergy shots. Had a referral from a fellow co-worker to try Nzymes. What a lifesaver! Biscuit uses Granules, Bac-Pak Plus, Antioxidant Treats on a daily basis with Fromms dog food (also recommended on a listing from Nzymes website) He also uses occasionally Ox-E Drops in water and to wipe, eyes from tear stains. We have also used Black Leaf. As you can clearly see, Biscuit is a handsome, happy, allergy-free boy.
Thank you Nzymes and Merry Christmas!
Patricia J
Ellenboro, NC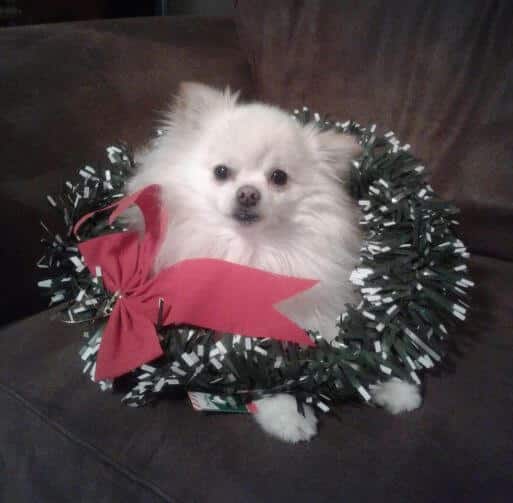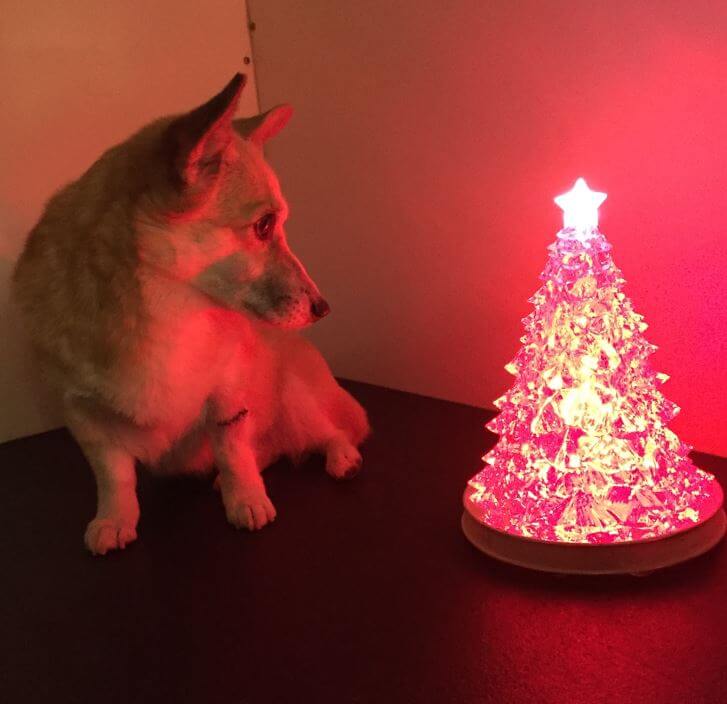 RHINESTONE
– This is Rhinestone she is a Pembroke Welsh Corgi 12 years old. She competes in Agility and has many Titles to her name. She loves to work.
She may have IVDD her back leg is getting weak so I am hoping that your product will help her continue to run, something she loves to do. I have 3 other Corgis that are also 12 years old. They are the best thing in my life. They are my heart and soul. I love you Princess…(that is what we call Rhinestone) hope you win the sleigh full of toys.
Linda M.
Douglas, MA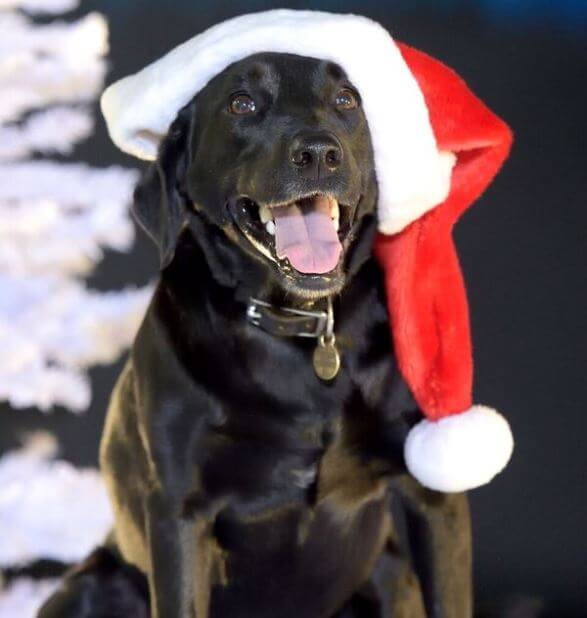 LUNA  & BEAR – Luna is a Bomb Detection K9 and has been on Nzymes Granules since I got her. She has seasonal grass allergies and Nzymes seems to keep them at bay.
Bear was rescued in Los Angeles and brought to a no-kill shelter in Lynwood WA. He was selected to participate in explosive detection training. While he was ball crazy and had a great personality, he didn't believe searching was necessary and didn't make the program. Instead of sending him back to the shelter, I kept him.
Bear came to me with horrible ear infections in both ears. After a round of antibiotics and a daily dose of Nzymes, his ear infections have not returned to the surprise of the vet.
Kristi B.
Milton, WA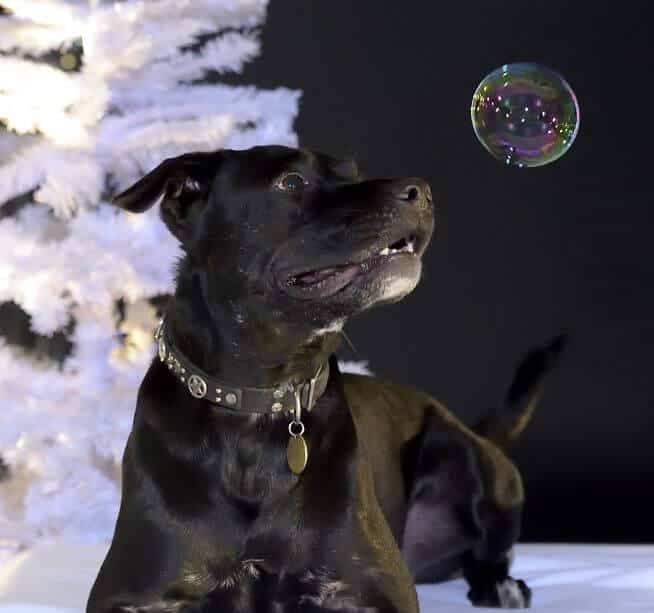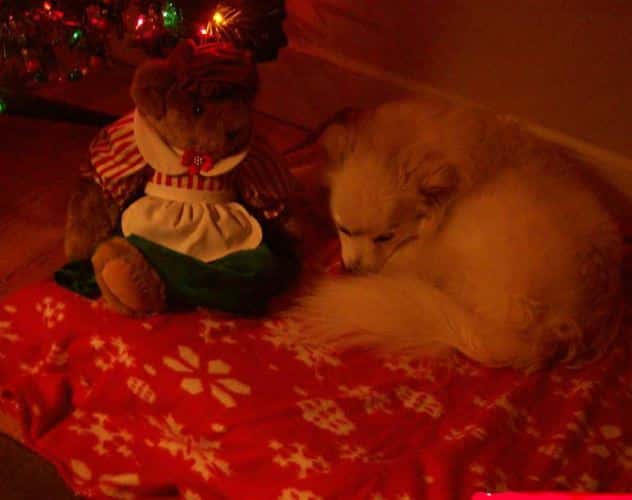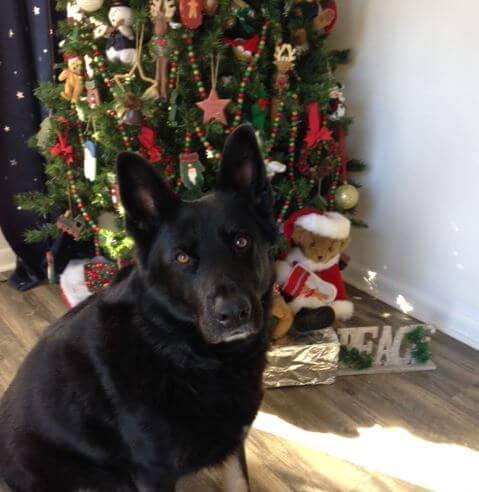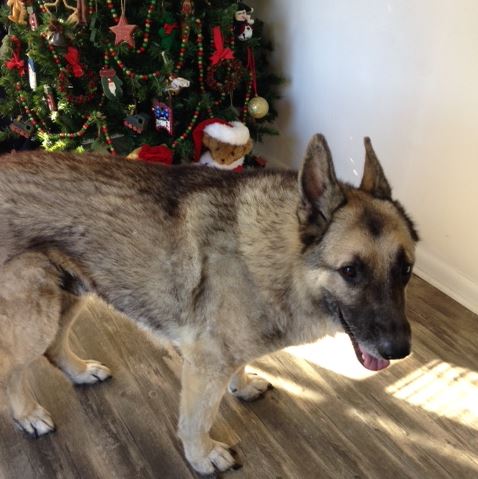 SUGAR, LOGAN & BRODY
– Sugar is one of our three precious dogs. She is the oldest right now. We adopted her from a rescue when she was two years old. Even at her age, she runs with the big dogs! She has two brothers, both German Shepherds.
Logan is the youngest of our dogs…he loves Christmas…
Brody is our sweet German Shepherd…all three of our dogs just love Christmas!
Francis P.
Lilesville, NC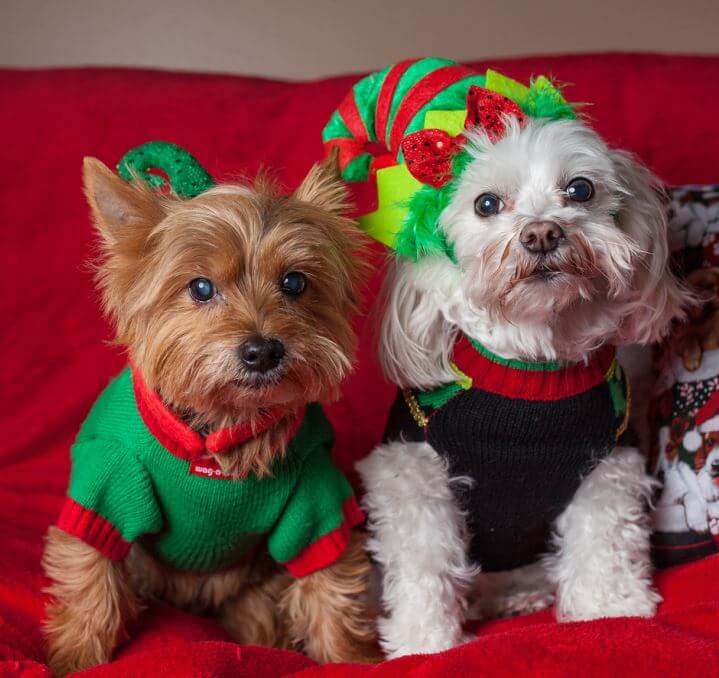 MIA & MOOKIE
– Mia and Mookie definitely don't enjoy dressing up for Christmas, but every year they dutifully put up with our desire to have them in a Christmas picture that is sent out to our family and friends to wish them a Merry Christmas.
Sharon C
Seabeck, WA
HANNAH
– This is my beautiful Lab, Hannah, on Xmas a few years back. We were actually visiting a neighbor who snapped a bunch of pics by the Xmas tree. She's a wonderful dog & a loyal friend……even my neighbors love her. I'm very thankful that she's still healthy & happy & coming up on 14 yo. I love her to the moon & back. Merry Christmas to all…..
Janice C.
Santee, CA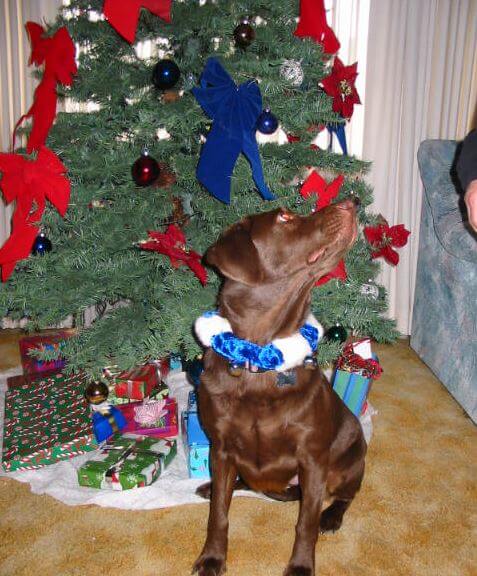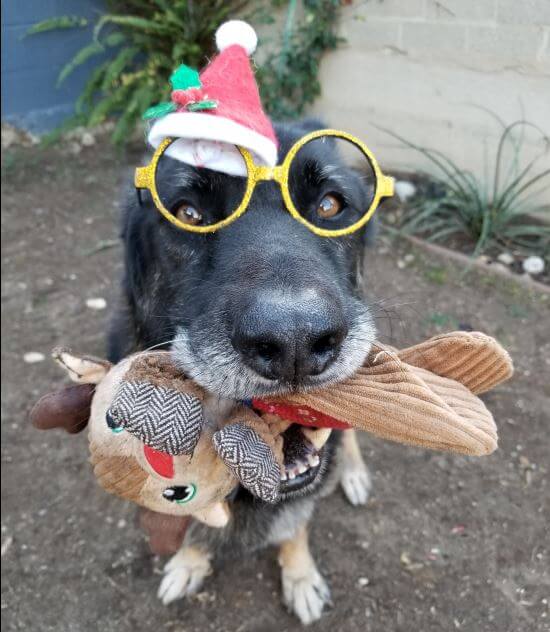 LUGAR
– Luger was diagnosed with DSM last month. He loves toys and playing so I bought him a new toy and stylish glasses because he was a good boy at the vet's office. I can lose him at any time, so I want to take pictures that help me smile. He loves the
Nzymes
doggy treats. I can share a video of him begging for his
Nzymes
.
Christopher L.
San Pedro, CA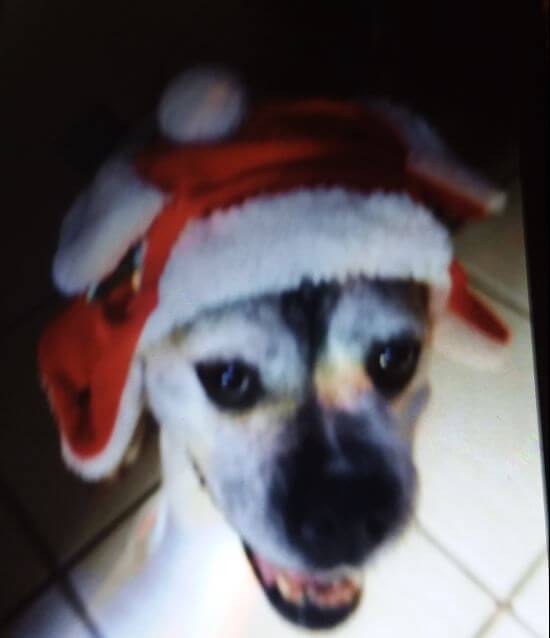 TASHA
– This is my beautiful 11-year-old boxer. Very very healthy things to your product most of the time we have to go into the Vet is just for her annual checkup and or any accidents. Like at a young age she jumped over a fence and got hit by a car. She survived very well with no long-term injuries.
I also had my other boxer Bosco on your product that is Tasha's father and I was told boxers live between eight and ten years but I lost him 2 years ago at the age of 13 and 10 months very close to 14 years. It really makes a difference when you have good nutrition for your pets – thanks so much we love everything.
Merry Christmas to your whole office that is always so helpful and kind.
Sherion K
Sierra Vista, AZ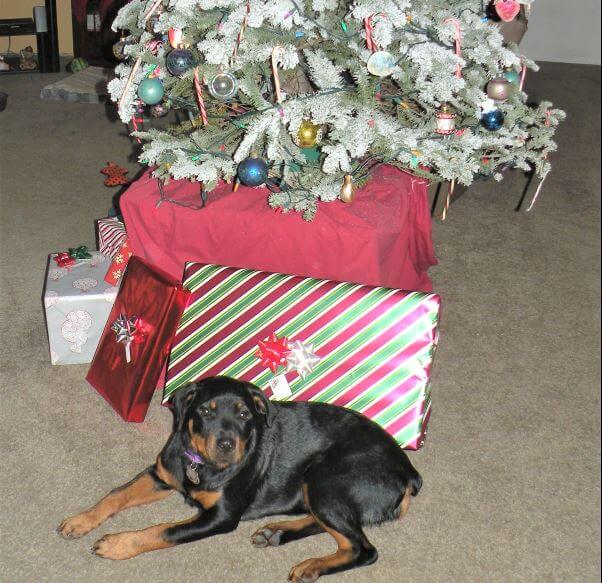 ZIVA
– Ziva was such a good puppy.
Her very first Christmas she laid by the tree and never messed with it.
What a good Rottie puppy!!
Kathy H.
Bakersfield, CA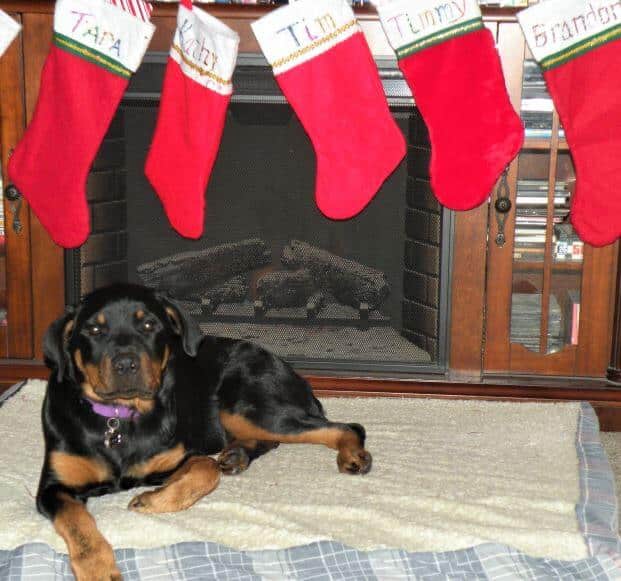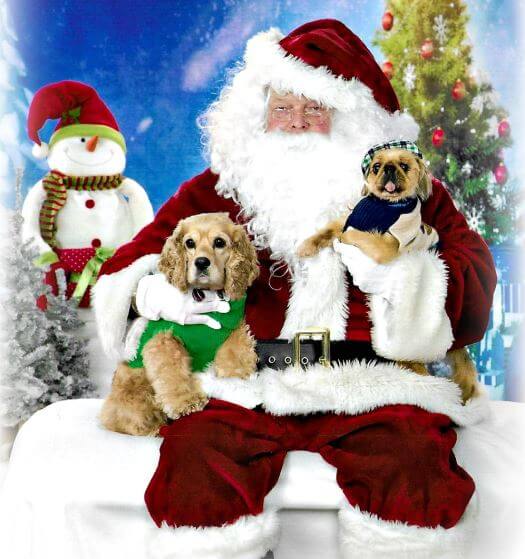 ARTHUR
– I have someone very special to introduce to you. This is my Arthur! Arthur is a 12-year-old (we think although I believe he is older) Pekingese who was surrendered to Rescue after he was kicked in the face and his lower jaw was broken. He also had a severe dental infection and had part of his lower jaw removed. Even though he must have been in great amounts of pain, Arthur is THE SWEETEST BOY!
After adopting him at the end of April, we bonded very quickly. One Sunday in June we got up like normal and he was limping on his Right front paw. I immediately took him to the vet. The vet said this is not an injury, its something neurological. This is typically treated with rest and steroids, however, due to Arthur's heart condition she sent me to a neurologist. After seeing the cardiologist and being cleared to go on steroids, he spent 3 days at the hospital on IV pain meds and steroids. He came home. After about 2 weeks we started to wean him off the steroids & he got worse again so he spent another 2 days in the hospital under the neurologist care on IV pain meds and steroids. Again he was sent home on oral steroids, pain meds and also wore a pain patch for a week. He slightly improved but hasn't been able to walk since. I took things into my own hands and began acupuncture & light therapy. Recently we began rehab so Arthur can gain strength in his legs which are now like noodles. We are doing aqua therapy, cold laser, at home exercises and recently he got a cart to strengthen his back legs. He is doing well and I'm beginning to see a slight improvement. This little dog has the biggest will and I hope one day he can walk again on his own.
Lynne P
Little Falls, NJ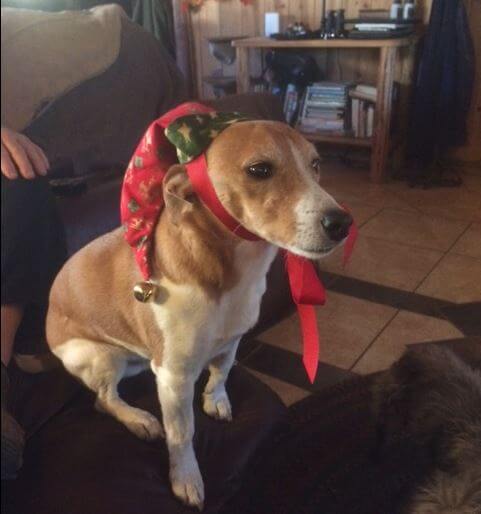 CHUBBY
– Chubby was adopted from a rancher in Oregon as a puppy. He's become my disabled veteran husband's "emotional support dog", as well as a family/ranch dog. Chubby participates in a variety of dog sports, including Barn Hunt, Lure Coursing, kayaking and Tracking/Scent Work.
Patricia W. – Whitmore, CA
<<<<<<<<<<<<<<<<<<
STITCH – Although the years go by and Stitch continues to age, he doesn't lose his Christmas cheer and enthusiasm. He is always willing to be one of Santa's helpers and spread Christmas joy.
Jen P. – Staten Island, NY
>>>>>>>>>>>>>>>>>>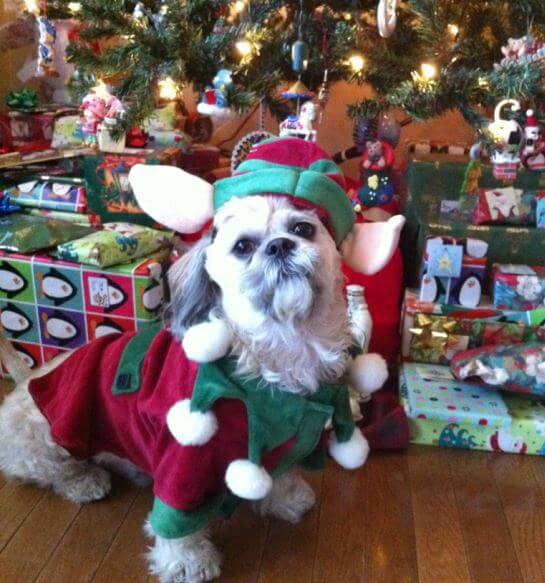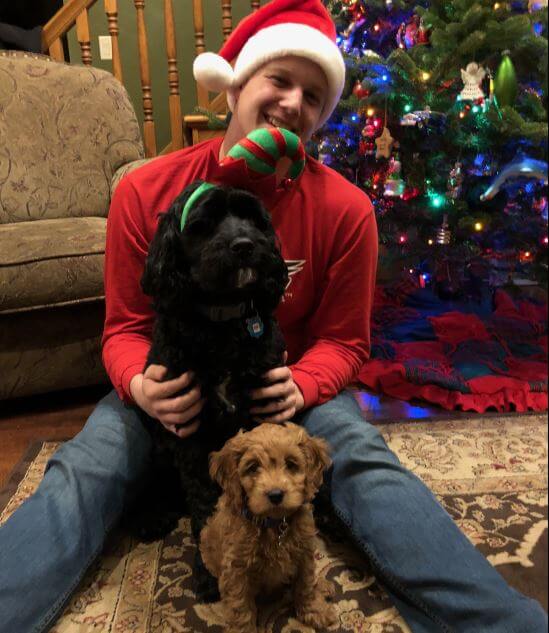 OLIVER & FINNEGAN
– This is a picture of our "boys". My son, and our 2 fur babies. Oliver is our black cockapoo and is 2 1/2 years old. Our newest addition is Finnegan, our 10-week old red cockapoo puppy. This perfect picture was snapped after we decorated our Christmas tree this year.
Jennifer G
Green Bay, WI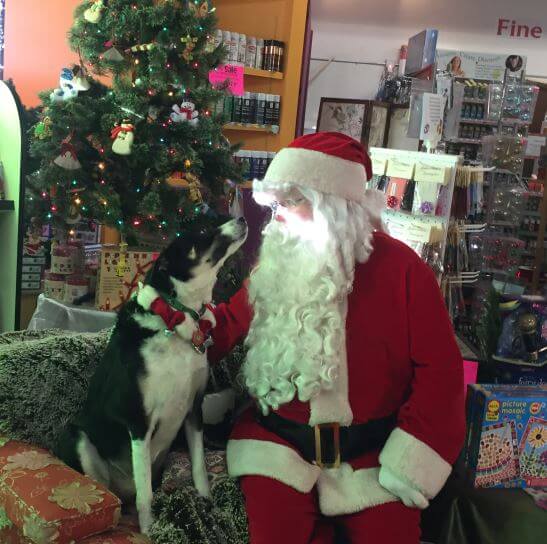 DEMPSEY – Dempsey is my rescue dog. or rather I should say he rescued me.
My heart was broken after losing our Border Collie, Dazzle. I put out the word that I was looking for a Border Collie to rescue if one needed a home. I kept dreaming of this dog in my mind. My BFF, Jacquie, works in a vet's office in northern California knew that I had been looking to adopt a Black-Tri male Border Collie. One day, five and a half years ago, she called me and said, "you are not going to believe what just came walking in the door and needs a home?" Yes, it was my dream dog that I had been waiting for.
To say he changed my life is an understatement. I travel for my job constantly all over North America. It's a lonely job, to say the least, as I am away from home 10 – 11 months of the year. I am in a new town every two or three months where I don't know anyone. Thanks to Dempsey that is never a problem anymore.
Due to the nature of my job I taught and trained him for my Service Dog. He was born to do this job. Through our travels, I can not begin to tell you how many lives Dempsey has touched and changed. It always brings a smile to my heart to have all the children (adults too) that come to play with him and know him by name. When we are leaving a town people always show up with gifts and toys for Dempsey with tears in their eyes knowing that they have to say good-by to him. I always say that he has more miles on him than most pickups and more Facebook friends than I do!
He is a special soul and a loving companion. To most he is just "Dempsey" to me he is everything.
Cynthia K
Tayolrville, IL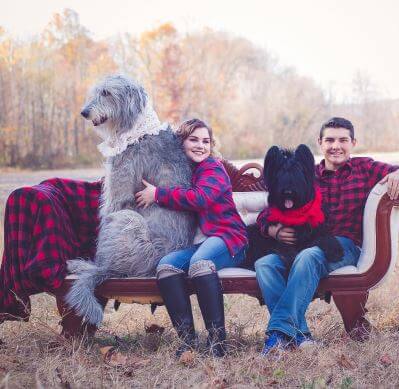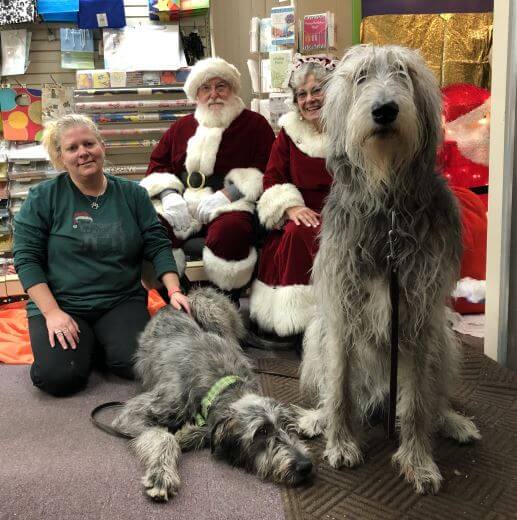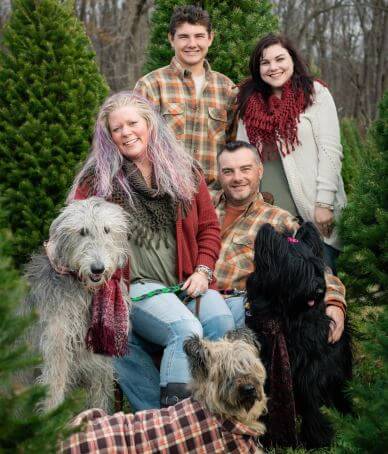 GEWELS – Gewels was our first Wolfhound. She was the most beautiful and amazing girl ever. Everyone she met loved her. She was an excellent therapy dog and all kids loved her. She was in two published books, 8 calendars, and a collar lookbook. We lost our sweet girl November 19, 2018, and it's hard to describe the hurt in my heart but I know she'll always be with me.
Anj B
Tower City, PA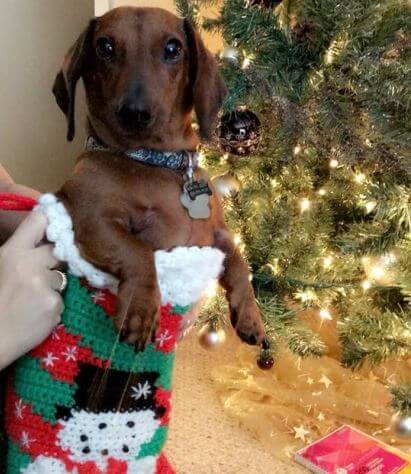 DEWEY
– While still a puppy the Vet told me that Dewey had a condition called elephantiasis. His 'dog pits' had lost the hair and were turning black. He said there is no solution or cure. Fast forward three years and after a round of antibiotics, he was shaking his head, licking like crazy and scratching. I started doing research and narrowed it down to a bad case of yeast overgrowth. Then, I was on the hunt for solutions. I was trying a few things but with minimal help to Dewey's suffering. I continued to search the internet and stumbled across the
Nzymes
website. It sounded too good to be true. I was surprised to find they had a telephone number that one could call, and I was skeptical that I would actually be able to talk to a real person. I decided to call and a very nice man picked up and began to answer all my questions and give me hope for my suffering fur baby. I was very moved at how kind and caring the company seemed to be.
I ordered the products right away and they came very quickly. I followed the directions for all the products and within a month the terrible black gunk in Dewey's ears became less and less. The skin situation got worse before it got better as was explained to me. He is about three months along on the products and has come to life again becoming a happy playful dog again. His ears are beautifully clean and his black 'leg pits' are beginning to fad. He has a ways to go to heal his gut up completely and conquer the yeast overproduction but I know we are on the path to a totally healthy body. I am so incredibly grateful for this company and their products. THANK YOU Nzymes!!
Ann-Marie J.
Chilliwack, BC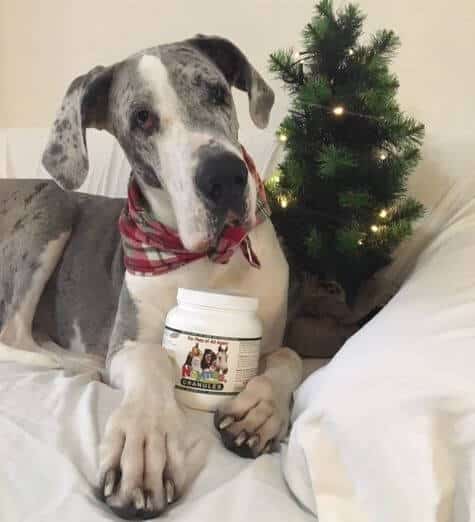 SYDNEY
– Sydney lives up to her nickname of "Gentle Giant". She is 4 years old and weighs 130lbs. The only thing that she loves more than people is her couch. Sydney is a world traveler — she was born in Missouri, raised in Washington, DC and currently resides with her parents in London until 2019. As Sydney's parents, we rely on
Nzymes
to keep her healthy, active, and ready to go up to anyone to show how amazing Great Danes are.
Molly M.
Bluffton, SC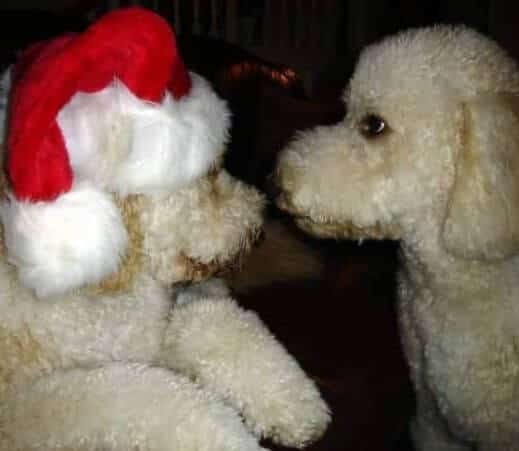 DOOLEY & SNICKERS – Dooley is pictured with his sister, Snickers. She is on the left and he is on the right of the pics with both of them. These photos are a few years old when they were learning about Santa. LOL Dooley has been using Nzymes since he was about 4 months old and had kennel cough. He went through 3 rounds of antibiotics to get over the illness and that messed up his little digestive system. A friend recommended your probiotics and within 2 days his stool was normal and has been normal ever since…thanks to Nzymes. I recommend your stuff to everyone I know.
Valri H.
Houston, TX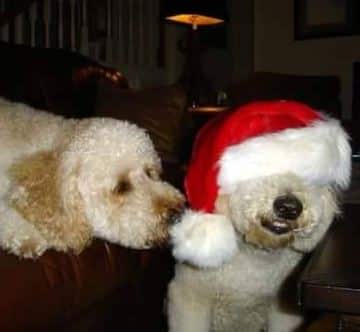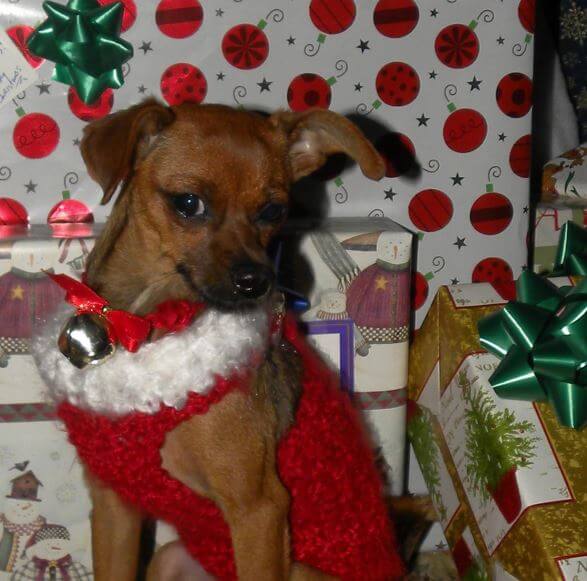 PRECIOUS – When I first noticed her, she was attracting everyone with her personality and cute behavior. She thought she was a big dog as the dog toy she carried in her mouth was larger or at least the same size as she was.
She caught my attention, and I spent the whole day with her. Once I picked her up she claimed me as her human and fell asleep in my arms. That was it. The store was closing and all I knew was that she had to go home with me.
After the first week at home, it was clear she was a sick puppy. We kept a close eye on her and eventually had to take her to the vet who told us she had food allergies and the food was sitting in her tummy. She wasn't digesting, and this probably what was causing her to vomit. She was dehydrated as a result and wound up with a bad upper respiratory infection. He sent us home with antibiotics and suggested we start feeding her food she could easily digest.
For years I had to change up her diet and keep trying new things until I found a combination that worked well enough.
However, it really wasn't until I found
Nzymes Treats
and added them to her diet that her health improved dramatically. I don't worry about her health at all now that I have this wonderful product who I feel saved her life!
These little
Nzymes
tablets added to her food daily gives her the nutrients her little body needs.
She just turned 8 years old and has been taking
Nzymes
for over 3 years now I think? I honestly feel this product has added years to her life and helped her in more ways than I can say…
I'm truly so grateful for this company and their product creation!
Thank you
Nzymes.com
!
Stephanie G
Danville, CA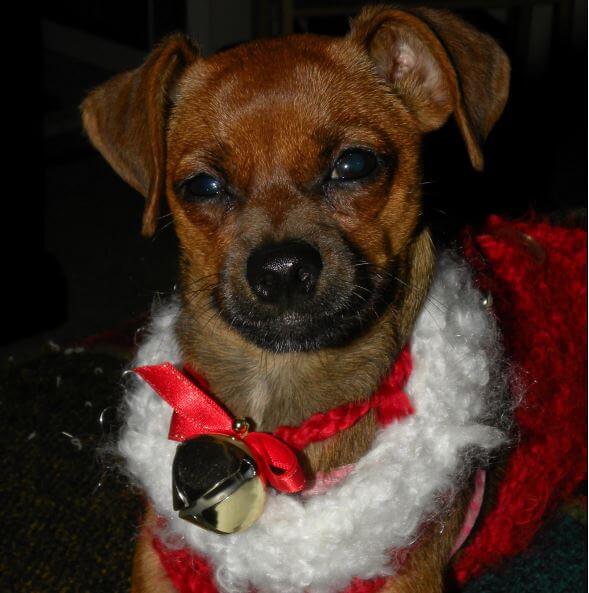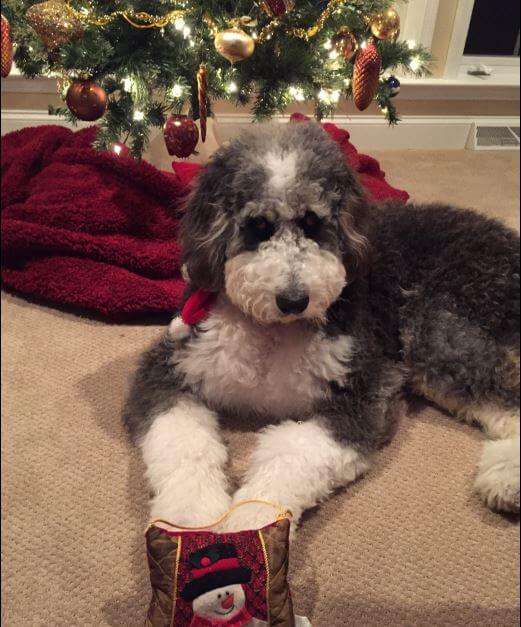 RUGGER
– My journey is just beginning. Rugger has been struggling with"allergies" since he was a small puppy. We changed food, gave him all kinds of medications, bathed him in special shampoo but nothing seemed to work. He currently has a red rash on his belly and he smells bad even a few hours after a bath. Again, we were given pills to remedy the situation. He seemed to be getting better but as soon as the pills were finished the rash began to come back. I started doing some online research and found
Nzymes
. I just order the large kit. I'm hoping to be one of your success stories. I will let you know. Merry Christmas
Julie H. and Rugger
Harrisburg, PA
MR. BROWNY – On May 28, 2018, my husband and I adopted Mr. Browny. When the previous owner brought him to our home b/c he was searching for a good home for Mr. Browny. Least to say, Mr. Browny was in horrible condition. By the looks of the shape Mr. Browny was in, he hadn't had a bath or been groomed for the last four years of his life. He had knots as big as my fist; dirty and flea infested. After grooming Mr. Browny, I gave him five baths and the water was filthy. Made an appointment to the vet to have our vet check him out thoroughly.
Mr. Browny, now today is an Emotional support dog with my husband having diabetes..he knows what to do if husband ever needs help. Good vet report at his last vet check up and seems more healthier and happy. He is very kind and compassionate, loving, well mannered and was easily trained. I couldn't ask for a better partner, loyal friend. His story began starting out horrible but end of his last chapter in his new life being in his new home he is more lively, happy, well taken care of. April 25,2016, I laid down my mother to rest, she was 98 years old…just happens Mr. Browny was born on the day God called home my mother. Mr. Browny I feel was an "ANGEL" sent from above from a mother's love.
Dorothy P.
Duncannon, PA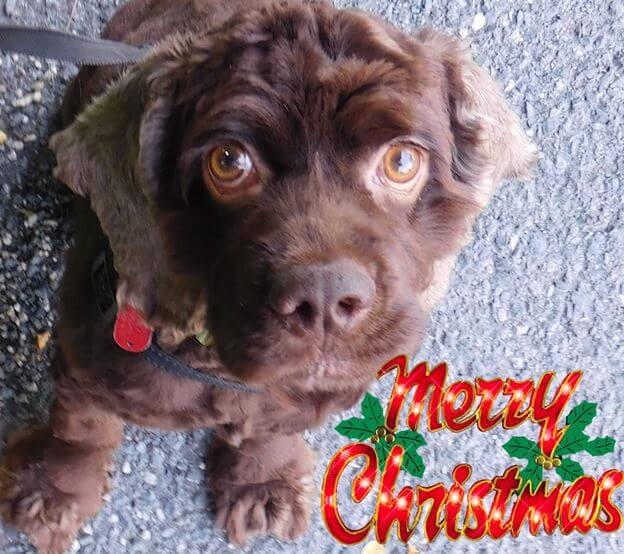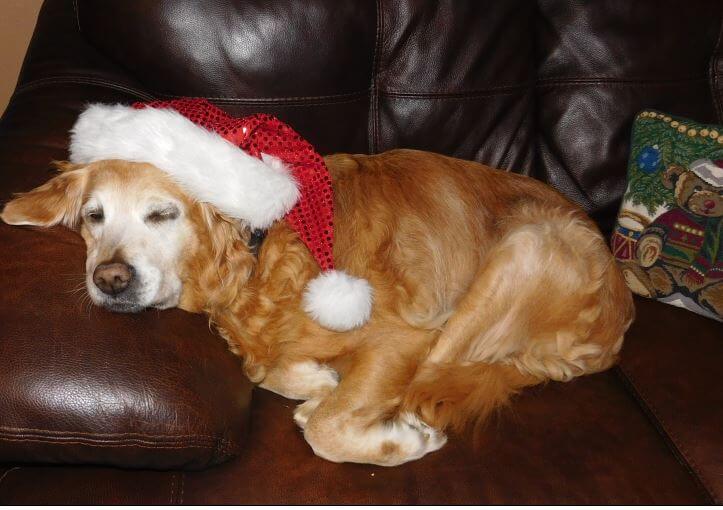 BELLA
– Bella loves to sleep on the couch and seems to be quite content listening to Christmas music while we decorate the tree!
Cathy F
Edgewood, WA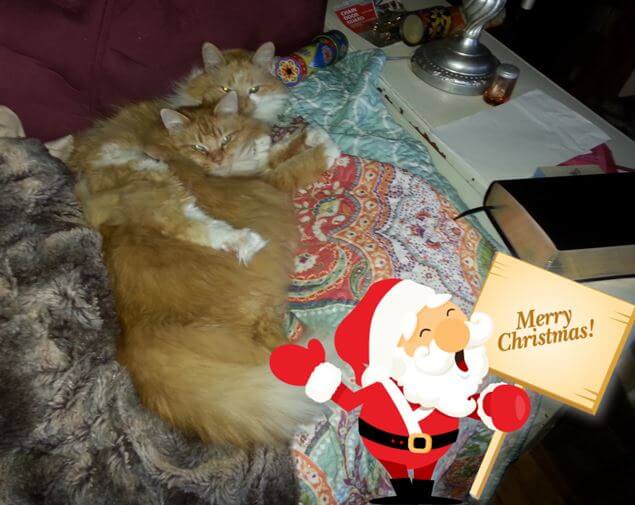 JOEY
– In 2002 Joey was in my vet's incubator at maybe 4 weeks old. He was so sick that he had no hair. After having another little stray tucked away for vetting, my vet and I decided Joey would be better served in a foster home, so off we went.
It was so special to see this precious little boy morph into my "dream-sickle baby". He has had a few illnesses over his 16 yr life, one of them being cancer. But with God's grace and loving care he is now my little rabbit getting around like flash on 3 legs!
Candy M.
Boones Mill, VA
BOYKA
– This dog came to me when he is 2 months old and was a great puppy. But because of the regulations, they made me return Boyka to Kuwait. We had to fix the papers and bring him back to Dubai. It was hard on him.
Omar A.
Dubai, UAE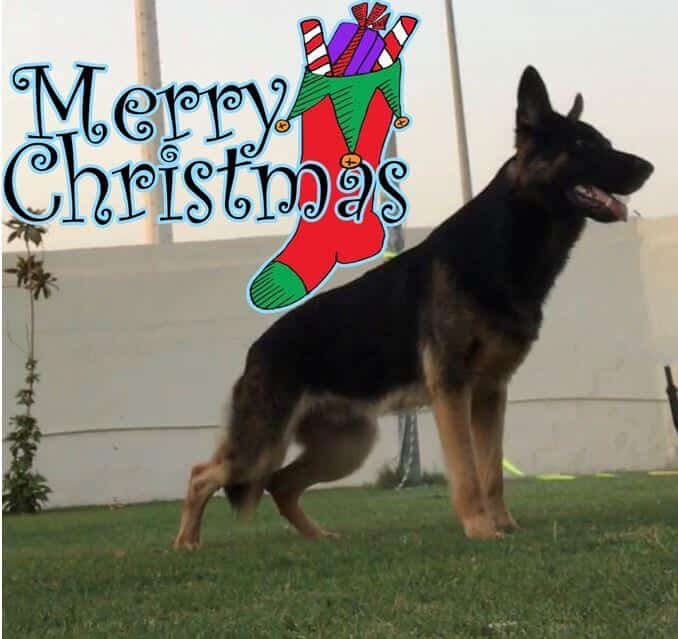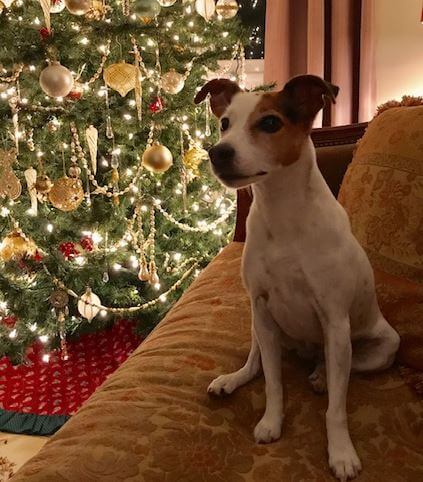 CHLOE
– We rescued our little Chloe when she was 5 months old and had already had 3 homes! She had spent most of her time indoors and had not been allowed to run free. When we brought her home, the first time we put her outside in the yard, she just stood there shaking all over. Now, 5 years later, she rules the roost, inside and out!
Chloe has the sweetest disposition and is very generous with her love, however, if you are on the outside of the front door and ring the bell, you would swear that she is coming through the door glass for you! One delivery person once remarked, "that dog should be in the Olympics!" because she can jump so high – there are nose prints halfway up the glass on the front door!
Momma Judith and Poppa Richard really hope that you love our little girl's photo's as much as we do and that they show her love and sweetness.
Thank you!
Judith Thornton
Stouffville, ON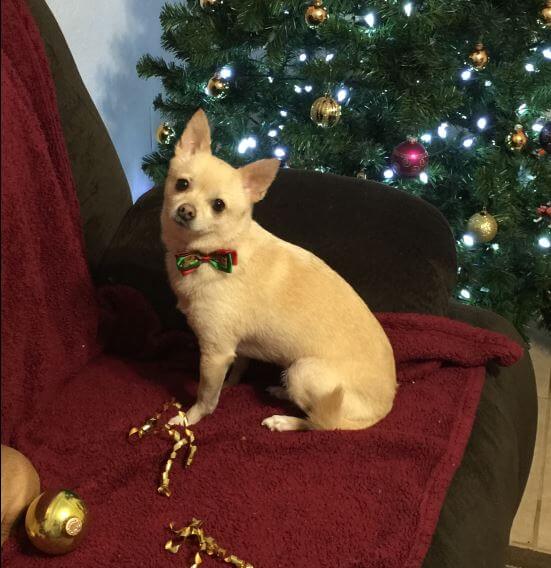 Paris Jaq – is quite the little tomboy! She is the leader of her pack and always boss hogs the sofa to prevent any of her siblings from getting up. She will tear up any clothing her Mom tries to put on her but is gentle enough to Mother the bottle baby kittens that we foster from time to time!!!
<<<<<<<<<<<<<
Paola – aka "Fatgirl" is the most loving out of her crew. She will plant kisses to anyone willing to take them. She is most definitely the princess and has her way with her Mamas. Ice cream and real bacon are her weaknesses! Forever hefty all year around, not just the Pawlidays!
>>>>>>>>>>>>>>
Andrea G.
Dallas, TX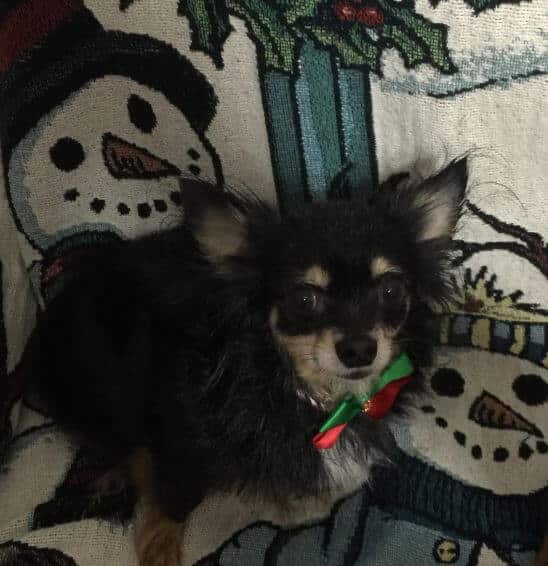 MAGGIE MOO – This is our first Christmas with the Moosh so we had to buy her a Christmas sweater! She also has an Instagram & we figured everyone would love seeing her holiday spirit!
Maggie came from a shelter in Ohio. Her previous owners dumped her there because they were getting a divorce & didn't want her. She was extremely overweight, had a bad cherry eye, & really icky wrinkles. So we're pretty sure they also just didn't want to deal with all her needs. Bulldogs are VERY high maintenance! We've had her since March of this year & I'm happy to say she hasn't lost all the extra weight & is getting the daily care she needs! She also probably one of the sassiest dogs I've ever met & her personality is out of this world!
Mollie G
Muncie, IN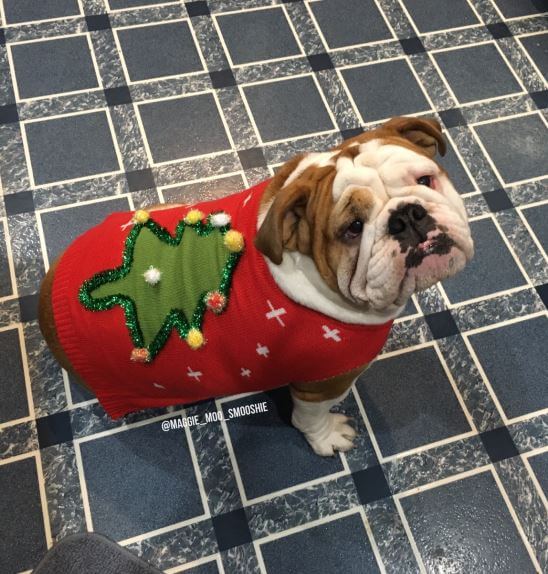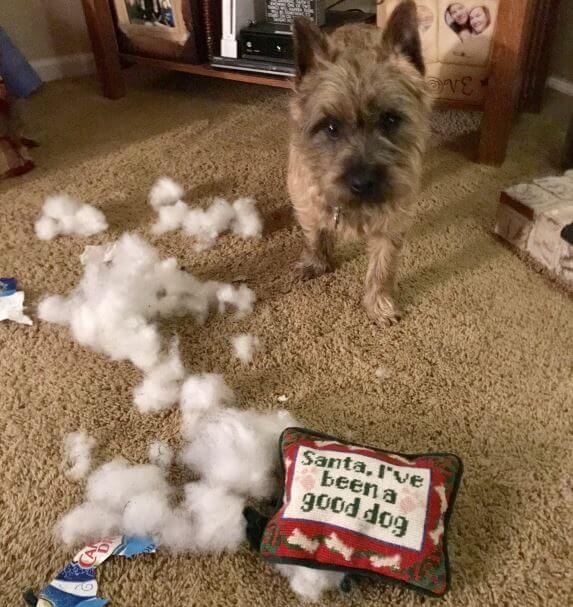 SEAMUS
– Seamus is my 1year old Cairn puppy. He is the sweetest and cuddliest boy but every now and then he gets a little bug in him and he manages to find trouble. Needless to say, I love him to bits
<<<<<<<<<<<<<<<<<<<<
Debra S.
Novi, MI
BARNEY – People think we are crazy! Three dogs! But, the more the merrier!
>>>>>>>>>>>>>>>>>>>>> 
Chris G.
Redmond, WA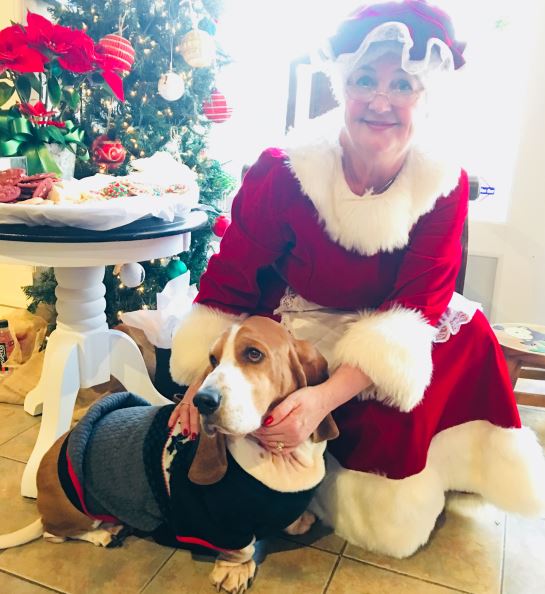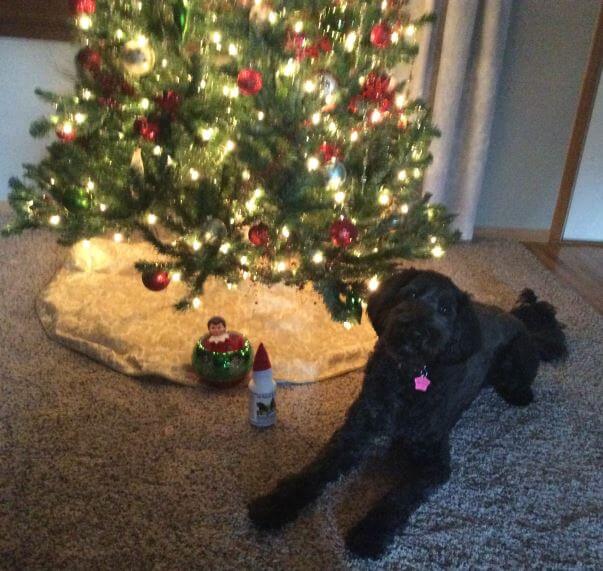 ANNIE
– I started using
Nzymes
with my 2-year-old Great Dane 15 years ago because she would not eat. After being on
Nzymes
for a week she started eating and eventually died of old age. I have used
Nzymes
with every dog I have had since discovering
Nzymes
. We adopted a Greyhound off of a Wisconsin dog track and he had a giardia infection.
Nzymes
helped eliminated the infection. Our newest family member, a Labradoodle, waits patiently while we put her
Nzymes
in her meal each day. Thank you.
Timothy H.
Aberdeen, SD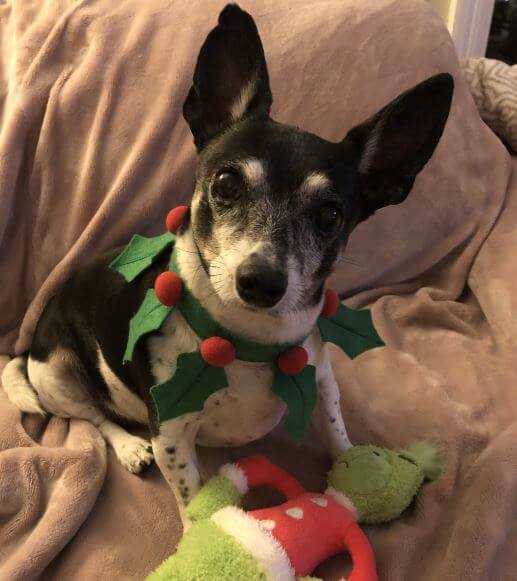 BOHDI
– Merry Christmas all. My name is Bodhi and I am a six-year cancer survivor. I love my mom and dad so much. No Grinches allowed here during the holiday season. Feeling so blessed to be here and look forward to celebrating the season with my parents.
<<<<<<<<<<<<<<<<
Shelly B.
Dana Point, CA
STARR – Our beautiful Starr is a rescue from a "hobby" puppy mill. We also have her daughter and her son lives up the street from us. She is a "perfect" beloved family member. We often wonder who rescued who!
>>>>>>>>>>>>>>>>
Paula L.
Sequim, WA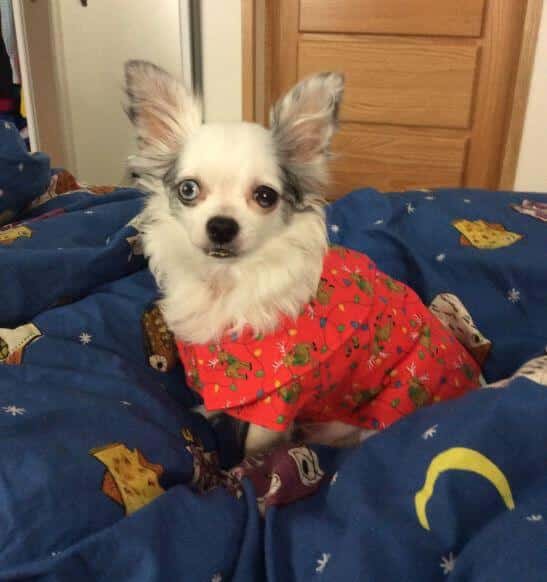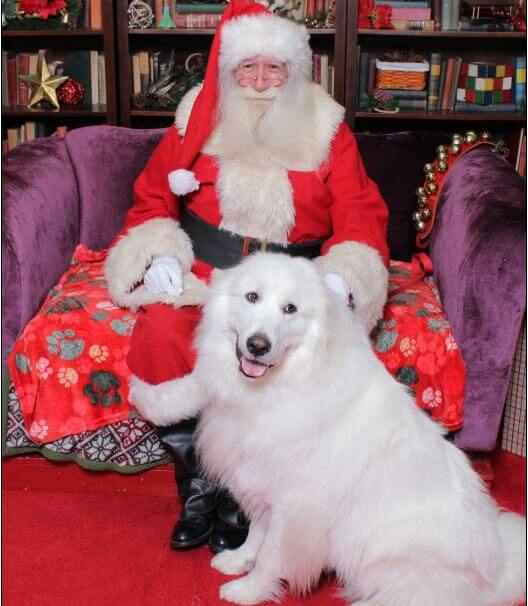 BAILEY
– We found out about
Nzymes
with our previous dog, Libby, a Bernese Mountain Dog, who at 8 years old had topical dermatitis and hair loss along with the black spots on her underside. We put her on
Nzymes
and changed her food and she recovered beautifully. Sadly, she passed away at almost 13 years old and we then got an 11-month-old Great Pyrenees, Bailey. He started having skin issues shortly thereafter and we immediately changed his food from what his previous owner was feeding him and started him on
Nzymes
and he's doing great.
Thank you so much for your products!
Debbie W.
Mount Laurel, NJ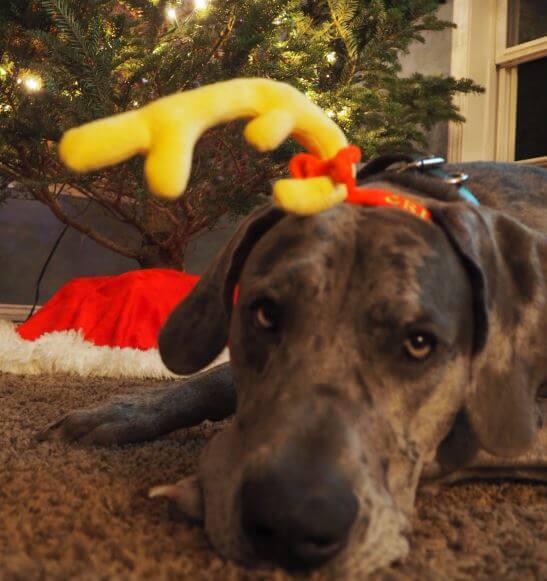 DUMBLEDORE
– Dumbledore is 16-month-old and the Greatest Dane of all Merles! He truly lives up to his reputation of being a Gentle Giant. He is my first Great Dane (and puppy) and it has been such a joy to watch him grow into the loving, patient, and kindest 100 lb lap dog.
<<<<<<<<<<<<<<<<
Lethie F
Lanoka Harbor, NJ
LOLA – Lola had a bath for her Christmas picture, but decided to go mole hunting first!
>>>>>>>>>>>>>>>>>
Rita G
Hampstead, NC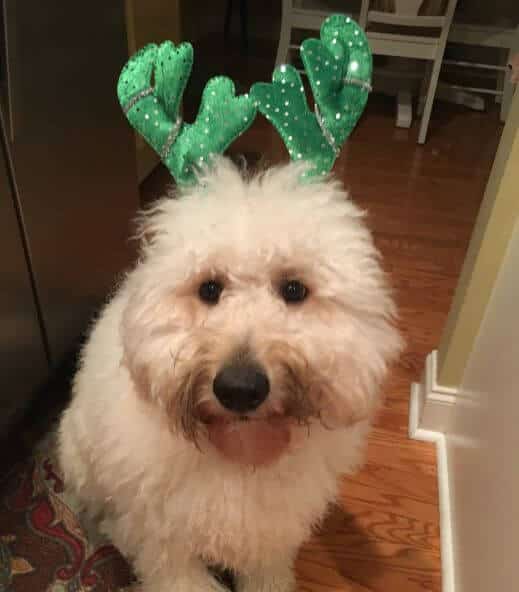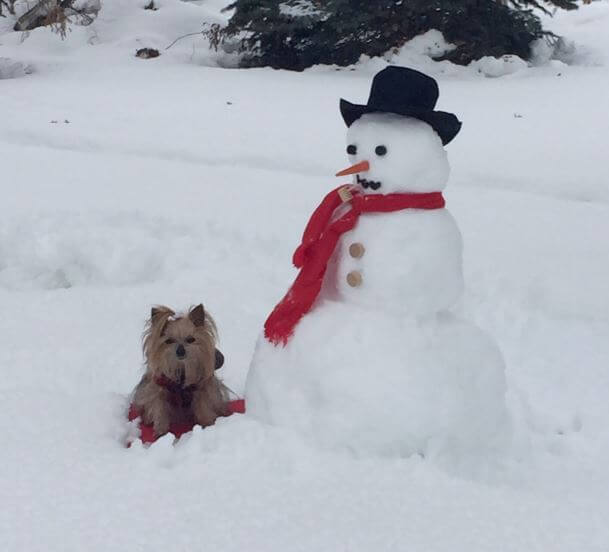 MARTHA
– Martha tore her ACL- and that is when I found
Nzymes
.
She stopped limping and every old dog I see I tell people to purchase this product.
Thank God for Nzymes
Parmalee B.
Tukwila, WA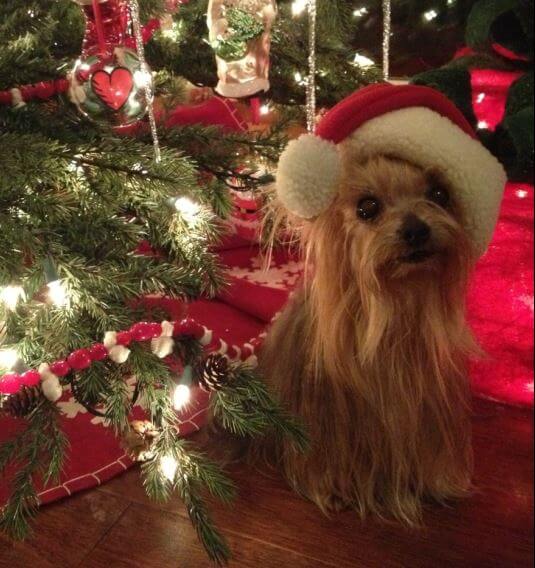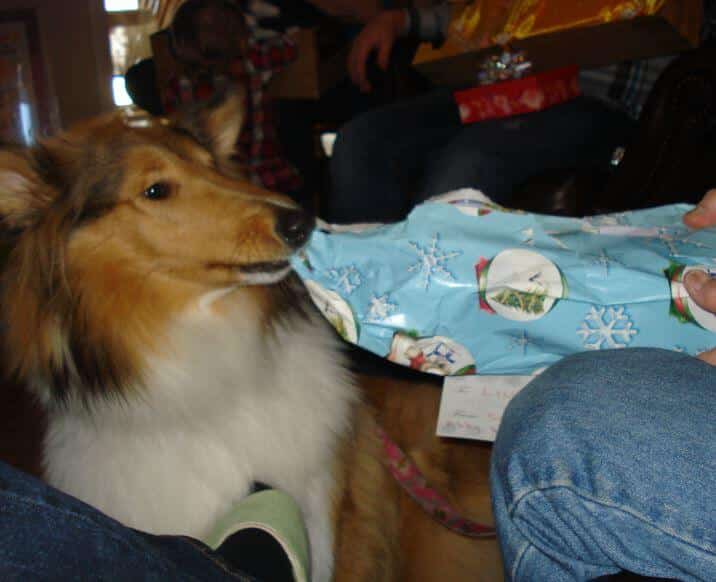 LILY – Our Lily was just 10 days over a year old when she received her first Christmas present from us, and like a pro, with very little coaxing, she began to tear the wrapping off of her gift with her teeth. It was so much fun! We laughed and laughed, and couldn't get over what a clever collie she is.
Lily touches our lives in so many ways, and we are blessed to have her! Though the photo was snapped in an instant and is not of professional quality, we captured a fabulous moment.
Nzymes has helped keep our girl healthy, and we no longer have to feed her that terrible food recommended for dogs with urinary issues. On the other food, her coat when to fabulous and shiny to "straw-like".
A year after putting her on Nzymes, I finally told our vet she had been off of the "____ ____" food, and that Lily was now getting a quality dog food, recommended by your website, along with her Nzymes.
Her coat went from "straw" to soft and shiny in just a little over two weeks, and she has not had a urinary infection since being on Nzymes. We are thankful for Nzymes and hope you enjoy seeing this fun picture of our Lily enjoying life, healthy and happy, on the Christmas just after her first birthday!
Terry K.
Idaho Falls, ID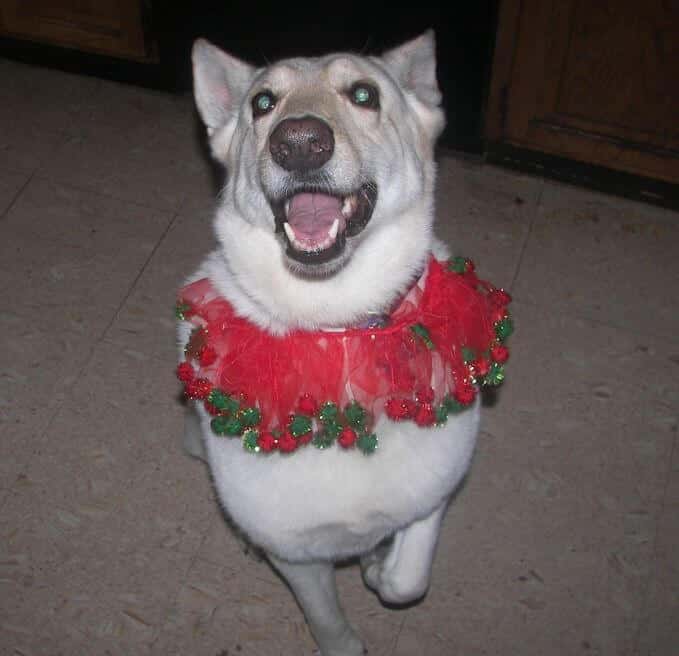 WILSON
– Wilson was a rescue who came to live with my husband and me. He was the most amazing boy ever, my heart dog, my best friend. My Mr. Woo left this world earlier this year. He had a brain tumor. I miss him so very much.
>>>>>>>>>>>>>>>
Claire D.
Watertown, WI
WILLOW – Willow is a rescue dog from Georgia, picked up by Animal Control starving, ill, and near death. She has blossomed into a beautiful companion and family member.
<<<<<<<<<<<<<<<
Michael L.
Knoxville, TN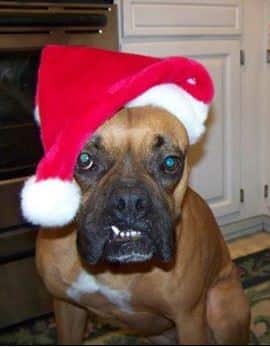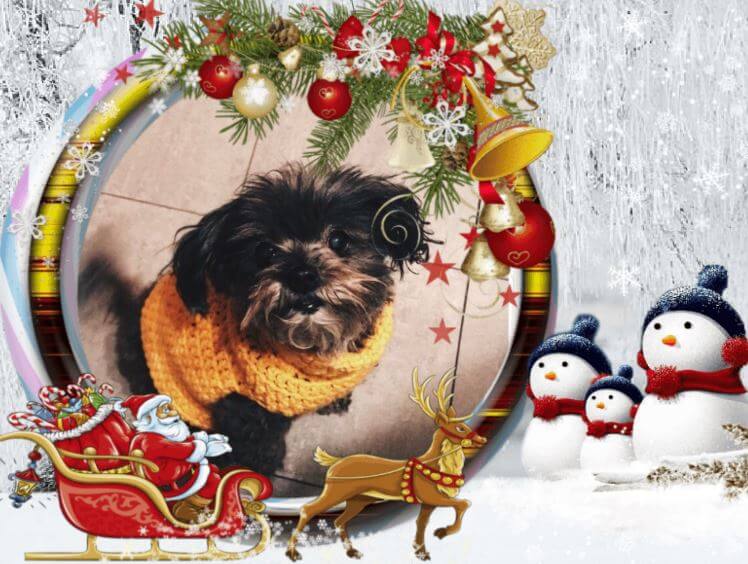 BOO – Two years ago our sweetheart Boo was losing the use of her hind legs. After being on a dose of steroids and a few other treatments we found Nzymes. We were in the process of looking for a wheelchair for our little friend when this miracle product turned her health around. After a few months of taking Nzymes Granules, Boo could run and play like her old self again. We are so happy that she is mobile again!
Merry Christmas!
Jay, Tracy, Olivia and Boo
Natrona Heights, PA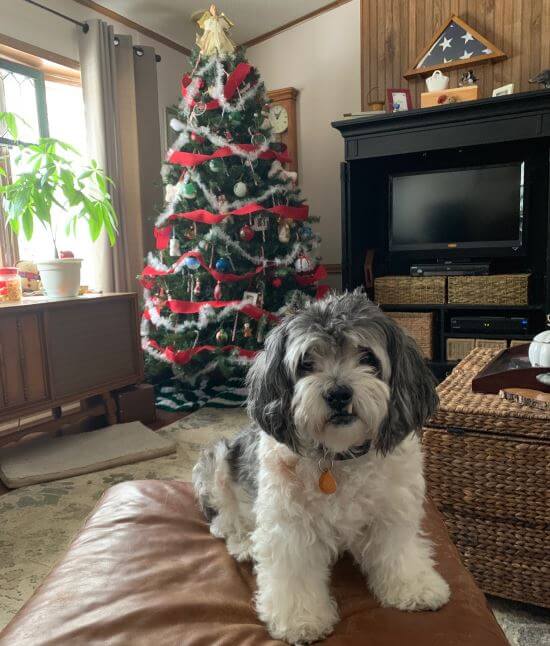 TEDDY – He will be16 in March of 2019. He has loose knee joints and dog warts that ooze. Since he's on Nzymes, joints are great and oozing has stopped!
Thank you for giving him comfort in his golden years.
<<<<<<<<<<<<<<<<<<
GRACIE – She has a luxating patella, which causes her discomfort. but since on Nzymes, she has much less pain
Thank you so much.
>>>>>>>>>>>>>>>>>>
Pat K.
Bemidji, MN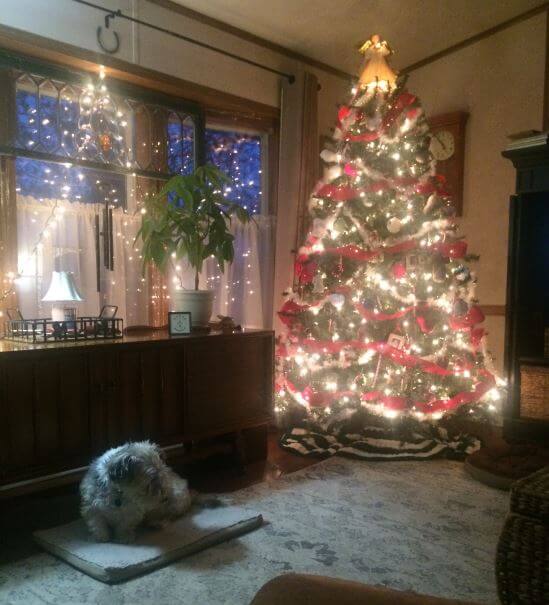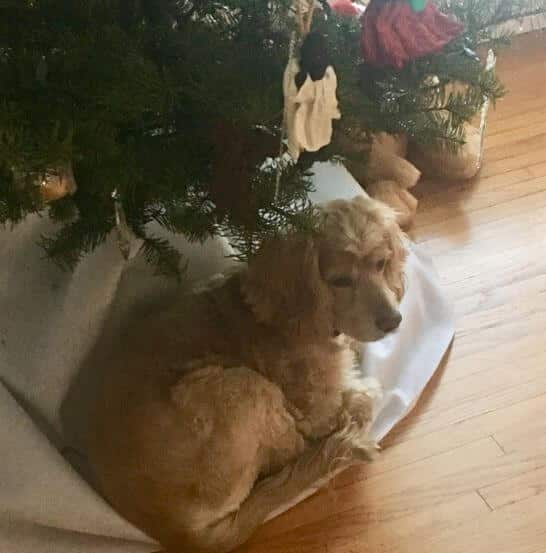 MAZIE – I could not understand why my Christmas tree skirt kept falling into the water under the tree – until I came in and discovered that Mazie had found the perfect spot from which to wait for Santa.
<<<<<<<<<<<<<<<<<<<<<<
Fran M.
Pasadena, CA
PEARLIE – Little Pearlie is very special to me. She was a Christmas present 2 years ago. She healed my heart from the loss of my two Bichons. They were 16 and 17 years old. Pearlie is such a special Angel.
>>>>>>>>>>>>>>>>>>>>>>
Barbara S.
Jacksonville, FL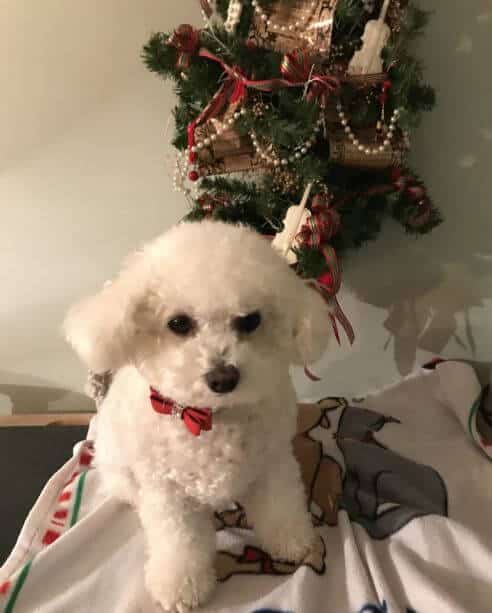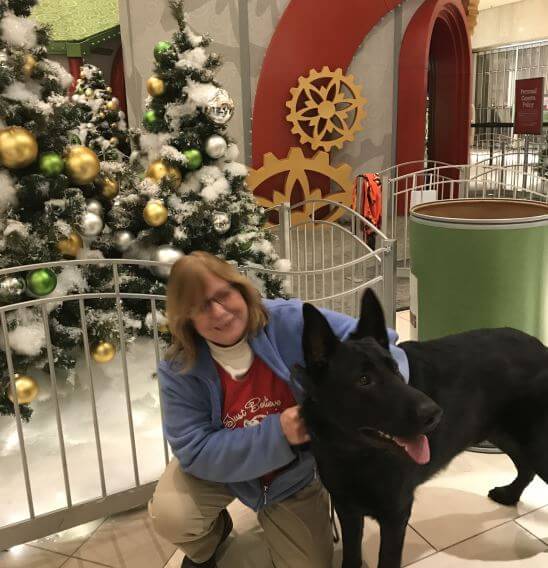 WILSON – My dog Wilson when he was a puppy had the Oral Papilloma virus in his mouth. I took him to the vet and they gave him antibiotics but it was not working. I went on the Nzymes website and I got the kit with the Blackleaf Tincture in it and after 3 days all after receiving it of his warts were gone. It is great stuff I would recommend it to everyone I know that has dogs!
Patty M
National Park, NJ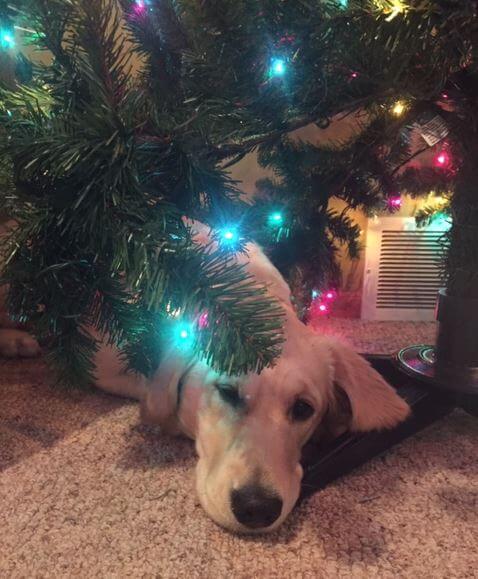 IVY – A couple of months ago Ivy was exposed to Canine Papilloma Virus. She developed warts and was not able to be around other dogs. She's a very social, sweet puppy and loves to play with other dogs. Because of the warts, she was not able to go to Daycare or interact with other dogs. I went to the internet to see if there was anything I could try, as I read it could take up to 6 months for the warts to go away. I was also told that if the warts didn't go away, I would have to have them frozen. I didn't want Ivy to have to stay out of daycare or have to have them frozen off. I found Nzymes and couldn't believe the comments on how well it worked. I thought, what do I have to lose?? So, I ordered the Canine Papilloma Support Kit. I am happy to report that within 3 weeks of starting the treats, the drops in her water dish and the spray, all of the warts went away!! I have recommended your product to a co-worker whose dog has terrible allergies and yeast infections. I'm anxious to hear how they work for my friend. Thank you so much for a great product! I even ordered the people Nzymes!! If they help my dog, I figured they would be good for people as well! Thank you.
Jo Anne B
Watertown, WI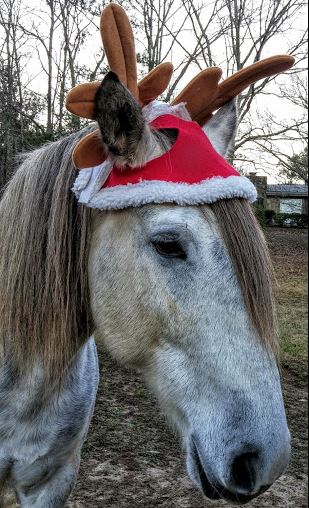 RHETT – I adopted Rhett from the Lipizzan Rescue Foundation in Oct 2013. He had suffered years of neglect and abuse when he and I met at age 7. It was recommended by 3 different 'trainers' that he be euthanized due to dangerous and violent kicking and striking with his front legs. He was distrusting and angry at humans. He had never been successfully ridden. You could not get any type of ropes near his hind legs without his kicking them out of your hands. I gave him a year to just 'learn how to be a horse". I began using positive reinforcement, a new skill for he and I would learn together. He allowed me on his back in 2016 and we had our first ride July 5!! He is one of the best 'teachers' I have ever had…not just about horses but about life and not being afraid of change.
Karen J.
Newnan, GA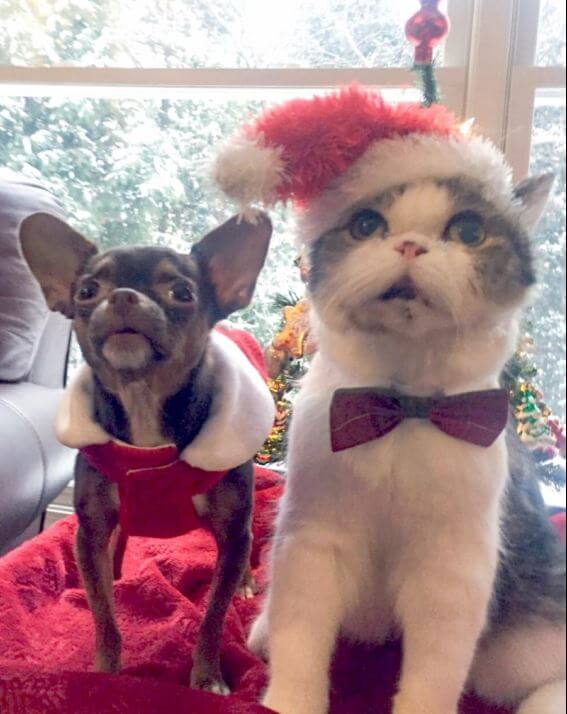 ABBY
– We rescued Abby last year in April when she was 10. She is such a sweetheart that I always describe her as a stuffed animal with a battery. We take her anywhere especially on vacation to Europe and she is totally uncomplicated. As long as she can sit on a lap she is happy anywhere. We love her to pieces and hope we'll have her for a long time.
>>>>>>>>>>>>>>>>>>>>>>>>>>>>>>>

Michaela C.
Boontown, NJ
FIONA & OLLIE – Fiona and Ollie are waiting for Santa!!! They love the Nzymes treats!!
<<<<<<<<<<<<<<<<<<<<<<<<<<<<<<<
Carmina O.
North Aurora, IL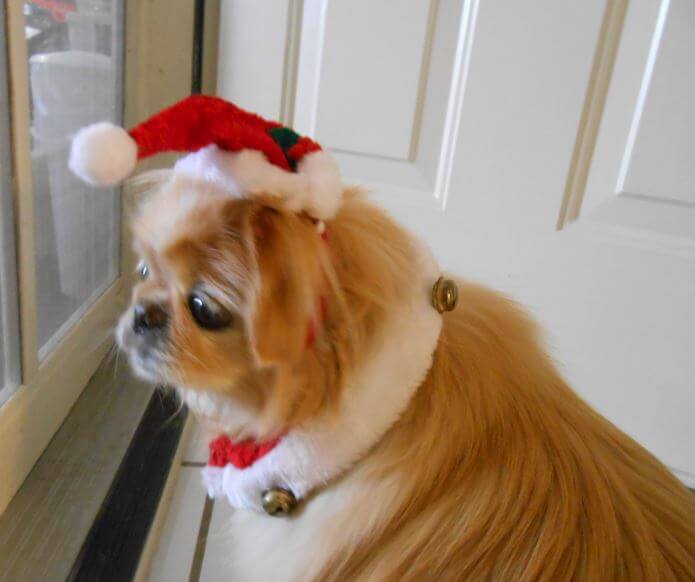 PUMPKIN
– This is Pumpkin, she came to live with us from Pet finder. She was ill when we got her and lethargic. She had to have dental work to clear an infection. I ordered
Nzymes
and she is such a lively happy dog now.
She will be loved and cared for the rest of her life. Pumpkin loves to go for walks, two per day. Loves to ride in her car seat and go to our beautiful Shelby Farms urban park. She is a very sweet loving dog and my husband and I could not be happier that she is a part of our lives.
Cyndy O
Bartlett, TN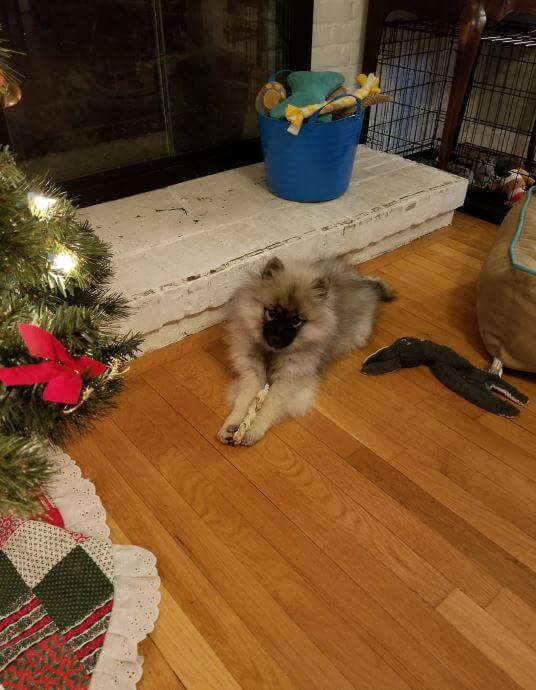 BELLA
– We lost our Kobi 4 months ago. Bella is a sweet little girl who has found our hearts. We are glad we found each other.
<<<<<<<<<<<<<<<<<<<<<<<<<<
Donna R.
Buzzards Bay, MA
QUINN – It was Quinn's first time meeting Santa. Quinn was a little afraid of him but Santa was so patient with Quinn and we were finally able to get a picture.
>>>>>>>>>>>>>>>>>>>>>>>>>>
Susan B.
Boulder Creek, CA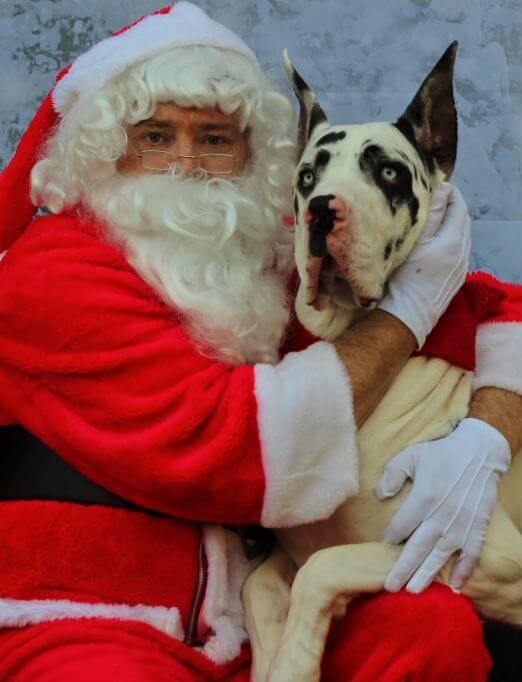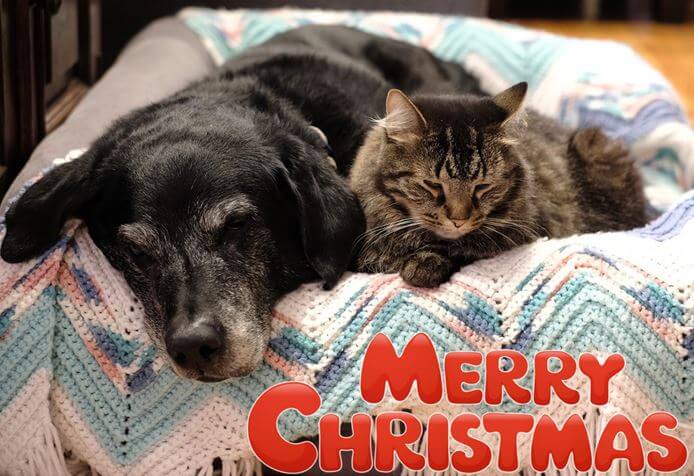 BRODY & MEW MEW 
– Brody is a rescue; his owner had terminal brain cancer and the family could not find a place for him. About two years after I adopted him, my wife brought home a kitten that she found in a snow drift. The kitten was covered in gasoline. Brody's eyes got as big as dinner plates when he first met Mew Mew. But because she grew up with him as a companion, she adopted dog ways– she goes to the door when she has to go out, stretches out like a dog, etc. And she and Brody are best friends. They sleep together and he allows her to get first dibs on his food in the morning, although he's 10 times bigger and heavier!
Brody is alive because of
Nzymes
. He could hardly walk when I started him on them last year. Thank you.
Carl F.
Geneva, OH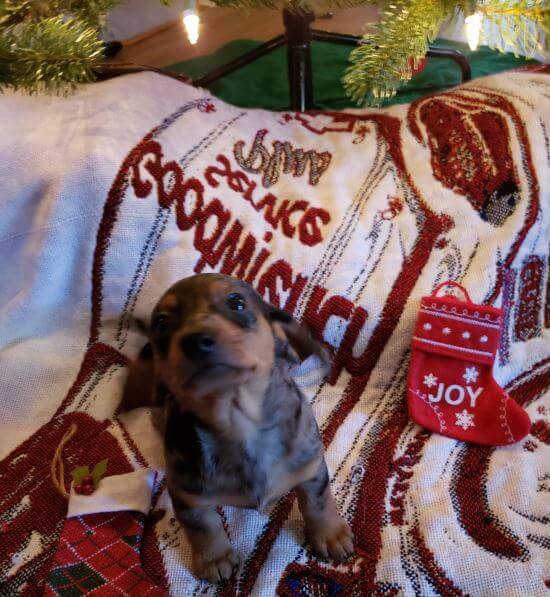 SPECKLES
– Ready for Christmas. Just turned 8 weeks old.
<<<<<<<<<<<<<<<<<<<<<<<<<<
Sheila B
Nichols, SC
RAMBO & KRISTY – It's just a natural Christmas photo!
>>>>>>>>>>>>>>>>>>>>>>>>
Bernie S.
Carolina Shores, NC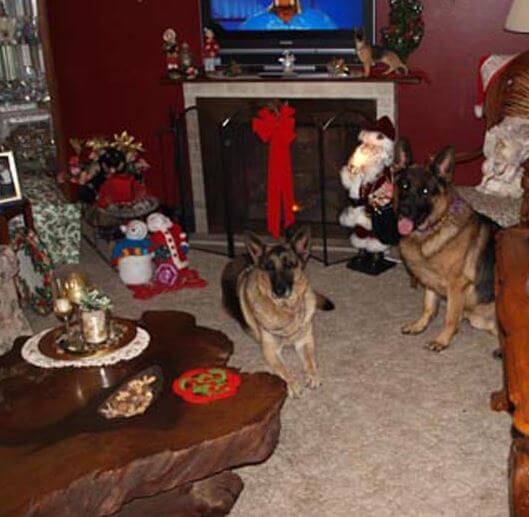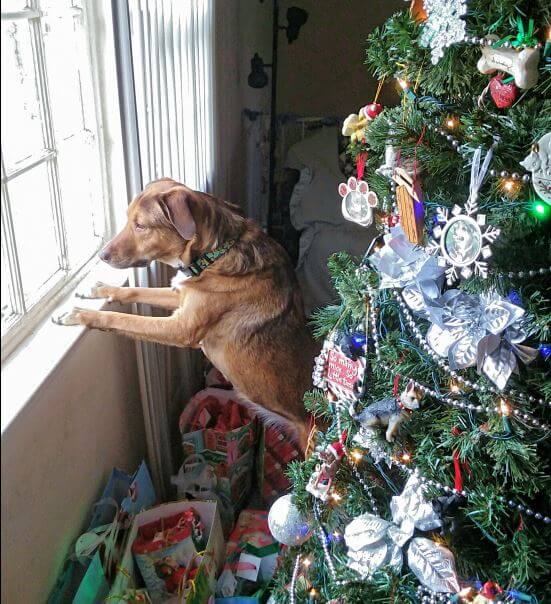 KELSEY
– Kelsey is looking for Santa to bring her a lot of goodies – her favorite is the
Nzymes
vitamin treats. I have been giving them to her since she was a puppy. Our other dog Brittany had a lot of back problems and these vitamins helped her so much. We want to try to avoid those problems in Kelsey so we started her young on them. My husband and I take the people vitamins also.
Gwen D.
Wayne, NJ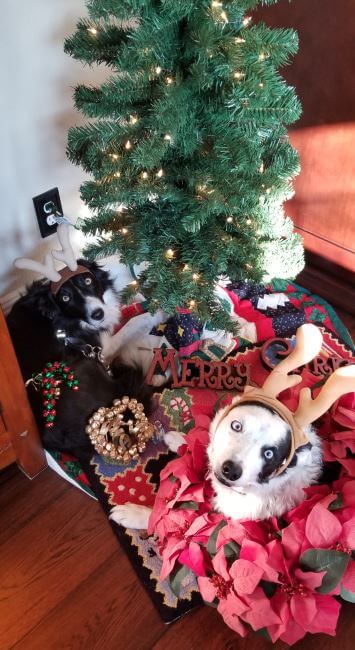 AMBER
– After talking with Stan, he explained what I needed to do to get Amber detoxed and healthy. She has severe skin problems & immune disorder issues.
Nzymes
has helped make her skin healthy. No more need for antibiotics or harsh chemicals. Thank you, Stan and
Nzymes
>>>>>>>>>>>>>>>>>>>>>>>>>>>>>

Cynthia B.
Sayville, NY
CHLOE & KITT – Both Chloe and Kitt LOVE their Nzymes products. While Kitt is a young and nimble little whippersnapper, ten-year-old Chloe really utilizes the amazing power Nzymes to keep up with her! As a working breed, they keep pretty active, but that isn't always easy for Chloe as she has some arthritis and other hip issues that she manages on a daily basis. Nzymes make life so much more comfortable for an active girl!
<<<<<<<<<<<<<<<<<<<<<<<<<<<<<
Kehlee B
Sacramento, CA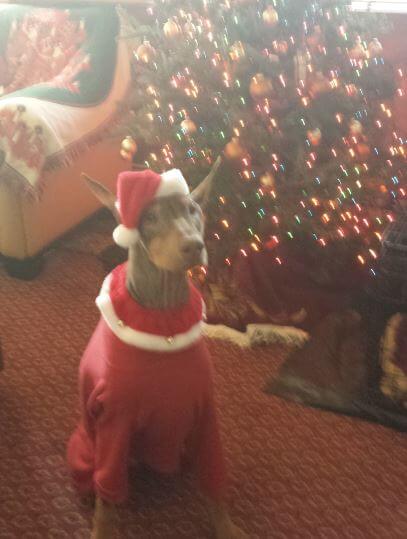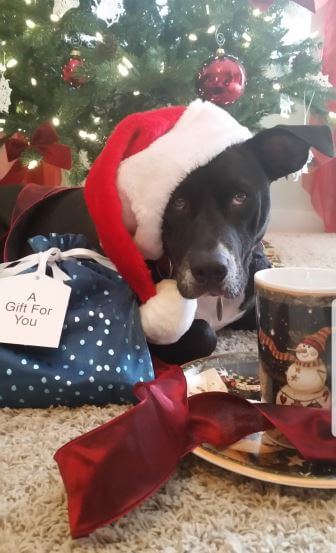 ABIGAIL – On a beautiful day in October of 2014 we drove through town to run some errands as we seen this creature walk alongside a very busy hwy, head hanging low and tail tucked between her legs. It reminded us of a scene in an old western when the horse is looking for a waterhole. Anyway, we continue to run our errands. And it was a bit like out of sight out of mind till night time came and also feeding time for our then foster dog. That's when the image of the earlier seen dog came back to mind. We got some bowls ready for water and food and drove back where we first saw her. Place food down and hoped that the beast from that morning would appear. Well, that was just our naive thinking…that night we left without ever seeing the dog again. After a sleepless night we went early the next morning to check on the bowls and to our delight, the food was all gone. We did the same thing that night again and the next morning till we finally got to see her again. We then realized that this will not be an easy dog rescue/catch. And I mean not easy, on one side there was a busy hwy on the other a wooded, swampy area. So we hoped that consistency in our now feeding routine would give us the trust on getting closer to her. Truth be told we had no idea that this would turn into a big affair. As we got to see her up close, from time to time, we noticed how bad of shape she was in. More or less and emaciated, big inflamed patches on her. Scores everywhere, certain that some heartless human dumped her there. Over time we met other people that had the same goal as us to help this poor soul. That when we found out that she was sitting there already since June of that year. My husband built her a shelter that she used daily, we continue to feed her day in and day out. We contacted 13 rescues, animal control, vets and many more to see if anyone could help us. And we always heard, no sorry. Well sorry was not good for us and we continued. I would add vitamins in her food and while surfing the net I came across Nzymes that I then started to add to her food. But still so unsuccessful of catching this dog. For nearly 3 months we did this, AM and PM feedings, day in day out. Changing her bedding in the shelter daily. Getting more and more concerned about her wellbeing since we noticed lots of pus and blood on the sheets/blankets. We tried to catch her with many friends in tow and she was always the winner…till one morning, 4 days to Christmas, a cold front was coming through and 4 inches of rain. We went to check on her and as I walked to the shelter to change her bedding I found her laying in it. More dead than alive…it took her weeks of healing. All that time that ppl said you crazy for feeding a homeless dog for that long. Well, all those ppl know what a gem we have. The most loyal friend we could have ever asked for. She brings us happiness each and every day. Fyi we thought she was old coming to find out that she was not even 1 year old and she only looked old due to the lack of hair. Some hair will never grow back but who cares. And one more thing we still have her on Nzymes. We try to educate ppl of the importance on spay and neuter. Oh and one more thing she has been on ABC The View in a contest that she won Best Mutt in Show. Ye,s she has turned into a little diva.
Tina T.
Crestview, FL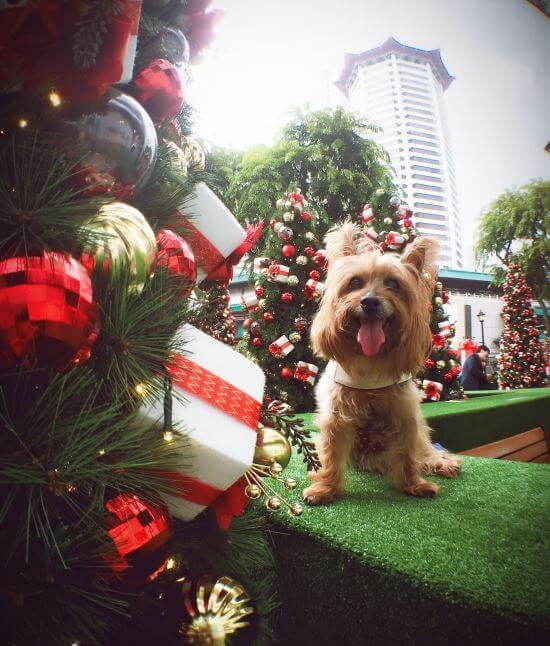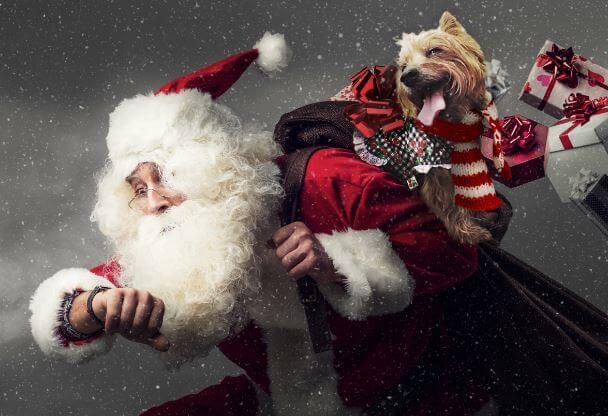 BENJI
– Benji became paralyzed in November due to a spinal problem. Giving her a double dose of
Nzymes Antioxidant Treats
every day, and also with the help of acupuncture and TCM medicines, she can now get up and run like how she was used to be. This year's Christmas is especially magical and a miracle for her recovery.
Jesse O.
Singapore, SG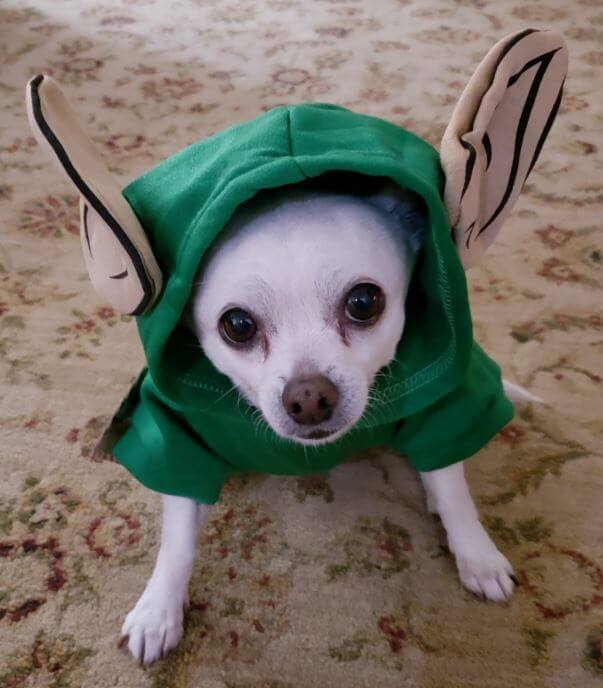 BABY
– Santa's Little Elfer…
Renae M.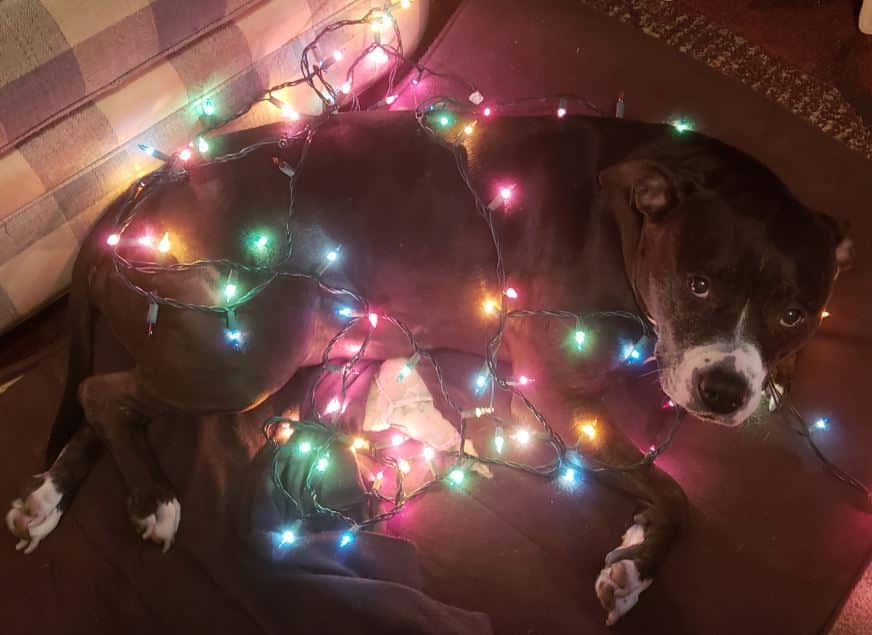 HARLEY
– Its beginning to look a lot like PITmas ; )
Renae M
Richland Hills, TX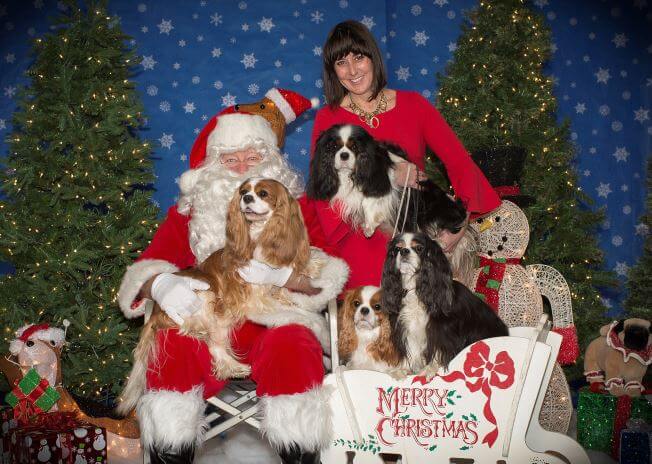 CEILIMOR CREW!
– Here is the current configuration of the Ceilimor Crew. These are the four who are with me almost always but we do get others coming to stay from time to time to be socialized. My oldest will be 11 in March and my youngest is 2. They love your
Antioxidant Treats
and we are now trying the
Ox-E-Drops
and the
Probiotic
powder. From left to right they are
Shooter
3 (Santa's lap),
Dasher
5,
Ceili
10, and in my arms is
Guthrie
2.
Breda M
Fall River, MA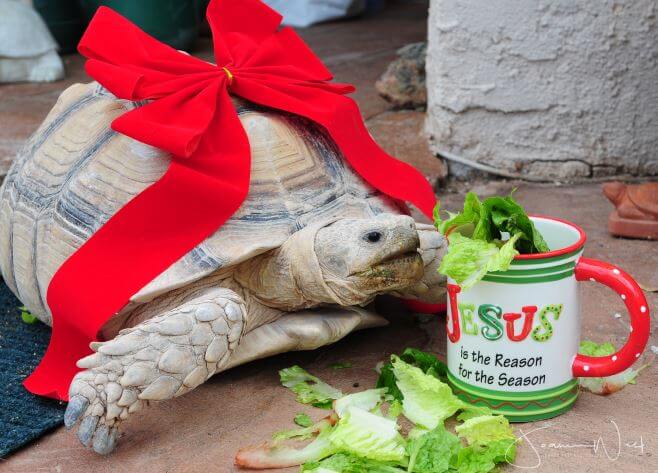 SHELDON
– Sheldon is my Sulcata tortoise he lives in my backyard here in Arizona. I have cared for him since he was a hatchling and weighed less than a pound, now he weighs about 100lbs. He is family member gets along with my cats and little poodle, who all benefit from your pet
Nzymes
.
Joanne W
Gold Canyon, AZ
Nzymes Footnote: The Sprouted Granules are ideal for many species, and are easily accepted and utilized.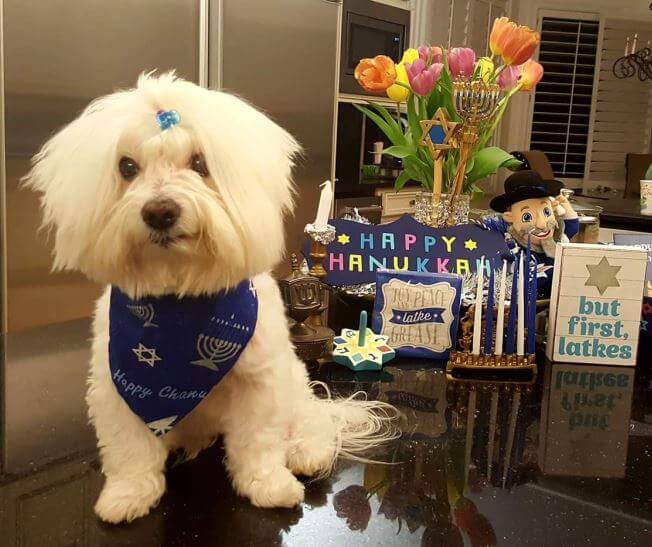 DOMY & LALI – Domy & Lali fell in love at first sight! He was 3 and Lali was 8 weeks old. Lali is all girly girl and Domy was a sweet and loving old soul! They had 3 sons together.. Domy recently crossed the rainbow bridge at 16 1/2 years young. They had a wonderful life together, so many treasured memories with family, friends, agility, and just hanging out!
Linda A.
Houston, TX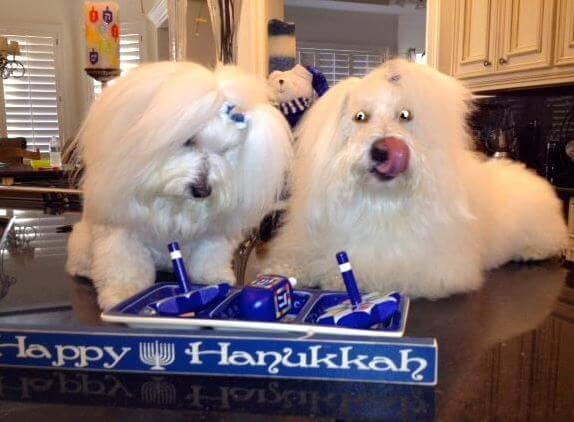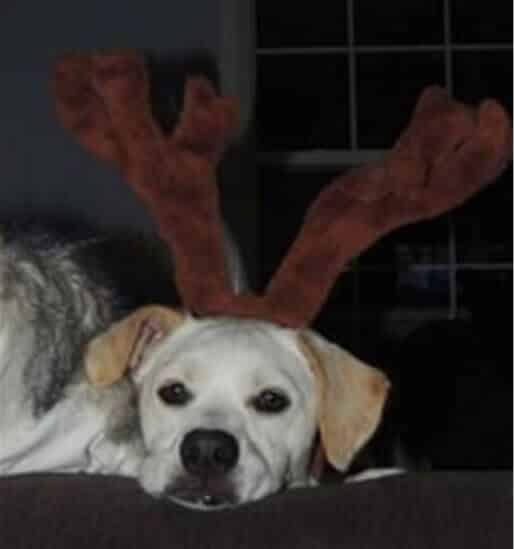 MOLLY
– Our dog Molly is our world! Molly came into our lives in 2011 after we lost our beloved dog Sammy who passed away at the age of 15. Molly helped fill a void and brought so much love and laughter into our lives then and she continues to do so daily. We love her so much! She has struggled with health issues from the first day we got her, from a parvo scare, dehydration, both cruciate ligaments replaced, and on and on. The most consistent issue she has are allergies (skin and ear issues). It continues on a daily basis and we have treated her numerous times with recommendations from our vet but the flare-ups always return. We would love to find a safe all natural treatment that would help our girl.
Cathy H
Taymouth, NB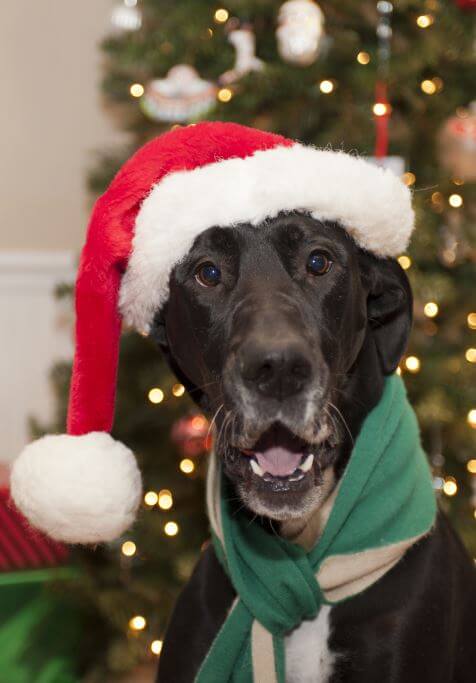 MARLEY
– Marley is a beautiful, fun 5.5-year-old Great Dane. Our family has always had Danes and she is our 4th. She is the first to deal with Wobblers but we are hoping
Nzymes
can help her get more steady on her feet and keep living a happy healthy life.
<<<<<<<<<<<<<<<<<<<<<<<<<<
Ryan M.
Milwaukee, WI
WRIGLEY – Wrigley loves to wear sweaters!
>>>>>>>>>>>>>>>>>>>>>>>>>>
Sue K.
Paletine, IL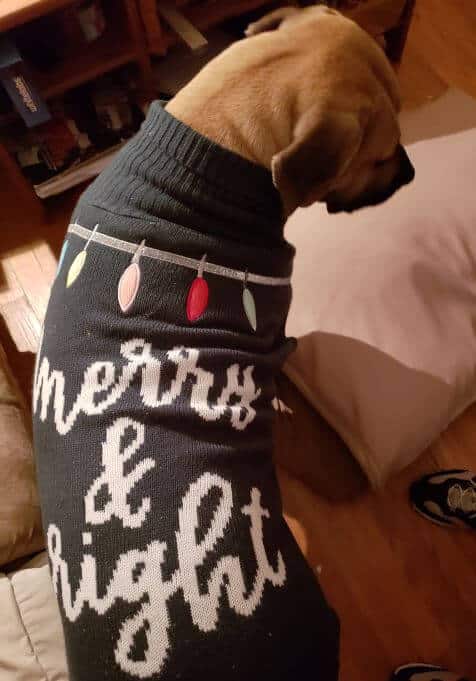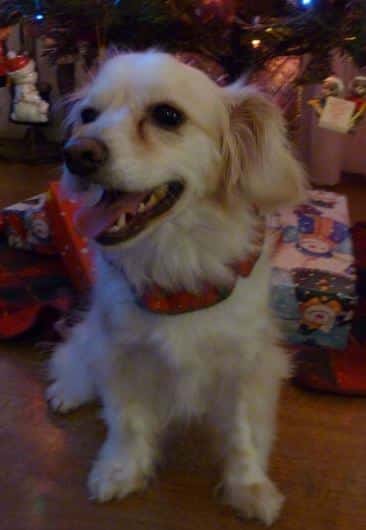 CHLOE
– My Chloe is PetSmart rescue I found on Petfinder. She loves to chase squirrels and go on road trips with me. Chloe loves everyone and everyone loves Chloe. She's such a happy girl.
<<<<<<<<<<<<<<<<<<<
Lita G.
Pearland, TX
ADOLPH – Adolph was scared to sit with Santa! Had the hardest time getting a pic. Even treats didn't work well. He is usually very motivated by food! I think if he was a child, he would have cried for sure!!! Lol!!!
>>>>>>>>>>>>>>>>>>>
Kelly K
Denver, NC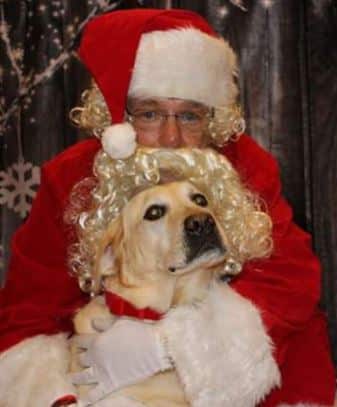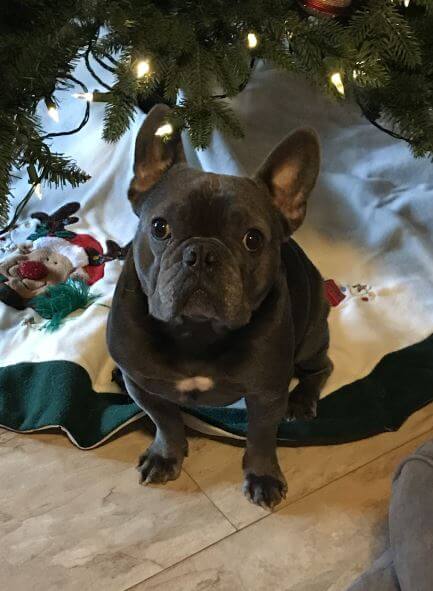 GAVIN & CHLOE
– We bought these babies when they were 7 weeks old. Our children are grown, so these are our babies. I love to spoil them. I found out about your company in July. My little girl Chloe was diagnosed with IVDD, I read a lot about your product. I placed my first order and have been using it ever since. She is improving s little each day. The vet says to hold off on a wheelchair because she is still motivated to try. I totally believe your product has a lot to do with Chloe's progress. Thank you.
Jean Winans
Saccasunna, NJ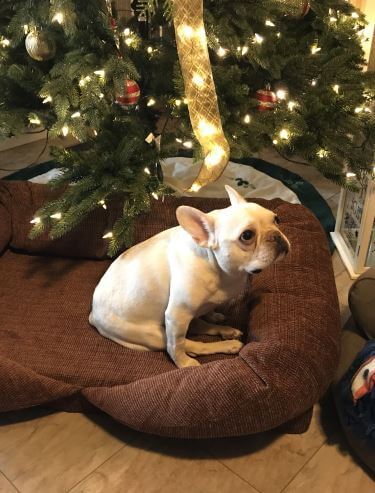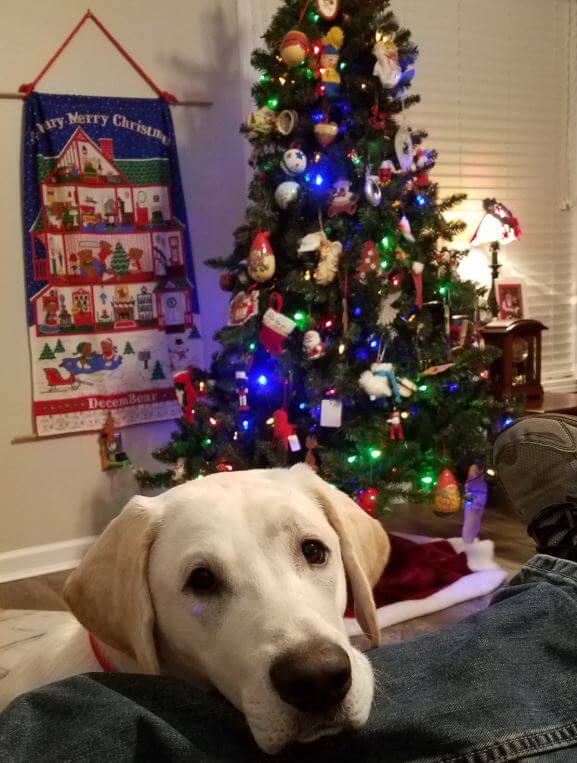 LIDO
– Lido is a fun-loving 7-month-old lab puppy. He loves everyone and everything. He loves giving kisses and is great with my special needs son.
<<<<<<<<<<<<<<<<<<<<<
Elizabeth C.
Newnan, GA
HOLLY – This is my sweet little girl Holly. She loves pretty much everything and everyone — she never has a bad day! We have started using Nzymes to help give Holly's immune system a boost — she has very bad skin allergies and the medicine she takes weakens her immune system. Only the best for our little girl!
>>>>>>>>>>>>>>>>>>>>
Francesca L
Albuquerque, NM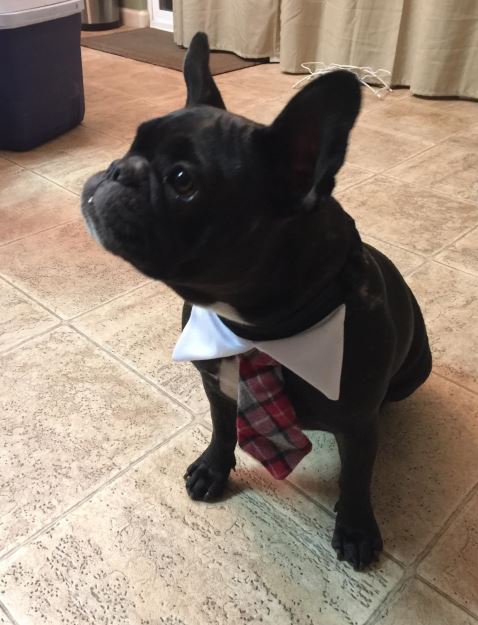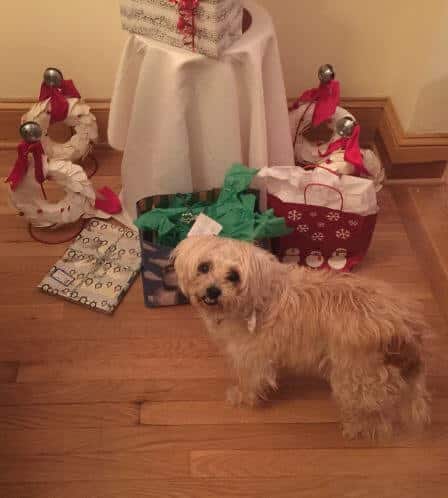 POSSOM & PEARL – My dogs Possom and Pearl are rescues from very humble beginnings. They are 15 years old and will be 16 April 1, 2019. Possom developed very serious yeast problems after various prescription medications were used to save her life. I found the Nzymes program and her skin and coat are back to normal. I am very grateful for Nzymes! and use it with both my dogs. Thank you so much!
I have recommended Nzymes to several friends who have obtained the same life-saving results.
Kathy C.
Nashville, TN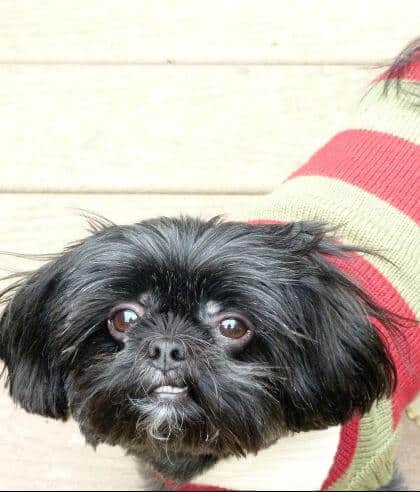 BISCUIT – My little Biscuit has been my best friend for close to 10 years now. He has between with me during the loss of my brother, then my mom. He has been such a loyal little buddy, always cheering me up through my darkest days. So when I discovered he had terrible allergies, I had to find a way to help him, so I did with Nzymes. He is soo much better now and as you can see from his picture, he is healthy again and looking forward to Santa's visit very much !!!
Claudine D.
Middle Village, NY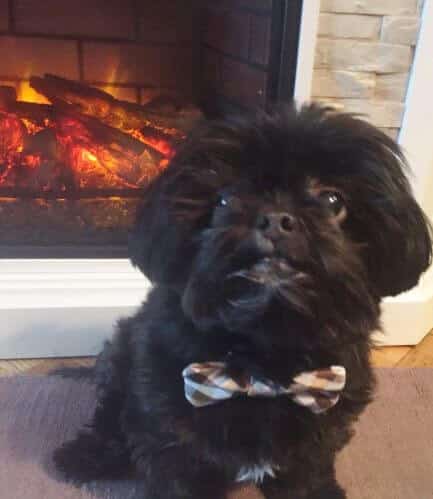 ODIN
– Odin is a Great Pyrenees Bernese Mountain Dog who is 3 years old. Odin has been a canine blood donor at NC State University Veterinary Hospital saving doggy lives since August 16, 2016. He adores his Mum and watches over and protects his little sister.
Odin is a special part of our family and gives unconditional love and loyalty to us all. He has been taking
Nzymes
since he was an 8-week old puppy when we brought him from Florida to his Forever Home with us in North Carolina.
Dee J
Angier, NC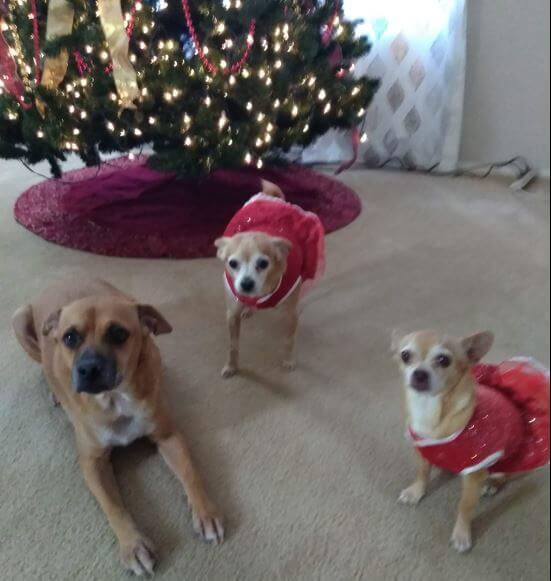 FLETCHER & MRS. HONEY
– These 3 amigos are all Chihuahua mixes, even the big one, Fletcher. His Mrs. has the big dark eyes and the littlest is their cousin, Honey. Fletcher and Mrs. are from Los Angeles and Honey is originally from Florida where her Mom still lives. They all have been living together in Arizona with their people and Grandma for two and a half years and love the warm weather in the winter especially. They love to get treats, ride in the car, go on walks and chase the cat (who declined to be in the photo).
Cassandra H.
Surprise, AZ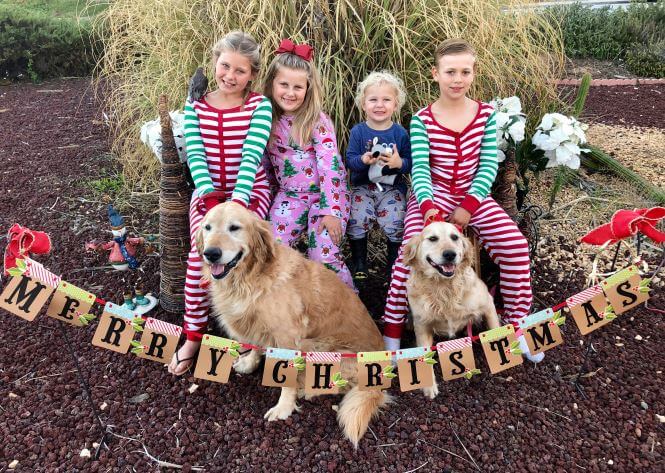 JAYLEY & MAX
– We just adopted Max and his daughter Jayley a little over a month ago! We had to put down our 12-year-old golden retriever at the end of June and we were devastated but these two have brought so much joy!
Annalisa S.
Escondido, CA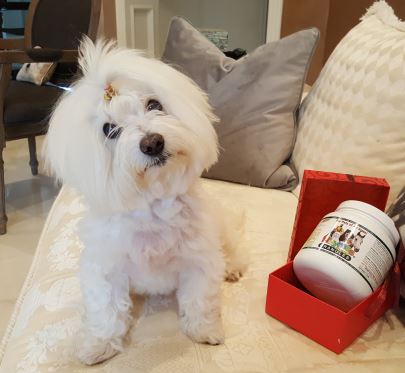 LALI – My name is Lali and I am 13 years Young.
I love to play and cuddle and snuggle with my mommy. Several months ago, my skin started turning really pink and my mom found Nzymes!
After changing my diet and giving me yummy enzymes, I'm getting better each day. Okay if you're looking for things to do with the family. I love to give sweet licks to everyone I meet and I love doing tricks to entertain and make people smile. I wish everybody happy and healthy holidays!
Linda S.
Houston, TX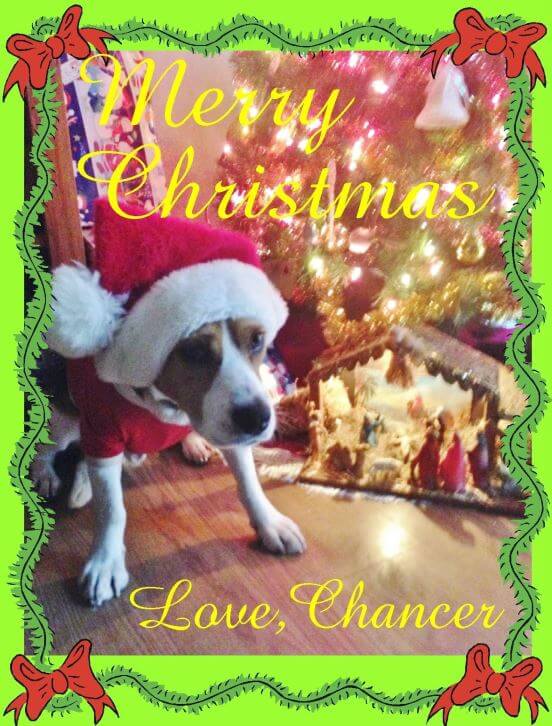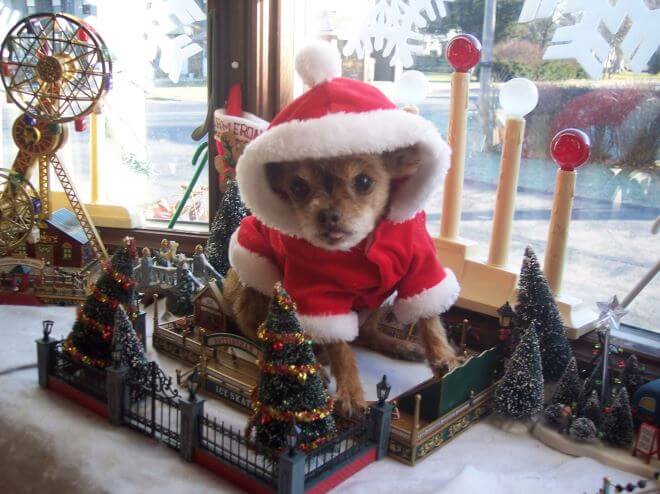 CHANCE & TIKI
– Chance is a Rescue! I have had Lil' Tiki for seven years, she is about 13…that's what the vet said! I found her in the woods near my home, she was barely alive. She has come along way and your
Nzymes
have really helped her!
Dana M.
Ilion, NY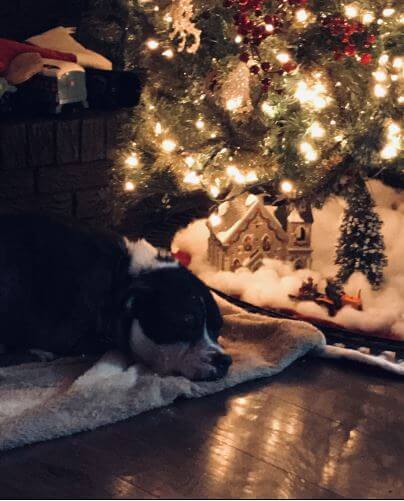 MISS PIGGY
– Waiting for Santa!
<<<<<<<<<<<<<<<
Sharon Z
Naperville, IL
BAILEY – Bailey is a female heavily marked Harlequin Great Dane who just turned 10 months old the 1st of December 2018. She is the love of my life and spoiled rotten. Oh and she takes her Nzymes every day!
>>>>>>>>>>>>>>>
Linda M
Salem, VA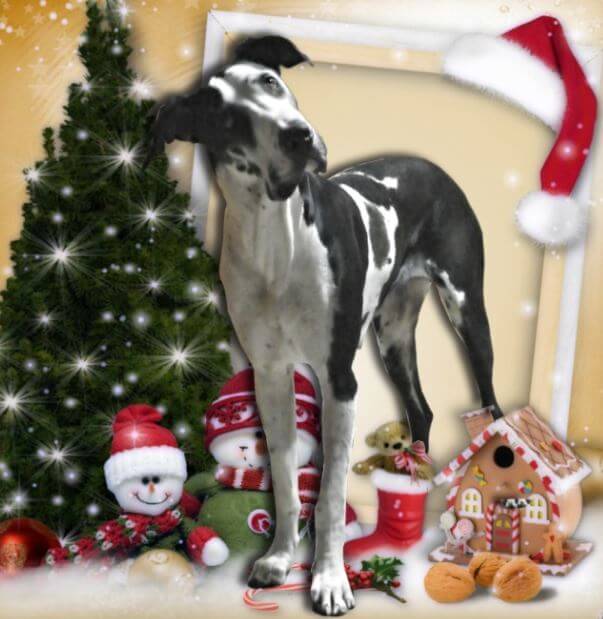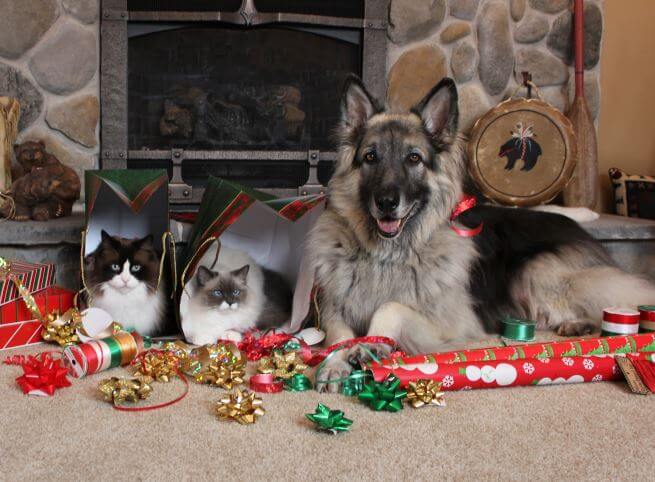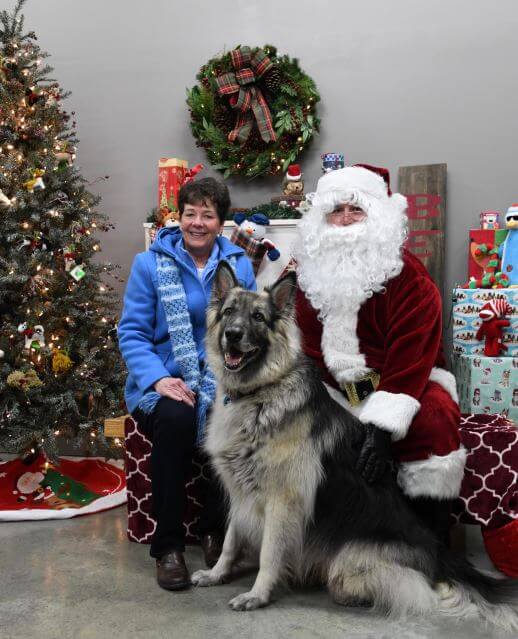 COULTER
– Colter has been on the
Healthy Skin Kit
for large dogs for about nine months. His coat is beautiful and he is itching and licking much less. He also hardly sheds at all since on these supplements – and he has quite the thick coat! If I could figure out how to give these supplements to Colt's good friends, Kelchi and Mingo (my two cats), I would do so. I would love to see them shed less like Colter! However, they share both wet and dry food together so I would not know which cat was getting the supplements and which was not. Maybe someday I'll figure out a plan!
Thank you for helping Colter become more healthy!
Peggy B.
Albert Lea, MN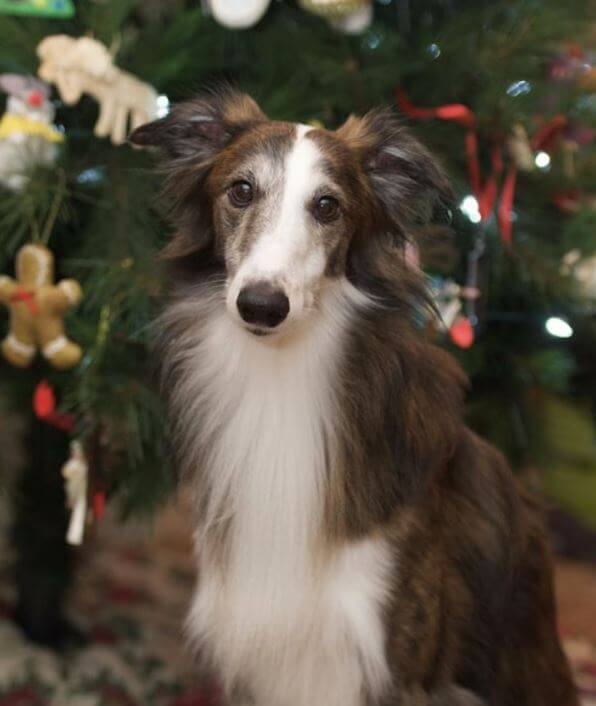 GEYSER
– Geyser is a wonderful dog who we took in when he was three years old as a gift for our 16-year-old daughter, Anna. Since then, he's become a UKC champion and also competes in agility with her as his handler. Geyser loves to go on walks, snuggle on the couch and perform tricks. The whole family adores him.
Julie G.
Freehold, NJ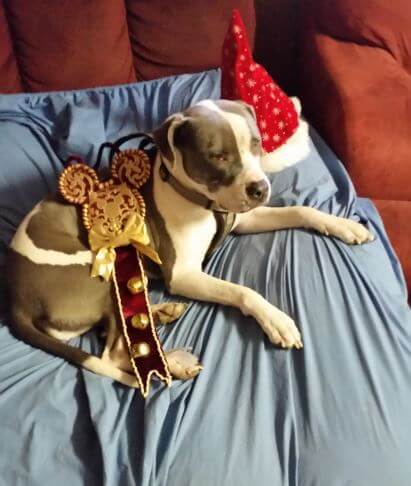 SADIE MAE
– We were fortunate to find this lovely girl at our local animal shelter! She is a lovable, affectionate doggie! She loves attention and lets out a little growl if you don't pay attention to her when she wants attention! So glad to have this beautiful girl!
<<<<<<<<<<<<<<<<<
ISABELLA – Isabella is a sweet girl with a matching personality! She is a loyal companion and is always happy to see us! She will let out a squeal when we come in the door! She has a laid-back personality and gets along well with our other doggie! We love Isabella!
>>>>>>>>>>>>>>>>>
Celeste D
LaPorte, IN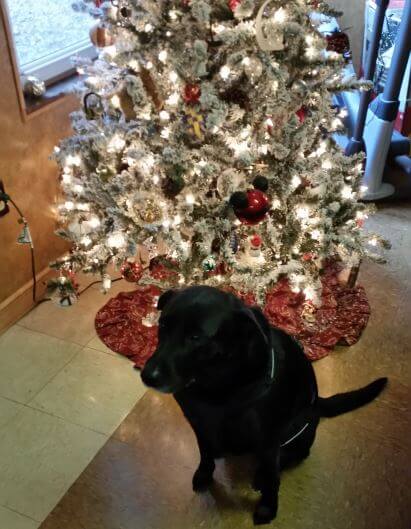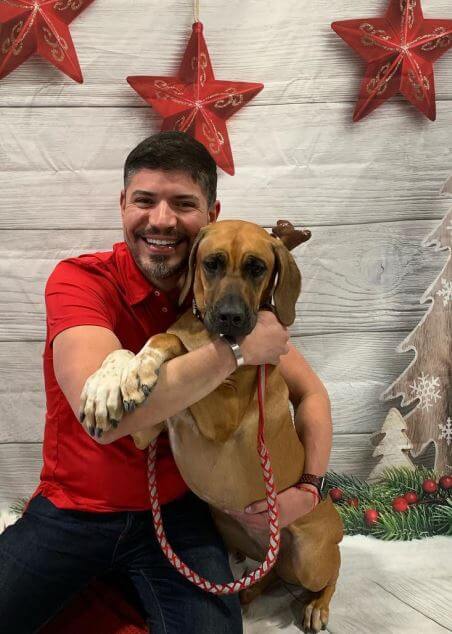 ROXY
– Love my Roxi, came into my life when I needed her the most
Super sweet girl. She makes it easy for me to keep her spoiled 🙂
Mario M.
Dallas, TX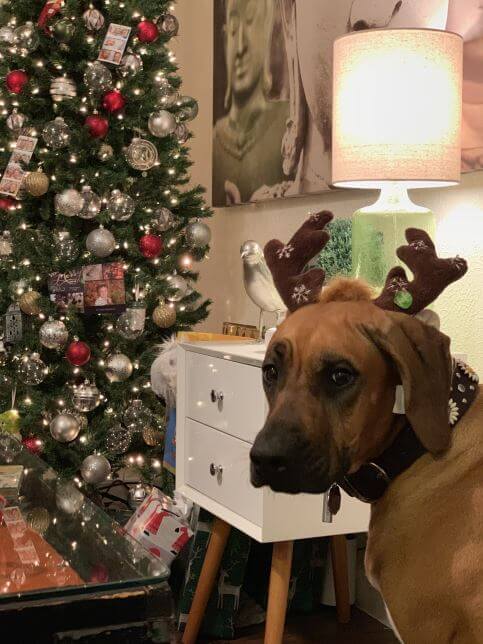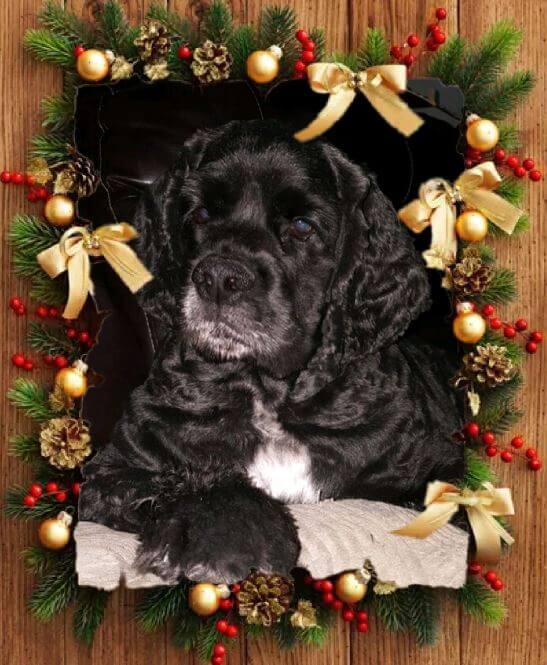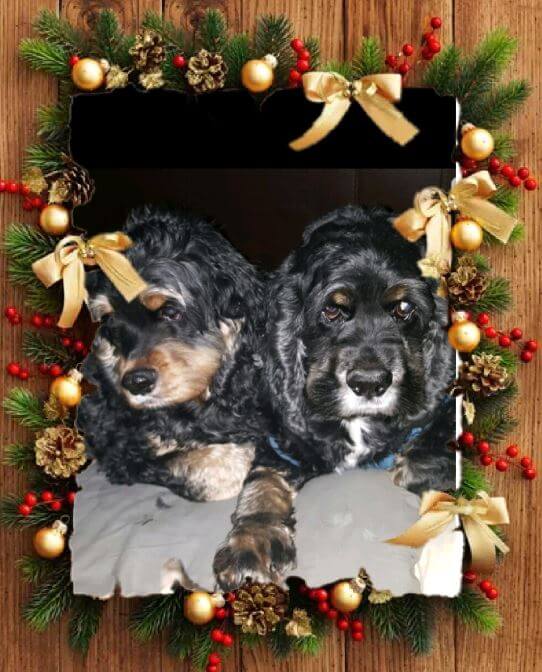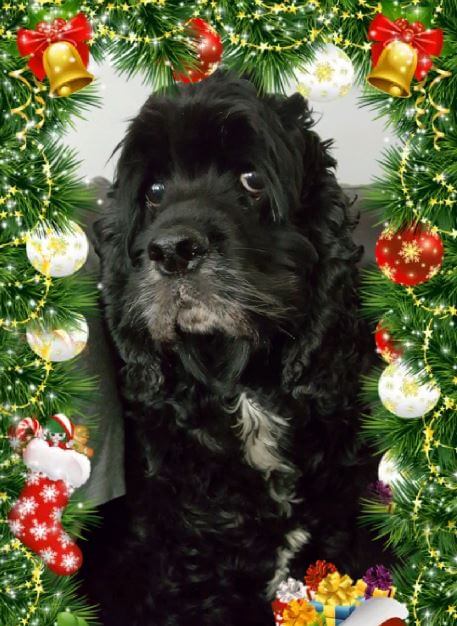 TRAPITO – TOBIE & CHARLIE – CHACHITO
– Tobie ripped his ligament and I was told only surgery would help.
Nzymes
helped within 2 weeks. Chachito had disc problems and could not walk and with the
Nzymes
, he is back to normal. Thank you
Nzymes
you're the best.
Yolanda C
Chicago, IL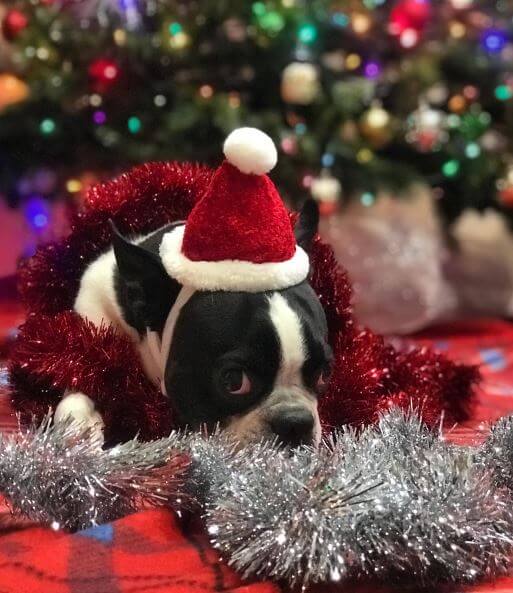 BARLEY DUNCAN ARCHIBALD
– Barley loves Christmas!!! We use several of the
Nzymes
products and have seen major improvements!!
Samantha P
Las Vegas, NV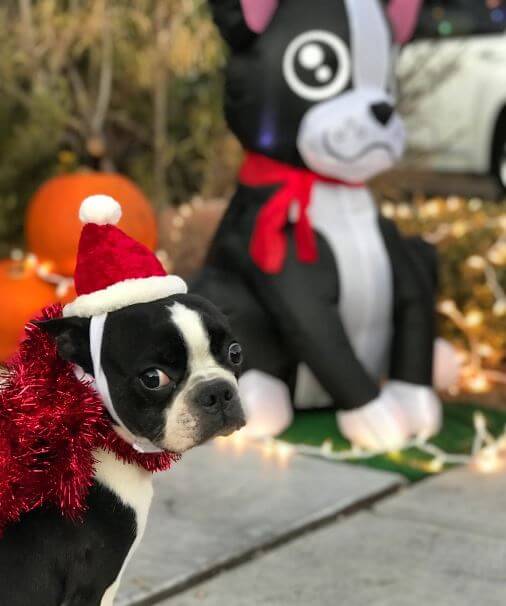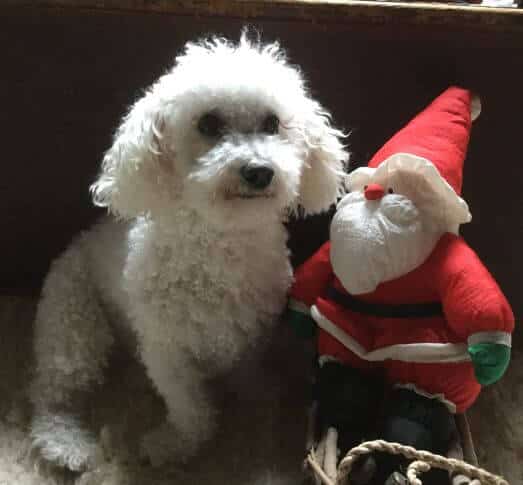 SCARLET
– Scarlet Ida Fuzz is a happy young 12-year-old poochon or as we call her pushover! Her best friend is her sister, Daisy May Doodle who is a cat of course. Scarlet had a terrible allergic reaction to something and scratched off most of her beautiful curls.
N

zymes
saved her. She continues to be healthy and happy. She will enjoy this year's holidays thanks to a few drops of magic from
N

zymes
Bonnie L
Nassau, NY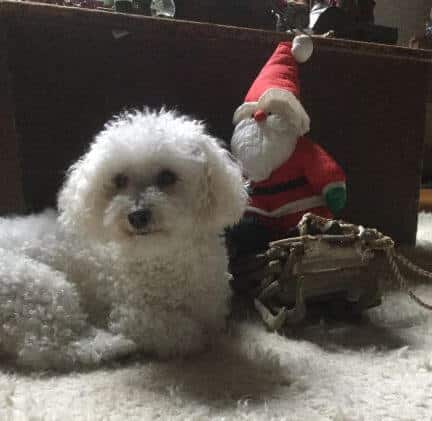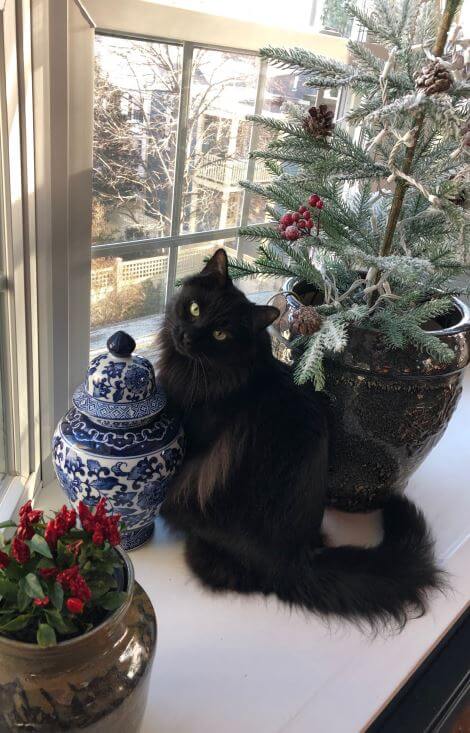 MADDOX & ROSIE – Maddox the cat loves to defrock the Christmas tree and Rosie the Labradoodle just waits for those ornaments to drop so she can snag them and destroy them! Nothing is safe… shoes, socks, paper items, underwear. I even caught her slinking away with a pair of my pants one time! Maddox loves to knock things off the counter for Rosie to make off with. Don't be fooled by their cuteness as I was they are nothing but trouble! We are so thankful to have come across Nzymes and it has saved out fur babies on many occasions. Maddox is on Bac-Pak Plus which helps with his coat, digestion, and fur balls. With all that Rosie eats it makes its way out thanks to the Bac-Pak Plus as it keeps her digestive tract healthy and fluid. She is also Ox-E-Drops and Blackleaf drops. These help her allergies and ear infections in which she is prone to and keeps her from have horrible UTIs. We were instructed to take Rosie off this regime as the Vet didn't believe in Nzymes. Once I did she was scratching, had multiple ear infections and was on antibiotics for over 3 months for reoccurring urinary tract infections. Never again! I put her back on Nzymes and she was back to normal in a matter of months. Not a coincidence this works! Thank you to the knowledgeable staff and top-notch products for keeping my pets healthy!
Marla K.
Salem, MA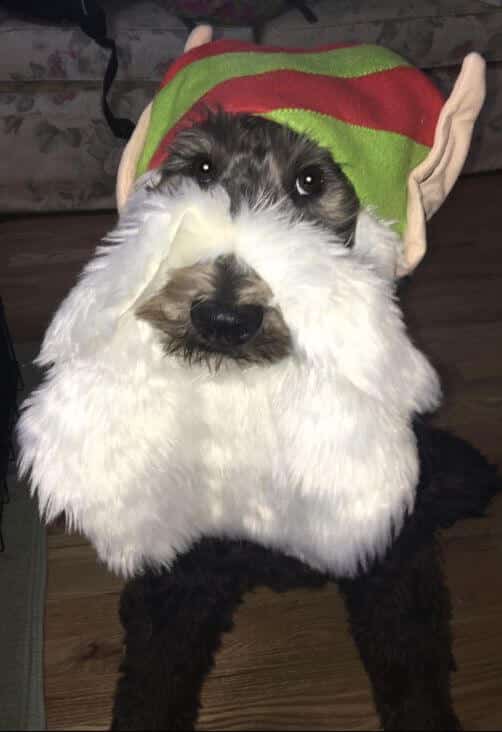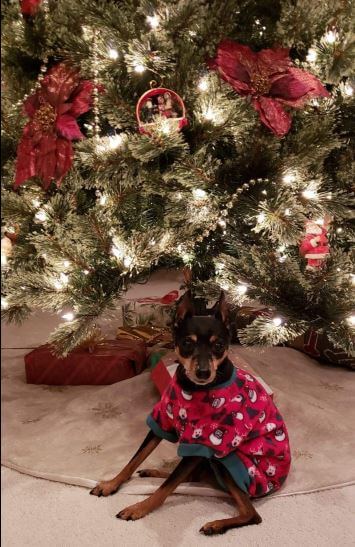 KATIE – I am entering Katie our 13-year-old Mini Pin. I also included her pictures with her two male buddies. Unfortunately, we lost Rusty (Doberman) who was 9 and Kirby (Mini Pin who was 17) we got these great pictures before they passed.
Katie mourned their loss to the point it has affected her health. She lost her hair in clumps. I have been using the Nzymes, I can`t say enough how grateful I am for the results I am getting. Katie is no longer loosing her hair and her health, in general, is improving. She was given Antibiotics, Steroids etc. which as I know now just made her condition worse. The Nzymes kit has improved so many problems for her. She sits under the tree with her Christmas P.J`s.
Kathy H.
Anderson, IN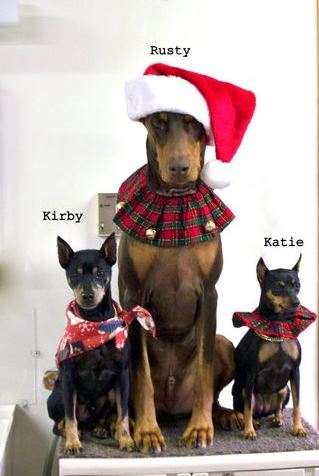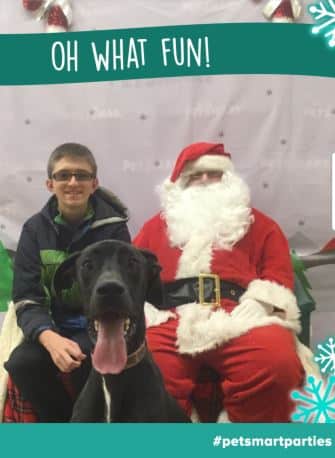 DAISY
– Daisy's first visit with Santa to give him her Christmas list. She's hoping for more treats like last year. After a long day, Daisy sits and chills out. Who knows, maybe next year she'll ask for her own recliner.
<<<<<<<<<<<<<<<<<
Mike E.
Brookville, OH
ROXY – Loving Christmas!
>>>>>>>>>>>>>>>>>
Deb L.
Penticton BC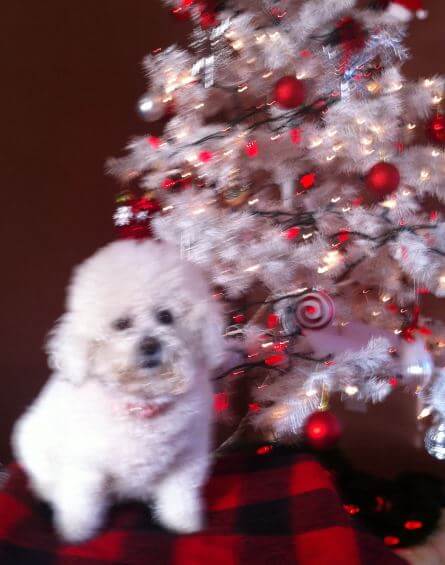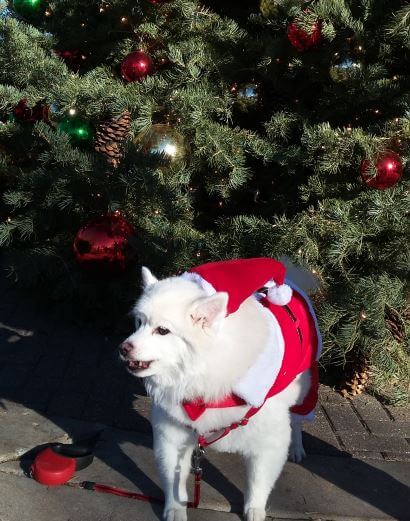 CASEY
– Sitting around Christmas tree, singing carols. Waiting for Santa.
Brenda M.
Wichita, KS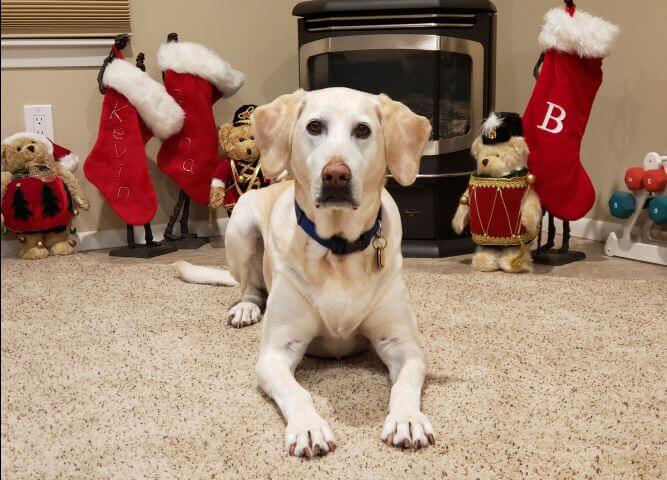 BEAU
– We love
Nzymes
! Especially the Oxy drops/spray and the Granules.
Beau loves his Christmas sock! He checks it every morning to see if Santa has been here yet.
Gina L
Santa Maria, CA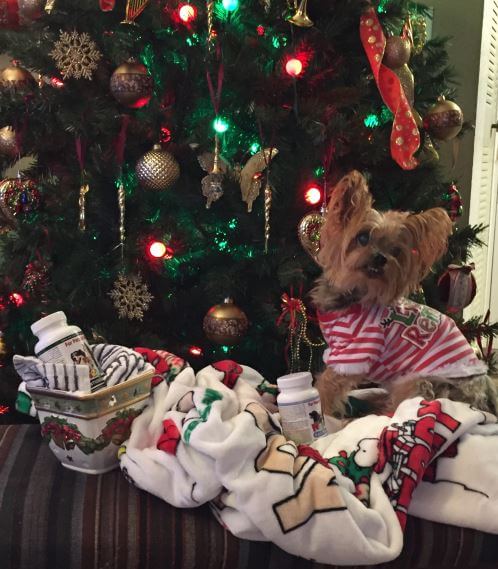 FLUFFY – Fluffy has been with us since he was a little puppy. We already had a 12-year-old Pekinese when fluffy arrived. He rapidly became very fond and attached to Beba ( Pekinese). She passed away in 2015 at the age of 18. He's been by himself for 3 years now. Fluffy just turned 15 this December 7th, 2018. These pasts few years he began to have some itching throughout his body and wasn't eating well. We read the info on your website about food allergies so we decided to try a new raw food and bought an Nzymes packet for him and started feeding the new food and giving him the Nzymes. His itching has stopped, he is more energetic, his coat is a lot better and grows a lot. We are very blessed to have him in our lives, he is more than a pet. We care and love him as a very important part of our family. We are so blessed to spend one more Christmas with him. He is a joy. We pray for him and thank our God for his wellbeing. We are believers and know that the Lord cares for animals as well. We would like to thank you for these products. May the Lord bless you and have a Merry Christmas.
Nancy O.
Orlando, FL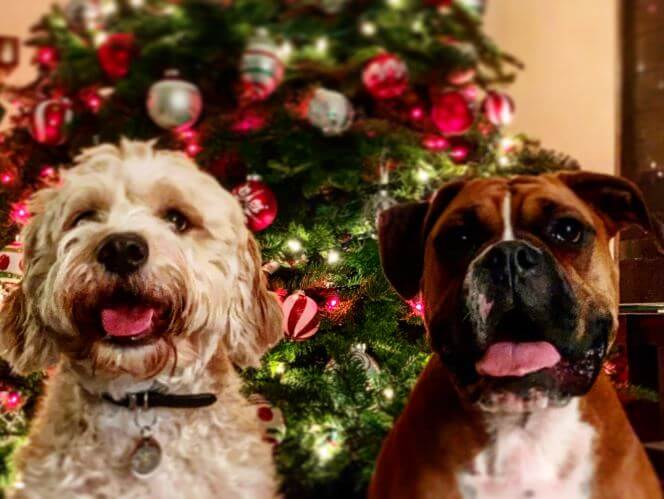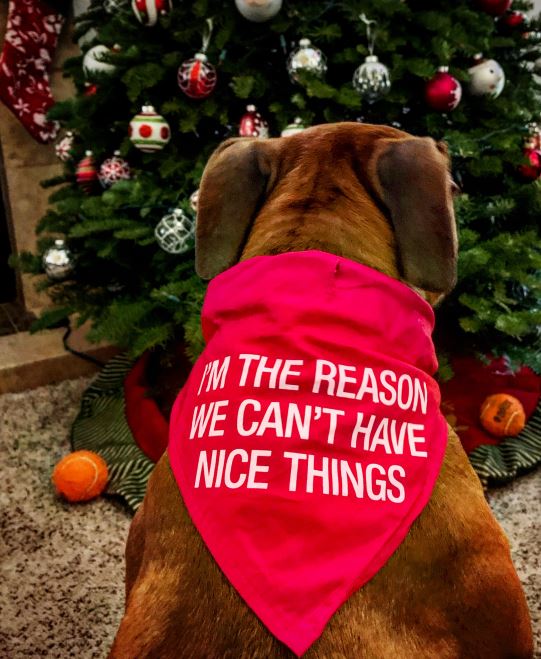 LITTLE TAZ & MAXIMUS
– Little Taz is from a local rescue I volunteer @ & foster. He's a foster fail. I've had him since 8 months old and he's brought life back into My big boxers heart as well as mine after losing his littermate a day before his birthday, steroid induced.
Big guy is Maximus, 9 yr boxer using
Nzymes
since 1 yr old due to yeast overgrowth. Now to maintain his good health. We lost his littermate a day before his eighth birthday due to steroids. Our hearts broke in 1/2, but he & I formed a whole heart together.
Andrea M
Vista, CA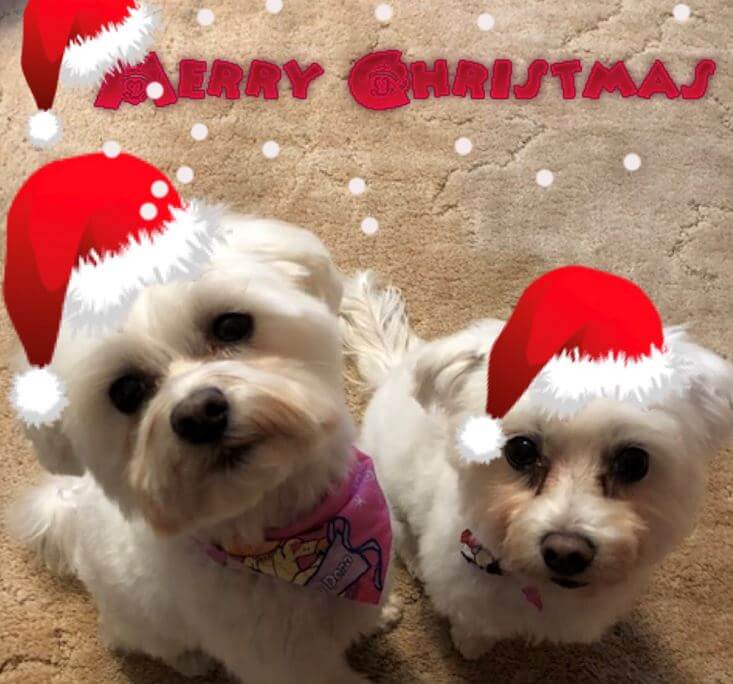 LOLA & MARLEY – We adopted Lola and Marley August 16th, 2018 from the Pembina Valley Humane Society in Morden, Manitoba. They were owner surrendered when we first they were a bag of bones and sickly looking. Lola is the mother she is purebred Maltese, nine years old the mother. Marley is the daughter, she is five years old, half Maltese, half Poodle. Marley is scared of everything, but is getting much better and more out going, Lola would snap and growl at everyone, now she is more willing to socialize. People say we saved them, but they saved us, they bring us joy, they bring us unconditional love and make us laugh. My husband suffers from anxiety and depression, they seem to know when he needs them they will sit with him and cuddle. Now they are spoiled puppies, with their own growing wardrobe and toys. As soon as we got them we started them on a raw food diet with supplements from Nzymes, their coats are getting thicker, their eyes are brighter and Lola is nine but moves and plays like a puppy. These two are the picture of unconditional love, strength and total cuteness, beautiful, caring, funny, innocent. They started out with a rough life of neglect, now they give us hope in a world that can be cold. We love them our two little cuddle bunnies.
Carolanne K
Morden, MB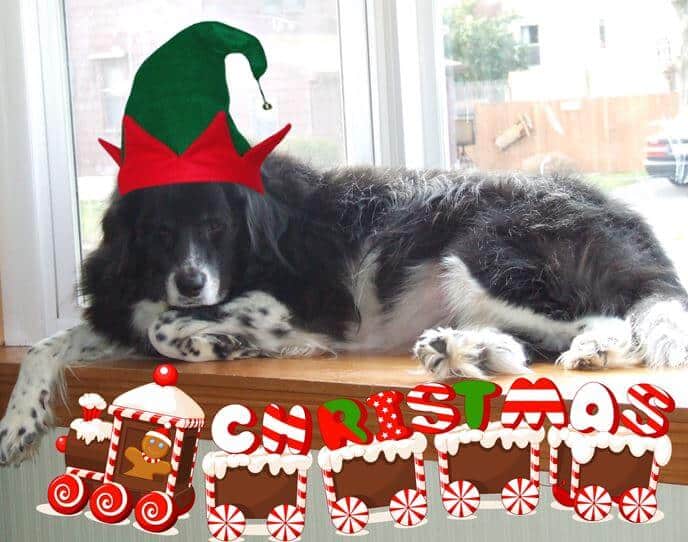 INDIANA – I adopted Indiana when he was two months old. Those two months were not pleasant for him. He lacked confidence, was fearful of everything that moved and loud noises. He had chewed whatever fur he could off his body and had difficulty eating more than a bite of food at a time. He hid behind furniture, curtains, my legs just hoping to be invisible whenever a stranger came within sight. With gentle encouragement and a lot of patience Indiana no longer cowers in fear when he hears an unfamiliar voice. He no longer tries to stuff his 80-pound body under the 4′ rise of the bed. He enjoys going for rides and walks at the beach. He wags his tail and likes to look out windows. His favorite thing is to take my spot on the couch. His fur is fully grown back and is soft and silky to stroke thanks to Nzymes. Although he will most likely never get over his stranger anxiety he is a lot calmer. Nzymes has helped me help my dog. Thank you just does not convey the depth of my gratitude
Diane L.
West Chester, OH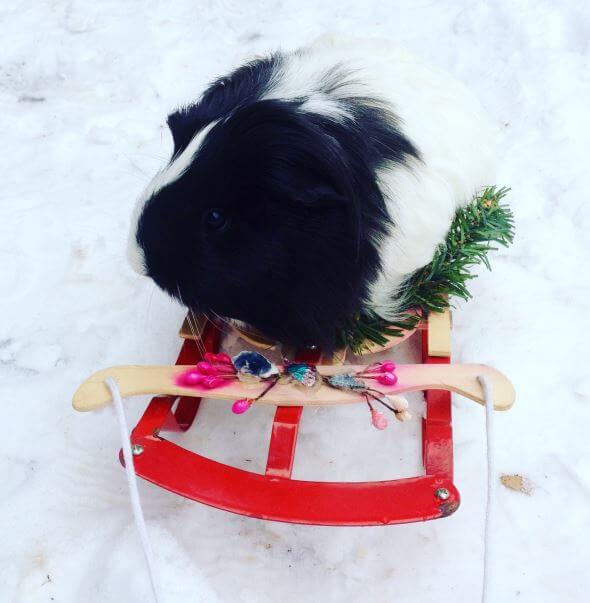 BOOMER – This is Boomer,
He is a Silkie Guinea pig. We got him at a state fair. Was a very shy baby. Now he is quite social and lets us pose him for photos. He is quite vocal when he hears my voice. He will "week" really loud to get my attention to give him some vegetable treats.
Little did we know that we have to trim him monthly or his hair will continue to get so long that he will look like a walking wig. He has come to enjoy the trimmings and seems to like his baths afterward. He knows that we will reward him with carrots afterward.
SPENCER – Spencer cat,
He adopted us. We first met him when he was going through our garbage outside. It took him some time to trust us. He was extremely loving, but would turn wild and bite us. Now he is a very affectionate cat. If he doesn't get his way, he will try to jump on the table while we are eating to break or knock a dish over, just to let him outside. He has learned to open the front screen door to make it bang, so the dog will bark and we would answer the door!!
We give him Nzymes on his food, has made his fur very soft.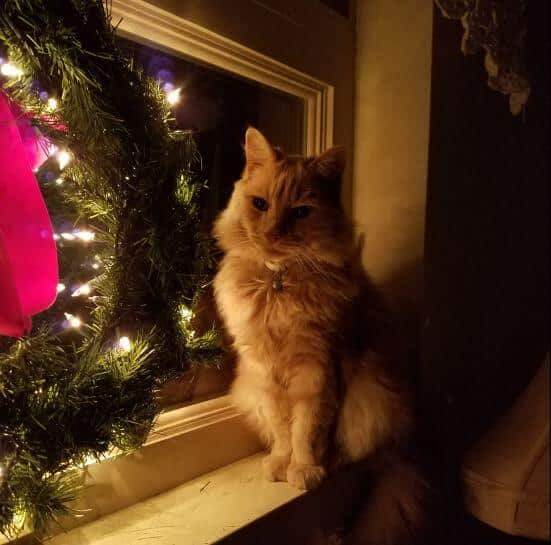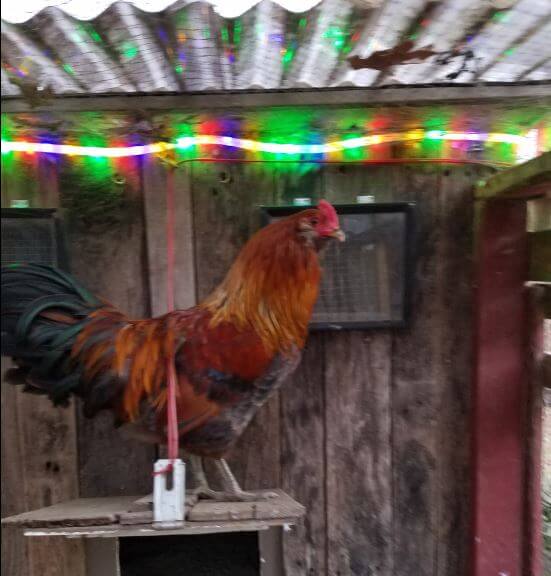 TERIYAKI – Meet Teriyaki. He's a young rooster. We got him as a young chick from a local farmer, hoping that this chicken would be a female. He was old enough to be able to tell (according to the farmer) But boy was he wrong! To find out that he is the son of our older Rooster that we also bought from the same farmer.
We have given them Nzymes in the past and you can tell he is a very healthy Rooster, sitting by our Christmas lights on the coop. But why does he Roo at 1 am?? Even though he is locked up at night, you can hear him rooing!! His father sleeps through the night! Maybe that is why they bicker at each other in our yard at times.
JOEY – This is Joey,
We adopted him when he was about 10 months old. The former owner's daughter was having severe health issues and needed long-term care and wasn't able to care for him. So we were the lucky ones to adopt him!
He loves the Nzymes tablets and it seems to reduce his need for licking his paws. I can make him do anything when I tempt him with a treat. He will let me put on glasses to wear and just sit there. Funny thing is I work for an eye doctor and tend to try different glasses on him. He is also watchful of my chickens. He will bark if he sees a bear coming into our yard to scare him away and he will also bark if the chickens argue amongst each other. I have two Roosters and they chase one another at times and Joey wants to stop them. Joey will let us know if there is a car parked out front. He notices any and all changes
Amy B.
Scotrun, PA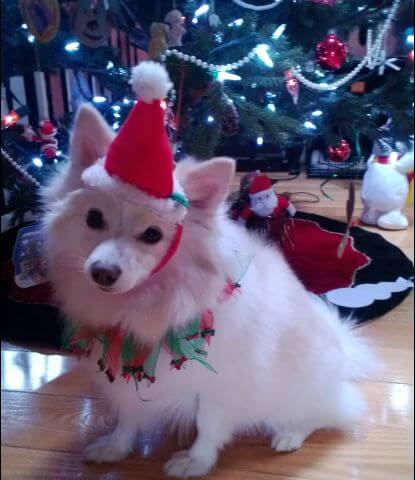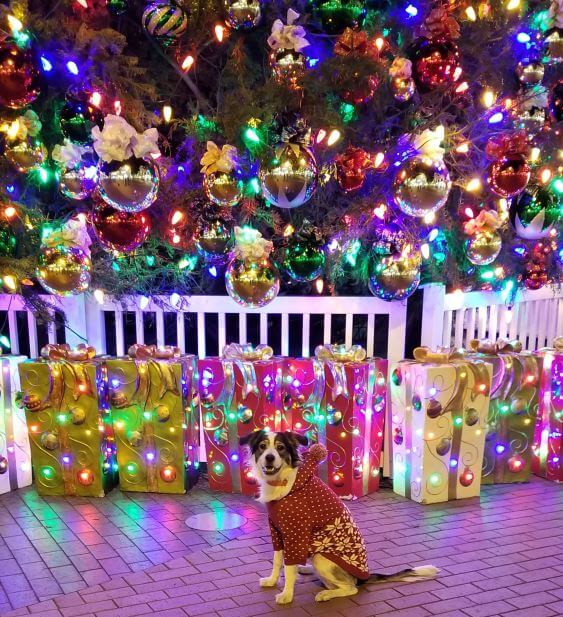 LUCY – Lucy has battled a skin condition since she was 8 months old. We took her to the vet several times, they would treat her with antibiotics and other products but they would only fix the problem temporarily, but it would come right back. They advised us to put her on a stronger medication but the side effects were too risky. It got to the point where her entire back end had no hair. Lucy has been on the Nzymes program for about 8 months. Her soars have decreased by 75% and her hair is growing back in and she looks great. I'm very thankful for this product and will continue using it for the health of our girl. Thank you Nzymes!!
Candy F.
San Clemente, CA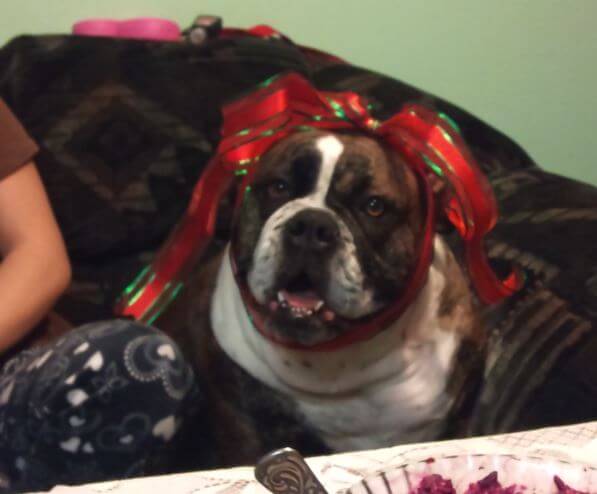 BRONYA – Bronya Olde English Bulldog suffers from really debilitating arthritis in her elbows. She could hardly walk. The vet had put her on arthritis medication a half pill twice a day as needed. She was taking it every day 2x a day. The vet said to start walking her. At first, she would just fall over on her side & would refuse to walk
My sister Suggested Nzymes
So three weeks ago we started using the Granules. She has been walking faster & faster until she was running at the dog park for the first time in over 4 years. She had a big smile on her face as she was running around. This was just after 3 weeks of using Nzymes. The best part is I haven't been giving her the arthritis medication for over 5 days.
Tatyna D.
Agoura Hills, CA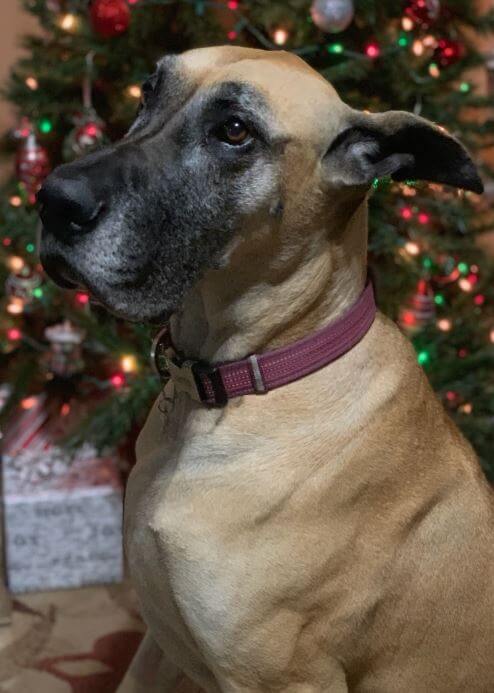 LEXI
– My name is Lexi and I live in Clovis, California with my sister Zoey who is also a Great Dane and my human family. My human family is made up of my dad, mom and my little sister. She's still wobbly so I have to be extra careful around her. I am currently recovering from surgery to repair my torn ACL which I got from playing too rough with Zoey. I love snuggles, sunshine and tug of war. Mom says I give the best kisses 🙂
<<<<<<<<<<<<<<
ZOEY – My name is Zoey and I live in California with my Great Dane sister Lexi and our dad, mom and two legged sister. I love to run around outside and chase my toys. I also love to go swimming and go on walks.
>>>>>>>>>>>>>
Tiffanie F
Clovis, CA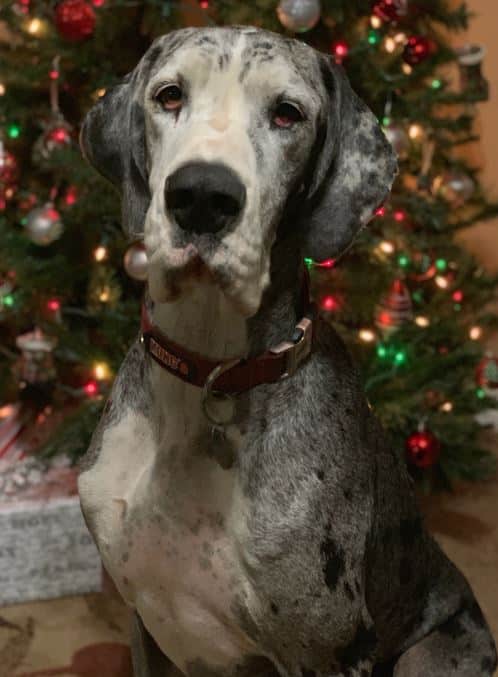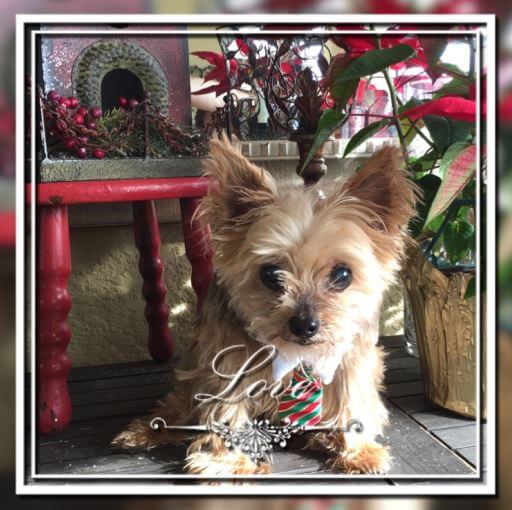 CRUMB
– Crumb is a happy boy with his Christmas tie.
He loves his
Nzymes
and has energy like a puppy.
Brings so much joy to all he comes in contact with!
Blessed with this little boy dog!
Christine B.
Davenport, FL