Issue: Disabling Discomfort Associated with Hip Dysplasia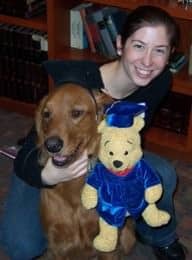 My family and I got Abby, our Golden Retriever, as a puppy straight from her parents. At 8 months old, she started limping. At first, I thought she had hurt her leg. After a few days, the limping got worse so we took Abby to the vet. They did x-rays and discovered that Abby had a malformation of both hip joints (hip dysplasia). They gave us Rimadyl for her until she was able to have the double hip replacement surgery. The surgeons did not want to perform that operation on a puppy so young; but, every 6 months that Abby was on the medicine, we were supposed to have a liver test done to test for liver damage.
After taking in all of this news and knowing of no other options, we took Abby home and started her on the prescribed medicine. After 3 weeks of being on the Rimadyl, Abby got progressively worse. She could NOT go up or down the stairs, had trouble getting up from a lying down position and could not squat to go to the bathroom by herself.
My husband and I had to start carrying her everywhere. It was heartbreaking. I went to the internet looking for help for my baby. I was brought to your Nzymes® web site. I read the testimonies and really thought it was too good to be true. I was very much the skeptic but also very desperate. I ordered the Nzymes® Antioxidant Treats and started Abby on those in addition to the medication from the vet. After just 1 week, Abby stopped limping. She still walked up the stairs awkwardly but there was a huge improvement. Over the next two weeks, Abby acted like there was nothing wrong at all. She was doing so well that over the next couple of weeks, I gradually took her off of the prescription medicine.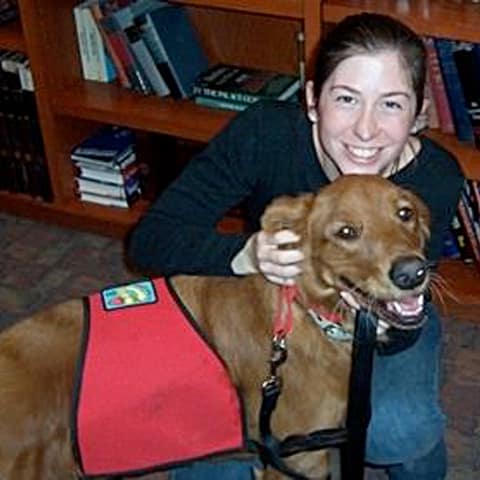 Abby is now 2 years and 6 months old and has only been on the Nzymes® Antioxidant Treats ever since. She runs and plays and no one would ever know that there had been a problem. Even the vet says that she has shown much improvement. Abby has recently become a therapy dog with Pet Therapy Dogs of America and spends her weekends visiting Hospice patients. My family, her patients and I can not thank you enough for making such a great product. I have included a picture of Abby at her graduation when she became an official Pet Therapy Puppy!
Thanks,
Jayme Spicer
---
Products Used with Abby's Hip Dysplasia Challenges