See How Emma Overcomes Challenges of Ugly Oral Warts
Breed: Pit Bull
Age: Unknown
Health History: Canine Oral Papilloma, COPV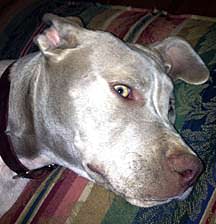 July 10, 2012
Emma started out with one wart on her lip but this quickly spread to both sides of her mouth. I researched this symptom online since although I have had many dogs, as well as being a foster for a rescue, I have never had a dog with this problem.
I read several articles saying that her warts would go away on their own and my vet said the same thing. However, I wasn't willing to wait until they went away because the warts were getting bigger and Emma's mouth bled whenever she played with her toys or chewed on anything. The smell was very bad and the warts were disgusting looking, although Emma didn't seem to mind them.
I decided to do some more research and came upon your site Nzymes.COM and the Nzymes® program suggested to deal with the warts. On June 9, 2012, I ordered the Ox-E-Drops and received the Antioxidant Treats also .
I started the same day they arrived by mixing about 5 drops of the Ox-E-Drops into my dog's drinking water. I also mixed up about 1/4 cup of water with about 4 drops, which I used a dropper to first squirt directly on the warts, and then into Emma's mouth. She didn't mind it at all. I also gave her two Antioxidant Treats a day and she loved them!
After two weeks of treatment, the warts looked much better and after three, they were completely gone.
Thanks so much for offering this information and program. I can't believe that vets don't offer Nzymes® products because they are wonderful. Now, I tell people about this problem and let them know that Nzymes® will take care of the problem in no time! Please see my before and after photos. – Denise Ward, GA
Footnote: Since Emma's story was submitted, we have created a comprehensive Program for Papilloma warts.
See EMMA and Other Dogs in Recovery Video
---
Product used in this Story