Pee Wee's Issues: Pinched Nerve – Paralysis Challenges

In October we took our Chihuahua, Pee Wee, to the vet because he was walking unsteady and he could no longer jump on the bed. The diagnosis was a pinched nerve – paralysis in the back and hip-joint degradation. Our vet recommended cortisone pills for the problem.
IF short on time, you can alternatively LISTEN to Ms. Serrano's Story using this Player: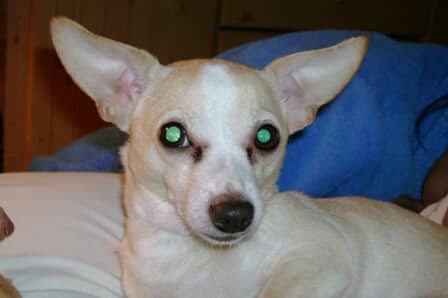 Pee Wee Needed Help
The day before Thanksgiving Pee Wee starting dragging his back left leg and then the next day he was dragging both legs. The vet was closed for the holidays so we had to wait until the following Monday. Pee Wee was hospitalized for 3 days, receiving cortisone injections. The next 3 weeks, my husband gave the injections.
At that point, Pee Wee couldn't walk anymore. He would cry to us when he had to go to the bathroom and we maintained a diaper pad underneath him.
It was so sad to see the other dogs walk and play while Pee Wee lay in his bed unable to move around. We were told that an operation would be the best thing for Pee Wee but it came with a 50/50 chance of success or we could just put Pee Wee to sleep, we were shocked and devastated.
Seeking Internet Help for Pinched Nerve – Paralysis
I was introduced to Nzymes® by browsing the internet while waiting for my doctor's appointment. I searched for dog health, hoping I can find some other solution. Then I came across your web site and read about your products. I was amazed at all the testimonials and simply couldn't wait to tell my husband, however, he was very skeptical. But, we went ahead and ordered the Nzymes® Antioxidant Treats on December 4. When the order arrived, my husband made sure to give it to Pee Wee every day.
We had Found our Answer!
At the beginning of the 3rd week, we were amazed when Pee Wee got up by himself. By the 4th week, he started walking around and running. We thank you for a remarkable product! We thank you for helping our boy walk again. We're telling our friends and family how Pee Wee got better by using your amazing Nzymes® Antioxidant Treats.
We are so ecstatic about this product and thank you, thank you, thank you!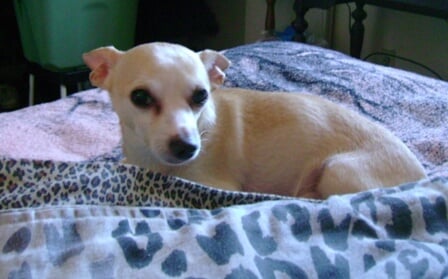 Nzymes for People too!
My husband was joking around, wondering if he should take Peewee's pills for his diabetes, high blood pressure, back problem etc. Then we find out your company also offers the same products for people too so we will be next. But right now, it's our Pee Wee we want to concentrate on. Thank you for this AMAZING product! Thank you for bringing our Pee Wee back to us.
God Bless You All.
Sincerely, K. Serrano
Daly City, CA
---
Products Recommended for Dog Pinched Nerve – Paralysis Issues