Rescued Greyhound with Urinary Problems, Flakey Skin, Lethargy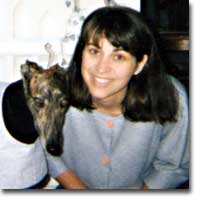 Name: Athena
Age: 5
Breed: Greyhound
Health History: Urinary Problems, Lethargy, Dry Skin
A Little Skeptical at First 
We have a 5-year-old female brindle Greyhound named Athena who has had reoccurring urinary problems. Since we adopted her from the racetrack 2 years ago we have accumulated an astronomical amount of veterinarian bills. Recently, we were referred to a dermatologist for her extremely dry skin but we had to hold off due to the expense.
Consulted with Vet about Nzymes
We were skeptical about giving Athena a supplement ordered via the Internet. So, prior to purchasing, we spoke with our veterinarian and he assured us of the ingredients in Nzymes® and suggested that trying it could not hurt. We weren't sure the extra cost of a supplement would be worth it because our Veterinarian had said, that our Greyhound eats good quality dry dog food and all the nutrients that she needs should be available in her food.
Researched for Ourselves
After researching enzymes and their positive effects to the animal body, we decided to try the Nzymes® product. We found the people at BioPet to be very helpful, caring and knowledgeable in the product and its usage.
Happy with Results
Well, we were hoping that Nzymes® would work, and they have!
Was Lethargic Before Nzymes
Prior to taking Nzymes® Athena just laid around the house and we felt bad for her. Over the past month she has shown significant health improvements and we noticed the following changes; She has more energy, and she now licks us with kisses. She is more active and enjoys running around our house. Her dry flaky skin began to look much better after 30 days. She has even re-grown hair on her hindquarters (that alone was worth it). Her eating habits have improved and her stool seems to have better quality (easier for pick up).
Vet Suggestions for Urinary Problems
Our Vet suggested giving Athena the Nzymes® at nighttime because, he felt, the vitamin C would stay in her system longer and be more effective. Just recently we took her back to the Vet for a new urinalysis test and this time everything was normal, NO crystals in her urine. We were amazed to have obtained a normal urinalysis in less than two months on Nzymes®. Plus we avoided the added cost of a dermatologist and now hope that our future visits to the Veterinarian will only be for emergencies and routine care.
Worries Were Eased
Thanks for initially easing our mind about the product because Athena is just like our kid and we want the best for her. We have recommended Nzymes® to several of our friends who have pets.
Karen & Michael Domenech – Webster, NY
Nzymes Note:
For complete feed program for Urinary Problems, click
HERE
---
Product Used For Urinary Problems – Crystals