Beloved Lab-Mix Finally Gets New Life After Bad History
NOTE:  This story is from Sept. of 2017, but no picture or name was provided for the dog.  However, the terrible history of arthritis suffering and disability makes this short story a very revealing 'read' – for those who tend to have doubts about trying something other than 'meds' for their troubled pets. It's amazing – that folks can easily spend hundreds on vet visits and prescriptions without concern, but quite often wince at the prospect of taking a chance on a $30 to $50 investment – with great promise and a 'money-back' guarantee (something not possible at your local veterinarian).
Troubled History for Lab-Mix:
We have a 12 year old lab mix who dislocated her hip 10 years ago.  We knew that arthritis would eventually haunt her.  She has been struggling with it now for a year or more.  She has been on 3 different medications for pain and inflammation, but still in pain.  It is so sad because otherwise she is healthy.  It's been difficult for her to get up and down and she whimpers every time she does.  She can no longer get into bed with us at night and she cries for a few minutes until she settles down to sleep.  We have two steps leading out into the back yard with only about 4 inches for each rise, but she still struggles to get in and out of the house.
We spend most of our weekends away in our RV, which is set up permanently about an hour from our home. There is a staircase of 4 normal steps going into the RV and she struggles to get in and out of the camper.  She is no longer able to get into our SUV and has to be lifted.  When she squats to urinate, she leans to one side because her right hip causes too much pain for her to get into a normal position for elimination.  We started using turmeric with hope it would help, but we have really seen very little difference.  We can't stand to see her suffering and have considered what we never wanted to consider, and that is euthanasia.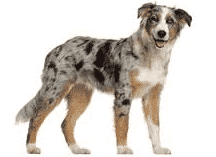 Searching for More Natural Help
I had researched the Internet for months trying to find something other than the prescription medication she was taking.  The cost is irrelevant and not a factor in our decision, but they simply offer very little relief.   I came across Nzymes and did not think it would give her much relief but I was willing to give it a try to see if it added a little to the medication she was taking, to maybe reduce her pain by another small fraction.  OH, MY GOD!!!  After 4 days on two tablets daily she is a completely different dog!  She runs around the yard chasing the other dogs like she did over 2 years ago.  She leaps out of the house, never touching the steps and runs in and out without a problem.  We have yet to see her try to get into bed or onto the couch, but I don't think it will be long before she's back to being pain free and doing what she has done for years.  She now squats normally for urination or defecation.  She no longer walks with an arthritic gait.  Again, this is after only 4 days on the Nzymes.  I anticipate she will not need the prescription medications much longer.
I am placing a second order so that we never run out and my husband and I are going to try the human version. Thank you so much for this product.  We wish you every success!
Randy Carey-Walden
Springfield, IL
---
Products Recommended for Arthritis or Mobility Challenges