German Shepherd Hip Dysplasia – a Happy Ending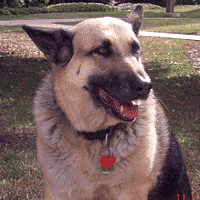 At the end of August, we noticed that our 7-year-old German Shepherd would cry out whenever she got up. All of a sudden her behavior changed. She did not walk up the stairs, she would not jump in the car, was she not as enthusiastic about her walks. When we went for walks she would want to turn around after a short distance and getting up on the sidewalk was difficult for her. She would limp with her right hind leg very noticeable.
We took her to the vet and they took X-rays. The vet diagnosed her with Hip Dysplasia, and as a result of that, arthritis had set in. She said, that there was not much we could do. She prescribed Rimadyl twice a day. She was on Rimadyl twice a day for 2 weeks and I saw no improvement.
I decided to research other ways to help my dog. I came across your web site and decided to give Nzymes® Antioxidant Treats a try. I also changed her food from the commercial dog food to a mix of raw food and kibbles.
When the order from Nzymes® Antioxidant Treats arrived I doubled up the daily recommended amount for the first 2 weeks as suggested. After just a couple of days, we saw a change in our dog. She seemed more energetic, wanted to go on longer walks, and she was overall much more alert again.
As the days went on there were small improvements; she did not cry out anymore when she laid down, she jumped up on the curbs again, she started to run again without limping. Then she started to get back in the car without whimpering. She still did not come up the stairs, but we were happy with the changes that were happening to her. She now wanted to go on even longer walks and as a result, she is losing weight. The length of walks has doubled to what they were even before she had this flare-up with her joints.
After 3 weeks on Nzymes® I cut back the Rimadyl to one tablet a day and I watched how she was doing. She kept improving. Then, 2 days ago, the miracle that we were hoping for happened: she came back upstairs one morning to wake my husband up for her walk. Everyone in our family could not believe it. She has now been going up and down the stairs just like she had done all the previous years before. I even noticed, that she seems much more energetic and she acts like she did when she was 2 to 4 years old. She likes to run and wrestle with our neighbor dog, something she did not do that much anymore for about a year. She also sniffs more and when we are on our walks she is so busy sniffing everything it takes quite a while to get back from a walk. However, we are not complaining.
Our family is so grateful that we have our old dog back, we are all more than happy to take our time when we are out on a walk. We all take turns taking her on walks, so she gets 4-5 daily walks of about 30-45 min.
I am now giving Lacy the Rimadyl every other day and I am hoping that I can stop giving it to her altogether. Thank you for your wonderful product. It has changed the life our dog. If your dog has trouble with Hip Dysplasia, order Nzymes® Antioxidant Treats or Granules. It will make all the difference in the world.
Terry Wray ~ Tustin, CA
NOTE:  Though the Treats were used initially for Lacy, where Shepherd hip dysplasia is an issue, the more economical Choice for Large dogs is – Sprouted Granules
---
Product Used for Lacy's Hip Dysplasia Troubles