Stray Pets vs. the Challenging Cold of Winter
"I hate that there are so many cold, stray animals, but what can I do about it?"
A little help can go a long way
There are around 70 million stray dogs & cats in the U.S. at any given time. That is five times more homeless animals than homeless people. When winter season hits and temperatures begin to drop, people start volunteering more to help clothe, feed and shelter the homeless population in their local towns. And most of the homeless animals go unnoticed. 🙁
For those of us who have a heart for these poor cold and sad fur babies…let's do something about it!
Suggestion: Let's all do what we can to make a difference.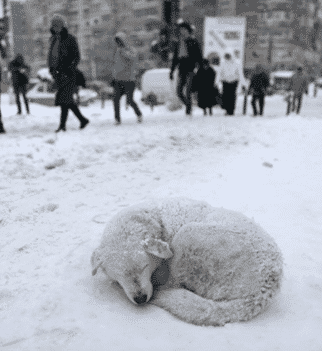 Below are a few suggestions of little ways caring humans can help homeless animals survive winter.

1. First thing's first: Give the poor baby some food and water.
If you find a stray animal that is out in the cold, chances are that it hasn't had a sufficient meal in a while. Just like people, without having food they won't have the energy they need to survive. A well-fed & hydrated animal is better fit to fight off infections or sicknesses as well. Try to feed them foods that won't freeze in cold temperatures and change their water frequently too.
2. Call for help.
If you know of a local no-kill shelter that takes in stray animals, give them a call first. If you don't know of any, just Google "local no-kill shelters near me" and you should have at least 2 or 3 that pop up. Chances are you'll be put on a waiting list because of the overwhelming population of homeless animals who are saved daily…..but it is a great start. Some local rescues will come and spay or neuter the animal – at no cost – to prevent over breeding. If you suspect animal abuse or neglect from a neighbor, call the authorities.
3. Provide shelter – if or whenever possible.
If you are able to take on the long term commitment of providing permanent shelter to a stray, you have the heart of gold and I commend you. This can and will be one of the most rewarding experiences of your life. Please help the homeless animals by giving them a permanent home.
If you are not able to home the homeless, a good temporary shelter can easily be provided by putting out a cardboard box or old wood/tile box you may have lying around. Put an old towel, cheese cloth, or straw inside for warmth; and there is a better chance of the animal utilizing such a shelter if you put their food bowl in it as well.
Some stray animals will not be open to coming near you. Please follow the above steps anyway.
4. Volunteer and/or Donate to your local shelter.
Another way to help the homeless pets in this country is to donate and/or volunteer at a local rescue or shelter. These types of organizations are created to help get stray animals off of the street and put them in warm, loving homes. Every little bit of money or time that you can offer will make a huge difference.
Think about it: If 1 in every 100 people in the U.S. gave a measly $5 per month to their local no-kill shelter, that would equate to over $189,600,000 per year… I would say that this would make a difference in the homeless animal population, wouldn't you?
Share this post if you agree – Let's make a difference…
…like Rescue from the Heart did here:
Check out a few more of the organizations that are close to our heart:
---
Products Recommended for Optimized Dog Health
Digestive Health, Mobility/Joint Health, along with Skin & Coat Health