September 20.
It was with great joy that I witnessed what Nzymes® Antioxidant Treats did for our dear dog "Mewuk". So I was very pleased when Nzymes® became available for humans too. Human Complex
I took Nzymes® Antioxidant Complex every day, as directed, including the initial doubling in the beginning, but didn't think too much about them. In less than a month, I noticed something very strange: a lot less discomfort — something I had just assumed was a "natural" part of life at age 55!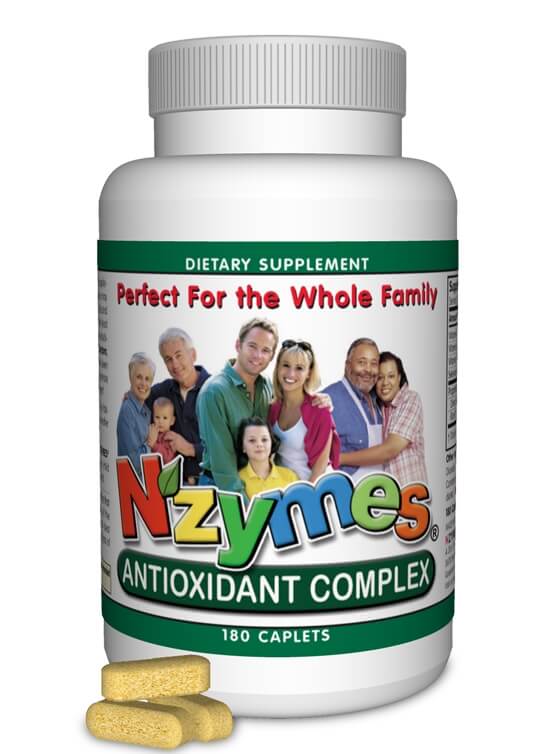 From my mid-thirties, I had always experienced joint and muscle soreness, especially in my hips. A result after years of running on pavement. I guess I just assumed that was par for the course since my mother had had a hip replacement in her later years. " It is just in the genes," I thought. When we moved to Tennessee, the problem worsened with the high humidity there.
Guess what! Those issues are gone! Using my right elbow had been particularly problematic. I was amazed to discover, after taking Nzymes® Antioxidant Complex for a while, that I could lift heavy items and move the elbow with no discomfort whatsoever. (And it's still humid)!
Then recently, I injured my calf muscles, tearing them harshly on a slide down the front steps. I could hardly walk from the bed to the bath, and was really distressed, thinking how long it would be before I could enjoy my outdoor walks again. (I like to walk about an hour each day). Well, I was absolutely astounded at how quickly those muscles recovered, noticing a major improvement virtually every day. I was back to my regular hour of walking in only a week. Guess those Nzymes® really help!
Lots of other issues are disappearing, too. Some of them I hadn't even been aware of until I noticed their absence. How wonderful it is to get out of bed in the morning feeling good! I had forgotten the joy of feeling physically young. Thank you for introducing us to this exceptional product!

More than just help for Joint and Muscle Soreness …
Update: Jan 25
One more addition for my personal testimonial: My hair had been getting thinner with age, with a distressing receding to my hairline. Anyway, I went to get my haircut the other day and realized that my hair is much thicker since I've been taking Nzymes® Antioxidant Complex for 6 months now. – Hooray!
Bea Leff – Hermitage, TN
PS: I have also had great success with Nzymes® Ox-E-Drops!
---
Product used in this Story