Problem:  Luxating Patella, or Floating Knee Cap
We were first introduced to the powerful, antioxidant formula found in Nzymes® when our dog, Tigger, began hobbling around the yard on three legs, at about 1 year of age. When we took him to the vet for his normal, annual check-up, we were told that he had a common condition for many small pets, Luxating Patella (floating knee cap). The vet gave us the option of surgery, offering NO GUARANTEES, and suggested that arthritis would most likely develop in later years.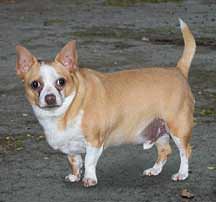 A little distressed and concerned, I mentioned it in passing while on a phone conversation with my dad. He immediately told me that I should start Tigger on Nzymes®. So I did. Within 2 weeks, Tigger's mobility was improving. By 3 weeks, the 3-legged hobbling was gone! It was amazing.
I know it was the Nzymes® when too, because after the first bottle ran out, I let him go without them. After about a month, the dreaded 3-legged hobbling came back! I immediately reordered, and within a week or so he was running and playing normally again. From that day till now, over 4 years, we have not missed a day of "Tigger's special treat" – Nzymes® Antioxidant Treats!
Since that time, Tigger has put on some pounds. He really began bulking up right after we had him neutered. He weighs in at 17 pounds, pretty good size for a Chihuahua. Even with the additional weight, he runs, plays ball, chases birds, squirrels, and rabbits, all with no hobbling, and plenty of energy. Another benefit has been his coat. It's soft and luxurious with very little shedding.
Tigger has become a wonderful part of our family. Everyone who gets to know him loves him – even the mail carrier! Nzymes® are a big reason he's such a happy healthy dog!
M. Stansbury – Louisville, KY
---
Products Recommended for Joint-Health Challenges in Dogs