Assumed "Allergies" had Kirra Down. Yeast Problem was Root Issue
Nzymes thanks Lisa for sharing Kirra's story with us. This great pic came in during our Summer Fun Photo Contest. So many pets these days are plagued with what appear to be "Allergy" symptoms – itching, scratching, chewing, biting, licking, darkened skin, odor, hair-loss. What's really at play is a yeast problem stemming from a breakdown of the natural beneficial bacterial flora of the gut. As always, it is critical to address these issues at the root level. That is what our Healthy Skin Program is designed to do. We are so happy that Kirra has returned to living a fun-filled life!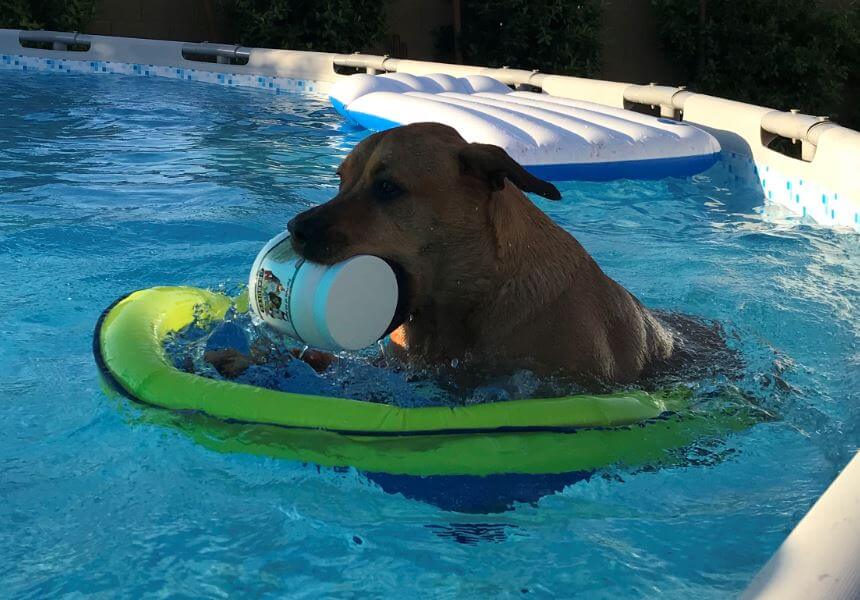 Kirra started having what we thought was allergies at 1 year old. We spent thousands of dollars on vet bills and medications including steroids and even Chinese herbs. We tried many different foods and still, she was miserable and hairless on her belly, inside of legs, her chest, and rear end.
We were about to give up and fork out the money for extensive allergy testing so we could help her….then we found Nzymes. 2.5 years later she is thriving with a thick beautiful coat. She even shed like a normal dog at the beginning of this summer which she had not before (we were both happy and sad about that lol).
She loves the water and because of Nzymes, she can now swim daily without any worries of hair loss. Itching, scratching and bald spots are a thing of the past. THANK YOU Nzymes!!
Lisa Madison
Arizona, USA