Once Paralyzed Dachshund is Riding Shotgun in Daddy's Rig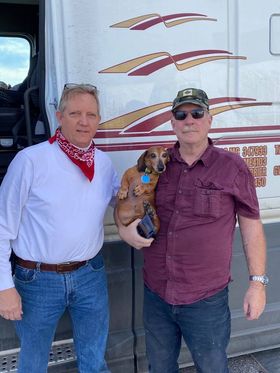 A Little Dog with a Big Heart
It has been nearly 5 years now since we first heard of Beanut's (Peanut's) case. When we heard that he would be passing through Las Vegas, we were thrilled to know he would be stopping in for a visit.
He has a new job as the co-pilot on a Big-Rig now. His primary duty is to keep Marcel company as they travel the highways & byways of the US and Canada.
Beanut's Back Story
Like so many other Dachshunds, he had developed problems with the discs in his back which had left him immobile. His original owner in London, Ontario was a new mother and was unable to devote the time it would take to rehabilitate him on her own.
After seeing posts on Facebook, she reached out to our own Brenda Johnson in Winnipeg. The two of them hit it off and Brenda made arrangements to Transport Peanut to her own home in Manitoba. In December of 2015, He arrived at their house. Canadian Broadcasting ran his story on TV (Link)
Beanut the Pioneer
By this time, Brenda had already gained experience by working with 100's of other paralysis cases throughout Canada and the US. She developed her own Feed Program for Paralysis cases, starting with the Nzymes Granules at the core, then adding other essential nutrients to support natural recovery. Beanut was the first to follow this full regimen.
Great Progress
Within 2 months, Beanut had gone from dragging his rear legs to using his rear legs to propel himself. His progress was so remarkable that Canadian Broadcasting came back and did a second interview for their viewers.
Beanut's progress has led to many others following this simple regimen. His case serves to underscore the importance of nutrition and in proper supplementation to bring about real change. (Link to Beanut's Story)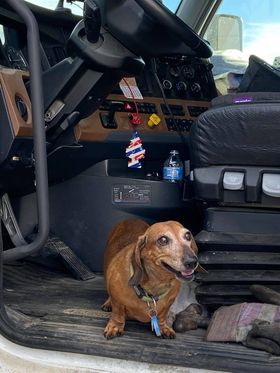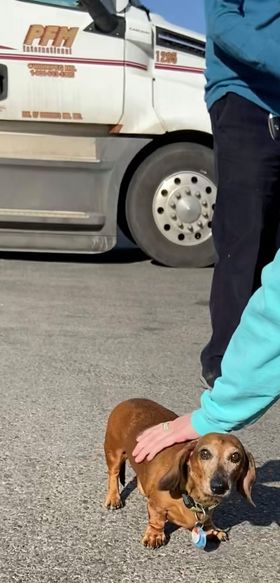 Now He's Cruising the Open Road
Every day, we speak with customers all across the US, Canada, and even overseas. In consulting with them, we get to know all about their pets and the issues they are dealing with. Unless they are local, it is quite rare to actually meet them in person. We have been following Beanut's progress for 5 years now, so to have him stop by from so far away was quite a treat.
Upon meeting Beanut for the first time, I could tell you that he is not shy guy at all, and felt right at home with our crew here at Nzymes. He strolled around the loading dock area for a time, then right up the ramp, and into the building to say hello.
Once inside, he went to work! He made his rounds around all the racks and pallets. Being that he uses just about all the Nzymes products, I'm sure there were many familiar scents for him to sniff out.
We couldn't let him go away empty-handed, so we were sure he got his Christmas present a little early.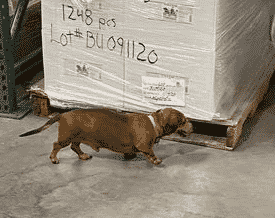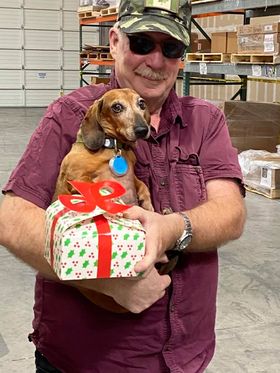 How did Beanut end up in Vegas?

 
When Beanut arrived to me in 2015, he made the trip from London, ON with Bison Transport to Winnipeg, MB. That, began his love for traveling and semis(tractor-trailers). 
Alongside his new found friend driver Darrin, they spent many days together, arriving in Winnipeg being the best of friends.  We continued our friendship with Darrin, and every time Darrin would pull up in front of our house in his semi, Beanut would bop up and down with excitement.  He knew that sound, and he knew what that meant. We always felt bad when he couldn't go with back with on the road. We knew he yearned for that.  
In April of this year, our good friend Marcel,  lost his two Dacshund boys Desmond and Ziggy, 4 days apart. I know how immensely he loved his boys, and how they adored him.  It was a big hole for him, and he no longer had his travel companions.  Yes, Marcel is a trucker! I didn't even have to think twice when the idea was mentioned. Of course Beanut could go with on the next trip, and two days later, off they went.  
We decided to do a trial run and see how things would go, and that trial run became permanent.  We all knew within days, that those two boys were not going to separated. Beanut, loves sitting in his jump seat position and watching his dad drive.  He is the happiest dog doing what he loves.  He adores Marcel just as Desmond and Ziggy did. 
Today, was a very special day for me knowing that Beanut and Marcel were going to be at Nzymes in Las Vegas.  I eagerly awaited news of their arrival, reflecting on how it all came to be, and how Beanut, was now going to be running around at Nzymes! It is a really neat story when you begin to put it all together, and it wouldn't have happened had Beanut not originally came to me on a semi with Darrin all those years ago. I would never have known how he loved being in that jump seat and how happy he was to be exactly where he is at this very moment.  
Beanut's previous owner believed and trusted in me to take him, rehabilitate him, and give him the best life, always do good by him, no matter what.  I promised her that I would. I just had no idea how things might've possibly worked out. He came to me to walk, and instead he got to run, all over Canada and the USA, truly happy.  I wouldn't change a thing.  
Everything happens for a reason. Don't Stop Believing!!!