What Can be Done – to Help Your Dog with Viral Challenges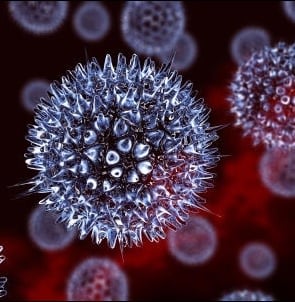 Viral infection is the fundamental cause of many ailments or illnesses, such as flu or colds, or more serious issues (in humans) like the example Herpes virus seen to the left. And, getting help to a body dealing with viral challenges has been a tough call, even for big pharma firms. Perhaps one day, man will make great headway in the realm of dealing with virus issues. In the mean time, it's left up to what can be done to assist or strengthen the body's own immune capabilities.
Though such infections – and related illness – are quite common, detection of an actual virus is relatively difficult. This makes the subject a rather complex one. Secondly, your doctor or vet is not likely able to prescribe any pharmaceutical where viral infection is suspected. This may factor in to how doctors or vets tend to put more focus on betting that bacterial infection is the more likely culprit when infections are observed, except where obvious cold or flu seem to be involved.
Such focus, 'diagnosis' or assumption may be a factor in the modern day argument over the overuse of antibiotics – mainly because it is widely accepted that most common illnesses – such as flu, colds, and general sickness – are likely caused by viral infection.
We expect you to find that the product listed below may be very helpful with this sort of illness, as it has also shown to have considerable effectiveness against a wide variety of bacterial and fungal issues. Research would show you that the main basic ingredients are used in water purification methods in Europe. And, of course, with Nzymes® your purchase is always covered by a 120-Day Satisfaction Guarantee; so, you have little risk in giving such products a try.  Give it TIME, you just may be surprised – as is the normal case for folks trying Nzymes® products the first time.
Also, telephone help is our specialty, so don't hesitate to call during normal business hours should you care to discuss your situation with helpful staff. This is one Service Oriented Company where you can actually get someone on the phone.
---
Products Recommended to Assist the Body with Such Infection Issues