Jack's Challenges:  Seizures or Convulsive fits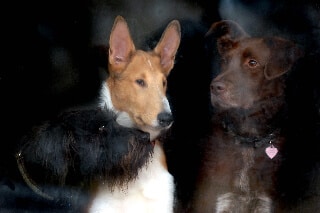 Seizure concerns started early for Jack
Jack, our smooth coated Collie, was 3 months old when he had his first seizure with us. I took him to the vet and they did some blood tests to rule out liver or other problems that could show up in his blood. The vet was happy to inform me that Jack's blood work looked good. However, she was very concerned that Jack was having convulsions at such a young age. She feared there might be some neurological defect.
I was at a loss at what to do.
Seizure episodes and after-effects
Jack's seizures lasted around 3 minutes and he was having them at least 1-2 times per week. The after effects of the fits would exhaust Jack for the next 24 hours. He also seemed confused for at least 2 hours after the fit; pacing and whining non-stop.
Collie group recommended putting Jack down
I contacted a rescue for collies and asked if they had any experience with collies and fits. The replies I got were so heartbreaking I was almost shocked. One rescue told me that it was best to take Jack to the vet and hold his paw and help him pass over the bridge. They said there was no good outcome and it was just a matter of time that I would have to put Jack down.
Searching "Seizure Concerns in Collies" led me to Nzymes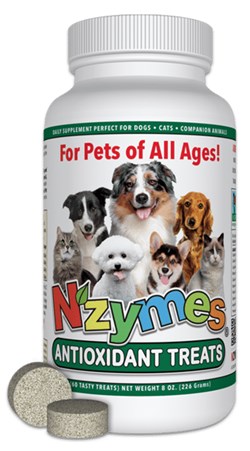 Well after this, I found the Nzymes® web site and read the stories very carefully. The reviews were superior so I had to try some.
Seeing Results in the First Month
Jack has been on Nzymes® Antioxidant Treats now for one month. Jack has NOT had an episode since he took his first Nzymes® Treat. I am so thankful for this. Jack has also seemed to acquire a renewed energy and happiness about him. He seems more alert and happy and playful and full of energy.
Using Nzymes for my Pack
I have 3 other dogs. One is almost 13 years old in April. She is a cancer survivor, who is allergy ridden with stiffness, and many other problems that come with her age.
I am looking into using the Nzymes® Healthy-Skin Kit for her problems which I now understand could be immune health issues. I have all the faith that she will have a positive turn around in the next than 2-3 months. I'm so grateful for Nzymes® for helping my pack members have a better life and in turn, I am happier. I care so much for my pets and spend a lot of money on them for their proper care. To put my pets in the care of Nzymes® seems only natural; because it is!
Thank you for your products.
Krista Sumlin – Charlotte, NC
---
Got Seizure Concerns of your own? Consider Nzymes