Challenges:  Feline Hepatitis-C, Weight Loss
I moved from Vancouver, Washington to Phoenix AZ. I left my two cats up there with my other daughter. However, she decided to move into a house with a fenced yard. Unknown to me, she left the two cats in the apartment that she moved out of for two weeks. She took good care of them and spent time with them until I could fly up there to get them. When I arrived, they seemed to be in good health and happy to see me. The next morning, we boarded the airplane and flew home. I decided not to tranquilize them because I was told by the airline's personnel that it could kill them.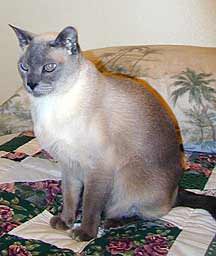 After arriving in Phoenix, Mouser, my other cat, didn't have any trouble eating at all. Lobo eventually ate and seemed to be fine with it until two weeks later. I noticed he started losing weight and wasn't eating or drinking. I took him to the veterinarian; they felt he had Hepatitis C or something similar. They told me the cost of the treatment would be almost $1000.00 dollars to treat him, which I really could (not) consider at that time. I decided not treat, and I took him home.
My daughter Marla got on the Internet and started looking for something that might help. She found information about using Nzymes® products and that they may help. So we purchased Nzymes® Antioxidant Treats, Ox-E-Drops and Tincture of BlackLeaf.
We started treating Lobo and two weeks later, he was eating and drinking on his own. My cat almost died, but now, Lobo has gained most of his weight back and he is doing fine.
Barbara Thacker – Phoenix, AZ
---
Products Recommended with Feline Hepatitis Challenges