Problems: Itchy Skin and Too Much Shedding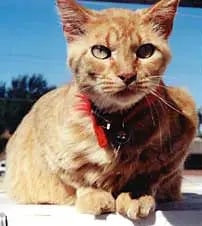 Linus is a yellow tabby cat, approximately 8 years old. He was my father's cat until about 4 years ago. My dad didn't care for the way Linus roamed the neighborhood so they had the vet neuter him. This is when the problems truly began. Soon after the surgery, Linus started losing his hair and shedding constantly. It was a problem my father couldn't deal with so I told him that I would take him. He really was a nice cat.
The shedding continued with us plus he had some skin problems, which always became worse in the summertime. Our veterinarian gave him prednisone shots, which seemed to ease his suffering at times, but we were concerned about the side effects to his internal organs.
In the Spring, I ordered some Nzymes® Granules and started giving them to Linus. Since we began using Nzymes® Granules we no longer need to give him shots and the hair loss problem is totally under control. You can see by his photo that he is doing just fine.
Rosco Campbell – Alva, OK
---
Nutritional Support Recommended for Cat Shedding & Minor Skin Issues