The Science Behind the Results
Clearing up Misunderstandings
We are happy to be celebrating our 22nd year of operations! In that time we have gotten to know so many people and their pets. We have interacted by phone, e-mail and even thru social media. Through all these years, we have done our best to be transparent and straight-forward.
Sometimes, however, people may misunderstand our mission of "Natural Products, Real Results". They often speak in terms of "medicine", "treatments", "cures", "dosages", etc, none of which really apply to us since our products are Nutritional, not Medicinal. But that's OK, we understand that for the most part, they have already had a long history with vets or other health-care providers and these are terms that they are used to using.
The Veterinary World
We are often asked, "Why doesn't my Vet know about this?" We generally explain that for the most part, vets are trained in Prescriptions and Procedures, not in natural therapies. Like Western Medicine, their training follows an instructional core with little deviation. In today's world, busy veterinarians often don't have the luxury of time to investigate every new thing that comes their way. That is the simple reality.
Sometimes, that may lead to an "Us vs. Them" perception, as though we are at odds with the veterinary world. That is just not the case. We see our role as helping to strengthen the body from the ground up, by providing elements to the diet that make a genuine difference. This is why we speak of Real Results. Because at the end of the day, this is why people have come to us in the first place.
Nzymes Antioxidants: Results You Can See
A Dog-Show Vet Questions Nzymes Results
"Have you done a double-blind placebo study on them?" These were the first words I had heard from the mouth of a vet regarding Nzymes. At that moment, I was at a loss for words.
It was October of 2000. The event was the Great Dane National Dog Show in Kansas City. I met the Show Veterinarian by chance in the restroom. I had introduced myself, told him briefly about the Nzymes and how they have helped many pets, and that he should stop by our booth for more info. Surely a veterinarian like himself would want to know everything he could on natural help for pets, right?
His question jumped into the world of what was familiar to him – the clinical. One imagines test labs, where results of the red pill are tabulated against the results of the blue pill. Results are narrowed down until at last, a new pharmaceutical is released.
Dietary supplements are different. Their purpose is to provide elements that are missing from the diet. As such, they may have a wider effect on health and well being than a single, targeted pharmaceutical. A person can judge for himself whether or not there has been an improvement, and whether they are happy with the results.
Although his question was somewhat dismissive, I played it off and invited him to come by our booth for that information.
I was new to Dog Shows, but Not to Nzymes
It may have been my first ever experience working a product booth at an event like this, but I already had ample experience with this amazing product line. I had witnessed the difference on my mother's Lhasa Apso, who before Nzymes, had great troubles getting up and down the steps to go outside, and was really slowing down. In a week's time, she was able to run in and out, and even to stand up on her hind legs! I had seen the change in my own dog, Tigger, with his hobbling due to a luxating patella. Before Nzymes, he hopped on 3 legs. In a couple of weeks, he was chasing squirrels and loving life. And of course, there were dozens of similar stories passed on from our customers.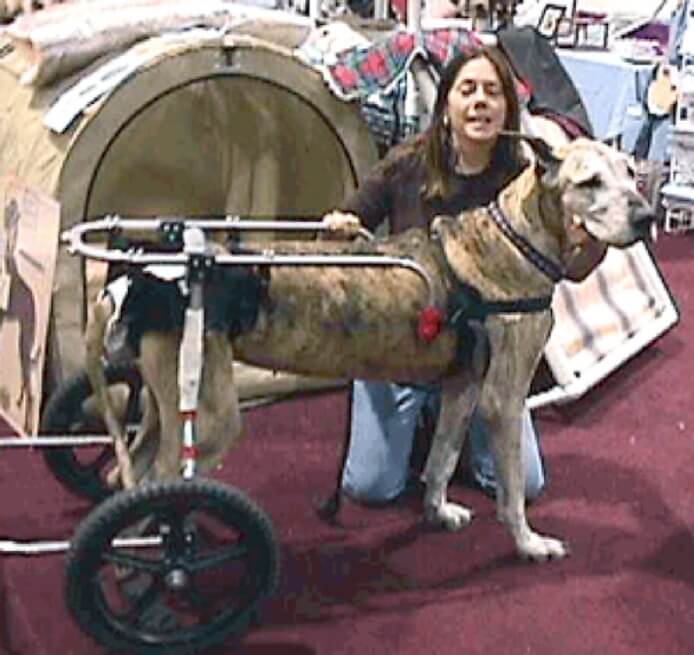 Then We Got to Meet Jasmine
At the show, we had met Linda Dalton out of Michigan. Her senior Great Dane had developed a form of paralysis causing her back feet to knuckle under prior to the show. Her rear legs were nearly lifeless. She had ordered the Nzymes the same day she had ordered a "wheelchair" for her, and they both arrived around the same time. At first, Jasmine used the cart to pull herself along, dragging her rear paws on the ground. In a few days on Nzymes, things started to change. Her tail began to twitch, and she started going thru the motions of ambling with her rear legs. Each day, she grew stronger and used her legs more and more.