Celebrating our 20th Year Helping Pets and Their People
We are so happy and proud to be here in 2018 and beginning our 20th year of operations. What began as a concept in 1999 at the dawn of the internet age has grown into a strong and stable presence in the pet world. In that time we've gotten to know many of our customers and have had a wide impact on pets all over the world. As people shared their pictures and their pet's history in our recent photo contest, it became very clear to me that Nzymes products are changing lives. It is truly humbling to be a part of the Nzymes movement every single day.
As I sat here thinking back to those early days, I was reminded of one of our earliest successes: a Great Dane puppy named Rosie. Stan and I met Rosie's "mom", Kathy Frederick, at the Great Dane National Specialty in Kansas City, MO, in October 2000. She was campaigning her dogs at the show and had a litter of pups along with her. Rosie was the smallest and frailest of the litter, and it was clear Rosie had a real problem.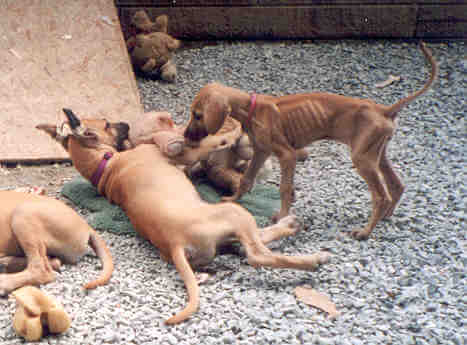 Ingesting Insulation is NO Fun!
Rosie had gotten into some pink fiberglass insulation and as a result, had to have part of her intestines surgically removed. Post-surgery, she had no appetite, and she was skin-and-bones from not being able to eat. She was a fraction of the size of her littermates, and it was clear she was in real trouble.
Kathy stopped by our booth, lamenting to us that she may not make it. Just at that moment, Stan came out of the booth with an Nzymes Treat in his hand and offered it to Rosie. She ate it right up! Kathy burst into tears of laughter; overjoyed and incredulous! For the next few days all Rosie would eat were the Nzymes Treats, but soon her full appetite returned, and she grew into a healthy adult.
Fast-forward a couple of years, Stan and I ran into Kathy and Rosie again at the Kentuckiana Cluster All-Breed Show in Louisville in March 2003. What an amazing Change! Rosie had matured into a stunning "Fawn" Great Dane. Too small to compete for her Breed Standard, Kathy instead entered her into Obedience! Once again, she stopped by our booth for a pic to show us how healthy she had become. Considering her once malnourished condition and then seeing her as a healthy adult left a lasting impression that we still remember after all these years.
So Many Memories, Looking Forward to Making More
In these 20 years, we have faced many challenges in our business. One of the greatest motivating forces that drive us to reach more people every single day are the stories that we get back from our customers. These stories are compelling because they involve real people and their pets! We love to hear what an incredible difference our products make as they change lives and we want to share these stories with you! Stories come in every day, and we do our best to get them posted on our site or sent out via email to help inspire you with our message of hope!
Have you heard this expression? "The more things change, the more they stay the same." Well, here we are almost 20 years later, and though the times have changed, there are three things that never do:
1. The Needs in pets haven't changed.
2. Our Products haven't changed.
3. The Results haven't changed.
Our Ongoing Pledge
Our commitment to helping our customers find the best natural answers for their issues is as strong as ever! The goal is to deliver the best possible products and superior customer service. When you call us, you are speaking with trained representatives of Nyzmes who have a working knowledge of Nyzmes products and have helped thousands of customers find the right solution for their challenges.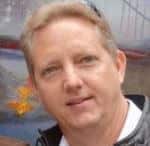 Nzymes.com is a family-owned business. We are not Amazon, Chewy, Zappos, or any such corporate giant. Like you, we pull our pants on one leg at a time each day. Our business model certainly isn't new or unique, but it has worked well for us: provide excellent products and excellent service and let the customer experience the amazing results for themselves!
We thank you for your continued support and loyalty!
Mike Stansbury | Director of Operations
---
Nzymes Antioxidant Treats made the Difference for Rosie