Story of Yoshie: Overcoming Symptoms Attributed to 'Dog Allergies'
---
Story Provided, December 4, 2013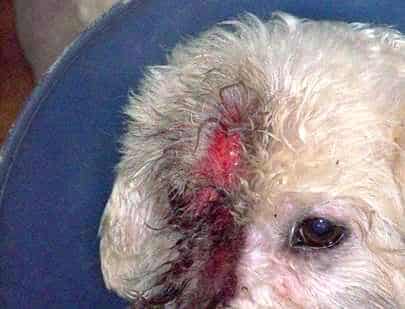 "Yoshie's Magic Elixirs"
We rescued Yoshie, our beloved Bichon Frise, 8 years ago. The people who we got him from wanted to get an Australian Dingo (yes a wild dog from Australia, similar to our coyotes), and poor Yoshie was within hours of being taken to a kill shelter. He has given us years of love and sweetness that we cherish.
However, Yoshie has always had a problem with allergies, and as he aged, the symptoms seemed to be much more prominent. Just one little flea on his skin, any flea and tick preventative, one meal of poor quality dog food, and or treat, and of course hundreds of outdoor triggers and this poor dog suffers terribly.
We live by a river with lots of oak, maple, dogwood, and locust trees plus thousands of weeds and Yoshie is given to rub, run, and romp on just like his big foster brothers and sisters which can have him scratching, chewing, and bleeding again. His ears get filled with thick dark brown gunk that would have him twisting and scratching. His skin gets raw and red, and his eyes just cloud up and drain thick brown discharge.
We took him to the vet so many times they knew exactly what to prescribe and the dosages as we walked through the door. My bathroom was filled with potions and medicines that would merely treat the symptoms, but never resolve the problem that caused so much suffering for this poor guy. He lived on children's Benadryl and mounds of medications until they pretty much just stopped working. The money that was spent on reoccurring visits and medications was unbelievable.
I then was told about Nzymes® through my groomer and owner of a Pet Boutique where I buy my food from. I called Nzymes® and talked to Connie, who through her great knowledge and caring patience got me through all my worries and fears. They sent out the complete Nzymes® "Healthy Skin Program" products, and literally within days, the improvement was amazing.
I also bought the recommended food and treats for Yoshie and had him started on those even before the Nzymes® products arrived. Not even with the veterinary medicines did I see such an improvement so quickly. I ordered the recommended shampoos and bathed Yoshie as the program instructs.
As the pictures show (slideshow), Yoshie responded so beautifully and amazingly that my husband and I call it "Yoshie's Magic Elixirs".
Nzymes® is an amazing product line that simply balances the natural digestive tract, and can take a yeasty and allergy engulfed animal and have them on their way back to total health. Yoshie will always be on Nzymes® simply because his damaged system is subject to so many allergies and sensitivities, but it is so worth it to us.
There is NOTHING like this product that I have seen ever work so completely and naturally, and with Nzymes® knowledgeable staff, and the products guarantee, this will be the last product you will ever need!
THANK YOU!
Cheryl Bricks, IL
---
June 8, 2014 UPDATE
Just want to let you know Yoshie is still doing so very well but is in need of more of his body saving Nzymes® please. It is truly a marvel at how this helps him.
I want to share a bit of another testimony. We had to put our 13-year-old golden retriever down last summer, a very painful experience as I am sure you know.
Well, our 12-year-old golden-mix dog really got depressed, and he was aging physically very fast. In January, I started giving him some of Yoshie's Nzymes® hoping that it might be of some help, and dog-gone-it (excuse the pun), if a golf ball sized soft mass bump on his underside, didn't shrink to about half of the size it has been for about 5 years. It was amazing to see the shrinkage of it in just 6 months. My husband declared that if we noticed that, then what else are the Nzymes® helping inside our aging dog that we can't notice! I have recommended your products so many times, but now I have to say with renewed enthusiasm!
Thanks so very much for your help, and for this incredible product!
With Sincere Appreciation,
Cheryl Bricks
NOTE:  Yoshie belongs to our Special collection of 'yeasty dog stories'
---
Product Kit Used to Reverse Issues Blamed on "Allergies"