This German Shepherd needed help for Dysplasia, Found Nzymes
We would like to thank Christine for sharing Yarrow's story with us during our Summer Fun Photo Contest. Like so many others, we not only received beautiful pics, but also the amazing story behind the pics. We hope you enjoy her story.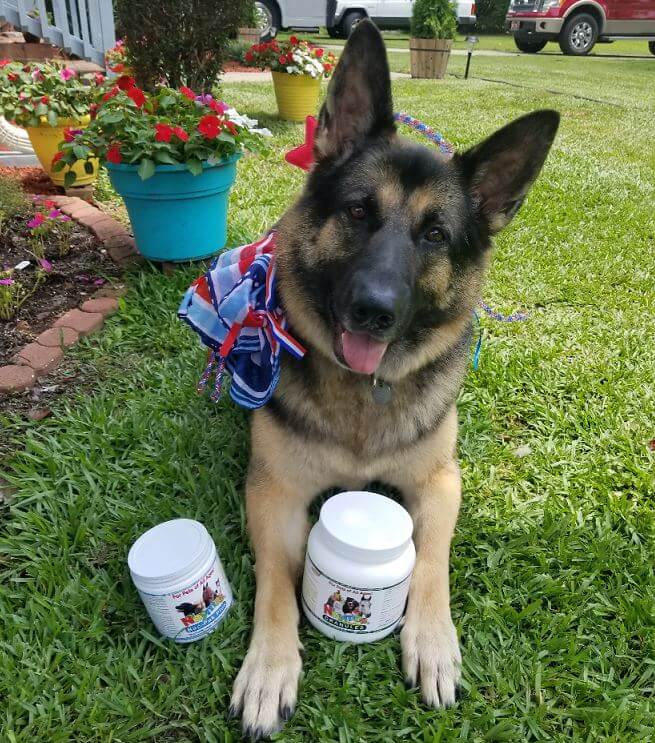 Yarrow's problem with limping the fall of 2016. At first, we thought she had been playing too much frisbee. It came and went. But it came again and stayed. It was her right front elbow. In Feb. 2017 she went to a specialist and had a floating bone removed. Whew dodged that.
Oh no, more limping on the hind end in August. You know that feeling that you get when you just know there is something is really wrong. We took her to the vet had x-rays done. Both hips have dysplasia. The usual speech. Watch her weight, pain pills, and if she can go swimming that would help. No problem, we were planning on an above ground pool, but I wanted results now.
Steve drove the truck, I Googled "alternative treatment for hip dysplasia in GSDs". Up popped Nzymes.COM. I read as much as I could in 20 minutes and ordered Nzymes Granules. 2 days later they arrived. I doubled the dose. Within two weeks I looked really hard in my girl's eyes, studied her gait, and took her off of her pain pills. Not any sign of discomfort no limping all!
Results Speak for Themselves
If I hadn't witnessed this my own eyes, I would say hogwash. As time has gone by, which has been 10 months now, she looks awesome. She has her beautiful GERMAN SHEPHERD trot and shiny coat, clear eyes. I don't understand how this all works, but I know it does! I tell people about it all the time on FB when they post about dysplasia. Some listen and some don't. It's to their dog's detriment that they ignore the information.
I also have started feeding raw, I am tired of not knowing what is really in the food.
Christine Stewart
North Carolina, USA
 Recommended for Dysplasia