Abbey's Issues:  Joint Pain, Possible Affected Nerve
Abbey is my 11-year-old Siberian Husky. About a couple months ago, I noticed Abbey's back leg was shaking. I kept an eye on it for a couple weeks but she seemed to get worse and I noticed that she wasn't wanting to use the back stairs or wasn't jumping on the couch, a place she loved to be when I wasn't home.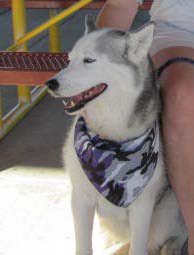 I took my Abbey to the Vet and they said she clearly had some joint pain and the jerking was probably the cause of something pressing on a nerve. They recommended steroids. I'm not one to take a lot of medications and I really didn't want to give Abbey anything that could and probably would cause her other health issues down the line. So my search began for something natural.
Near the end of June, I came across the Nzymes.COM website and, after reading some of the stories, decided to give it a try. Within a few days, Abbey was back to doing her happy scoot and turns when I came home. She was starting to use the back stairs again.
A girlfriend of mine, who had seen Abbey before we started her on the Nzymes® Antioxidant Treats came over and couldn't believe the difference in her. This was within a week of starting. Abbey was excited to have visitors again. 
Personally, I was thinking it was just wishful thinking on my part that she was doing so well, but my friend confirmed it; Abbey was doing much better. It has been just over a month of taking Nzymes®, and I am happy to report that Abbey is back to her old self. She is using the back stairs without any problems and she is much more energetic.
There hadn't been any re-occurrence of the jerking motion after beginning the Nzymes® and I noticed today that her legs aren't shaking anymore. I am so glad I found this site and have recommended it to many of my friends, and my friend has also done the same. Thank you for such a fabulous product. And if Abbey could speak human she would thank you too!
Thanks again for a wonderful product. We are both enjoying the benefits.
Sincerely,
N. Sallinen & Abbey – WI