Problems: Joint Pain, Arthritis, Stiff Joints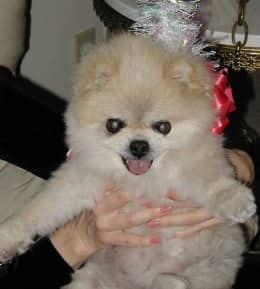 Sushi is my 11-year-old Pomeranian. Due to her high-breeding, she has had problems with walking correctly her whole life, apparently due to stiff joints or annoying joint pain. As she aged her condition got progressively worse. A few years back, she developed severe arthritis in her front shoulders and legs causing her to have a stiff almost a peg-legged walk.
A friend told me about Nzymes® Antioxidant Treats and how it had helped her dog's arthritis in such a short time. I ordered some and within just a couple of weeks, Sushi was able to get around much easier. After about a month there was a significant improvement in her mobility along with her spirits and overall health. Additionally, I noticed that her coat had improved and that the amount she sheds has reduced quite a bit.
The great thing about Nzymes® (Antioxidant Treats) is that to Sushi they are "treats". The minute I pick up the bottle and shake it, she comes immediately. I truly feel that I owe my dog's good health to Nzymes®.
S. Griffiths – Tustin, CA