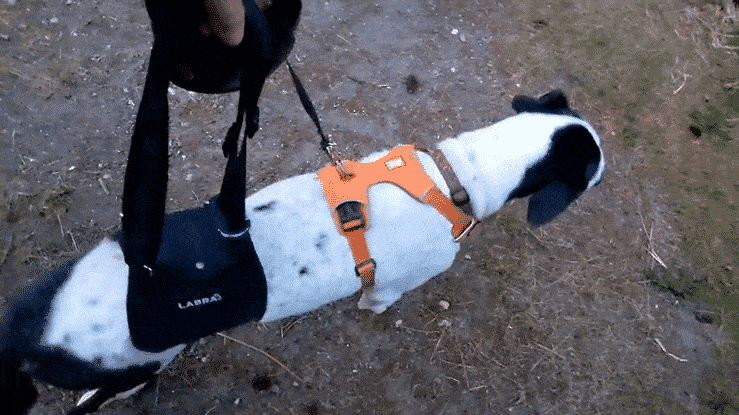 Sunna – Serious Spinal Health Challenges

On Mother's Day, May 9, 2021, Sunna started having trouble walking, stumbling on steps, and wobbling. She got steadily worse, losing control of her hind legs.
We saw the Vet, and x-rays showed a severe spinal health condition, with likely nerve impairment. Our Vet prescribed medications and suggested possible euthanasia for Sunna.
We Found Help While Searching the Internet
I was shocked, I've had Sunna since she was four months old, and she has always been super active, high-energy, and happy. I began searching the internet for severe spinal health support. I found the site NZYMES.COM and followed the links. The site sounded good, and Nzymes natural nutritional approach impressed me as do the Videos (Recovery Stories), but I was (of course) skeptical. I ordered the Antioxidant Treats on May 17, 2021.

Nzymes Antioxidant Treats Arrived – May 20
May 20, I didn't want to waste a day supporting her severe spinal health. I started her on six Nzymes Antioxidant Treats per day (a triple usage amount). At this point, Sunna could not stand or walk on her own. I used a sling to help raise her hind legs to allow her to avoid her dragging her toes and tangling her legs. Also, she wasn't drinking much water, so I had to hand-feed water into her mouth. It seemed hopeless!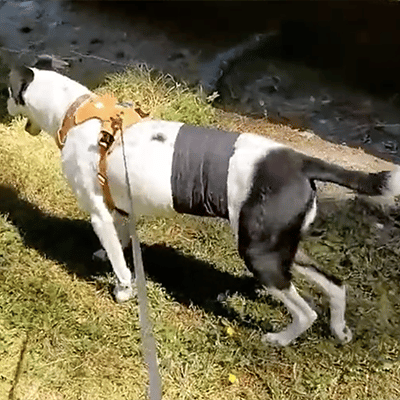 Finally, Started to See Changes in Her Movement
Initially, I began with (2) TREATS pet day. However, on day five we upped it to 4 Treats daily because there was not much change. Sunna was still getting worse. On Day seven, I finally started to see changes in her movement:
She was more alert and walking better with my help. We saw the Vet that day, and again she said the prognosis was not good, recommended euthanasia, and said the only thing we could try was steroids.
Sunna's Spinal Health History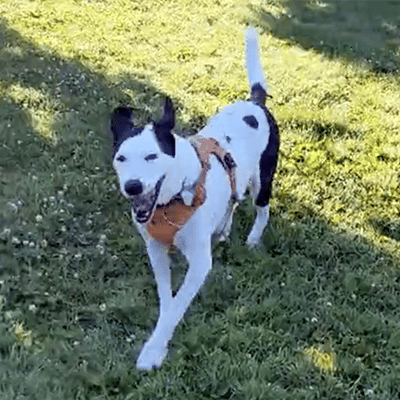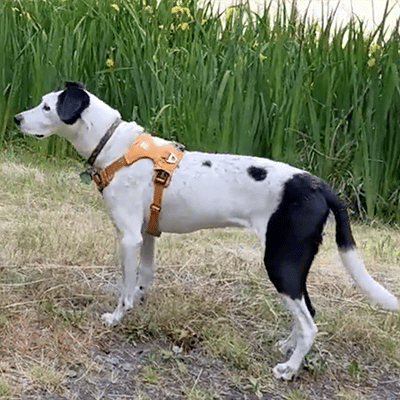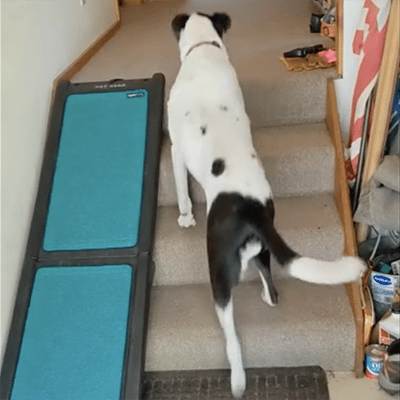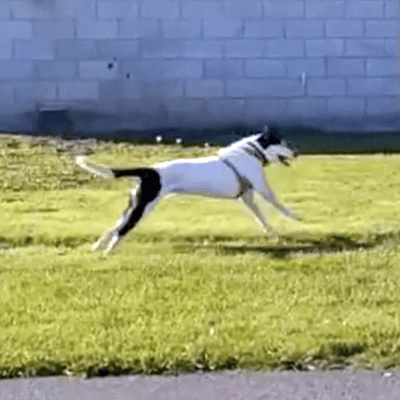 On day eight, she showed more energy and walked a little better. On Day nine, she sat in the yard and watched while I was working. Suddenly she got up and ran out of the yard, down the driveway, and the road for about 150 feet. She was galloping! I couldn't believe it! 
Since then, I've let her walk more on her own. I let her off the leash in our yard, so there would be no more runs down the road! She is still shaky and needs our help getting up. But she is dragging her feet less and is walking a much greater distance without assistance. 
Today, Day 11, I figured the NZYMES® might support her body with the steroids to reduce the inflammation. I can hardly believe the miracle I am witnessing. I'm so hopeful for the future!
Follow up From Sunna's Mom
---
Sunna continues to get stronger and happier after this spinal health ordeal. I would say the pace of change is slower, but her progress seems steady. When my RV friends see her after a month, they all comment on how much better she seems. They've seen her every month since May or June. I've taken a few videos where she is running and chasing a ball, one of her favorite activities.
I have increased her use of the GRANULES to almost two teaspoons twice a day. Her consumption, however, is erratic, and she doesn't always eat her whole serving of food. When she doesn't eat most of a meal, I supplement her with an Antioxidant Treat, plus always another Treat at bedtime. I've been testing different food products trying to improve the quality, and giving her foods she is likely to eat with enthusiasm.
Personal Version of Sunna's Story
September 2021, Hiking: We started hiking up the hill behind my property in September. It's pretty steep, and the loop trail takes over an hour. I started slowly and watched Sunna for signs of pain or discomfort that day and the day afterward. Luckily we didn't see any issues. 
We walked these trails together since she was a puppy, and Sunna loves it! We make the loop several times a week. We average about 2 miles daily, 3 or 4 on hiking days. I do this for both of us, and it helps her build strength, plus, it's good for me too!
October RV Camping: October 6 – Sunna had a full blood panel done at the Vet's (annual checkup). Her Vet called to say that her results were PERFECT, and there was nothing that needed attention! 
She previously had indications of enlarged heart health in 2019 and 2020, but now that was GONE! Our Vet asked if we had changed her diet. Yes, I have tried to improve the quality of her food, AND she's been taking Nzymes Antioxidants for almost six months now.
October 26, 2021: We've been busy—several camping trips in my R-Pod trailer. By October 26, she didn't need a ramp to get into the trailer. And she goes up and down stairs in the house with ease. She has been steadily progressing. Her gait is smoother (see near the end of the video), she runs much more often, and her spirit is alive and well. I know that because she's been getting her toys out of the basket, something she had not done for a long time. And she still loves to chase her ball. I don't throw it as far as I used to, but again, her spirit shows. 
She has been climbing up into her favorite chair more frequently, and on October 25, she was able to jump up onto my bed!! I gave her a boost at the end, but she did most of the work!
Thank you, Nzymes, Ann Palmer – Lopez Island, WA
---
Nutritional Support Used with Sunna's Recovery