Meet Biscut, First Dog to Use Nzymes Antioxidant Treats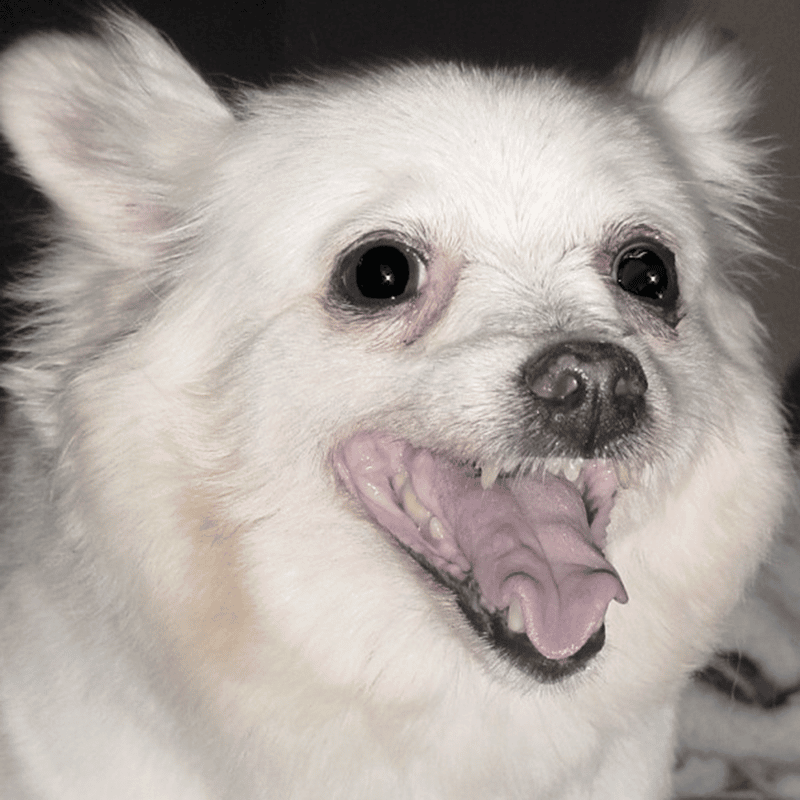 The Little Dog Who Started It All
Biscut was a lively and adorable dog remembered fondly by all of us in the Nzymes family. She belonged to our (VP), Stan, and his brother, Thomas Stansbury (CEO), who started the company almost 23 years ago.
Biscut was Saved at the Last Minute.
In 1992, while living in Hawaii, Stan rescued little Biscut from the Animal Shelter at four years old. She was scheduled to be put to sleep the next day. He couldn't resist the little Japanese Spitz who danced on her back legs, begging for a dog biscuit, so he named her Biscut and decided to take her home. She was lively, energetic, and beautiful.
Stan Decided that Biscut would Not Be Euthanized.
He adopted her right after discovering that Biscut would be Euthanized the next day. Like all new dogs arriving in Hawaii, she had just spent four months in Hawaii's shelters, but no one had come back to claim her.
Biscut was she was now at the "life decision point" as Hawaii only has limited space. Hawaii's shelter facilities were hot and humid open environments, but she looked like she was doing well. Before leaving, like all dogs there, she was required to be re-vaccinated and spayed before leaving the shelter. Therefore, Stan would pick her up the next day.
When they brought her home, we knew months of nutrient depletion would need to be addressed. Sadly, her homecoming day was interrupted because living in an animal shelter deprived her of the nutrients her body needed to support a healthy life. Nutrient depletion can leave any animal in poor overall health, exhausted, and listless at times. She would need to get her nutrient levels back up to support overall health and vitality and her neurological health. 
Once again, Stan took Biscut home – determined to search for a better option, but he was beside himself as Biscut continued to have short-term bouts of fatigue. He said, "I would hold her, stroke her neck during her fits, and talk to her to let her know she was safe with someone. I believe this helped her greatly; however, it always pained me to see her appearing so tired."
They Moved from Hawaii to California
In 1993, Thomas moved back to California and was hired as the General Manager to reorganize and manage a young health food company in southern California. A year later, Thomas asked Stan to join him as a consultant to help create the company's new marketing, website, and graphics.
Years passed, and Stan was learning more about nutrition. He started thinking more about the pet food he was feeding Biscut and if it might contribute to her events. After a bit of studying, he realized Biscut wasn't receiving good nutrition; she was getting several problematic ingredients in her food every day.
Too Many Problematic Ingredients in Her Food
Beef or Chicken by-products: 

Slaughterhouse waste. i.e., After all the prime cuts and leftovers of slaughtered animals have all been removed, excluding hair, horns, teeth, and hooves, it still includes heads, ovaries, or developing fetuses.

High Fructose Corn Syrup: 

A corn-based sugar mixture commonly used to make soft drinks, cookies, and candy. Sugar is an empty nutrient and a significant source of inflammation in the body. It is just as unhealthy for dogs as it is for humans.

Wheat Flour: 

is a highly refined product of wheat milling. Like corn, wheat is a primary source of sugar, an inexpensive and controversial cereal grain of only modest nutritional value to a dog. For this reason, we do not consider wheat a preferred component in any dog food.

Corn Syrup: 

Corn syrup is a glucose-rich, high-calorie item of questionable nutritional value to a dog. And it's a source of inflammation in the body.

Added Color: Yellow Dye 6, Red Dye 40, Yellow Dye 5

: Today, it's not good to find artificial coloring in any pet food. Food colorings make pet food more appealing to humans, not your dog! After all, dogs are color blind, aren't they?

Menadione Sodium Bisulfite Complex 

(Vitamin K):

 

Menadione is a controversial form of vitamin K linked to liver toxicity, allergies, and the abnormal breakdown of red blood cells.

Ethoxyquin 

(a food preservative)

: 

A controversial preservative linked to the accumulation of hemoglobin pigment in the liver and elevated hepatic enzymes in the blood.
Biscut was Started on More Nutritious Food Right Away.
After learning this, Stan realized Biscut wasn't getting quality nutrition. He immediately changed her pet foods, and the fits became less lengthy and frequent. She was experiencing more energy and vitality as the months went on. The progress was significant, and it got his wheels turning. What else could he provide to help more?
In 1997 the Concept of The Antioxidant Treats Was Born
By this time, Thomas had finished his management contract, and Stan had returned to doing marketing consulting jobs. Thomas had acquired the exclusive rights to a powerful protein formula during his time there. He felt this would be the perfect nutritional support for Biscut and her episodes. Besides that, they could also market this superfood for people and their pets. So, to start up, they discussed developing a healthy treat or cookie for pets that contained the LIVE Superfood Protein and Antioxidant enzymes, Vitamins, Minerals, and Defatted Liver. These were powerful and key ingredients lacking in most diets. 
The Biopet Company was Born
This idea to make a healthy, live food pet treat eventually evolved into Biopet Inc. in 1999. But before launching Nzymes, Stan started testing the antioxidant treats with Biscut daily and shared some with local pet stores. Biscut loved the Antioxidant Treats, and she would come running whenever she heard them shaking in the bottle. One month went by, two months, and then three full months passed, and you could see the dramatic change in her health and vitality. Biscuit's shedding less, and her coat was beautiful.
Biscut Lived to A Ripe Old Age
Stan knew the nutrition in the treats would be healthy for Biscut, but he had no idea that it would help her episodes when he started. Biscut lived to be 19.5 years old and had only one event in the last eight years of her life. 
We are Happy to Share Biscut's Story.
Biscut had been traveling a difficult path. This story reveals how love, attention, knowledge, and critical nutrition changed her life. 
We encourage every pet parent who wants their pet to have the best life and robust support for their neurological well-being to consider Nzymes products. 
Biscut's story reveals a serious nutritional need for Enzymes, Vitamins, Minerals, Superfoods, and Antioxidants to help complete our pets' daily diets. We consider this a crucial part of our purpose here at Nzymes.com.
---
Support for Neurological Health