See How Dixie Fared After Failed Hip Replacement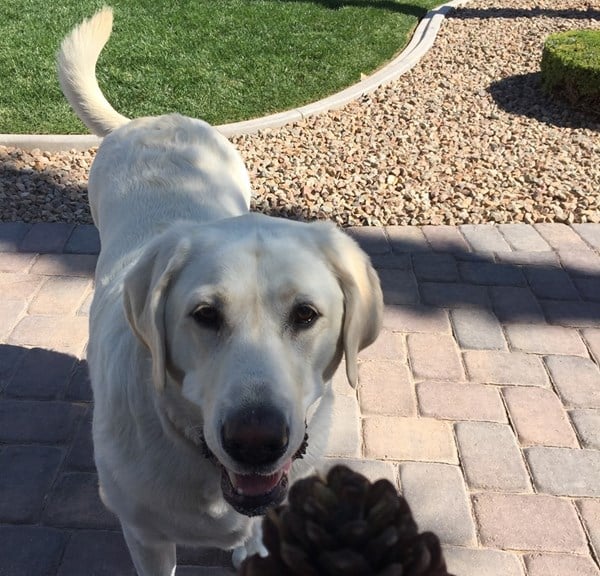 Nzymes NOTE: Thinking your dog has bad Hip troubles? To see how even the worst issues can be overcome, review this story of DIXIE, with VIDEO footage at page bottom. Her dysplasia was so bad, the breeder planned to put her down, until Keven came along and decided to rescue Dixie, with desire to give her a "chance at a good life".  Recommended 'hip surgery' failed, making things worse – Until Nzymes® entered the picture.

TERRY, Nzymes Technical Director
Now, read Dixie's story or Watch Video Below…
---
​Hi Terry,
Met you (recently) in the park while I was walking My dog Dixie who has been taking Nzymes supplements for over a year. I just wanted to share her story with you and let you know that your product is 100% spot on and has been a game changer for Dixie's hip dysplasia.
Here's a little history on her.
Dixie was rescued from a breeder in FL 4 years ago. She was born with bilateral hip dysplasia. So needless to say, Dixie was no value to the breeders. Her two choices were either to be rescued and taken care of, or they were going to put her down. We decided to rescue her and do everything that we could to help her live happy and healthy life. After Researching what hip dysplasia was all about and what options we had for her, we elected to have a total hip replacement done on her right hip.
After her total hip replacement surgery, we thought she was going to be well. She was on the road to recovery, then 30 days later I realized she was walking funny. Took her back to the surgeon and found out that the hip socket popped out of her joint, so the surgery was not a success. She had to go back in and get an FHO, which basically means they remove the socket ball that was her femur head. We were devastated, after paying almost $6000 and two surgeries. We didn't know what to do. She (subsequently) had to be on 3 different pain pills and a Weight management meal plan. We moved back home to Vegas October 2016. There wasn't much hope until I met somebody in the dog park who recommended your supplement. I said to myself, why not give it a try, we have nothing else to lose as we have tried surgeries, we have tried injections and we have tried laser therapy. We have also tried other supplements.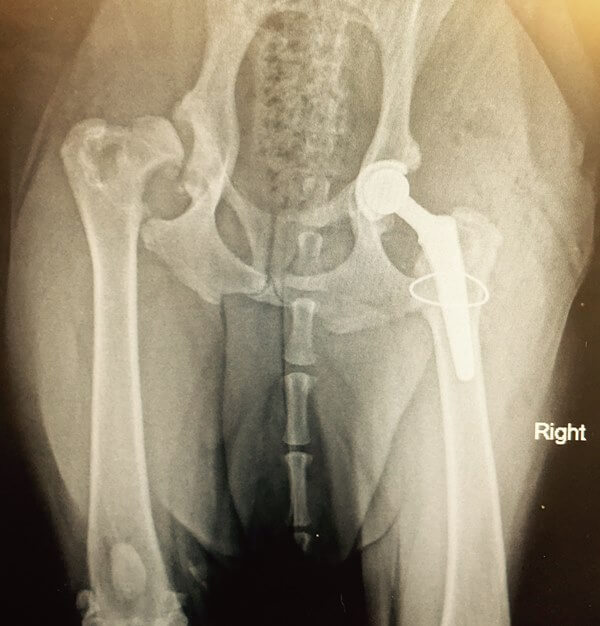 So, we went and purchased your product. After 3 1/2 weeks I could see a drastic change in her. She was more energetic, and she acted more like a puppy. She ran, and she was able to go up and down the stairs. Dixie was a different dog (in a Fantastic way). Her paw biting from her 'Allergies' even stopped. We were so thrilled and happy that we FOUND a product that has been able to help our fur baby with her hip dysplasia and allergies all in one supplement! Thank you for such an awesome product. Dixie has not been on any of her pain medications since October 27, 2016, and is such a happy pup. I have attached a few photos – her x-rays for her hip dysplasia, pictures after her surgery, and pictures and videos of her nowadays.
Thank you again!!! We love Your product and have been telling all of our friends who have fur babies!!
Keven
Las Vegas, NV
---
Witness Dixie in Action Since Regular Use of Nzymes
Fortunately for DIXIE, her master – KEVEN – has a great job and she Always gets the TREATS to fulfill her Nzymes® needs.  They can get a bit costly for BIG dogs (over 60 Lb.), with 2-per day normally, or 4-per day during Doubling periods.
Fortunately for customers that DO have budget concerns, the Sprouted Granules, as the Base or Raw Product, are the much more economical Choice.  A 2-Lb. package can last a large dog like this (or over 60 Lbs.) as much as 6 months – AFTER initial periods of doubling or getting the dog to the desired point of comfortable Mobility.  However, some customers will purchase BOTH – Treats and Granules.  This is the best of 'both worlds' – Treats as desired, Granules as the main support.
There are MANY choices of Nzymes® for Dysplasia.  Three are shown Below – OR See All Choices 
NEW CUSTOMERS – can save $5 on their FIRST order by REGISTERING their account before shopping.  Just click on LOGIN (top Blue bar, or inside Hamburger).
Three of Many Choices for Hip Dysplasia Challenges
FREE Shipping on Orders of $65 or More