Issues: Disc Disease, Ruptured Discs, Paralysis

Well at long last, here is the story of Luis, my Doberman with disc disease, and the miracle of Nzymes®. At the age of 8 years old, my Doberman, Luis, had the body of an athlete and the unceasing energy of a young pup. He was really quite a marvel. One day last spring, for seemingly no reason at all, Luis began to limp.
First Exam Inconclusive
My local vet gave him an extensive exam and could find nothing wrong with him. However, the limping became progressively worse and Luis soon began to lose coordination in all four limbs just 2 days later. I rushed him the hallowed University of Penn Emergency unit where they, too, gave Luis extensive orthopedic tests. They believed that Luis had disc disease in his neck and that surgery would be necessary. At this point, Luis seemed to be in pain and could barely stand, plus he was my best friend, so I selected the surgery.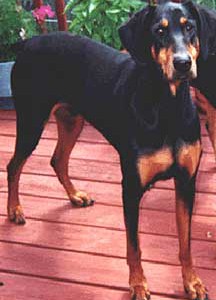 Troubling Results
The results were worse than we thought. Apparently, Luis had ruptured 2 discs in his neck, and both were removed during the surgery. I was warned beforehand, however, that Luis would be completely paralyzed for an unknown time and that there was no guarantee he would walk again. I had arranged to have extensive care set up for him at my local vet for the duration of his recuperation.
Supportive Vets
My local vets were nothing short of marvelous – but 1 month went by and Luis was still weak. He was losing weight and was not standing. I panicked more and more as the days wore on, searching all over the Internet for other opinions and options as well as helpful products for the severe problem. But I knew that my Luis could never bear to be wheeled around in a cart. He was a free spirit who had lost the use of his limbs. We were BOTH becoming severely depressed and after my twice daily visits to him, I would usually spend the night crying myself to sleep.
Looked Online for Help..Found Nzymes
Then one day I discovered the Nzymes® web page on the internet. I read of the other success stories written by the other pet owners who were also in a desperate mode to save their beloved family members. I ordered a bottle immediately.
After about a week of feeding Luis, the Nzymes® Antioxidant Treats tablets I was called away for a family emergency. I made sure that they gave Luis the Nzymes® every day! My vets knew to call me if there was any change, and I left with a reluctant heart. I knew it was time to begin to think about if he could never walk or stand again.
Nice Surprise!
Two days later, I received a call from my vet who told me that this morning the staff was amazed to discover Luis "STANDING IN HIS PEN!!" I cried with relief for a VERY long time. Luis came home shortly afterward and I worked with him extensively to put weight back on him. I massaged his limbs and help him walk. Little by little, Luis began to walk on his own and then to trot.
Doing so Much Better
He is back to his full weight and as of this date, he is about 80% back to his normal self. He has retained a bit of a "wiggle" but can run and play. I keep him from "jumping", and he wears a harness rather than a collar for walking to help take all strain off the injured neck area. He's as happy as can be and has gained back his confidence and his freedom. I swear by the natural, nutritional properties of Nzymes®. Now BOTH of my Dobermans take them daily. Quite simply, I believe they are lifesavers. Thank you for allowing me to share Luis' story with you.
Sandy Bennett
Wallingford, PA
---
Products Recommended for Dog Disc Disease & Paralysis Recovery Challenges

Though the TREATS were used in this Story, Note that Granules (the base product) are the Economical Choice – Especially for Large Dogs