McCalie Getting off to a Good Start with Nzymes
We'd like to thank Sara Costello for sharing McCallie's story with us during our recent Photo Contest. The secret to living well is to be proactive with your health choices. We are certainly glad to see that McCalie is off to a good start and that Nzymes are a part of her daily regimen.
For a closer look at how our simple line of supplements can have a powerful impact on the health and wellness of your pet, please see our article on Why Nzymes Pet Products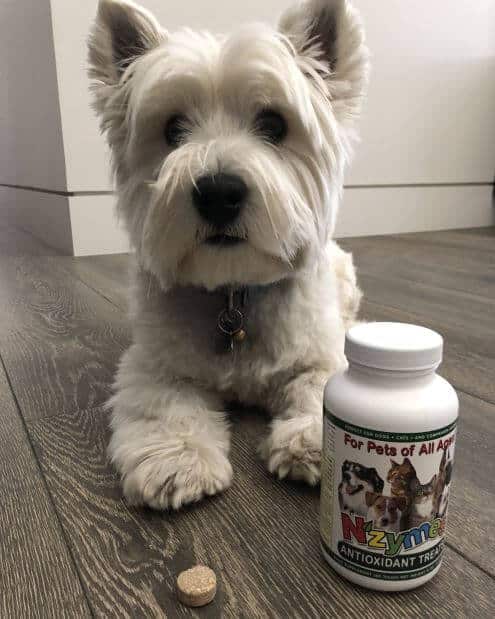 We gave our previous Westie Antioxidant Treats for 10 years until she passed at 17 Years. She loved your product and it gave her so much energy into her adult life!
When we got our new Westie, McCailie, we decided not to give her commercial "treats". She only gets Antioxidant Treats – as her treat to 'signal' that we are leaving, or if she does something extra special!! She absolutely loves them. Sometimes we crush and sprinkle on her dog food if she is being finicky, and then she gobbles up her food!!
She is a pure puppy and she loves your treats! She especially likes to grab the bottle and run through the whole house!!! Very cute!! Thanks for providing such a fabulous product!
We have always been believers in taking supplements for our health to be pro-active so why not the joy of our Life also! She deserves it!!
Sara Costello
Nevada, USA
Living Well Starts with Nzymes Super-Nutrition